This homemade caramel sauce recipe is super easy to make. It is a versatile sauce that can be used for dipping, drizzling over ice cream, or served on top of other decadent desserts.
This recipe requires only a handful of ingredients and is a friendly option for the budget wise. It tastes better than store-bought and is simple enough to whip up a batch any time you have a recipe that calls for caramel sauce.
Wet and dry caramel process
There are two different ways to make caramel – the dry method and the wet method.
Dry caramel is made with just sugar. Dry caramel is more difficult because it tends to burn easily and the sugar clumps together. This can result in a grainy caramel.
Wet caramel is made by dissolving sugar in water then allowing it to caramelize. I use this method because it is so much easier. The sugar caramelizes more evenly and I never end up with a grainy caramel.
And it's rumored that wet caramel has a better taste because the process takes longer. That's a plus in my book!
This post may contain affiliate links. Please see my disclosure policy for more details.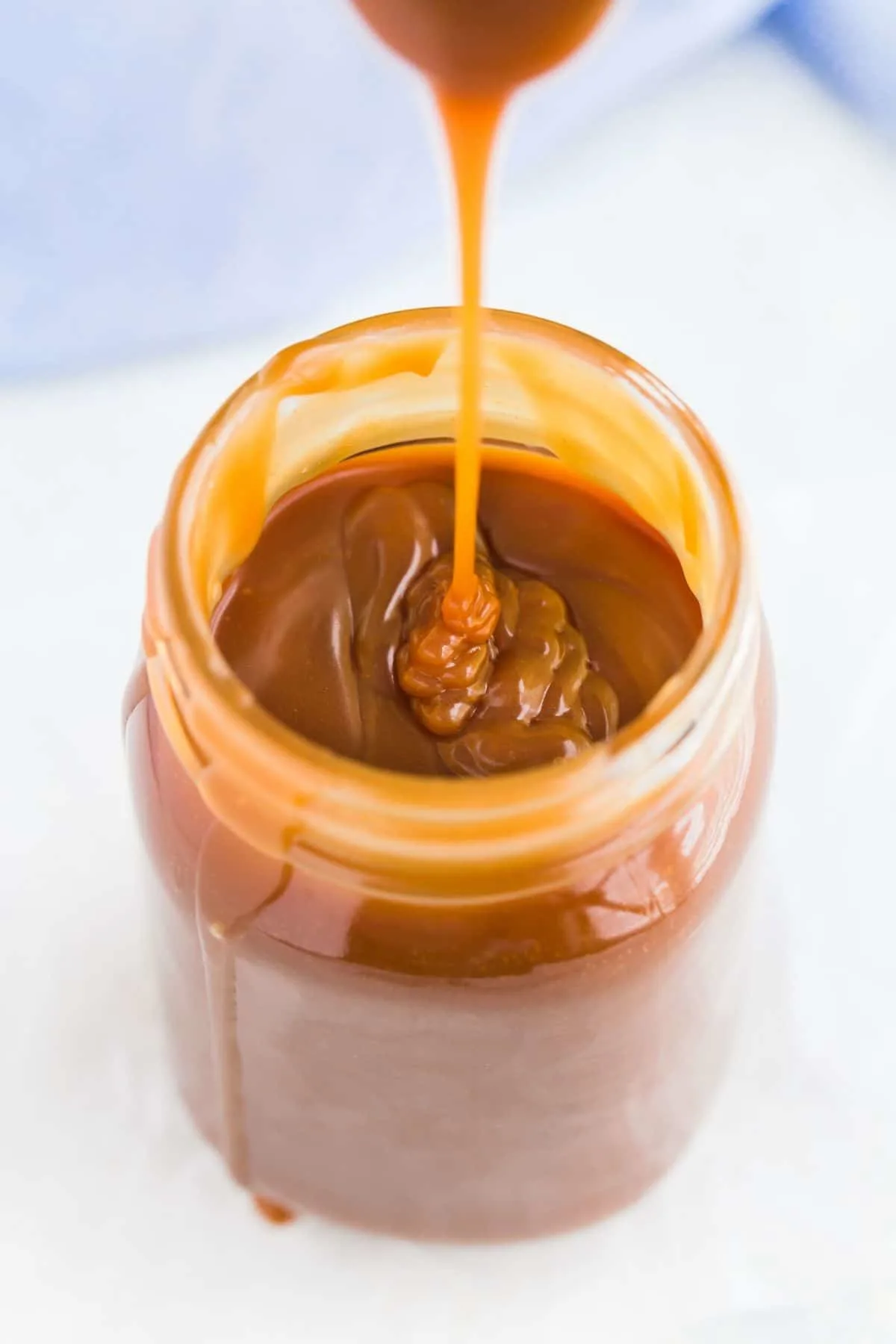 This is an easy no-fail recipe. While a candy thermometer is a great tool when making caramel, it is not required. But if you are inexperienced with making caramel at home, I highly suggest using one.
This homemade caramel sauce is made with white sugar, heavy cream, butter, salt, and vanilla extract. More than likely you already have these on hand.
A small pinch of table salt is added to enhance the flavor. However, it's not enough salt to call it salted caramel. You can barely detect it. But feel free to add a bit more salt to make it a salted caramel sauce.
This is my absolute favorite thick caramel sauce recipe. It's wonderful on top of so many different treats.
Drizzle it over double chocolate brownies. Use it to make salted caramel frosting. Serve it over the top of apple cinnamon scones. The possibilities are endless!
After you've mastered this recipe, you should try making this easy caramel sauce in the microwave!
The printable recipe card with full ingredient amounts and instructions can be found at the bottom of this post.
When making caramel sauce at home, never leave its side. A lovely amber colored caramel can turn to burnt in the blink of an eye.
A candy thermometer is a great tool if you are not sure when to remove the melted sugar from the heat. Once the melted sugar registers above 330° F, pay close attention to the color.
As soon as it turns a deep amber color, remove it from the heat.
Take great care when adding the cream to the hot melted sugar! As you pour in the cream, the mixture will bubble up fiercely and release scorching hot steam.
Go slow and don't splash yourself. Leave the hot caramel in the pot until it cools to room temperature before transferring it to a container for storage.
Questions about homemade caramel sauce
Can I sub brown sugar for granulated sugar and get same results?
You can use brown sugar if you don't have white sugar. Keep in mind, brown sugar is made with molasses so this will affect the overall flavor of your caramel sauce.
Can you tell me why you do not stir while the sugar water mixture is boiling?
Sugar crystals like to cling on to anything around them. Even though you can't see the crystals once the sugar has dissolved, they are still there. Stirring at this point will entice the crystals to hook up with surrounding crystals which will make the sauce grainy.
My sugar clumped when I added the heavy cream why?
This can happen when pouring a cold liquid into hot melty caramel. To prevent this from happening, pour the cream in very slowly and whisk continuously while you do so.
Helpful tools
NEED MORE BAKING IDEAS? Subscribe to our newsletter and follow along on Facebook, Instagram, and Pinterest for all the latest updates!
Homemade Caramel Sauce
This homemade caramel sauce recipe is super easy to make. It is a versatile sauce that can be used for dipping, drizzling over ice cream, or served on top of other decadent desserts.

Print
Save
Rate
Ingredients
1/3

cup

(

80

ml

)

water

1

cup

(

200

g

)

granulated sugar

3

tablespoons

unsalted butter

,

cut into pieces

3/4

cup

(

180

ml

)

heavy cream

,

room temperature

1

teaspoon

vanilla extract

1/8

teaspoon

salt

,

optional
Instructions
Add the water and sugar to a 5-cup stainless steel saucepan. (Non-stick cookware is not recommended for this recipe.) Heat over medium-high heat until it begins to boil, stirring constantly to dissolve the sugar.

Turn the heat down to medium and insert a candy thermometer. (You don't need a thermometer, but it is a great tool for inexperienced caramel cooks.) Do not stir the sugar as it boils.

As soon as the mixture reaches 330 degrees F, watch for it to turn a deep amber color and immediately remove it from the heat. Take care not to let it go too far because it will burn. Carefully and slowly pour the cream into the caramelized sugar while whisking. The caramel will bubble up and is extremely hot. Continue to whisk until all the cream has been added and is mixed in thoroughly.


Whisk in the butter, vanilla, and salt (if using). Set the pot on a wire rack to cool completely before transferring to a glass container for storage.
Make ahead tip
Caramel sauce will keep for up to 2 weeks in an airtight container stored in the refrigerator.

Caramel can be warmed for a few seconds before use.

Caramel sauce also freezes well. Place in a freezer-safe container once it has cooled and freeze for up to 3 months. Thaw in the refrigerator overnight and warm before serving.
Notes
Make sure the heavy cream isn't super cold. Let it sit out for a few minutes before you begin making the sauce. Add a full teaspoon of salt to make salted caramel sauce.  
Nutrition Facts
Homemade Caramel Sauce
Amount Per Serving (2 tablespoons)
Calories 71
* Percent Daily Values are based on a 2000 calorie diet.
Since different brands of ingredients have different nutritional information, the values shown are just an estimate.