Apple Slab Pie with Brown Butter Crust
This post may contain affiliate links. Read the full disclosure here.
This Apple Slab Pie is way better than a traditional pie! It features a sturdy brown butter crust and gooey apple filling. Loaded with brown sugar and cinnamon, this apple pie is a total crowd pleaser!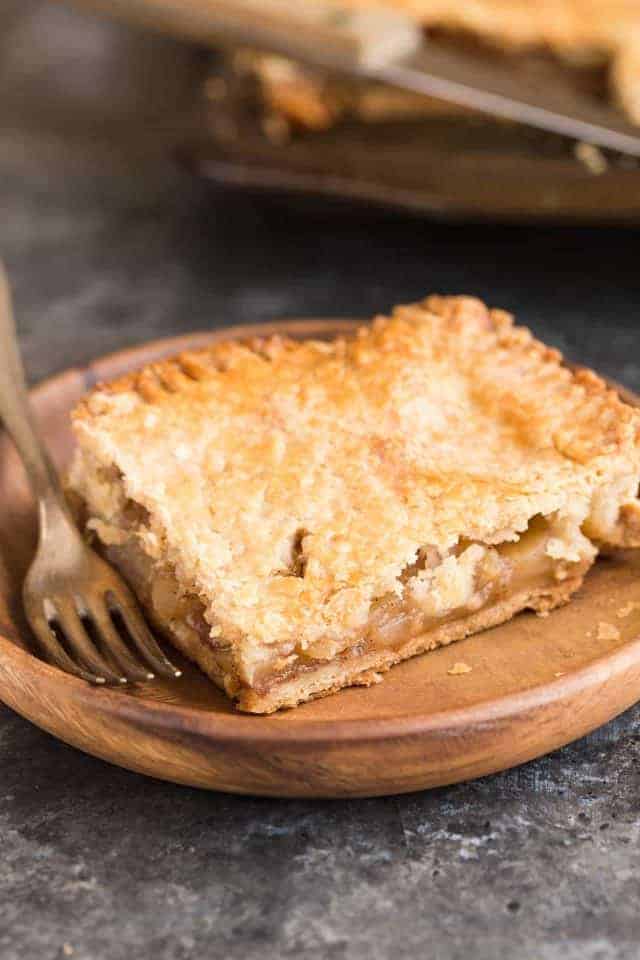 Apple pies typically pop up around July 4th. It is an iconic American dessert after all. But why neglect this favorite classic pie the rest of the year, especially during the fall?
Now is prime apple season and everyone should be baking pies with freshly picked apples!
Caramel apple pecan streusel pie, apple streusel bars, and apple raisin custard pie are just a few of my favorite variations on apple pie. But today's recipe may just top them all!
I've changed the crust to a brown butter crust and omitted the shortening altogether. Typically I'd used my favorite pie crust recipe that calls for a mix of butter and shortening. It's super flaky and full of buttery flavor.
I took that perfect crust recipe and doubled it to make a king-size apple pie with sweet nutty notes from brown butter. Because this pie is so large I felt the crust needed to be extra sturdy. Two eggs did the trick. You can hold a slice of this slab pie in your hand and it won't fall apart.
I also made apple pie with brown butter crust that is a normal size. If you need a pie that serves just 8 to 10, then you may want to grab that recipe instead.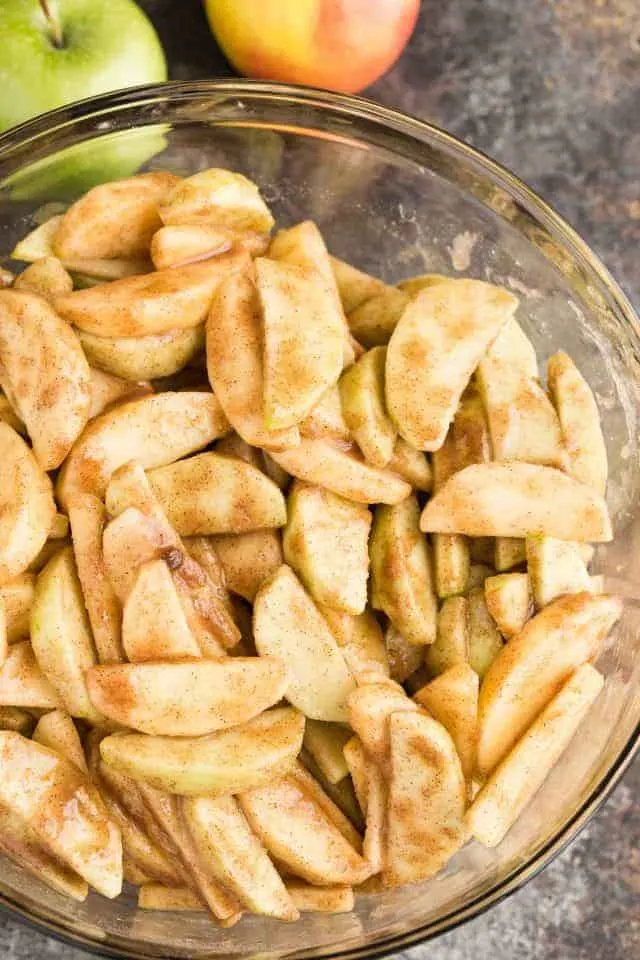 What is a slab pie?
A slab pie is a thin pie that's made in a rimmed baking sheet. Most often a jelly roll pan is used but a 9×13-inch cookie sheet will also work.
There's way more crust than filling in a slab pie so if you're a crust person, this pie is perfect for you.
The size of a slab pie makes it perfect for entertaining. You can get 24 servings out of it if needed. I cut my slices a bit larger so I usually end up with 18 servings.
Rolling the crust for such a large scale pie can be a bit tricky and it takes patience. The bottom crust is always the most challenging because it needs to be rolled big enough to fit into the bottom and up the sides of the pan with a little excess to hang over.
You can use a 10×15 or 9×13-inch pan but refrain from going any bigger than that. You'll be ready to pull your hair out if you try rolling the dough out any larger than that.
For the brown butter crust, you'll need to first cook the butter and let it cool in the freezer. It's still important to use very cold butter in this recipe so freeze the butter for about an hour. I like to pour it into a bowl lined with aluminum foil to make it easy to remove and slice into cubes for the pie dough.
After the dough is made, it needs to refrigerate for at least 30 minutes or up to 2 days. Since the crust requires so much chill time, I like to make it a day ahead. You save a bit of time this way.
The filling for apple slab pie can be made with any variety of apple you like. Sometimes I use all Pink Lady or all Granny Smith. And other times I'll use a combination of the two for ultimate flavor.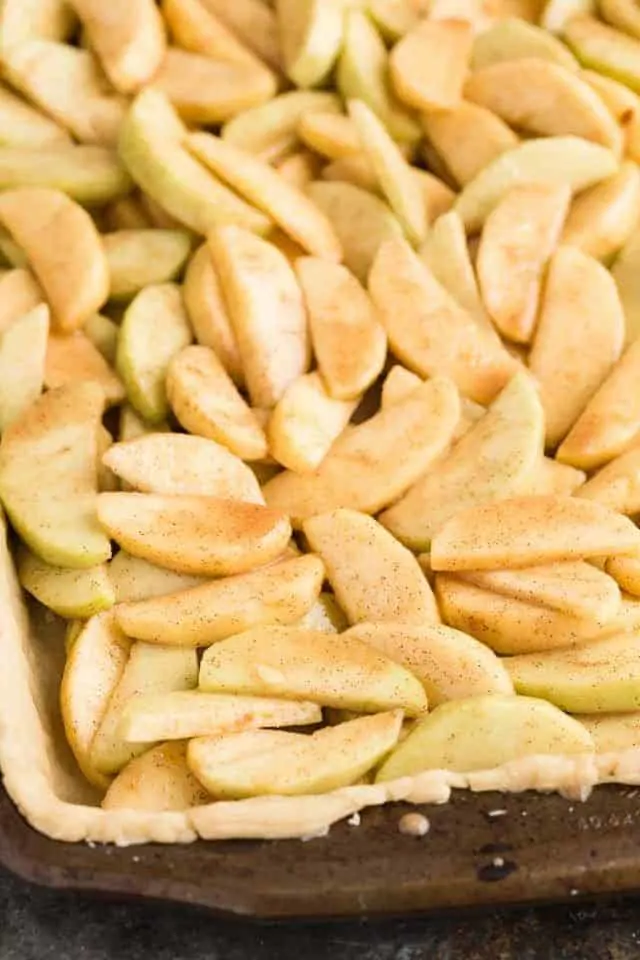 Peel and slice the apples into thin slices. You can also dice the apples if you prefer. I like big chunks of apple in my pies so I usually just cut them into long thin slices.
I used a combination of white and brown sugar with cinnamon in the pie filling. I love the combination of those flavors with the brown butter crust. It's phenomenal!
Top the pie with the other half of the crust and seal the edges. It's easier to crimp the edges rather than flute them on a slab pie. But, feel free to decorate those edges any way you'd like.
Brush the top of the crust with a mix of egg yolk and milk for a gorgeous golden shine.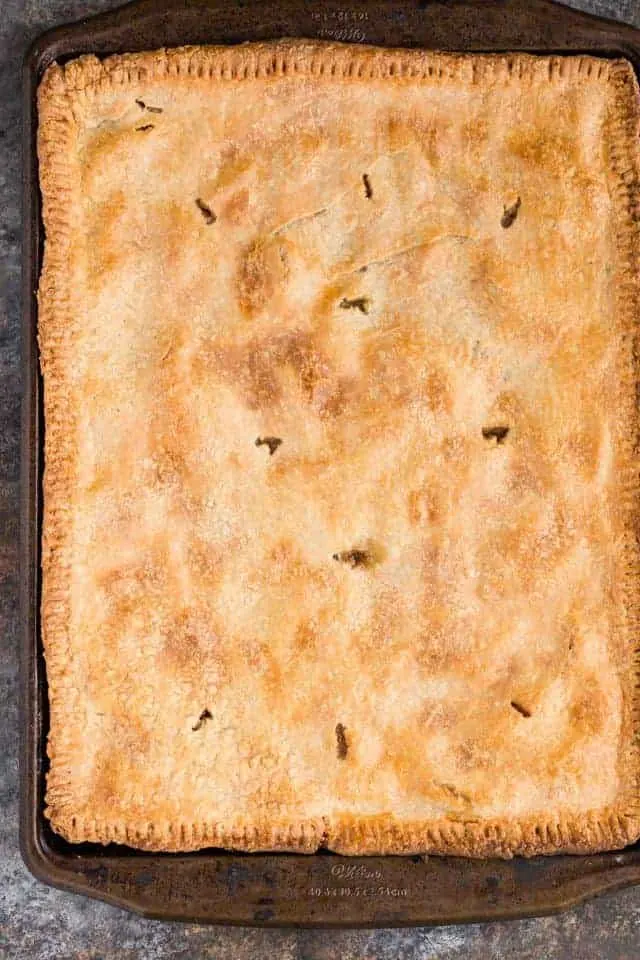 I'm pretty sure you are going to agree that this is the best apple slab pie you've ever had. My husband took it to work and got rave reviews from everyone!
Did you try this recipe? I would love for you to leave me a 5-star rating or comment. This way, I have a better understanding of which recipes you like and can create more of them.
Please take a moment to follow me on Instagram, Pinterest, Facebook, Youtube or sign up for my free newsletter to never miss the newest recipes and blog updates.
You can also shop my favorite baking tools. Thank you so much for your support!