This post may contain affiliate links. Read the full disclosure here.
These apple streusel bars have all your favorite apple pie flavors and none of the extra work. Tossing the juicy apples in a mixture of flour, sugar, and spices before layering over the crisp shortbread crust is important. The coated apples will cook down and create a thick syrupy filling. Chopped pecans are added to the streusel topping to give the bars texture and additional flavor. These bars are great on their own but you may wish to use the glaze from my apple streusel muffins.
Let's go over how to make these enticing apple pie bars. I'll walk you through exactly what to expect through the process.
Why this recipe works
Taste: The highlight of this recipe are the cinnamon apples. The shortbread crust is buttery and lightly sweetened so it doesn't take away from the flavorful filling. Toss the apples in flour, cinnamon, and spices before adding them over the crust. The filling bakes up like a thick apple jam. Add pecans to the streusel topping for a wonderful crunch and extra flavor.
Texture: These bars are much like apple but. It reminds me of a caramel apple streusel pie without the caramel, obviously. The crust is crisp yet soft, the filling is thick with sweet apples, and the topping is slightly crunchy. Blind bake the crust until it's golden brown to prevent it from becoming soggy.
Ease: These apple streusel bars come together easily with basic ingredients like butter, flour, sugar, cinnamon, apples, and oats. Pecans are likely to be the only ingredients you don't already have on hand. You can leave them out or use walnuts instead. While there are three layers to this recipe, each one comes together with ease.
See my entire collection of Fall baking recipes!
---
About these easy apple pie bars
With a simple shortbread crust, gooey cinnamon apple center, and a crunchy pecan streusel on top, these apple streusel bars are like a slice of warm apple pie.
The shortbread crust is sturdy enough to support the filling, yet soft enough to melt away in your mouth. It comes together in a similar fashion as shortbread cookies. It's most important to get all the flour well coated in butter or it will bake up crumbly instead of solid and sturdy.
Adding flour to the apple filling thickens the apple juices so you get a thick, gooey filling that doesn't water down the crust. There's nothing worse than a soggy crust.
The crunchy streusel topping contains chopped pecans. The pecans get all toasty in the oven and add a wonderful nutty flavor to the bars. The toasted pecans also add additional texture.
If you want the flavors of apple pie without all the work, or you just want a tasty fall dessert, definitely give these apple streusel bars a try!
---
What you'll need
Each layer of these apple streusel bars, from the homemade shortbread crust to the cinnamon apple filling and the streusel topping is made with just a few simple ingredients.
Ingredients
The full recipe with ingredient amounts is located down below in the printable recipe card.
Apples – You can either slice or chop the apples for this recipe.
All-purpose flour – Use for the base and the filling.
Sugar – I used regular granulated sugar for the base and brown sugar for the filling/topping. You can use dark brown sugar if you want more of that warm malasses flavor.
Salt – Just a little to balance all the sweetness.
Unsalted butter – Butter should be cut into small pieces to be easily cut into the dough. If using salted butter, omit the additional salt from the recipe.
Lemon juice – Citrus brings out the apple flavor and prevents the apples from turning brown.
Ground cinnamon and nutmeg – Two simple spices that add a lot of warm flavor to the dish.
Oats – Make sure to use old fashioned rolled oats, not quick oats.
Pecans – Chopped pecans add a nice crunch to these easy apple bars.
What apples are best to use?
Granny Smith or Pink Lady apples work best. Or you can mix and match with a tart variety and a sweet variety for more depth in flavor. Use what you like!
Helpful tools
Baking Pan – This recipe is enough to fill a 9×13 baking pan. You can halve the ingredients to fill an 8×8 baking pan if desired.
Pastry Blender – If it easiest to use a pasty blender to cut the butter into the flour.
---
How to make apple streusel bars
Similar to the majority of my recipes, these apple pie bars are super easy to make! Even though each layer is made from scratch, they come together in no time!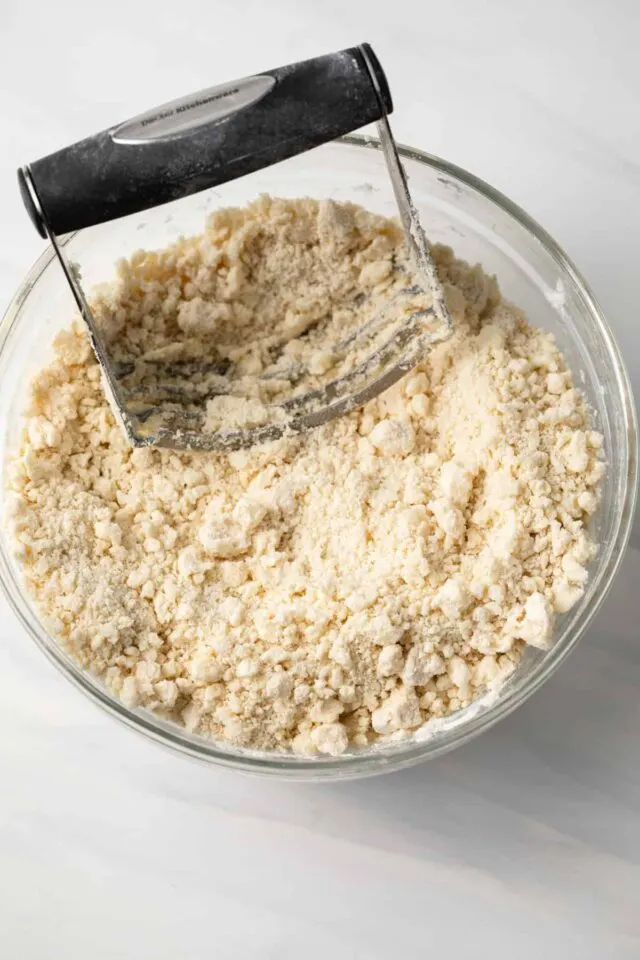 Prepare the pan. Preheat the oven to 375°F and line the pan with aluminum foil. Be sure to leave some excess to overhang to easily remove the bars later. Spray with nonstick spray.
Make the shortbread crust. Combine the dry ingredients. Cut in the butter with a fork or pastry cutter until all flour is moistened and resembles a damp sand. Set aside some dough for the topping. Press the rest into the bottom of the pan and bake for 15 minutes.
Make the filling. Coat the apples with the lemon juice. Add in the remaining ingredients and stir to combine. Pour over the warm crust in an even layer.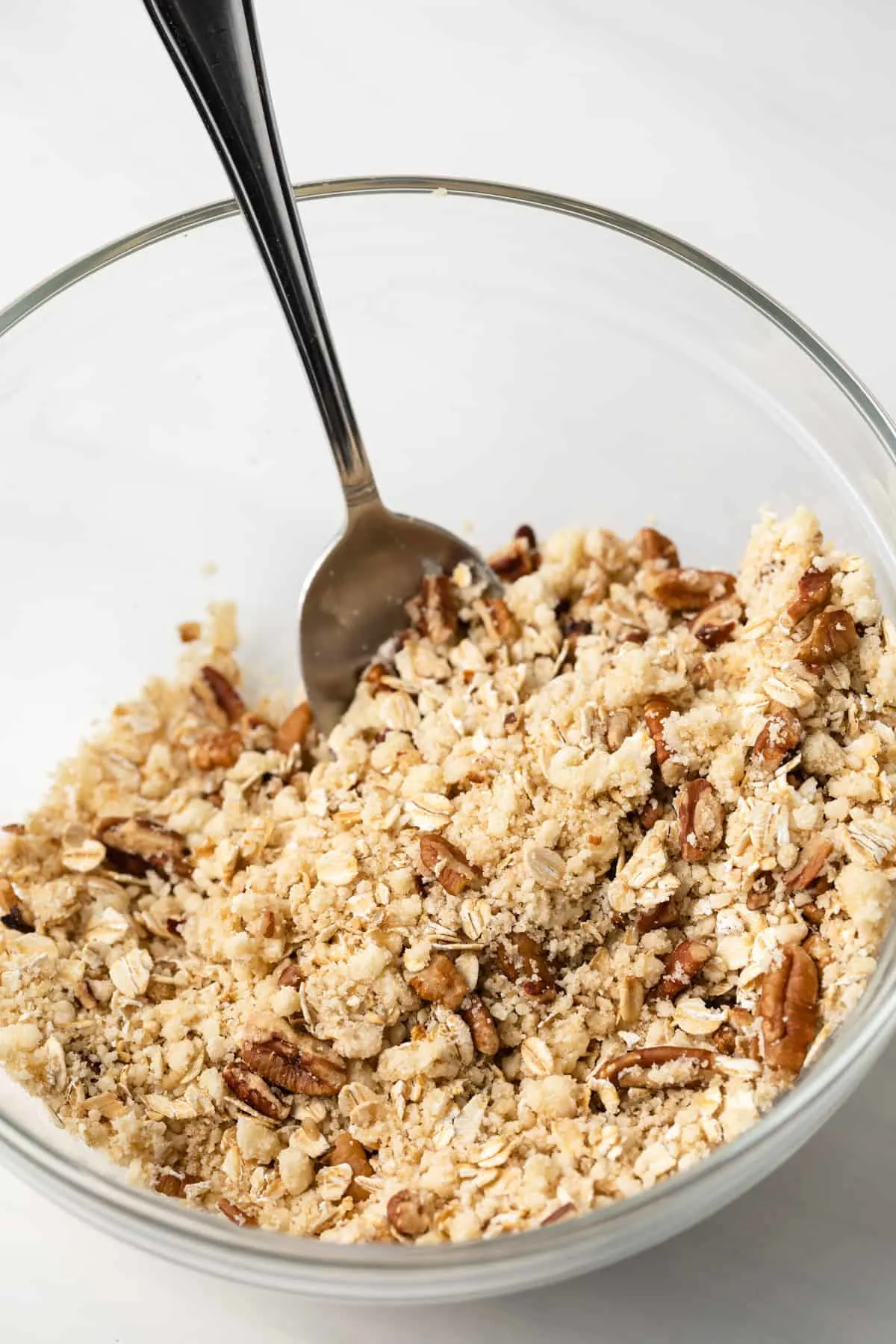 Add the streusel topping. Add the streusel ingredients to the reserved shortbread mixture. Stir to combine. Sprinkle over the apple filling.
Bake. Bake for 45 to 55 minutes, until golden brown and crisp. Cool in the pan on a wire rack. Use the foil to remove from the pan and cut into squares.
Tips for success
After making these apple streusel bars several times and trying out different variations, I've discovered a few helpful tips and tricks.
Use a variety of apples. The apples are the star of this recipe. I like to use pink lady apples because they are a mix of tart and sweet. Granny Smith are another good option! You can use any variety you like best and feel free to mix and match a variety of sweet and tart apples.
Be sure to thoroughly cut the butter into the flour. Work the butter in until the flour is well-coated with butter. This ensures the crust bakes up properly and is able to support the filling.
Halve the recipe. Serving just a few people? You can easily cut this recipe in half to fit an 8×8 pan! Halve the ingredients and adjust the baking time to 30-35 minutes.
Swap out pecans. Not a pecan fan? Walnuts are also great in this recipe!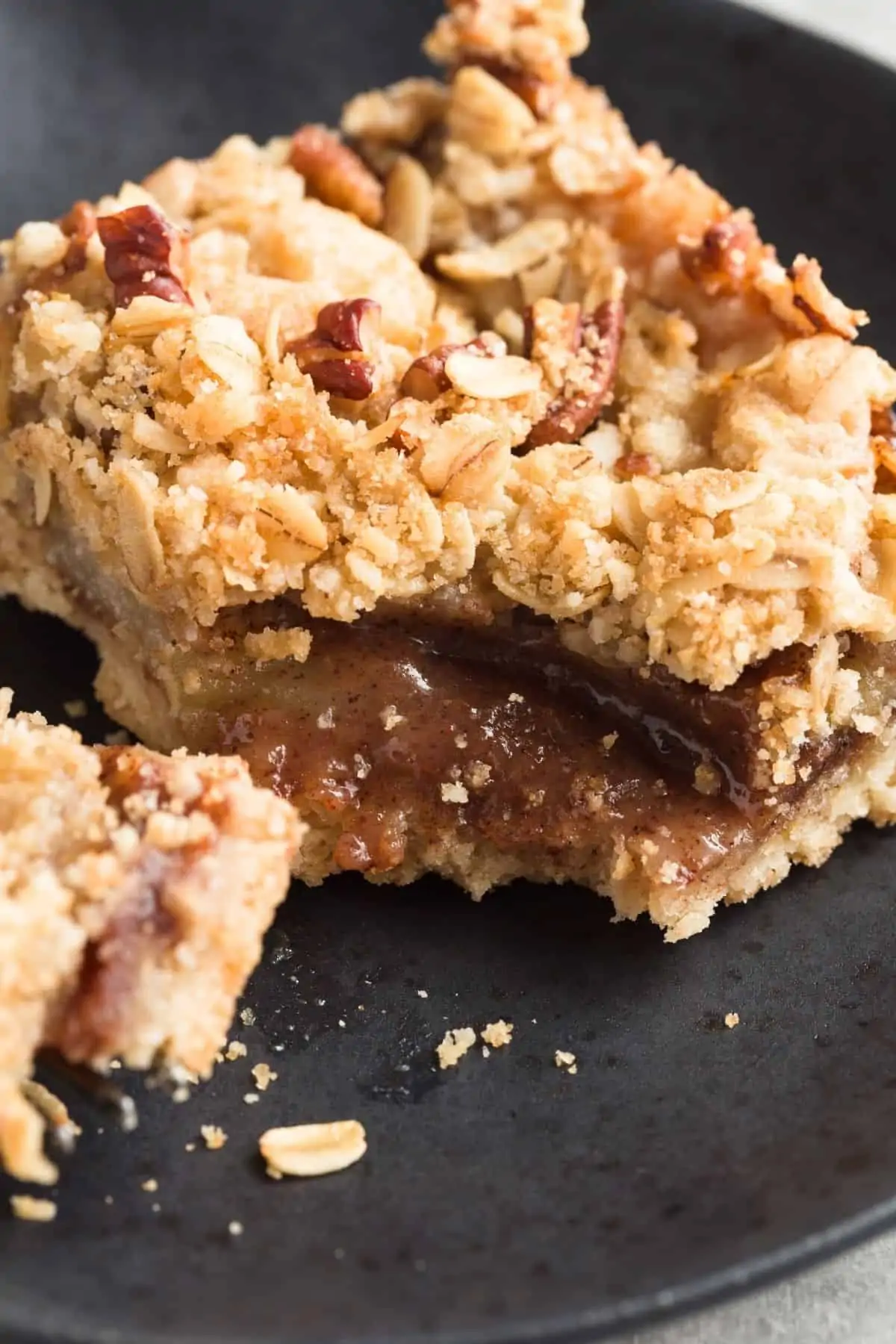 Serving suggestions
It's important to let these apple streusel bars cool before cutting, so that the filling sets and you can easily serve them as squares.
While I love the apple pie flavor on its own, I like to add a drizzle of homemade caramel sauce for a tasty twist, if I have any on hand! You could also add a dollop of whipped cream or vanilla ice cream too.
---
Can you freeze apple streusel bars?
These apple pie bars are great for freezing. Bake them and let them cool completely.
Slice them and wrap them individually in plastic wrap. Place the wrapped bars in a sturdy container with an airtight lid and freeze them for up to 3 months.
Thaw them in the refrigerator overnight when you are ready to serve them.
You can eat them cold, set them out to come to room temperature, or nuke them in the microwave for a few seconds to warm them up.
Did you try this recipe? I would love for you to leave me a 5-star rating or comment. This way, I have a better understanding of which recipes you like and can create more of them.
Please take a moment to follow me on Instagram, Pinterest, Facebook, Youtube or sign up for my free newsletter to never miss the newest recipes and blog updates.
You can also shop my favorite baking tools. Thank you so much for your support!
More apple recipes you'll love