This post may contain affiliate links. Read the full disclosure here.
Fall isn't complete without Baked Apples! Each apple is filled with a mixture of oats, pecans, brown sugar, and fall spices. A maple cider mixture is drizzled over the top for added flavor.
Baked Apples
I'll pretty much eat apples any way I can get them. Apple cobbler, apple slab pie, apple fritters, and apple scones are a few examples of some of my favorite ways to enjoy apples.
But today's baked apples are my latest obsession. They are so good you guys!
Perfectly baked, stuffed with a deliciously sweet filling, and drizzled with maple cider. What more could you ask for in an apple dessert?
This recipe is super easy to put together and the apples taste best when served warm so you can enjoy them right away. They're also super tasty with a scoop of vanilla ice cream or dollop of whipped cream.
What are the best apples for baked apples?
I find that Honey Crisp or Granny Smith apples work best for baked apples. They both have a balanced sweet and tart profile. And they hold up well once cooked.
---
How to make baked apples?
Step 1: Hollow out the apples
First, you need to slice a very thin piece off the bottom of the apple. I'm talking about the blossom end. Just trim off a sliver so the apple sits flat.
Then slice a small sliver off the top of the apple, the end with the stem, and use a melon baller to scoop out the core. Be careful not to cut all the way through the bottom.
You don't necessarily have to trim a sliver off the top but I think they look nicer once baked.
Step 2: Prepare the filling
Combine pecans, oats, brown sugar, cinnamon, allspice, salt, and softened butter. Use a fork to work the mixture together until the butter is evenly coated over the oats and pecans.
Step 3: Stuff the apples
Spoon the filling into the cavity of the apples. Really press it in and then mound it up over the top.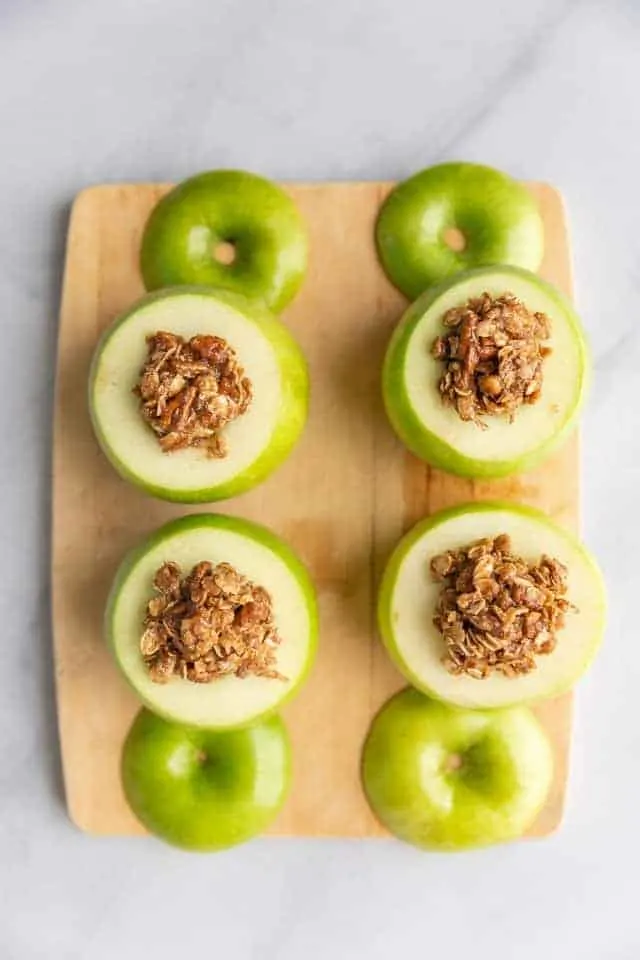 Step 4: Bake the apples
Pour a mixture of equal parts maple syrup and apple cider in the bottom of an 8×8-inch pan and set the apples inside.
Bake them for about 30 minutes. I like to baste the apples every 10 minutes or so with the liquid from the bottom of the pan.
The baked apples should be firm but tender enough to insert a skewer with little resistance.
Transfer the apples to a serving platter and drizzle them with the remaining liquid from the pan.
Helpful tools
More apple recipes you'll love
Did you try this recipe? I would love for you to leave me a 5-star rating or comment. This way, I have a better understanding of which recipes you like and can create more of them.
Please take a moment to follow me on Instagram, Pinterest, Facebook, Youtube or sign up for my free newsletter to never miss the newest recipes and blog updates.
You can also shop my favorite baking tools. Thank you so much for your support!