This post may contain affiliate links. Read the full disclosure here.
Apple Cranberry Pie is sure to be a hit this holiday season. Crisp, sweet apples married with tart cranberries on a tender, flaky pie crust is absolute perfection!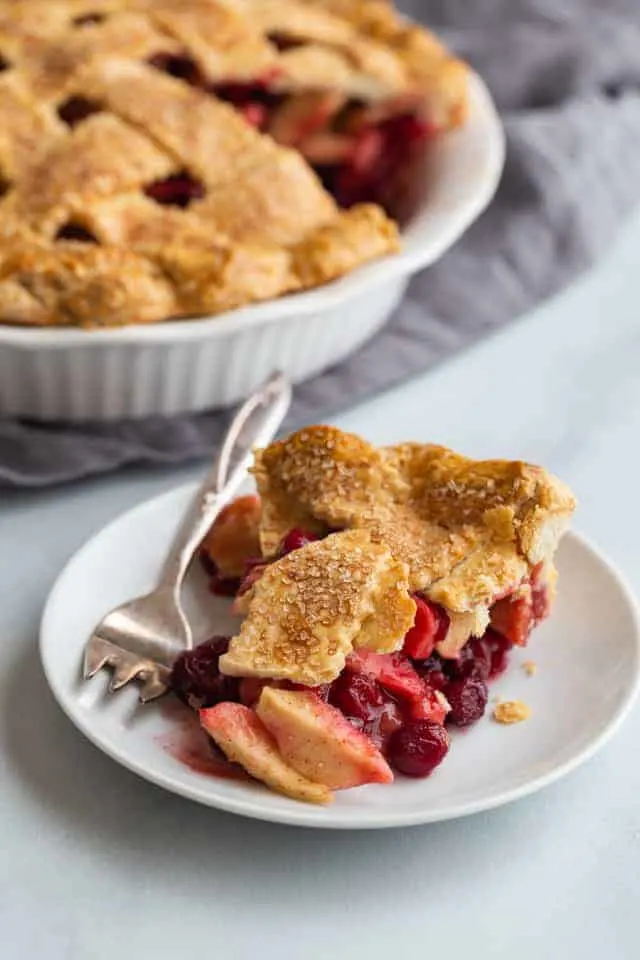 Apple Cranberry Pie
I have a deep love for apple pie and it's been too long since I've had one. Apple slab pie and apple pie with brown butter crust graced the blog last year but this year I wanted to do something more festive. A pie that's fitting for your Thanksgiving table like my cranberry pie.
What could be more festive than apples and cranberries?! These two marry together so perfectly creating a sweet, crisp pie filling that is taken over the top with a light and tender pie crust.
The new and improved pie crust is supremely tender, flaky, and sturdy.
Cranberries can be tricky because they are so tart. Also, the apples and cranberries produced so much liquid that it took me a while to figure out how to eliminate a soupy pie filling.
Be sure to read through all my tips so you can have success with this apple cranberry pie recipe.
What is apple cranberry pie?
Apple cranberry pie is basically an apple pie with the addition of cranberries. You get a beautiful contrast between the tart cranberries and sweet apples.
---
How long does an apple cranberry pie last?
You can keep a baked apple cranberry pie in the refrigerator for up to five days. Be sure to cover it tightly so it doesn't pick up any funky flavors from the refrigerator.
---
How to make apple cranberry pie?
Step 1: Make the crust
I used my latest pie crust recipe because it is sturdy yet tender and flaky. You'll need one full recipe which will give you enough for a top and bottom crust.
I ended up making a lattice topping for my pie but you can top yours however you wish!
It's best to prepare the crust the day before to save time since it does need to chill for 2 hours before you roll it out.
And when you are not working directly with the dough, keep it in the refrigerator. This will keep the dough relaxed and cold so it bakes up perfectly tender and flaky.
Roll one of the chilled disks of pie dough out into a 12-inch circle then gently press it into a 9.5-inch pie pan without stretching it. Trim the edges so there's only about an inch overhang. Fold the excess under and flute the edges as desired then place the crust back into the refrigerator.
If you are making a lattice top, roll the second disk of dough out into a 10-inch circle and use a sharp knife to cut eight 1-2 inch strips. Lay the strips on a parchment-lined baking sheet and put them in the refrigerator until you are ready to top the pie.
Otherwise, wait to roll the second disk out until you are ready to top the pie.
Step 2: Make the filling
The filling was tricky for me because it kept coming out way too soupy. Through trial and error, I learned that the filling must sit in a bowl for at least an hour before it goes into the pie crust.
Slice the apples thin and toss them in a bowl with either fresh cranberries or frozen, thawed cranberries. Toss with lemon zest and juice to keep the apples from turning brown.
Combine all the other ingredients for the filling in a small bowl and sprinkle it over the apple mixture then stir gently to coat. Let the filling sit at room temperature for an hour.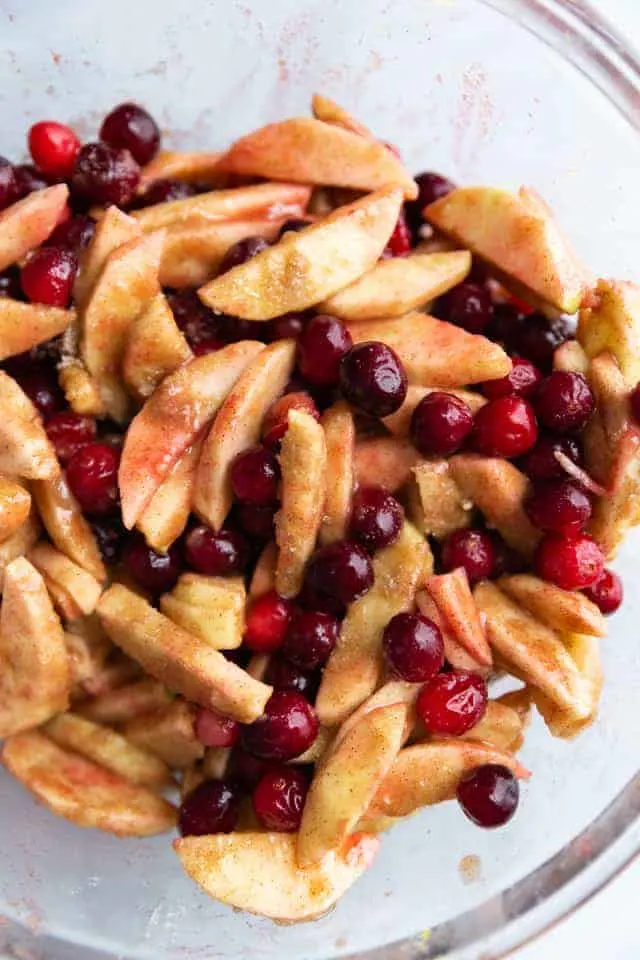 Step 3: Assemble the pie
After an hour, there will be a lot of liquid in the bottom of the bowl with the filling. Use a slotted spoon to spoon the filling into the prepared bottom crust and discard all the juice.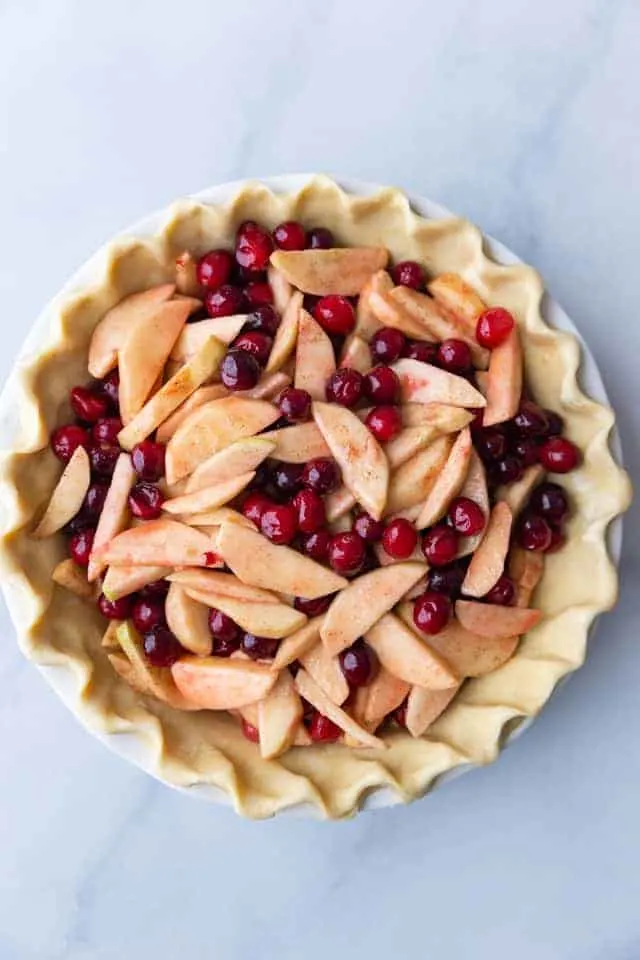 Thread the dough strips over and under to create a lattice look or roll the second dough out and carefully top the pie and cut a few small slits to allow steam to escape.
Whisk egg and milk together to make an egg wash. Brush the top of the crust with the egg wash then sprinkle generously with vanilla sugar or plain coarse sugar.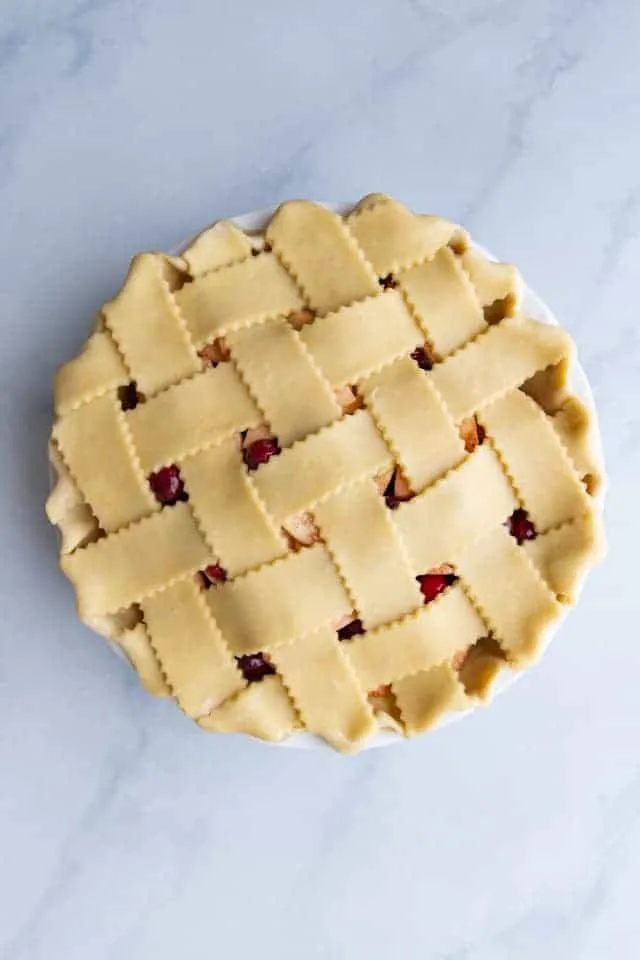 Bake the pie for 50-60 minutes then allow it to cool for at least 3 hours before serving. You can serve it sooner but keep in mind the filling may still be a tad runny. It tends to set up more after the pie has cooled for a few hours.
During baking, cover the edges with a pie shield or aluminum foil if you notice the edges getting too brown.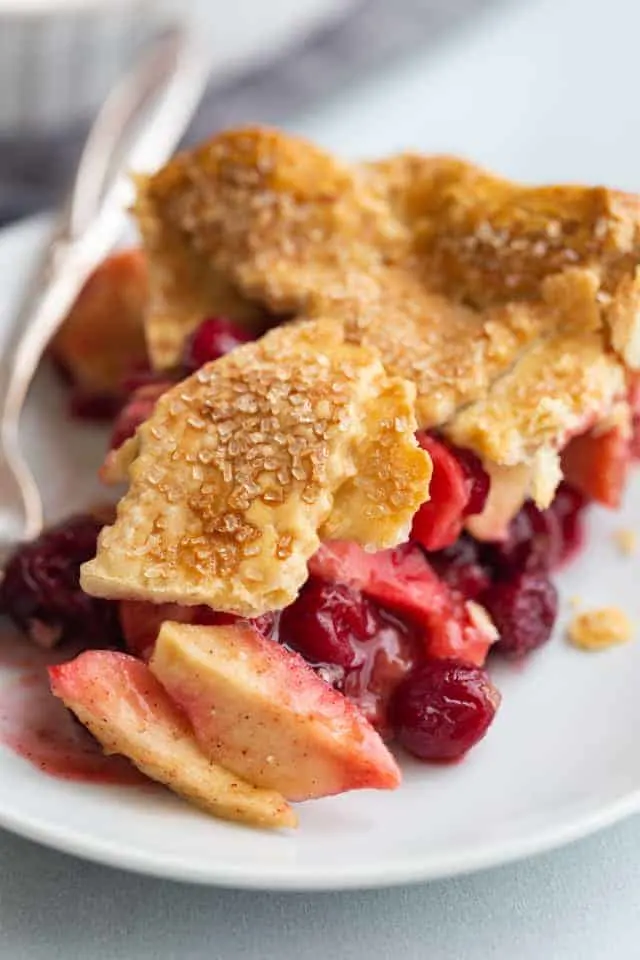 Tips for making apple cranberry pie
Plan ahead! There are a few steps that take quite a bit of time. Read through the instructions and plan accordingly.
Save time by making the crust the night before!
Don't skip letting the filling sit for an hour. This is crucial for extracting excess juice that will cause a soupy pie.
More apple recipes you'll love
Did you try this recipe? I would love for you to leave me a 5-star rating or comment. This way, I have a better understanding of which recipes you like and can create more of them.
Please take a moment to follow me on Instagram, Pinterest, Facebook, Youtube or sign up for my free newsletter to never miss the newest recipes and blog updates.
You can also shop my favorite baking tools. Thank you so much for your support!