This post may contain affiliate links. Read the full disclosure here.
Tender cranberry orange muffins bursting with flavor from fresh orange juice, orange zest, and tangy cranberries. This simple recipe will become a family favorite!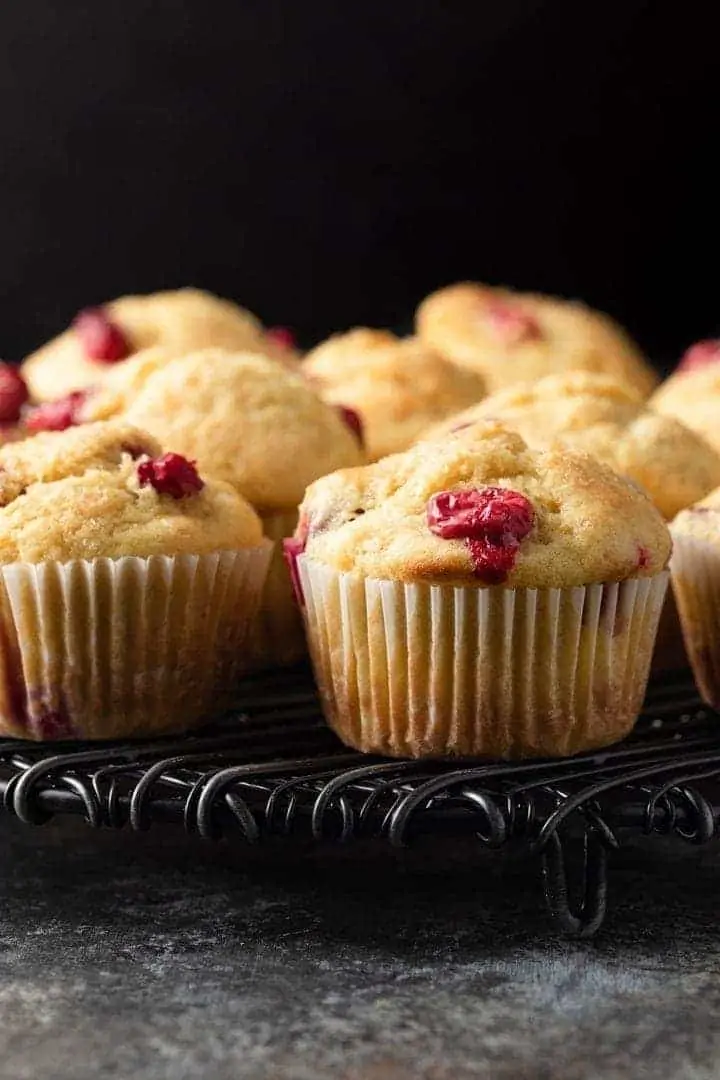 Cranberry Orange Muffin Recipe
These cranberry orange muffins are so flavorful. They will quickly become a favorite with anyone who tries them.
When you're in the mood for a sweet, zesty muffin, this is the one you need. It' comes together quickly and tastes incredible.
I used my basic muffin recipe as a starting point for today's muffins. It's a well-loved recipe that already includes a cranberry orange variation. But with it being Fall, I thought it would be great to have a dedicated recipe for this fantastic flavor.
I made one change in addition to adding orange and cranberries. And that was the addition of baking soda. It reacts with the acidity in the orange juice to create a domed muffin top.
Why this recipe works
The proper ingredient ratio is used to create a wonderfully textured muffin that is dense but not dry.
The muffin method is used for mixing the ingredients.
The thick batter is sturdy enough to support the plump cranberries so they don't sink to the bottom of the muffin.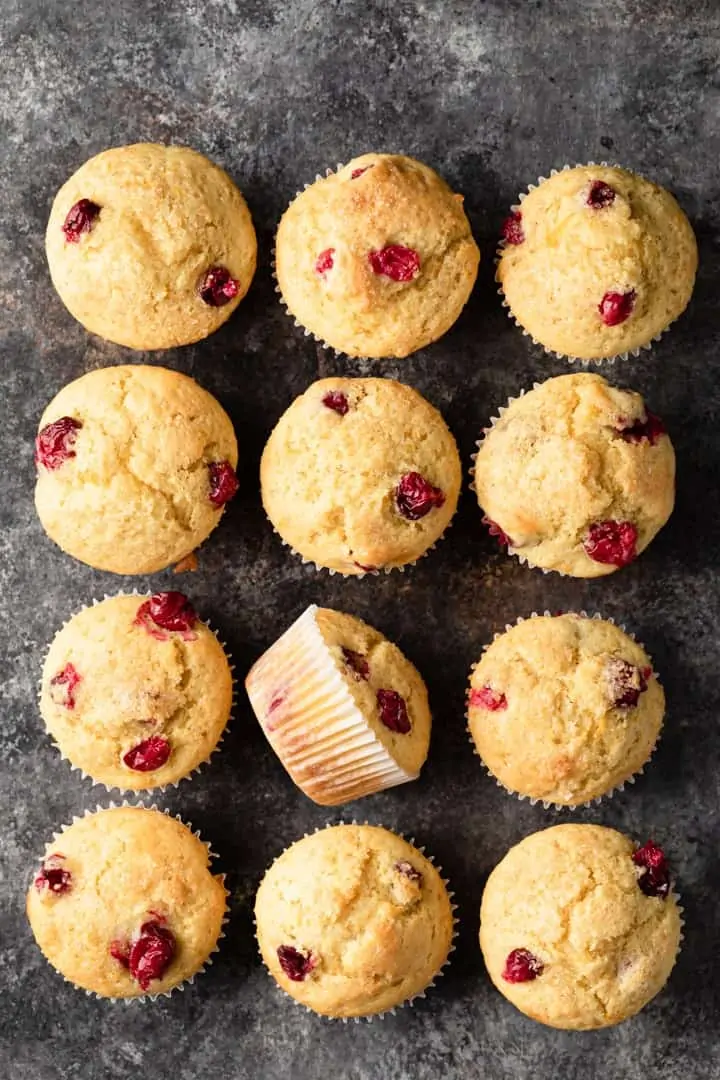 Cranberry Orange Muffin Ingredients
I used standard muffin ingredients from my plain muffin recipe with the addition of cranberries and orange for flavoring. The ingredient list is fairly simple and you probably have most of the ingredients on hand.
Flour: I always recommend using a quality flour like Bob's Red Mill all-purpose flour*.
Sugar: White granulated sugar is mixed into the muffin batter. And coarse sugar* is sprinkled over the top for extra sweetness and crunch.
Leavening: Baking powder and baking soda are needed for a peaked muffin top. Look for an aluminum-free, double-acting baking powder such as Rumford*.
Salt: Just a little is needed to balance the sweetness and bring all the flavors together.
Orange juice & zest: Make sure to use fresh orange juice. It will make the muffins taste so much better!
Milk: Whole milk works best for this recipe.
Butter: Unsalted sweet cream butter is what I always recommend. It adds a sweet buttery richness that you'll love.
Eggs: 2 large eggs are needed for structure.
Cranberries: Fresh cranberries are best but frozen, unthawed cranberries or dried cranberries will also work.
To bake these muffins you'll need:
---
How to make cranberry apple muffins
It's so easy to whip up these cranberry orange muffins. Simply whisk the dry ingredients together, whisk the wet ingredients together, then combine the two. Plop the batter in a muffin tin and bake.
The Batter – The batter is thick and lush. It bakes up into tender orange muffins studded with ruby red cranberries.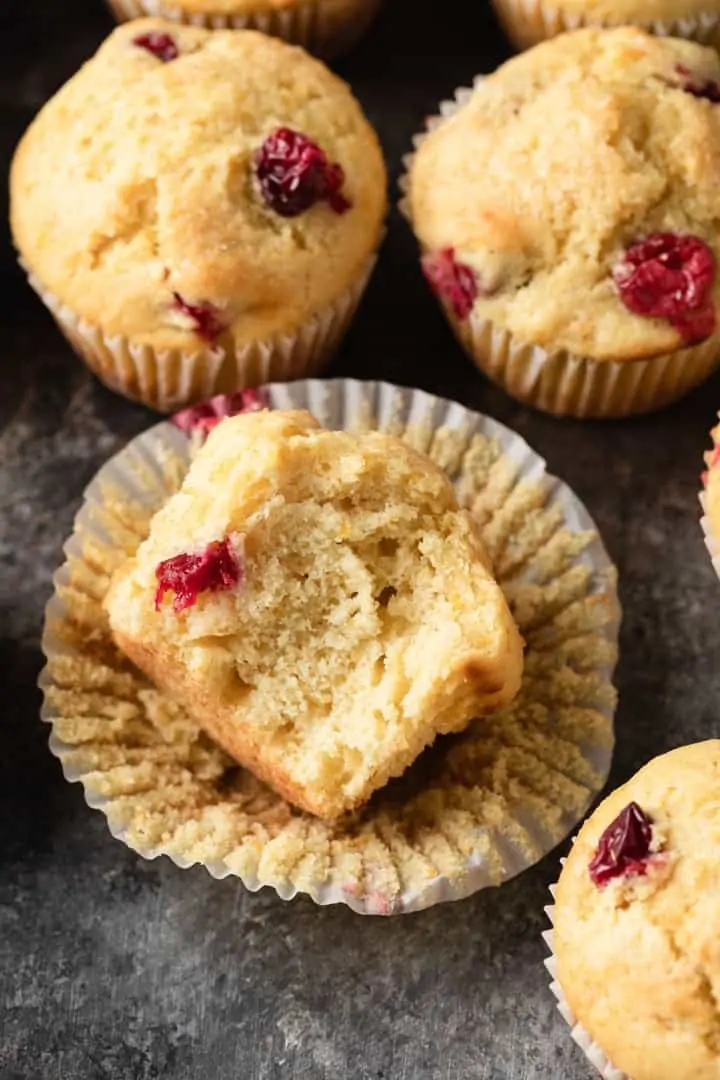 Step 1: Use the muffin method for mixing
First, make sure the cold ingredients are at room temperature. Set them out about 1 hour before you begin making the muffins.
You need two separate mixing vessels. A large bowl and a large liquid measuring cup or small bowl.
Whisk all the dry ingredients together in the large bowl. This includes flour, sugar, leavening, and salt.
Whisk all the wet ingredients together in the second bowl or measuring cup. This will be the orange juice, zest, milk, melted butter, and eggs.
Step 2: Make the muffin batter
Make a well in the center of the dry ingredients and pour the wet ingredients in. Use a silicone spatula to fold it all together just until almost fully incorporated. There should be a few streaks of dry flour visible.
Add the cranberries and gently fold them into the batter. Don't over mix or the muffins will be tough.
Step 3: Bake
Divide the batter evenly between 12 paper-lined muffin cups. The batter should fill the cups about ¾ of the way. This is about 4 tablespoons of batter. I use an ice cream scoop to portion the batter and it works wonderfully.
Bake the muffins in a 400°F for 12-15 minutes. A toothpick inserted into the center should come out with only a few moist crumbs attached. Be careful not to over bake or the muffins will be dry.
Carefully transfer the muffins to a wire cooling rack and let them cool completely before serving. Or you can serve them slightly warm.
---
Make ahead instructions
Muffins are best the day they are made but they can be stored for later use. Place the muffins in an airtight container and keep them at room temperature for up to 3 days.
How to refrigerate cranberry orange muffins

Place the cooled muffins in an airtight container and refrigerate for up to 1 week.
How to freeze cranberry orange muffins

Wrap the cooled muffins individually in plastic wrap then place them in an airtight container or zip-top freezer bag. Freeze for up to 3 months.

Thaw one or all of the muffins in the refrigerator overnight.
Or place a single frozen muffin in the microwave for 40-60 seconds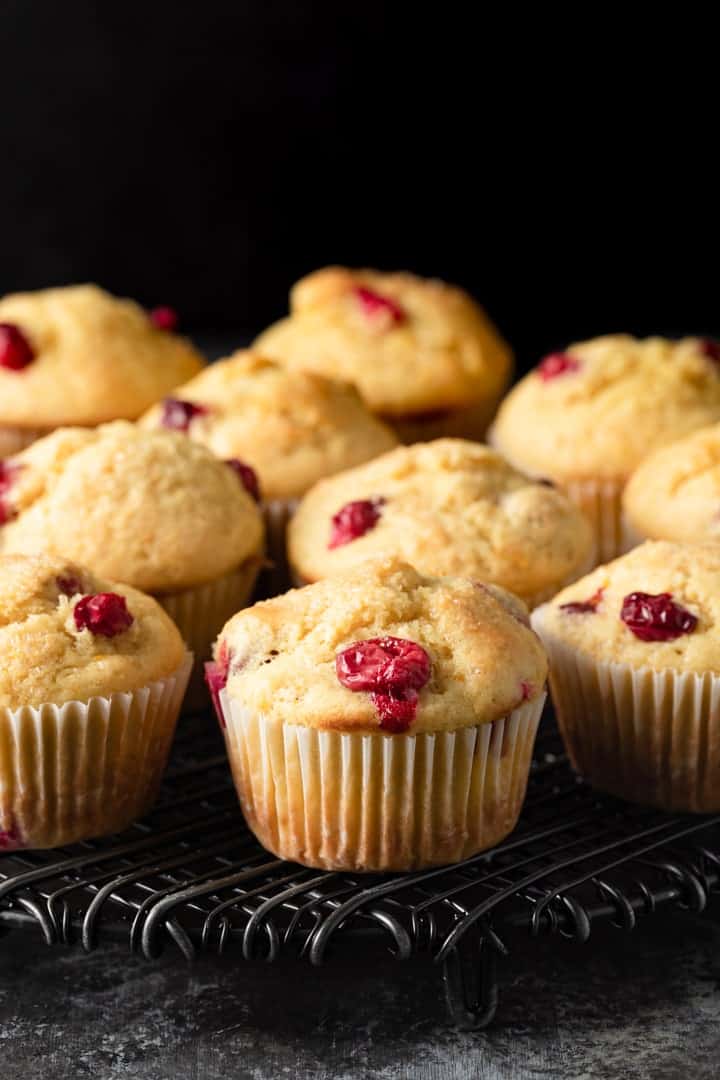 Can I use dried cranberries instead of fresh?
You can use dried cranberries for cranberry orange muffins if you don't have fresh cranberries available. You'll want to use about ½ cup of dried cranberries in place of ¾ fresh.
If you like this recipe, you'll love these other fruity muffins:
Did you try this recipe? I would love for you to leave me a 5-star rating or comment. This way, I have a better understanding of which recipes you like and can create more of them.
Please take a moment to follow me on Instagram, Pinterest, Facebook, Youtube or sign up for my free newsletter to never miss the newest recipes and blog updates.
You can also shop my favorite baking tools. Thank you so much for your support!