This post may contain affiliate links. Read the full disclosure here.
Pumpkin Pie Cupcakes that taste just like pumpkin pie! The pumpkin cupcake is deliciously moist with hints of cinnamon, ginger, nutmeg, cloves, and vanilla. It's topped with homemade whipped cream and pie crust cutouts for a decorated holiday treat.
Pumpkin Pie Cupcakes
These pumpkin cupcakes are exactly what your Thanksgiving table needs! Replace the traditional pie with them and you won't even miss it.
Growing up, Thanksgiving dessert was all about the pie. Pumpkin pie. There were usually two or three of them on the dessert table. Sometimes we'd even have pumpkin cheesecake.
The pumpkin pie filling is aromatic with warm, cozy spices. It sits on a buttery, flaky crust. And it's usually topped with sweetened whipped cream. This is everything we love about pumpkin pie!
I've taken all those components and transformed this classic pie into a cupcake. And it tastes exactly like my favorite pie!
I've made pumpkin cupcakes before in mini form. I used that recipe and tweaked it a tad to get the ultimate pumpkin spice cupcakes. They smell so good, you guys!!
Why this recipe works
I used 1 cup of pumpkin puree which is just enough to give the cupcakes tons of flavor without making them too soggy.
All the same spices from my pumpkin pie recipe are incorporated into the cupcakes. This is one flavorful cupcake!
Baking powder and baking soda are used to make the cupcakes rise tall and fluffy.
Can I use cream cheese frosting for pumpkin cupcakes?
While this recipe uses whipped cream, you can use my best cream cheese frosting recipe in its place.
I prefer the whipped cream so the cupcakes taste more like pumpkin pie but it's totally up to you which frosting you wish to use.
---
Pumpkin pie cupcake ingredients
There are quite a few staple ingredients in this recipe. With the exception of pumpkin puree and spices, you most likely have the ingredients on hand. There are a few spices that pair wonderfully with the pumpkin flavor and enhance the Fall feel of this sweet holiday dessert.
Butter: Unsalted sweet cream butter that is at room temperature will give you the best results.
Light brown sugar: Brown sugar is enhanced with sweet molasses flavor and it works beautifully with the pumpkin.
Pumpkin puree: You only need 1 cup of puree which is a little more than half of a 15-ounce can. Save the leftover puree for pumpkin bread.
Eggs: Whole eggs that are at room temperature will be easiest to incorporate into the batter.
Vanilla: Use high-quality pure vanilla extract. Or you can make large batches of homemade vanilla extract. It's divine!
Flour: All-purpose flour works best for these cupcakes but take extra care to not overmix the batter. You don't want to end up with tough cupcakes.
Spices: A mix of cinnamon, ginger, nutmeg, cloves, and salt are used to flavor the cupcakes.
Milk: I added milk for more moisture. The cupcakes come out soft and fluffy without being gummy in the middle.
To bake these cupcakes you'll need:
Mixer: I always use my trusty KitchenAid stand mixer*. It just makes the mixing process so much easier.
Muffin Pan: Bake the cupcakes in a regular muffin pan* lined with paper liners.
Spatula: A silicone spatula* is great for scraping the sides and bottom of the bowl while you are mixing the ingredients together.
---
How to make pumpkin cupcakes
Pumpkin spice cupcakes are incredibly easy to make. The recipe follows the creaming method for mixing. This means you cream the butter and sugar together before adding the puree and eggs. The dry ingredients are combined in a separate bowl then added alternately with the milk.
The Cupcakes – The batter comes together easily and is thick. Make sure to only mix the ingredients until they are just incorporated. Over mixing will give you a tough, dense cupcake.
The Frosting – Stabilized whipped cream holds up well. It will keep for several days in the refrigerator before separating. I prefer this as a frosting so the cupcakes taste more like pumpkin pie.
The Topping: Pie crust cutouts make wonderful garnishes for the cupcakes. They add to the pumpkin pie element and taste great!
Mix the wet ingredients
It is essential to use room temperature ingredients. This makes it easier to incorporate them into the batter.
Set the butter, eggs, and milk out on the counter 1 hour before you plan to make the cupcakes.
Cream the butter and sugar and sugar together until it's lighter in color. This can take 5-7 minutes. This will be the longest amount of time you'll mix anything for this recipe. All the other mixing should be just until the ingredients are incorporated.
Add the pumpkin puree and mix just until incorporated. The puree has a lot of moisture content so the mixture may start to look curdled. This is normal.
Beat in the eggs and vanilla just until they are incorporated. Take extra care not to over mix once you've added the eggs.
Mix the dry ingredients
Use a separate bowl to whisk the flour and spices together until well combined.
You can sift them together to ensure the spices are evenly mixed throughout the flour. This will also create more air in the flour and produce a lighter cupcake texture.
Add half the flour mixture to the pumpkin mixture and mix until it's almost fully incorporated. Add the milk and mix it the same way. It should be not quite fully incorporated but mostly mixed. Add the remaining flour mixture and mix it all together until just combined.
Just combined means as soon as there are no visible streaks of dry flour, stop mixing.
Bake the cupcakes
Fill 14 paper-lined muffin cups ⅔ of the way full with batter. This is roughly 3 tablespoons of batter.
Bake the cupcakes just until a toothpick inserted into the center comes out with only a few moist crumbs attached. Take care not to overbake or the cupcakes could end up dry.
Allow the cupcakes to cool on a wire rack before frosting.
Make whipped cream frosting
I use my favorite stabilized whipped cream for frosting the cupcakes.
You need:
2 cups heavy whipping cream
3 tablespoons confectioners' sugar
1 teaspoon clear piping gel
1 teaspoon vanilla extract
Beat all the ingredients together on medium-low speed until the sugar is fully dissolved. Turn the speed up to medium-high and beat until the medium to stiff peaks form.
Stabilized whipped cream pipes well. You can use a large round tip to pipe it on the cupcakes.
Make the pie crust cutouts
Use my homemade pie crust recipe or any storebought crust you prefer.
Roll the crust out and use a 1-inch pumpkin-shaped cookie cutter to cut out shapes. Score the dough so it looks more like a pumpkin. I like to use the larger end of an Ateco 809 or 849 piping tip to create curved lines in the dough.
Brush the cutouts lightly with milk and sprinkle them with coarse sugar. Bake them for 15 minutes in a 350°F oven.
Let the cutouts cool completely before adding them to the top of the cupcakes.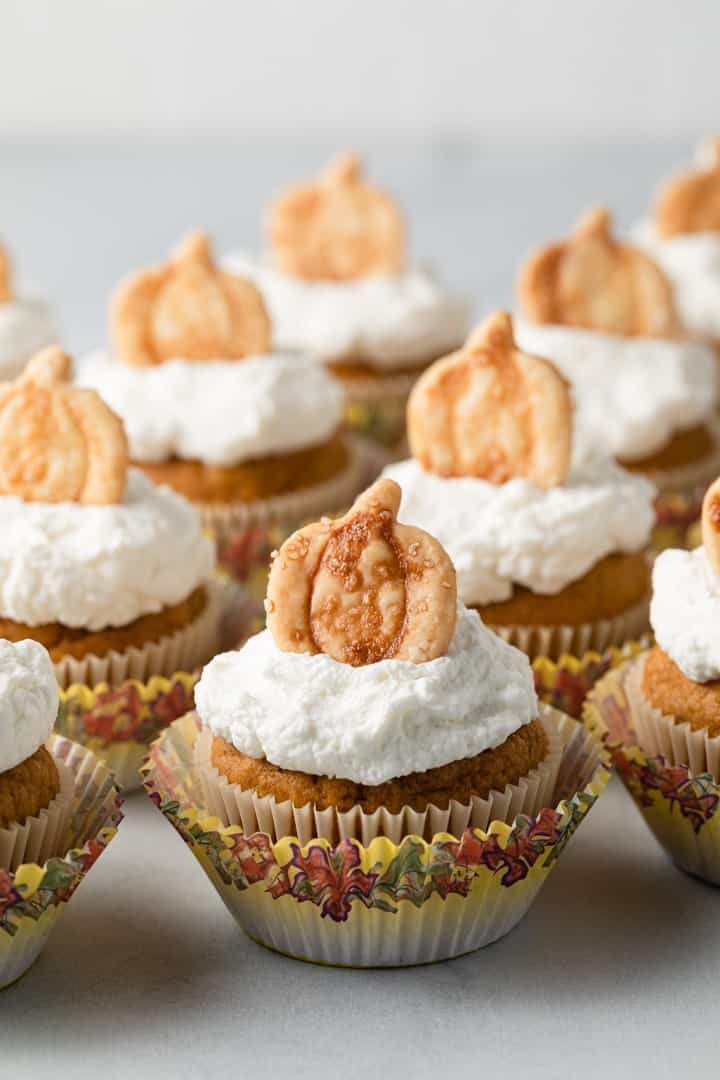 How to store pumpkin cupcakes
The unfrosted cupcakes will keep for up to 5 days in the refrigerator. Cupcakes frosted with stabilized whipped cream will keep for up to 3 days in the refrigerator.
You can also freeze unfrosted cupcakes for up to 3 months. Thaw them overnight in the refrigerator and frost them before serving.
If you like pumpkin, you'll love these other tasty pumpkin recipes:
Did you try this recipe? I would love for you to leave me a 5-star rating or comment. This way, I have a better understanding of which recipes you like and can create more of them.
Please take a moment to follow me on Instagram, Pinterest, Facebook, Youtube or sign up for my free newsletter to never miss the newest recipes and blog updates.
You can also shop my favorite baking tools. Thank you so much for your support!
This post was originally published in November 2016. It has been updated with more detailed copy and new photos.