This post may contain affiliate links. Read the full disclosure here.
This silky Cream Cheese Frosting is a basic recipe that can be used in a variety of ways. It's not too sweet and has a ton of tangy cream cheese flavor!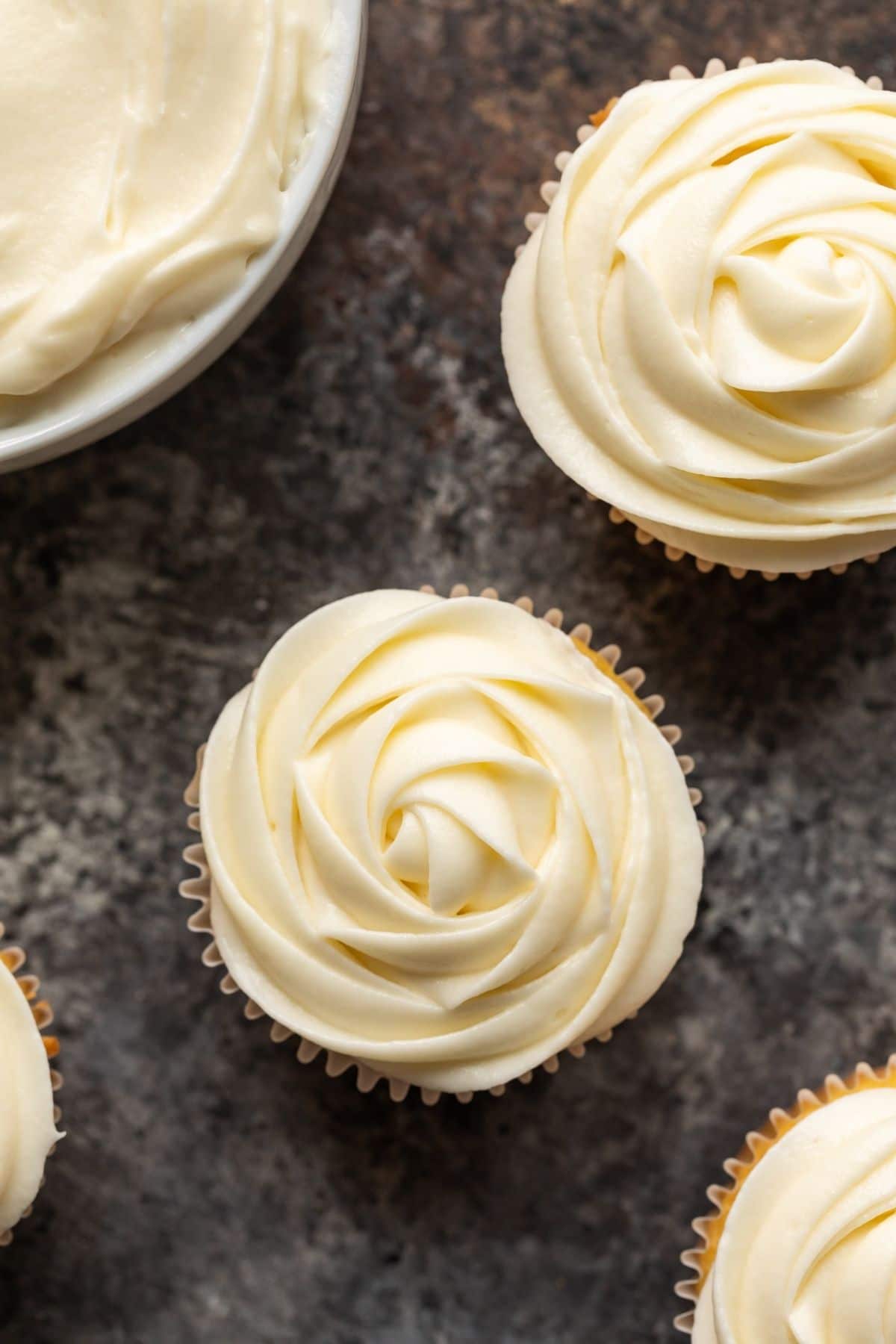 Cream cheese frosting recipe
This is the best cream cheese frosting recipe! Seriously, it's the only recipe you'll ever need. Trust me, I've used it so many times for cakes and cupcakes, and I always get rave reviews!
I've made a lemon cream cheese frosting in the past but honestly, a basic frosting is my absolute favorite! It's so smooth, tangy, and lightly sweet.
It's actually a great base for other flavors as well but you have to be careful because adding too much of anything extra will thin out the frosting and make it runny.
You could mix in things like crushed pineapple that's been very well-drained. Different citrus curds. Or you could add a little cocoa powder to make chocolate cream cheese!
---
Best Cakes to go with Cream Cheese Frosting
This frosting is phenomenal on so many different cake flavors. Here are just a few of my favorites:
Ingredients
My cream cheese frosting recipe uses five simple ingredients. Let's talk about what they are.
Butter: Use unsalted butter because cream cheese already contains a good amount of salt.
Cream cheese: Use a good quality cream cheese like Philadelphia. Avoid using low-fat cream cheese. These will not yield the same results.
Sugar: Confectioners' sugar also known as powdered sugar is the only sugar that works for this recipe. Any other sugar will leave the frosting with a gritty mouthfeel.
Vanilla: I highly recommend using a good quality pure vanilla extract.
Salt: This is completely optional! I find that a little extra salt helps balance the extreme sweetness that comes from using so much powdered sugar. Taste your frosting before you add it and only add a little at a time until you're happy with the results.
---
How to make cream cheese frosting
The concept is the same as making a buttercream. You want to start with softened butter and cream cheese but the butter shouldn't be so soft that it looks oily. 20 to 30 minutes on the countertop seems to be the sweet spot for softening butter.
Whip the butter and cream cheese together until it's completely smooth creamy. This can take up to 5 minutes depending on your mixer.
Then I just add all of the remaining ingredients at once – the sugar, salt, and vanilla – and beat it until is completely mixed in and smooth. Alternatively, you can add the sugar in two additions to make it easier to fully incorporate without making a huge mess.
The frosting is very soft and supple but it does hold its shape well when pipped. If the frosting seems too soft, you can pop in the refrigerator for 5-10 minutes then whip it a bit more. The cold temperature will help stiffen it some.
But, do try to avoid adding more confectioners' sugar. The cream cheese makes the frosting creamier and it will take quite a bit of confectioners' sugar to get a stiff frosting. The excess sugar may be too sweet to handle.
You can make cream cheese frosting up to a week in advance. Just store it in an airtight container and keep it refrigerated.
Can you color cream cheese frosting?
The answer is yes! You can add a few drops of gel food coloring to color the frosting. Avoid using liquid food coloring because it can ruin the texture and make the frosting too runny.
How do you thicken cream cheese frosting?
The best way to thicken cream cheese frosting is to refrigerate it for 5-10 minutes. As the butter cools, it'll help firm up the frosting.
You can also add meringue powder to thicken the frosting and keep it stable. I've done this countless times and it works like a charm. It's even great for stabilizing frosting with wet ingredients, like my pineapple frosting. Start with 1 tablespoon, mix it in, then see if you need to add more.
Tips for success
Don't work with butter that is too soft. If it's oily, it's too soft and won't mix properly with the cream cheese.
Make sure the confectioners' sugar contains cornstarch as the anticaking agent. It will help thicken the frosting.
Use full-fat cream cheese! Cream cheese with lower fat content contains more liquid and can result in a runny frosting.
Avoid adding more sugar to thicken the frosting! This will only make it too sweet.
You will be so impressed with this light and smooth frosting. It's perfect for all sorts of cakes, cupcakes, and even cookies!
Did you try this recipe? I would love for you to leave me a 5-star rating or comment. This way, I have a better understanding of which recipes you like and can create more of them.
Please take a moment to follow me on Instagram, Pinterest, Facebook, Youtube or sign up for my free newsletter to never miss the newest recipes and blog updates.
You can also shop my favorite baking tools. Thank you so much for your support!