This post may contain affiliate links. Read the full disclosure here.
These gorgeous red velvet cupcakes have hints of both chocolate and vanilla with rich red color, making them an exquisite treat. A smooth, tangy cream cheese frosting ties the flavors together.
What better way to celebrate a special occasion than with red velvet cupcakes. They are miniature versions of my red velvet cake with a light and fluffy texture. And the flavor is unlike any other.
I've made many different versions of red velvet desserts over the years including this red velvet cheesecake. But, these cupcakes are my very favorite.
The recipe uses both butter and oil so the cupcakes are buttery rich, extra moist, and incredibly fluffy. These single-serve cupcakes taste exactly like a classic red velvet cake.
A lush cream cheese frosting adorns the top. But, you can change up the frosting if you're not a fan of cream cheese. My simple Swiss meringue buttercream would be an excellent substitute.
Next, try my green velvet cupcakes for a fun twist!
Why this recipe works:
The perfect balance of chocolate and vanilla is used along with a subtle tang that is well known in red velvet.
Butter and oil are used to keep the cupcakes soft and fluffy without compromising the rich flavor.
Tangy cream cheese frosting ties all the cupcake flavors together leaving you with a sensational dessert experience.
How to make red velvet cupcakes
Red velvet is a mix between chocolate and vanilla flavors with a touch of tanginess that lingers at the end. There's chocolate, vanilla, vinegar, and buttermilk in the cupcakes. Each one plays an important part in how the cupcakes taste.
The ingredients
Butter and oil: The combination of butter and oil ensures the cupcakes have the best texture and taste. Use vegetable or canola oil with a high-quality butter.
Sugar: Regular granulated sugar is all you need here.
Eggs: You need 3 large eggs that are at room temperature. Set them out 30-45 minutes before you start making the recipe.
Vanilla extract: Use pure vanilla extract of the highest quality. Or you can use homemade vanilla extract.
Flour: I find that cake flour is best. It's lower in protein content and produces a soft, lighter crumb. My favorite is Bob's Red Mill.
Cocoa powder: You only need a couple of tablespoons of unsweet cocoa powder to add a hint of chocolate flavor.
Leavening: Baking powder and baking soda are added to give the cupcakes rise. The baking soda will react with the cocoa powder, buttermilk, and vinegar to produce a perfect red velvet cupcake.
Buttermilk: Use full-fat buttermilk for the best results and make sure it's at room temperature just like the eggs.
Vinegar: You only need 1 tablespoon of white vinegar.
Red food coloring: I used an entire 1-ounce bottle of liquid red food coloring. You can use gel food coloring if you wish.
The instructions
Red velvet cupcakes use the creaming method for mixing. This results in a sturdy yet soft cupcake texture.
Step 1: Mix the wet ingredients
First, cream the oil, butter, and sugar together until light and fluffy. Add the eggs, one at a time, and mix well after each addition. Then, mix in the vanilla extract.
Step 2: Mix the dry ingredients
Add the flour, cocoa powder, baking powder, baking soda, and salt to a separate bowl. Use a whisk to stir it all together until everything is well combined.
Step 3: Combine the wet and dry ingredients
Add half the flour mixture to the butter/oil mixture. Mix until almost fully combined.
Add the buttermilk followed by the remaining flour mixture and mix until just combined. Mix in the vinegar and food coloring until fully combined.
Step 4: Bake the cupcakes
Line 24 muffin cups with paper liners and fill each one ⅔ full with batter. Take care and don't overfill the cups. The batter rises quite a bit during baking and cups that are too full may overflow.
I like to use a 3-tablespoon cookie scoop to portion out my batter.
Bake the cupcakes at 350°F for 15-18 minutes. Or until a toothpick inserted into the center comes out with only a few moist crumbs attached.
Step 5: Frost the cupcakes
Cool the cupcakes in the pan for 10 minutes then transfer them to a wire rack to cool completely. Frost them with my silky cream cheese frosting. I use a Wilton 1M piping tip to pipe a rose on top of each cupcake.
If you're not a fan of cream cheese frosting, try using my Swiss meringue buttercream instead.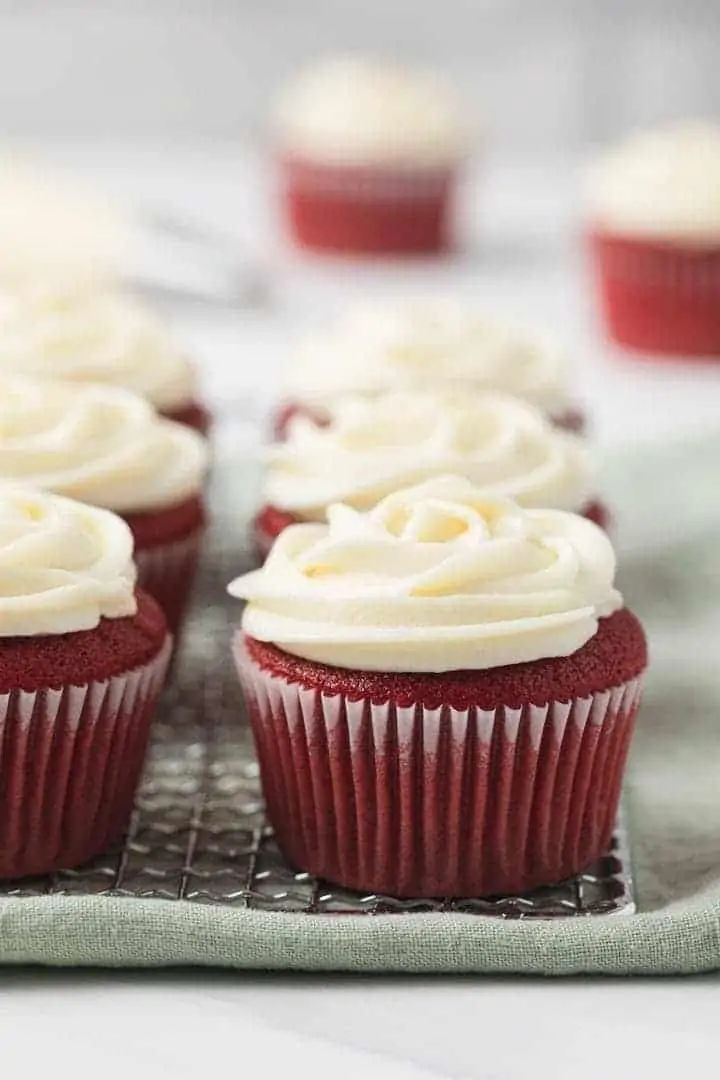 Make ahead and storage tips
The cupcakes can be made ahead 1 day in advance. Keep covered and store at room temperature.
The frosting can also be made 1 day in advance. Keep covered and store in the refrigerator until ready to use.
Frosted cupcakes can be stored in an airtight container for up to 3 days in the refrigerator.
Unfrosted cupcakes can be frozen for up to 3 months. Thaw in the refrigerator overnight and frost before serving.
Tips for making red velvet cupcakes
Make sure to properly measure the flour. Don't just scoop the flour out of the container with the measuring cup. Instead, lightly spoon the flour into the measuring cup and level it off with the back of a knife. Or measure by weight for more accurate results.
Sift the flour and cocoa powder to remove any clumps. Do this after they have been measured.
The amount of food coloring is up to you! I used 1-once liquid food coloring. Feel free to use less or more.
Buttermilk is required. It's needed in order to react with the cocoa powder and baking soda. Full-fat buttermilk will work best but low-fat will be okay if that's all you can access.
Did you try this recipe? I would love for you to leave me a 5-star rating or comment. This way, I have a better understanding of which recipes you like and can create more of them.
Please take a moment to follow me on Instagram, Pinterest, Facebook, Youtube or sign up for my free newsletter to never miss the newest recipes and blog updates.
You can also shop my favorite baking tools. Thank you so much for your support!