This post may contain affiliate links. Read the full disclosure here.
This moist Red Velvet Cake is a classic. It's such an easy recipe that's made completely from scratch. It's soft and velvety with a silky cream cheese frosting to complement the layers.
I have a glorious red velvet cupcake recipe and green velvet cupcakes on the site. And with Valentine's Day approaching, I wanted to make a cake version.
So what is red velvet cake? Basically, it's an extremely moist cake with soft layers that feel "velvety" in the mouth. The red velvet flavor is like vanilla with only a hint of chocolate.
It took me a few tries to get this one right. I didn't want the recipe to be exactly like the cupcakes but I did want the results to be the same. A soft, fluffy, moist cake that is in line with traditional velvet cakes.
Classic recipes like this are suitable for any holiday or special occasion and I think you'll highly enjoy this one. It's certainly better than the cake you get at grocery stores.
If you're a cheesecake fan, try my red velvet cheesecake next!
Red Velvet Cake Details
Taste – The cake layers are a subtle mix of vanilla and chocolate. The cake is coated in tangy cream cheese frosting.
Texture – Moist and velvety.
Ease – This is a simple cake to make. It utilized the creaming method to bring the batter together.
Time – The cook time is only 20-25 minutes. The process utilizes the creaming method and comes together in a matter of minutes.
What You'll Need
For the Velvet Cake
Wet ingredients – Canola oil, unsalted butter, granulated sugar, red food coloring, vanilla extract, eggs, white vinegar, and buttermilk.
Dry ingredients – Unsweetened cocoa powder, cake flour, baking soda, and salt.
The cold ingredients need to be at room temperature before use. Set them out on the counter about 1 hour before you plan to make the cake.
For the Cream Cheese Frosting
Wet ingredients – Cream cheese, unsalted butter, vanilla extract.
Dry ingredients – Confectioners' sugar (also known as icing sugar or powdered sugar).
See the recipe card for quantities.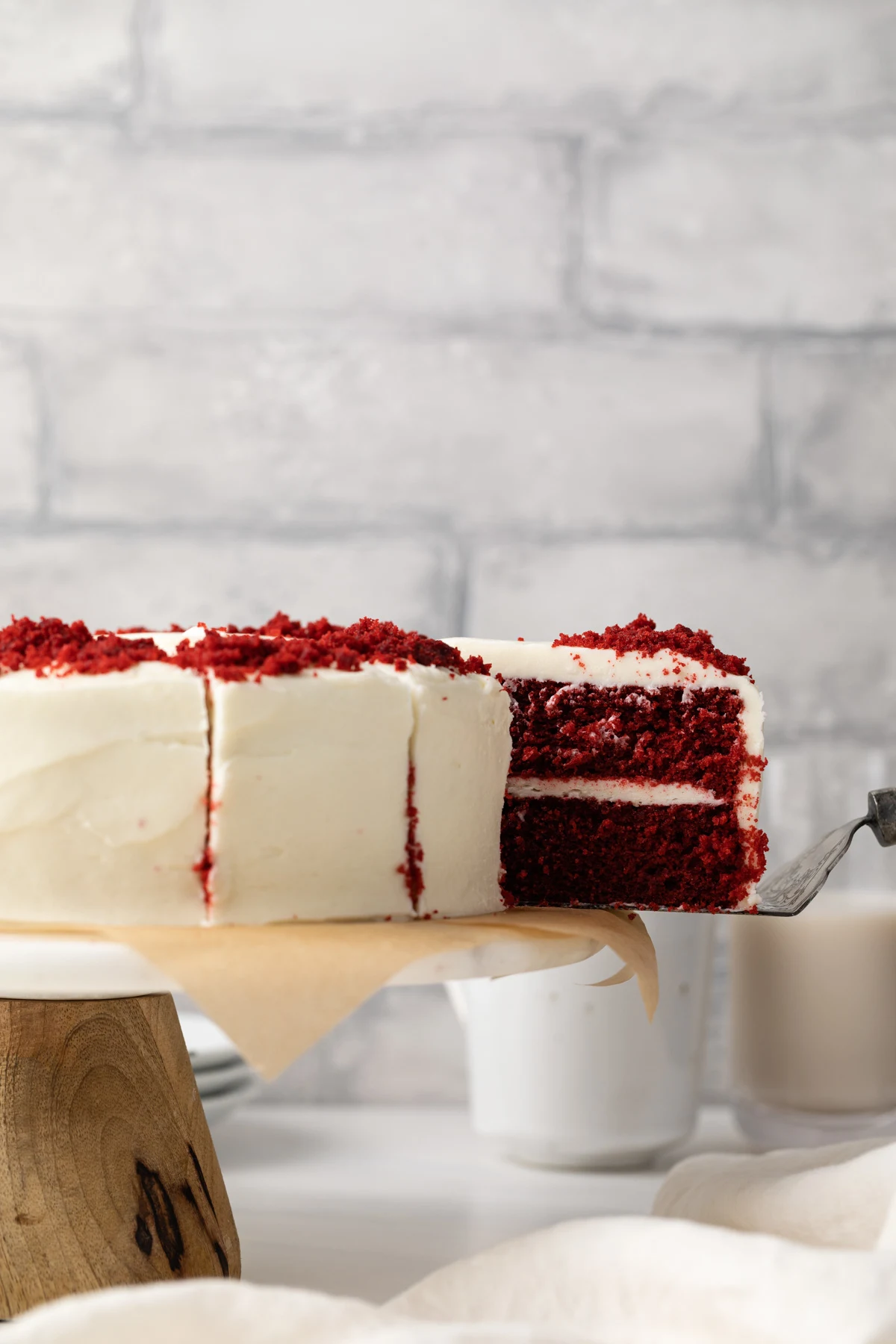 How to Make Red Velvet Cake
This red velvet recipe is fairly simple to bake and assemble. It's not an original recipe and will look similar to other red velvet cakes. My inspiration comes from America's Test Kitchen.
In a large bowl, cream the butter, oil, and sugar together until pale in color.
Add the cocoa powder and red dye then mix until well combined.
Combine the remaining dry ingredients and add half to the cocoa mixture.
Mix in the vinegar and buttermilk, followed by the remaining flour mixture.
Divide the cake batter between two 9-inch round cake pans and bake at 350°F for 20-25 minutes. Allow the layers to cool completely on a wire rack.
Beat the cream cheese and butter together until creamy. Add the confectioner's sugar and vanilla then mix until well combined.
Spread ⅓ of the frosting over one of the cake layers.
Top with the second cake layer and continue to frost the top and sides of the cake.
Hint: If needed, use a serrated knife to carefully level the tops of each cake layer.
Tips for the Best Red Velvet Cake
Bake time: Every oven is different! Check for doneness a few minutes early so you don't accidentally overbake the cake. Aim for a few moist crumbs on a toothpick.
Cocoa powder: Dutch-processed cocoa powder will not work with this recipe. Use all-natural unsweetened cocoa.
Bake even strips: For even layers, try using bake-even strips. They promote even baking so the layers don't cake come out domed.
Recipe FAQs
Can I make the cake without oil?
No. Oil is an essential ingredient. It keeps the cake moist. without it, the cake will be too try and crumbly.
Can I make the cake without vinegar?
No. Vinegar, buttermilk, cocoa powder, and baking soda create a chemical reaction that gives the cake rise. If you're in a pinch, you can use lemon juice.
What is a substitute for buttermilk?
I don't recommend using anything other than buttermilk in this recipe. But if you are in a serious pinch, you can try my homemade buttermilk substitute.
Can I use all purpose flour instead of cake flour?
I don't recommend it with this recipe. The cake flour offers a tightly yet tender crumb that you can't replicate with all purpose.
---
Storage & Freezing
Once the cake has been assembled, cover it and keep it at room temperature for up to 3 days. Or store it in the refrigerator for up to 5 days. Bring it to room temperature just before serving.

The frosted cake can be frozen for up to 2 months. Thaw it overnight in the refrigerator and let it come to room temperature just before serving
---
If You Love Cake
We enjoy cake so much that we've included a few of our favorite cake recipes here:
Did you try this recipe? I would love for you to leave me a 5-star rating or comment. This way, I have a better understanding of which recipes you like and can create more of them.
Please take a moment to follow me on Instagram, Pinterest, Facebook, Youtube or sign up for my free newsletter to never miss the newest recipes and blog updates.
You can also shop my favorite baking tools. Thank you so much for your support!