This post may contain affiliate links. Read the full disclosure here.
Soft and moist, this Homemade Whole Wheat Bread recipe is perfect for making sandwiches, toast, and more. It's an easy homemade bread recipe that anyone can make.
An Easy Homemade Bread Recipe
This whole wheat bread is adapted from my homemade bread recipe, with just a few swaps – the most obvious, of course, being that I swapped part of the bread flour for whole wheat flour.
While whole wheat bread, both homemade and store-bought, has a bit of a reputation for being dry and bland, this loaf is definitely an exception.
It's kept surprisingly moist thanks to the vegetable oil, and the honey gives it a slightly sweet flavor. Plus the unsalted butter brushed on top adds just a hint of richness.
I love to use this homemade bread for making sandwiches, grilled cheese, and even toast, or anything else you'd use a loaf of freshly baked bread for.
Next you should try my whole wheat English muffins. They are made with 100% whole wheat flour and have become very popular here.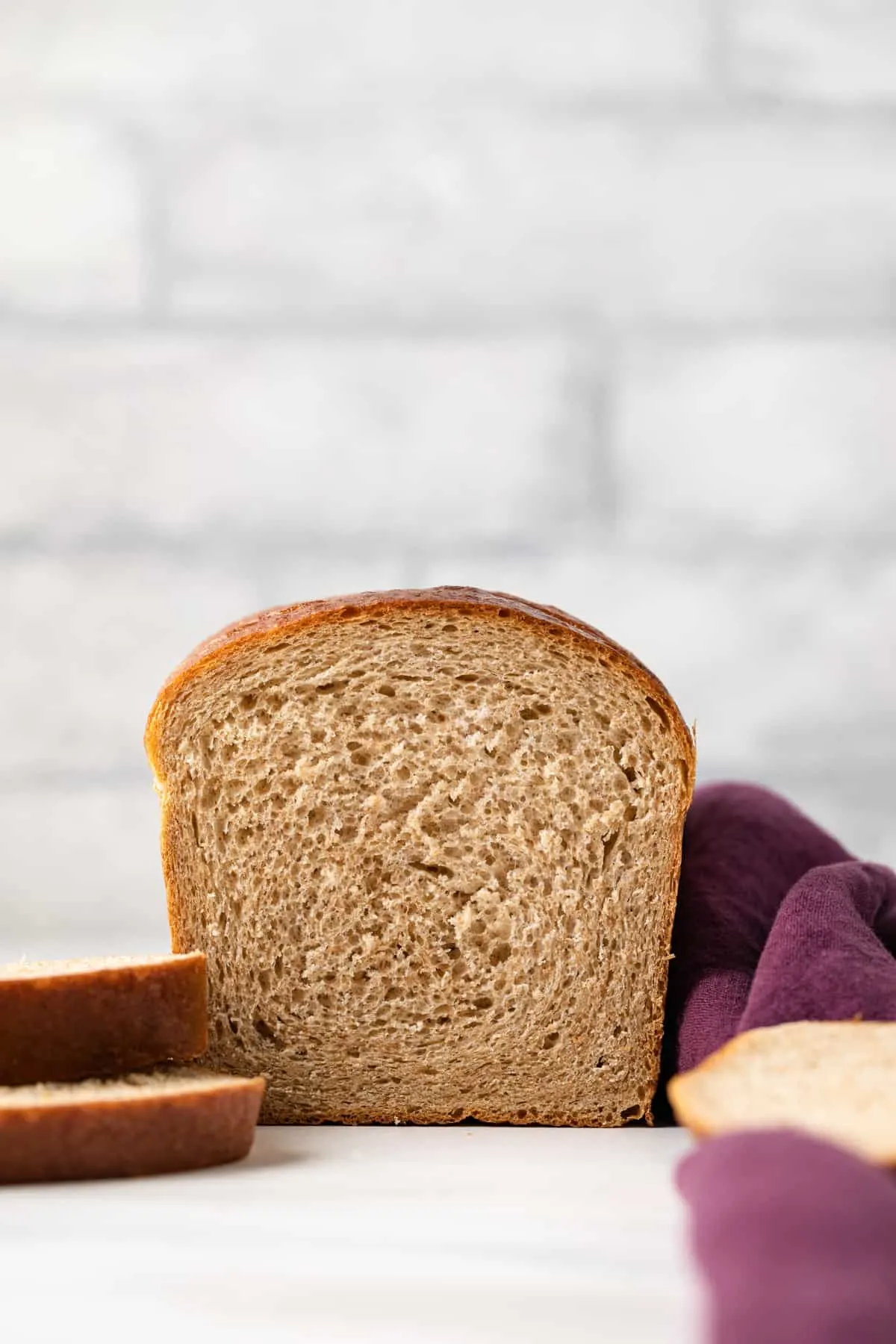 What You'll Need
This homemade whole wheat bread recipe requires just 9 easy ingredients.
Whole wheat flour
Bread flour – Bread flour is a must. If you try to use 100% whole wheat flour, the loaf will not bake up properly.
Yeast – You can use either instant yeast or rapid-rise yeast for this bread recipe.

You can also use active dry yeast but expect longer rise times.

Salt
Milk – Use milk that is warm, between 105-115°F. This helps to activate the yeast quicker than cold milk.
Honey – Adds a light sweetness to the bread.
Vegetable oil – Helps keep the loaf moist.
Egg – Adds structure to the loaf.
Unsalted butter – Brushed over the top of the bread, along with honey, for extra flavor.
---
How to Make Whole Wheat Bread
Making homemade wheat bread is much easier than you likely think, especially if you have a stand mixer to do all of the hard work. Just have patience with the rising times!
Make the bread dough. Whisk both flours, yeast, and salt. In a separate bowl, stir together the milk, honey, oil, and egg.
Gradually incorporate the liquid into the dry ingredients, mixing on low speed for 2 minutes using the dough hook. Increase the speed and mix until the dough pulls away from the sides of the bowl.
Knead and let rise. Knead by hand on a floured surface until smooth and elastic. Shape into a ball and transfer to a greased bowl. Cover with plastic wrap and let sit at room temperature for 45 minutes.
Be careful not to knead in too much additional flour or the bread may come out dense.
Form the loaf. Punch the dough down and transfer to a floured surface. Roll or press the dough into a rectangle. Starting at the short ends, tightly roll it into a log, pinching the seams as you go.
Allow rising. Place the dough in a greased pan. Cover and let sit for 30-35 minutes, until it rises about the rim of the pan.
Bake. Bake the bread for 25-30 minutes. Tent with aluminum foil halfway through to prevent browning.
Cool. Brush the remaining honey and melted butter over the hot bread. Cool in the pan for 15 minutes then transfer to a wire rack to cool completely.
---
Can I Make This Without A Mixer?
Yes, while this homemade wheat bread recipe calls for using a stand mixer, you can also make this homemade wheat bread by hand. Just mix the ingredients in a large bowl with a wooden spoon, then knead the dough by hand. It will take a little more work on your end but the final product will be the same!
Tips for Success
If this is your first time making homemade whole wheat bread, here are a few helpful tips.
Make sure your yeast is not expired. Packets of yeast do have an expiration date so take a peek at that. Expired yeast will not rise properly.
Pinch the seams tightly. When shaping the loaf, roll it tightly and pinch the seam. This will help the loaf hold its shape during baking.
Preheat the oven completely. Let your oven preheat for at least 30 minutes before you put the bread in. Otherwise, your loaf may rise and fall as it bakes.
Cool in the loaf pan first. Be sure to let the loaf cool in the pan for at least 15 minutes. The bread continues to cook after you remove it from the oven and cutting it too early can destroy the structure of your loaf.
Don't worry about a crisp crust. The crust will be crisp immediately upon coming out of the oven but will soften as the bread cools.
Serving Suggestions
This soft whole wheat bread makes the most incredible sandwiches! Just pile it high with your favorite meat, cheese, and vegetables. It also makes beautiful grilled cheese sandwiches.
Whole wheat bread is also great for toast. Just pop a slice or two in the toaster and slather with butter or jam. You can even use this homemade bread to make avocado toast!
---
How to Store & Freeze
How to store homemade bread. You can store your bread at room temperature for up to 3 days or in the fridge for up to a week, in an airtight container.
Can I freeze homemade bread? Yes, you can freeze this whole wheat bread. I recommend slicing it first, so that you can thaw individual slices as desired. You can store the slices in a ziploc bag or the loaf wrapped in plastic wrap. It will last for up to a month.
More Bread Recipes:
Did you try this recipe? I would love for you to leave me a 5-star rating or comment. This way, I have a better understanding of which recipes you like and can create more of them.
Please take a moment to follow me on Instagram, Pinterest, Facebook, Youtube or sign up for my free newsletter to never miss the newest recipes and blog updates.
You can also shop my favorite baking tools. Thank you so much for your support!