Cheddar Jalapeno Buttermilk Bread
This post may contain affiliate links. Read the full disclosure here.
This cheddar jalapeno bread recipe is super moist and loaded with flavor. Buttermilk gives the bread a wonderful texture and delightful flavor. With a generous amount of sharp cheddar cheese and jalapenos, this bread will knock your socks off!
Cheddar Jalapeno Buttermilk Bread Recipe
This buttermilk bread recipe is so flavorful and will be great alongside your favorite soups. It smells just like jalapeno poppers while baking in the oven. YUM!
While I'm a huge fan of yeast bread, sometimes I just want a quick bread recipe that I can whip up in flash. There's no kneading or waiting for the dough to rise. You just mix it up in one single bowl then pop it in the oven to bake.
I prefer buttermilk bread because of how tender and moist it is. Buttermilk adds a very slight tang also which goes well with the sharp cheddar and jalapenos.
Cheddar jalapeno buttermilk bread is a great alternative to making drop biscuits as well. It's much easier yet it can still be served on the side of your main dish. But, it is fabulous enough to enjoy on its own.
Why this recipe works
This bread is quick. It's as simple as dumping the ingredients into a bowl and stirring. The longest time is the time it takes to bake – 50 minutes.
Buttermilk bread is light, soft, and crumbly. And this one is full of cheese. I mean packed full!
The quick bread batter is thick like biscuit dough but bakes up supremely soft.
Cheddar Jalapeno Buttermilk Bread Ingredients
The ingredients needed to make my homemade buttermilk bread are very simple. You, most likely, have several of them in the pantry already.
Flour – I use Bob's Red Mill all-purpose flour. It always yields the best results and is my absolute favorite brand.
Sugar – This is completely optional but I find that it helps meld all the flavors together. The recipe calls for two tablespoons so it's not a lot.
Baking powder – Needed to make the bread rise. This recipe uses 1 ½ tablespoons of baking powder so make sure you are using a quality brand like Rumford. It's aluminum-free and double-acting.
Salt – Added to balance all the flavors.
White pepper – It's milder than black pepper and goes so well with the flavor of the bread.
Sharp cheddar cheese – Use block cheese and grate it yourself. This will give you the very best results. However, packaged shredded cheese can be used if necessary.
Jalapenos – The recipe calls for three jalapenos. I find this is the perfect amount for just the right spice and flavor.
Buttermilk – Be sure to let the buttermilk come to room temperature before making the bread.
Butter – Unsalted butter is best since a good amount of salt is added to the recipe. If you must use salted butter, omit the salt from the recipe.
To make this buttermilk bread, you'll need:
---
How to make cheddar jalapeno buttermilk bread
It's SO easy to whip up this simple cheddar jalapeno bread. It only takes about 15 minutes to make the dough. Then the bread takes about 50 minutes to bake but you can busy yourself with other things while it's in the oven.
The Batter – The batter is made in one single bowl, making clean up a breeze. It takes a few stirs to get the buttermilk mixed in and the end result is a thick batter that must be scooped into the loaf pan.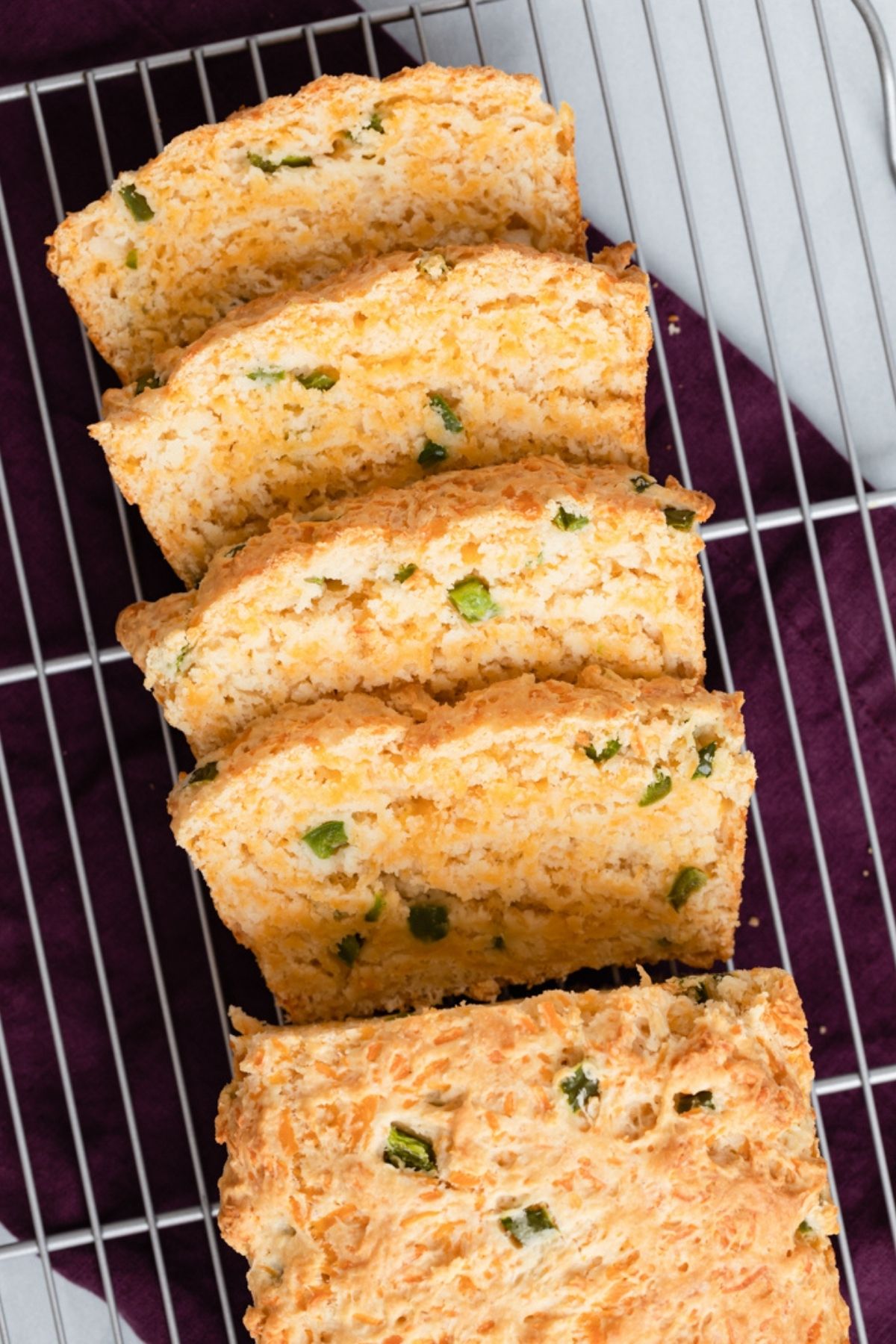 Step 1: Mix the dry ingredients
You need one large bowl and whisk. Add all the dry ingredients to the bowl – flour, sugar, baking powder, salt, and white pepper.
Use the whisk to stir it all together making sure to get the baking powder evenly distributed throughout the flour.
Step 2: Add the cheese and jalapenos
Add the shredded sharp cheddar cheese and chopped jalapenos. Use a silicone spatula to stir until mixed well.
Step 3: Stir in the wet ingredients
In a 2-cup measuring cup, stir the room temperature buttermilk and melted butter together until well combined.
Drizzle the milk mixture over the dry ingredients. Use a silicone spatula to fold everything together.
It may seem like the mixture is too dry. Keep folding! It will come together and form a thick batter.
Step 4: Bake the bread
Scoop the batter into a 9×5 loaf pan that has been lightly greased. Use the spatula to spread the batter evenly in the pan.
Bake the bread at 375°F for 45-50 minutes or until a toothpick inserted into the center comes out with only a few moist crumbs attached.
Let the bread cool in the pan for 10 minutes. Then, remove the bread from the pan and transfer to a wire rack to cool completely.
Tip: The bread is wonderful while slightly warm. Cut a slice before it has completely cooled and enjoy!
How to store cheddar jalapeno bread?
Make sure the bread has cooled completely then store it in an airtight container or ziptop plastic bag. Line the bottom of the container with a sheet of paper towel. Place the bread over the paper towel then top with another sheet of paper towel.
The bread will keep at room temperature for up to three days. Or store it in the freezer for up to 3 months.
---
How to reheat frozen bread?
Wrap frozen buttermilk bread in aluminum foil. Warm in a 300°F oven for 12-15 minutes until heated through.
If you like quick bread you'll love these other bread and biscuit recipes:
Did you try this recipe? I would love for you to leave me a 5-star rating or comment. This way, I have a better understanding of which recipes you like and can create more of them.
Please take a moment to follow me on Instagram, Pinterest, Facebook, Youtube or sign up for my free newsletter to never miss the newest recipes and blog updates.
You can also shop my favorite baking tools. Thank you so much for your support!