This post may contain affiliate links. Read the full disclosure here.
This Best EVER Banana Bread recipe is the only one you will ever need! It's easy, flavorful, and will quickly become your new favorite.
Best Ever Banana Bread Recipe
This is honestly the best banana bread recipe ever! It's basically my easy banana bread but with brown butter, buttermilk, and roasted bananas to give the bread the ultimate flavor and texture. Just take a look at the reviews and photos from people who have made it on Pinterest.
Brown butter adds to the nutty sweet flavor while yielding a melt in your mouth texture. Buttermilk adds extra moisture to ensure the bread stays soft and tender.
It can easily be enjoyed in place of dessert or for breakfast. It also makes a great snack between meals. And it can be made gluten free.
This best banana bread recipe is so moist and absolutely the most delicious bread you will ever taste. Why is this banana bread is so incredible?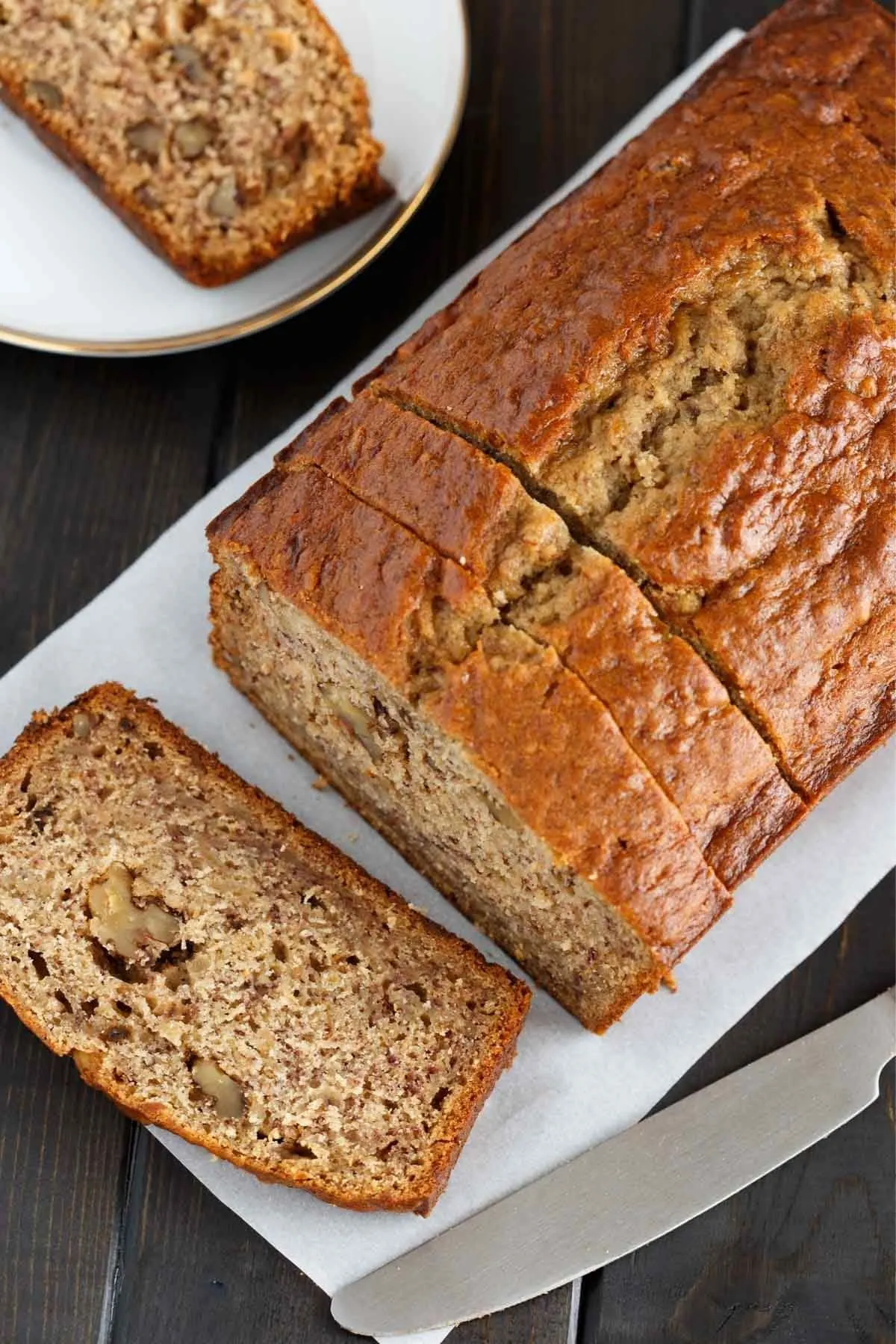 To begin with, it contains 4 large bananas. As if that isn't enough to make the bread flavorful, I went and roasted them.
That made the bread more flavorful and naturally sweet!
I used all brown sugar for a moist and sweet richness. Brown sugar will do wonders for quick bread, cakes, and cookies. I use it almost everything I bake.
To add to the already wonderfully rich flavor, I added brown butter. I've done this before with banana cupcakes and easy banana cake and let me tell you, brown butter and bananas are fantastic together.
Buttermilk in Best Ever Banana Bread
As if this banana bread could get any moister, I chose to incorporate buttermilk.
I love buttermilk in baked goods, especially in my cheddar jalapeno buttermilk bread. It adds a soft, tender texture that just melts in your mouth.
I added some chopped walnuts which are completely optional. I'm a huge fan of contrasts in texture and loved the soft crunch in each bite of bread.
This recipe has taken a classic banana bread and vamped it up to make it even more delightful. After one bite, I'm certain you will agree that it is indeed a tasty buttermilk banana bread recipe. And after you try it, you need to try my banana nut bread cookies!
How to make the best Ever banana bread?
Step 1: Roast the bananas and brown the butter
Roasting the bananas enhances their sweetness and flavor. That paired with browned butter make the ultimate banana bread.
Step 2: Mix the batter
Follow the usual technique for making quick bread – mix the wet ingredients, mix the dry ingredients, then combine the two.
Step 3: Bake the bread
Bake the bread in a light colored loaf pan for best results. Dark pans and glass pans retain heat too well and will cause the bread to come out too dark or possibly burn before the inside had finished cooking.
Common questions about Best Ever Banana Bread
Why are cup measurements not given for the bananas?
This recipe calls for roasting the bananas in their skin. You would not be able to measure out x cup amount before roasting. Choose the largest bananas you see in the market and you will have success with the recipe.
What can I use besides buttermilk?
You can replace the buttermilk in this recipe with plain yogurt or sour cream. Greek yogurt works best.
Can I use frozen bananas to make this bread?
While I've not done this myself, a reader has. She placed the frozen bananas directly in the oven to roast. She didn't thaw them and the recipe came out perfect.
More bread recipes you'll love
Did you try this recipe? I would love for you to leave me a 5-star rating or comment. This way, I have a better understanding of which recipes you like and can create more of them.
Please take a moment to follow me on Instagram, Pinterest, Facebook, Youtube or sign up for my free newsletter to never miss the newest recipes and blog updates.
You can also shop my favorite baking tools. Thank you so much for your support!
Inspired by Simply Recipes