This post may contain affiliate links. Read the full disclosure here.
The best yeasted Cinnamon Swirl Bread recipe is light, airy, and chewy with a beautiful cinnamon sugar filling.
There's something so comforting about the flavor of cinnamon. From Cinnamon Raisin Bread to Cinnamon Rolls to Apple Cinnamon Scones, you can't go wrong with this classic spice.
I think it's also one of the best ways to elevate a simple loaf of bread. This loaf, in particular, is perfectly light and airy with a stretchy chewy texture that's not too sweet and plenty moist, making it the perfect vehicle for a smear of butter or cream cheese at breakfast.
---
Why this recipe works
This is a simple yeasted bread dough recipe that' easy to make, especially with a stand mixer. The two-ingredient cinnamon swirl elevates the bread for an elegant treat with little extra effort.
The dough will rise twice: once after mixing and a second time after rolling and shaping the dough into a loaf. This ensures your bread rises beautifully in the oven for a light and fluffy result.
Spritzing the bread with water just before baking locks in moisture and helps develop a beautiful brown crust.
Cinnamon swirl bread recipe
This cinnamon swirl bread recipe is straightforward and fun to make for an effortlessly elegant treat. It's like my favorite homemade bread but with a delicate cinnamon swirl.
You'll start by kneading a smooth dough in a stand mixer. Egg and milk enrich the dough for a moist and stretchy texture.
After the first proofing, the dough should rise until doubled in size. Now comes the fun part: filling the dough with cinnamon sugar and rolling to create the swirl. The bread will proof a second time while you preheat the oven, then it's ready to bake.
The loaf is ready when it has a shiny brown crust and is puffed up and firm when poked.
---
Ingredients
Flour: This recipe calls for bread flour, which contains more protein (gluten) than regular flour for a stretchier texture. Bread flour is available in well-stocked grocery stores (look for Bob's Red Mill. It's the brand I always use.). If you can't find bread flour, you can substitute all-purpose flour.
Cornstarch: This is a trick I learned from America's Test Kitchen. It helps keep your bread light and airy. Cornstarch doesn't contain gluten, so it helps tenderize the bread dough. If you don't have cornstarch, you can use potato starch or simply omit it.
Yeast: I call for instant yeast, but you can substitute Active dry yeast for the recipe. To do so, you'll need to activate the yeast first by sprinkling it over the warm milk in a small bowl. Allow this to sit for 5 minutes. Once foamy, stir well and add it to the flour mixture.
Sugar: Granulated white sugar helps feed the yeast in the dough and creates that sweet cinnamon swirl.
Salt: This is necessary to enhance the flavor of your bread. It also helps tenderize gluten strands for a lighter, airier bread.
Milk: Milk both feeds the yeast for extra rise and adds moisture and tenderness to the bread.
Egg: An egg adds richness to the bread dough for a brioche-like flavor and texture.
Vanilla: A dash of vanilla compliments the cinnamon flavors for bread that tastes like pure comfort.
Butter: Unsalted butter at room temperature will most easily blend into your bread dough. You'll also need butter to grease the loaf pan for easy removal.
Cinnamon: The must-have spice for this cinnamon swirl bread!
To make this bread you'll need: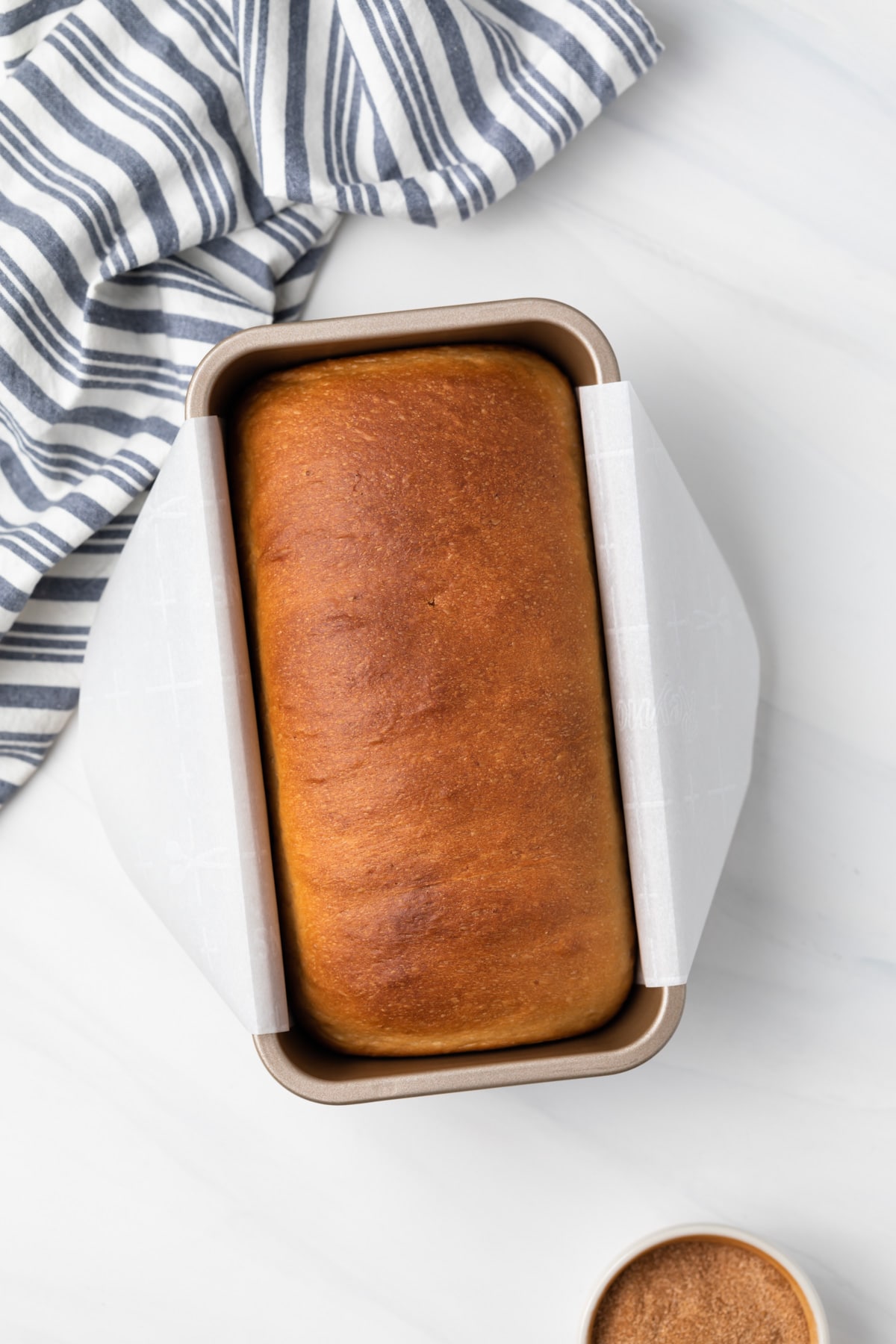 How to make cinnamon swirl bread
This cinnamon swirl bread recipe has three simple steps. First, blend the dough. Second, allow the dough to proof for up to one hour. Third, roll and fill the dough to create your cinnamon sugar swirl. Finally, bake and enjoy!
Step 1: Make the dough
To get started, combine the dry ingredients until uniform. Then, mixing slowly, incorporate the warmed milk, egg, and vanilla extract. The dough should be shaggy but start coming together at this point.
Switch to the dough hook and knead the dough until it reaches 75°F on an instant-read thermometer. At this point, you can start tossing in your butter chunks as the mixer is running. Keep mixing until the dough is smooth, shiny, and sticky. It should be very stretchy.
Next, you're ready for the first rise. Place the dough in a greased bowl, cover with plastic wrap, and let it sit for 45 to 60 minutes.
Your proofing time may vary depending on the temperature of your kitchen. Warmth makes the yeast more active for a faster rise.
Step 2: Fill the dough
When the dough has doubled in size, it's time to fill with your cinnamon sugar swirl. Transfer the dough to a work surface and roll it into a 10×6-inch rectangle. If the dough is overly stretchy, let it rest for 5 minutes. The gluten should relax and become easier to roll.
Next, fill your rectangle with cinnamon sugar. You may not need all of the cinnamon-sugar mixture. Sprinkle just enough over the dough to make an even layer.
Then roll the dough closed into a tight loaf shape. Pinch the seam closed on either end to ensure the loaf holds shape.
Step 3: Bake
The dough needs to rise one more time before baking for about 45 minutes. It won't double in volume this time but will puff up noticeably in the pan. Just before going into the oven, mist the top of the loaf with water.
The steam helps prevent cracking on the top or the sides. It also helps develop a beautiful golden crust.
After baking, let the bread cool for 30 minutes in the loaf pan. Then transfer to a wire cooling rack to cool fully before slicing.
Tips for success
You can use all-purpose flour if you don't have bread flour. The dough will much softer than if using bread flour and the swirls may separate.
Using cornstarch is a trick I learned from America's Test Kitchen. When combined with flour, it softens the proteins, resulting in a light and chewy baked good. If you don't have it, you can use potato starch or simply omit it.
Active dry yeast can be used instead of instant. Sprinkle the yeast over the warm milk and allow it to sit for 5 minutes. Once foamy, stir well and add it to the flour mixture. The proofing times may need to be increased depending on the ambient temperature in your kitchen.
You may not need all of the cinnamon-sugar mixture. Using the full amount will cause gaps between the swirls. Sprinkle just enough over the dough to have an even layer.
When rolling up the dough make sure to roll tightly and pinch the seam closed. This will ensure the loaf holds shape.
To prevent the bread from splitting during baking, mist the top of the loaf with water just before placing it in the oven. This adds just a touch of moisture that will turn to steam as the bread bakes. The steam allows the bread to expand without bursting open on the sides.
Storing & Freezing
To store: Store completely cooled bread in a bread box or vented container at room temperature for up to 4 days.
To Freeze: Slice the bread and freeze in a zip-top bag for up to 1 month. Thaw the slices as you need them.
Never refrigerate bread! It will dry out and become stale much quicker.
Did you try this recipe? I would love for you to leave me a 5-star rating or comment. This way, I have a better understanding of which recipes you like and can create more of them.
Please take a moment to follow me on Instagram, Pinterest, Facebook, Youtube or sign up for my free newsletter to never miss the newest recipes and blog updates.
You can also shop my favorite baking tools. Thank you so much for your support!