This post may contain affiliate links. Read the full disclosure here.
Light as air and crumbly, these apple cinnamon scones are packed with chunks of apple and spicy cinnamon. The scones are made with a basic buttermilk scone base so the texture is supremely tender.
Fall is on one of my favorite baking seasons. All the cozy and warm spices, apple, pear, pumpkin, and everything that screams comfort. I just adore it!
The evenings have begun to cool down and I can definitely feel the crispness of fall in the air. It's perfect apple picking weather.
And with those apples, you can make baked apple fritters or apple cinnamon scones. Just the kind of breakfast I enjoy! This recipe is so similar to my chai pear scones. If you liked those, you'll definitely love these.
Today's apple and cinnamon scones recipe yield ultra-thick and buttery scones with soft flakey centers. The ultimate texture and flavor combination.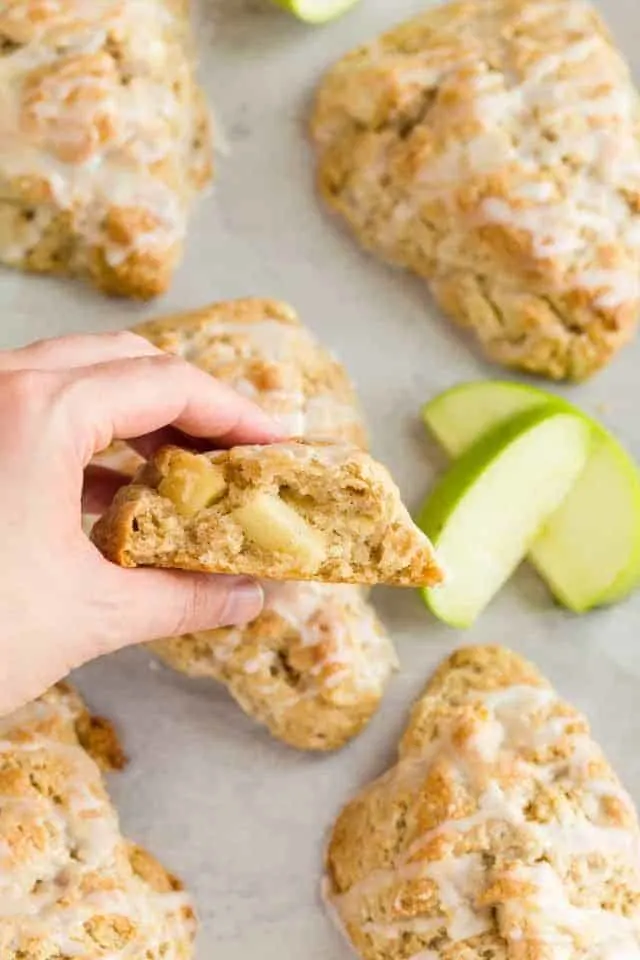 I have already shown you how to make soft scones. I took my plain scone recipe and added bits of crunch apple and cinnamon to make the perfect satisfying breakfast.
My base scone recipe is the best I've tried and I've made a fair amount of scones in my lifetime. It can support just about any add-in you choose.
I love making scone dough with buttermilk. It's the only way to achieve those soft centers that are supremely moist. The outside of the scones bake up golden brown and crisp with delicate crumbs in each bite.
Once you master scones, you will want to make them all the time.
---
Tips for making apple cinnamon scones
Handle the dough as little as possible. It does require some kneading but take care not to overwork it. Knead it just until it comes together and holds its shape.
Overhandling the dough will also cause the butter to warm up and melt. You need those little bits of cold butter throughout the dough to ensure the texture is soft in the center.
I like to freeze my scones for 30 minutes before baking. This helps to make sure the butter is super cold and it prevents spreading.
Brush the tops of the scones with heavy cream for a crispy top. Sometimes I like to sprinkle the tops with coarse sugar for extra crunch and flavor.
A hot oven is a must! This will cause the scones to rise tall and turn gorgeous golden brown.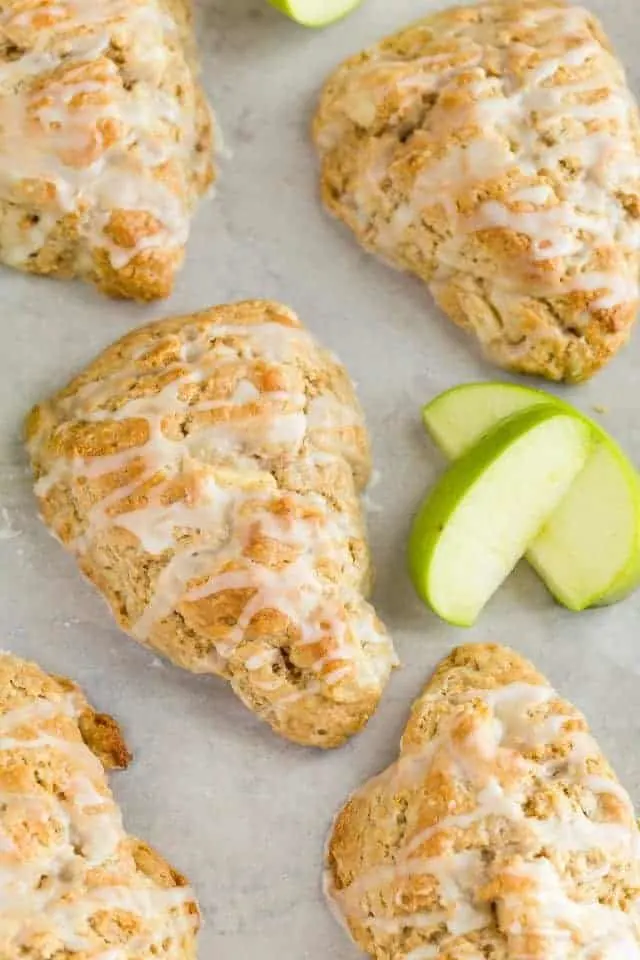 You can cut the scones any way you like. I always slice mine into triangles. That's more out of habit than anything.
But you can certainly roll the dough out and use a biscuit cutter to cut small rounds. Take care when doing this though. It's easy to overwork the down with rolling.
Cut the apples into small bits so they cook all the way through and become soft. Or if you'd like a crunchy apple texture, cut them slightly larger.
The glaze is a simple mixture of confectioners' sugar and apple juice. I love the added apple flavor from the juice. You can use milk or heavy cream with a teaspoon of vanilla.
Did you try this recipe? I would love for you to leave me a 5-star rating or comment. This way, I have a better understanding of which recipes you like and can create more of them.
Please take a moment to follow me on Instagram, Pinterest, Facebook, Youtube or sign up for my free newsletter to never miss the newest recipes and blog updates.
You can also shop my favorite baking tools. Thank you so much for your support!