This post may contain affiliate links. Read the full disclosure here.
Homemade Chai Pear Scones with chai spices and plenty of fresh pear in every bite are flaky and tender with a crisp, golden crunch. Perfect for breakfast or an afternoon pick-me-up!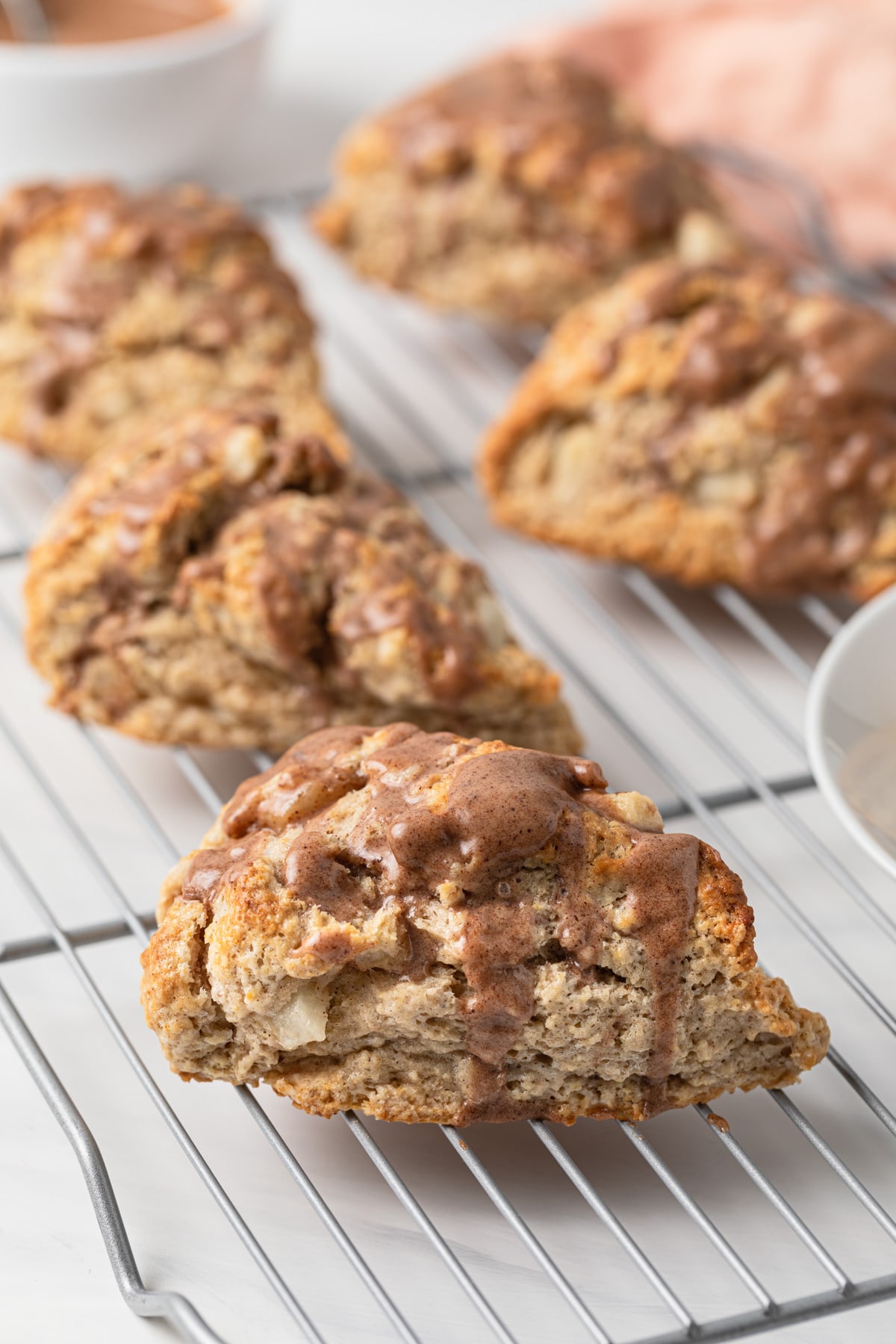 If you're a fan of chai tea, then you'll love these seasonal, gently spiced scones. With big, buttery flakes on the inside and a crisp crust in every bite, chai pear scones always satisfy. Plus, they're kept extra moist with diced fresh pear throughout.
I love to pack these scones with plenty of fresh fruit. It adds natural sweetness and seasonal flavor that pairs perfectly with the gentle chai spices. And to really complete the experience, I highly recommend serving your freshly baked scones with a piping hot mug of chai tea!
---
Why this recipe works
These scones are always moist and tender because of the juicy fresh pears. While some scone recipes can turn out dry, you don't have to worry about that with this recipe!
Chilling the shaped scones before baking ensures that the butter is super cold. This means that as it melts in the oven, you'll get the maximum amount of flaky layers.
The triple threat of baking powder, baking soda, and cold butter means that these scones rise high and mighty in the oven. They're thick with big, buttery flakes.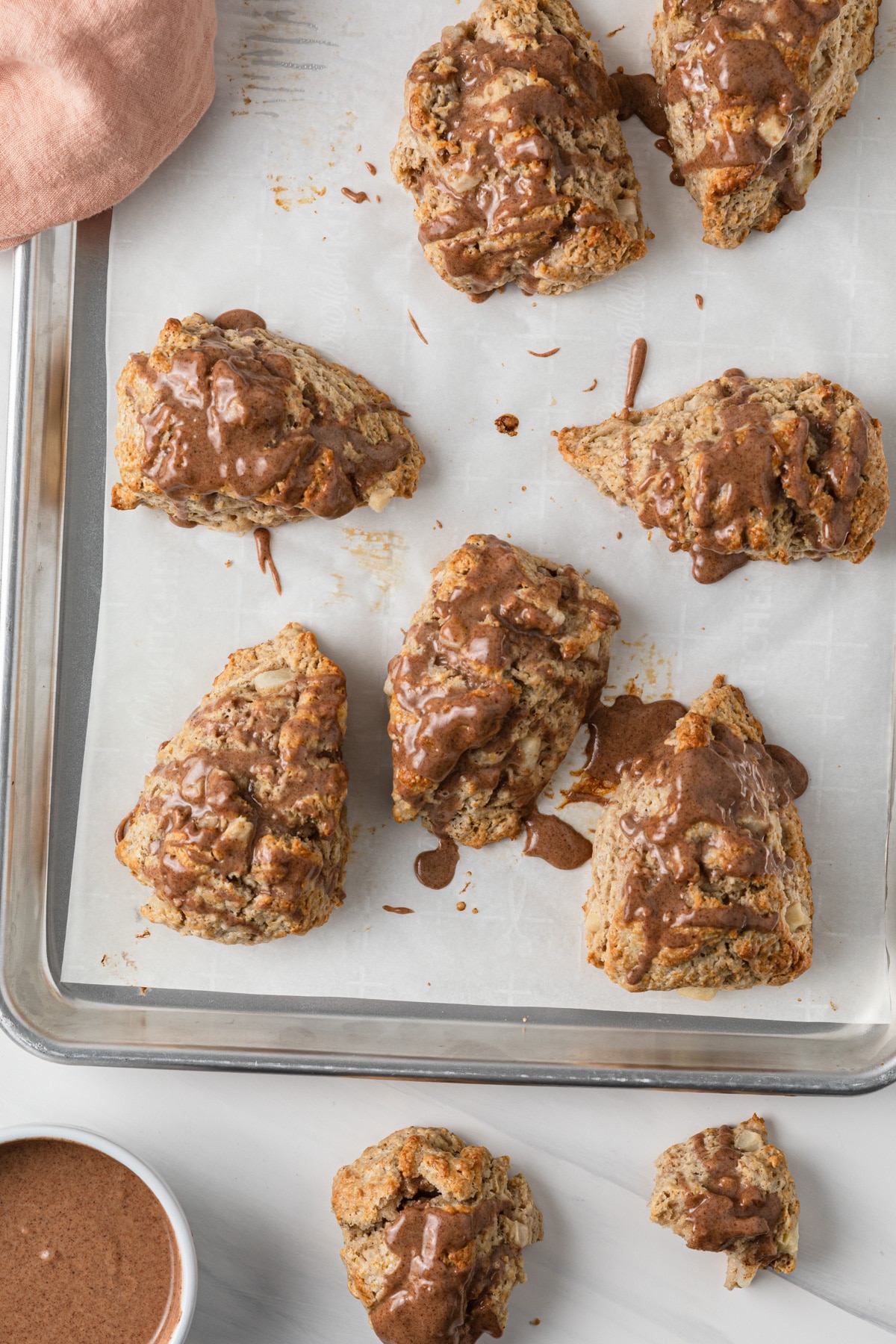 Chai Pear Scones Recipe
This recipe offers the best way to make chai scones that are incredibly moist, flaky, and buttery. It's a simple and straightforward baking method for beginners and seasoned pros alike.
You'll see a similar series of steps in all of my scone recipes, including perfect blueberry scones and Peach Scones with Almond Glaze, which are my go-to scone recipes in warmer months.
To make ultra-flaky scones, you'll work small pieces of very cold butter into your dry ingredients. You're shooting for a crumbly consistency with pea-sized pieces of butter.
Next, add just enough liquid (in this case, tangy buttermilk) for the dough to come together. Avoid overmixing the dough as you shape it into a disc and divide it into equal wedges for baking. Finally, chill the dough and bake until your scones are golden, light and flaky.
Before serving, I like to garnish my chai pear scones with a quick homemade glaze. It adds shine and flavor and takes just a minute or two to whip up.
---
Ingredients
Flour: Choose all-purpose flour for this recipe. It yields moist, tender scones that rise properly in the oven.
Sugar: Granulated white sugar is used to sweeten these pear scones. You don't need much because the pears add nice natural sweetness too.
Leavening: A combination of baking powder and baking soda act as chemical leaveners in the scone dough. The baking powder reacts with the acid in buttermilk to puff up. The scones are also leavened by the steam from the butter as it melts in the oven.
Salt: Salt enhances the flavor in the scones. It also helps tenderize the gluten in the flour for a more delicate texture rather than chewy.
Spices & vanilla: These chai scones get their warming flavor from ground cinnamon, ginger, nutmeg, and cardamom. Vanilla extract enhances the classic chai flavor.
Pear: Choose a ripe, but firm pear. Bosc pears are great for baking as they hold their shape well. Peel the pear before dicing it to avoid the odd texture of fruit skin in your scones.
Butter: Cold, unsalted butter is the key to big, fluffy flakes in your pear scones. As the pieces of butter melt during baking, they release steam. This steam creates pockets in the scone dough that adds rich, buttery layers to the final product.
Buttermilk: For a bit of tang and moisture, buttermilk is the perfect liquid to make scones. It contains acid, which allows the baking powder to activate and add extra rise to your baked goods. Plus, buttermilk ensures every bite is tender and moist.
Equipment for Chai Scones:
Pastry blender: A pastry blender makes it easy to cut the butter into the flour.
Bench scraper: A bench scraper is what I prefer to use to cut the dough into triangles. This is a great tool for all kinds of baking projects and always helps you get stubborn pieces of dough off the counter.
---
How to Make Chai Pear Scones
Here's a brief overview of how to make chai pear scones. See the recipe card below for further detail.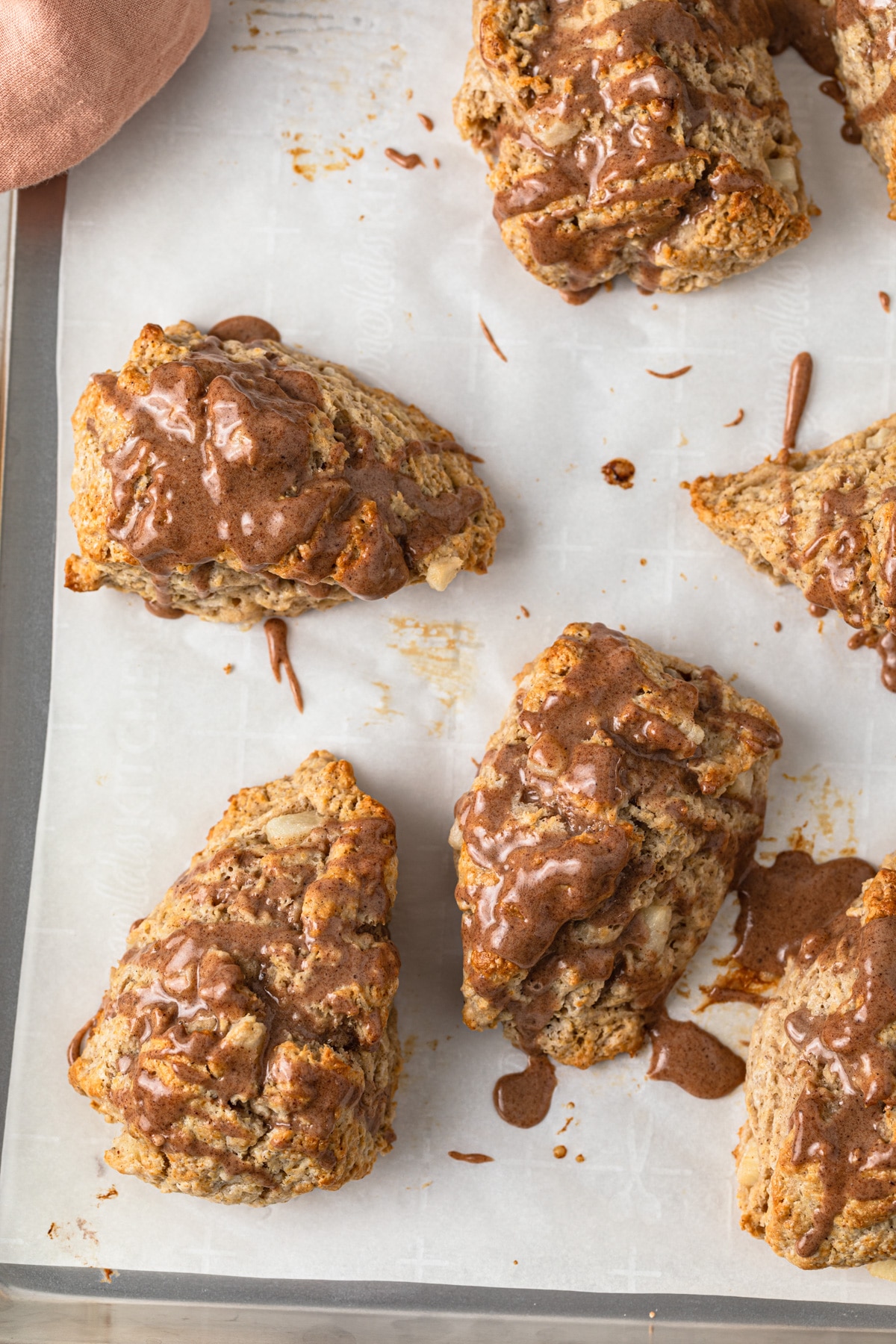 Step 1: Mix Dry Ingredients and Butter
First, combine the flour, sugar, baking powder, baking soda, salt and ground spices in a large mixing bowl until evenly distributed.
Then add your pieces of cold butter to the dry ingredients. Use your pastry blender to work the butter into the dry ingredients. Stop when you have butter pieces about the size of peas.
Step 2: Add the Pear
Next, fold the peeled and diced pear into the ingredients. Stop mixing when the pear pieces are evenly distributed and fully coated in flour.
Step 3: Add Buttermilk and Form Dough
Now you're ready to add the wet ingredients. Pour in the buttermilk and quickly work the liquid into the dry ingredients. Stop as soon as you have a rough, shaggy dough as pictured.
Be careful not to overmix here, which can cause your scones to become tough and chewy rather than delicate and flaky.
When the dough is mixed enough that you can shape it into a ball. pour out the dough onto a lightly floured work surface. Give it a few quick kneads and then flatten it into a disc about 7 inches in diameter.
Use your bench scraper or a sharp knife to cut the disc in half, then into quarters, then eighths. You should have eight evenly sized wedges. Spread the wedges out on a parchment paper-lined baking sheet.
Place the entire baking sheet into the freezer for 30 minutes. This helps the butter firm back up for those flaky layers.
Step 4: Bake the Chai Pear Scones
While the dough chills, preheat the oven to 400°F. After 30 minutes, remove the baking sheet from the freezer and brush each scone with cream on top and the sides. This adds a beautiful golden crust.
Bake the scones for 15 to 20 minutes. They're done when they've risen with visible flaky layers and have a golden-brown color.
Tips for Success
Don't add all the liquid at once. Depending on the humidity and the brand of flour you are using, you may need less buttermilk than what is called for. Add just enough to moisten the dry ingredients until they hold together when squeezed.
Dice the pear into small pieces. Smaller pieces will make it easier to cut the dough into wedges.
Make sure the butter and buttermilk are very cold before adding them to the recipe.
Freeze the shaped scones for 30 minutes before baking. This helps the scones keep their shape and ensures the butter isn't too warm before going into the oven.
This recipe yields 8 large scones. For smaller scones, cut the dough into 16 pieces instead of 8. Watch the scones closely as they bake because smaller scones may require a shorter baking time.
Storing & Freezing Scones
To store: Baked and glazed scones will keep for up to 2 days in an airtight container in the refrigerator.
To Freeze: Unglazed scones can be frozen for up to three months. Thaw in the refrigerator overnight then reheat and glaze before serving.
Make ahead: The dough can be covered tightly and refrigerated overnight. Shape and bake the scones the next day.
The dough can also be frozen for up to 2 months. Freeze the shaped, unbaked scones on a baking sheet as directed in step 5. Then wrap in plastic wrap and store in a freezer bag. When ready to make the scones, preheat the oven and baked as directed. There's no need to thaw the dough.
Did you try this recipe? I would love for you to leave me a 5-star rating or comment. This way, I have a better understanding of which recipes you like and can create more of them.
Please take a moment to follow me on Instagram, Pinterest, Facebook, Youtube or sign up for my free newsletter to never miss the newest recipes and blog updates.
You can also shop my favorite baking tools. Thank you so much for your support!
Originally published January 2017. Post updated January 2021 with new photos and a video. No changes were made to the recipe.
See the chai pear scones web story!