Peach Scones with Almond Glaze
This post may contain affiliate links. Read the full disclosure here.
Made with fresh, juicy peaches these Homemade Peach Scones with Almond Glaze take scones to a whole new level. They're moist and tender, with chunks of peaches in every bite and topped with a thick, sweet almond drizzle.
Moist & Tender Scones
These Peach Scones with Almond Glaze were my latest National Peach Month creation. As happens every summer, I've been thinking of nothing but peaches lately. I'm always trying to figure out what I can make with sweet, juicy fresh peaches!
I've already tried and shared several – peach ice cream, peach pound cake, and peach blueberry galette – but I wanted something a little different.
I was craving a scone.
A peach one! With a soft center, crisp edges. One that is moist and flaky. Maybe a bit like cake but crumbles lightly. A scone that you are sure to never forget. This peach scone with almond glaze recipe is all of those things!
Your house will smell like a peach cobbler while these beauties bake up. I was salivating. It made the first bite so much sweeter!
The sweet almond glaze takes this scone right over the top. It's a simple glaze with powdered sugar, heavy cream, and almond extract but oh-so-good! Don't be afraid to layer on the glaze. The almond flavor pairs so well with the peaches.
These peach almond scones are irresistible. You can glaze them while they are still warm and the glaze will melt, seeping down into the scone.
Or wait until they cool before glazing. The glaze will set up nice and firm on top of the scones, leaving you with a beautiful presentation.
Either way, these peach scones are simply irresistible!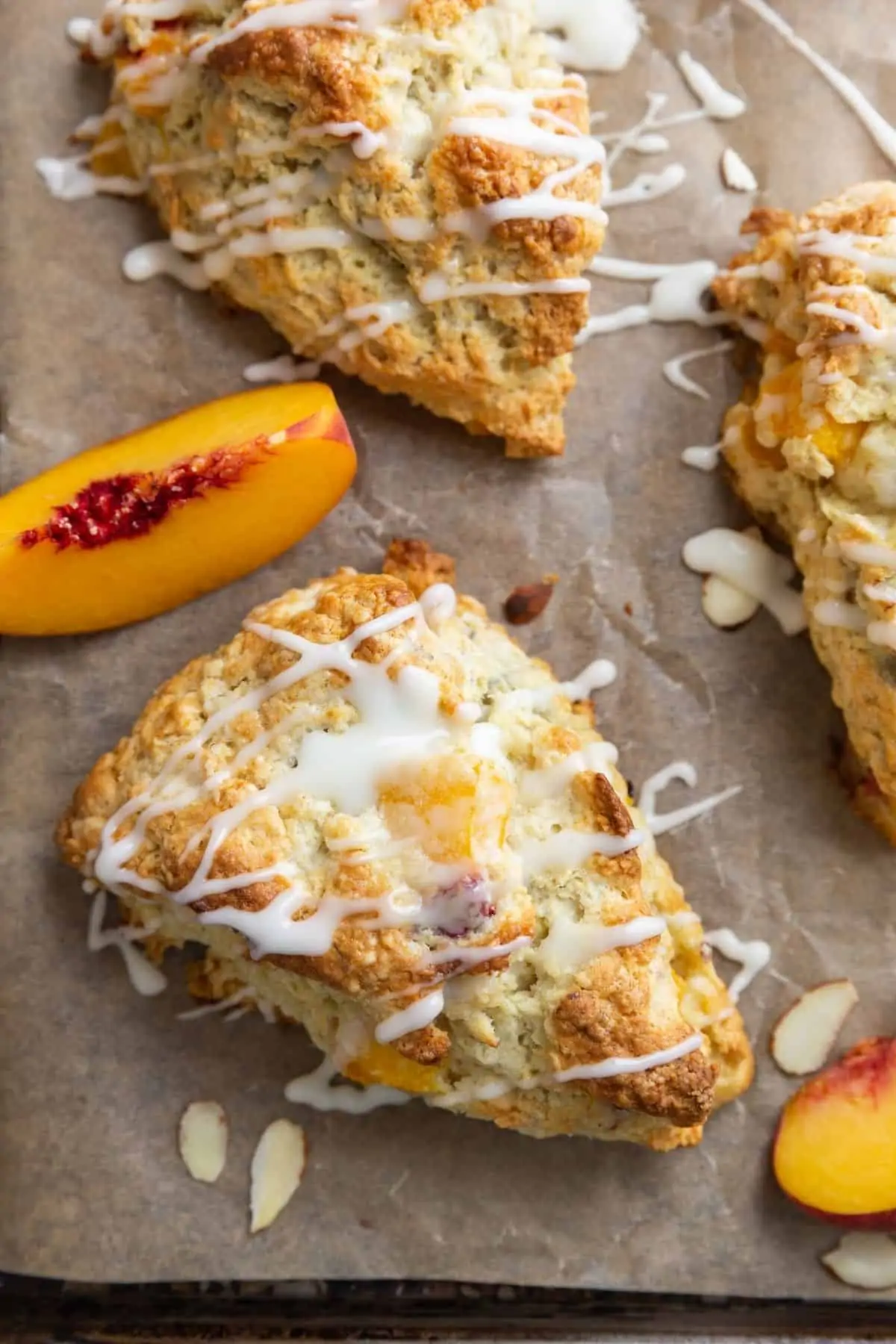 What You'll Need
These peach almond scones are made with pantry staples, plus almond slices and peaches. An easy dessert to whip up in a pinch!
Flour – Scones can be made with all-purpose flour.
Sugar – Since peaches are naturally sweet, only a small amount of sugar is necessary.
Leavening agents – Both paking powder and a small amount of baking soda are used to make these light, fluffy scones.
Butter – Always work with cold butter. It helps keep the scones tender and flaky.
Almond slices – Almond slices add flavor and a hidden crunch to the scones.
Peaches – For the best flavor choose fresh ripened peaches. Peaches are in season June through August but of course the later in the season, the tastier the peaches!
Buttermilk – I use buttermilk for all my scone recipes now because it creates such a wonderfully textured scone. It also works with the baking soda and powder to give the scones a beautiful rise.
Vanilla extract – Just a splash for flavor.
Egg – Helps to hold everything together.
Heavy cream – You can also substitute whole milk.
Almond extract – Almond flavor in every bite!
Heavy cream – Just enough heavy cream is used to make the glaze pourable.
Can I use frozen peaches in peach scones?
This recipe calls for fresh peaches but frozen peaches can be used. There's no need to thaw them first but they do need to be diced small. Frozen peaches can be challenging to cut through so be extra cautious if you choose to do this.
What can I use instead of buttermilk?
Regular yogurt will work great for this peach scone recipe. And to get more flavor, try using peach yogurt.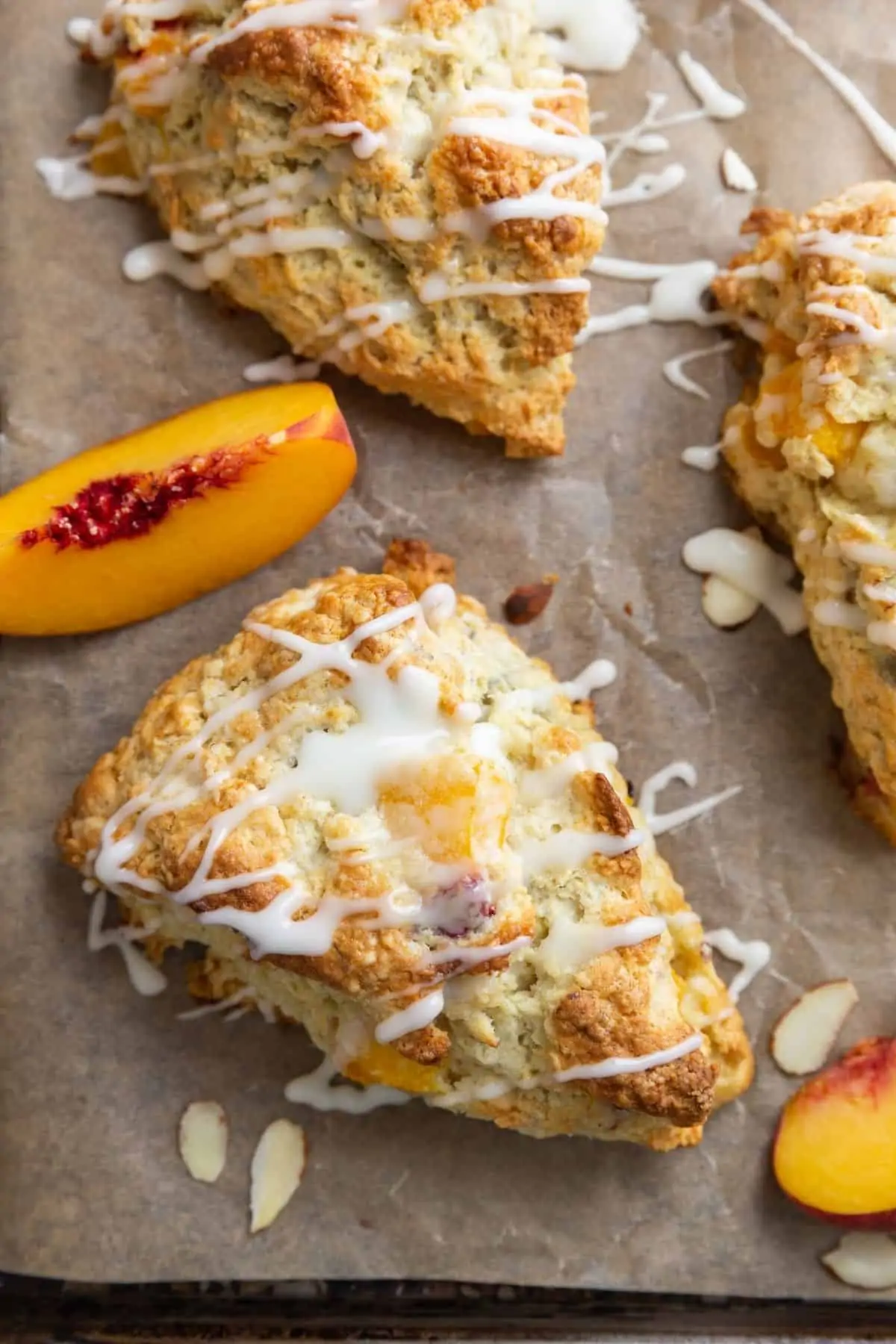 How to Make Peach Scones with Almond Glaze
Despite their reputation for being a little difficult, these peach scones are surprisingly easy to make!
Make the pastry dough. Whisk the dry ingredients together, then cut in the butter. Stir in the peaches and almond slices. Whisk the buttermilk, egg, and vanilla together in a separate bowl, then gradually add to the flour mixture. It's okay if you don't need all of the dough.
Prepare the scones. Transfer the dough to a floured surface to knead. Pat into a circle, then cut the circle in half. Cut each half into four triangle-shaped wedges. Place on a baking sheet and freeze for 30 minutes.
Preheat the oven. Preheat the oven to 400°F.
Bake. Brush the tops of the scones with milk or cream. Bake until golden brown, approximately 15- 20 minutes. Transfer to a wire rack to cool.
Make the glaze. Combine the ingredients in a bowl. Whisk until smooth and spreadable.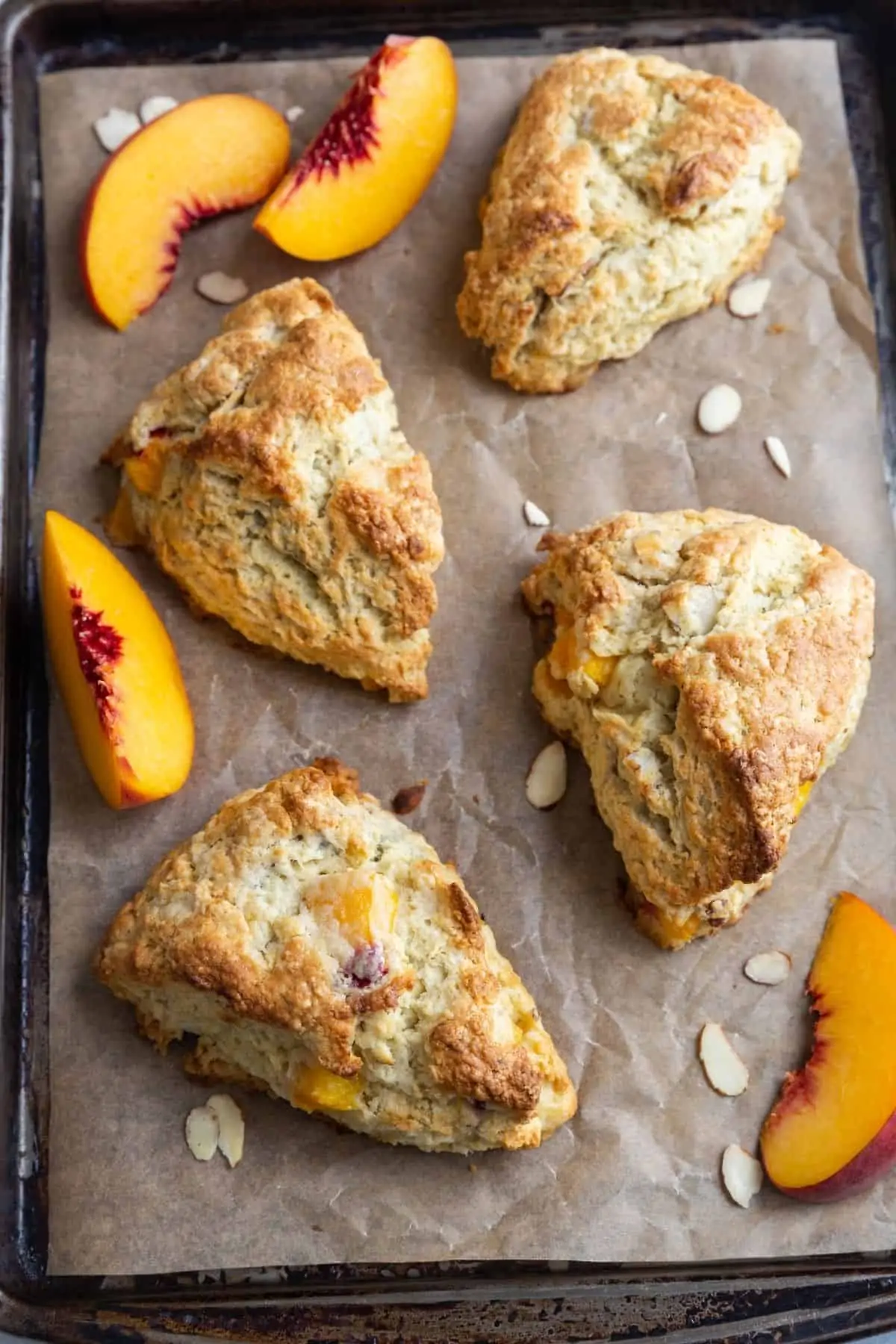 Tips for Success
If this is your first time making scones or you haven't quite perfected them, I wanted to share some tips for the perfect scone.
Don't overwork the dough. The dough can handle some kneading but be careful to not overwork it. Handling the dough too much can result in tough, chewy scones.
Avoid canned peaches. Fresh or frozen peaches work best for this recipe. Avoid using canned peaches as they are too soft and wet for the scone dough.
Use only the liquid needed. You may not need all the liquid called for in the recipe. Add just enough to bind the ingredients together. The dough shouldn't be wet and sticky.
Freeze the scones before baking. Preheat the oven while the scones sit in the freezer for about 30 minutes. Freezing the scones helps to ensure they won't spread a ton as they bake.
Serving Suggestions
Enjoy these peach almond scones soon after you take them out of the oven. They need to cool slightly before adding the almond glaze but can be eaten while still slightly warm. They are definitely best the day they are baked!
Scones are great for breakfast, a snack, or dessert. They pair perfectly with coffee, which makes a great excuse for having something like dessert for breakfast!
---
How to Store Leftovers
Leftover peach scones should be stored in an airtight container. They can be left at room temperature, though keep them out of sunlight. Scones are best eaten within 2 days.
Did you try this recipe? I would love for you to leave me a 5-star rating or comment. This way, I have a better understanding of which recipes you like and can create more of them.
Please take a moment to follow me on Instagram, Pinterest, Facebook, Youtube or sign up for my free newsletter to never miss the newest recipes and blog updates.
You can also shop my favorite baking tools. Thank you so much for your support!
Looking for more tasty scone recipes? Give these a try!