Peaches and Cream Ice Cream
This post may contain affiliate links. Read the full disclosure here.
With just 5 ingredients and no ice cream maker required, this No Churn Peaches and Cream Ice Cream is an easy summer dessert you'll be craving all summer long!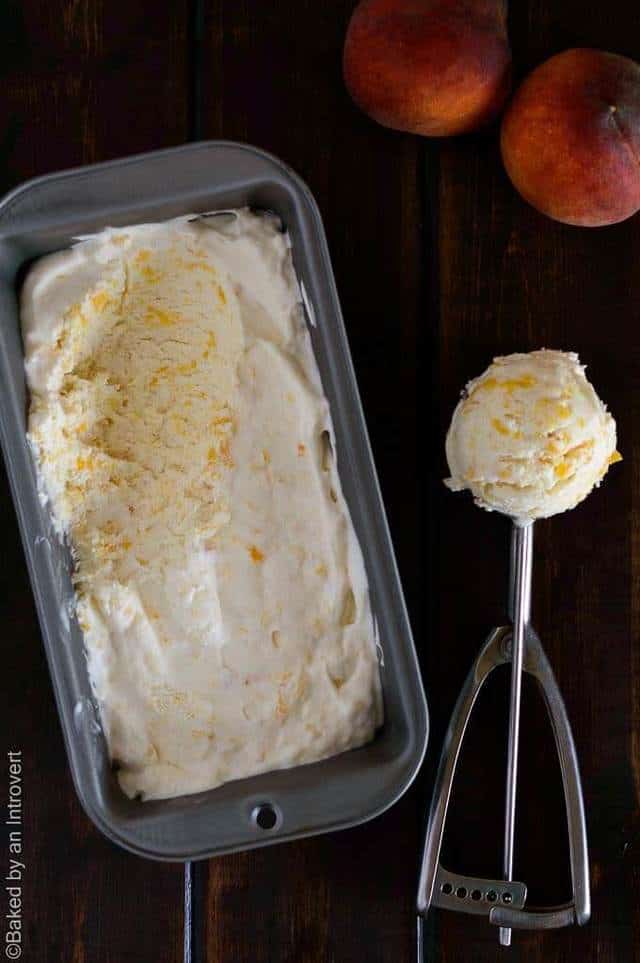 Easy No Churn Ice Cream
Say hello to the simplest, most delightful snack. This peaches and cream ice cream is summer in a bowl. It comes together easily and is just the thing you need to cool off as summer sweeps in.
There are a few bonuses here:
The recipe requires only 5 ingredients.
It's a no-churn recipe.
It's INCREDIBLY easy to make.
5 ingredients, no ice cream maker required, and simple to make…is a better summer dessert possible?
That said, making homemade ice cream does require some preparation. First, the peaches have to soak with sugar and lemon juice for an hour before being pureed then heated to reduce the liquid. This will also enhance the peach flavor. What's peaches and cream ice cream without a strong sweet peachy flavor?
That liquid needs to chill before being added to the other ingredients. THEN the ice cream needs to chill for 6 hours to harden.
So just plan ahead when making this no-churn ice cream, to give yourself plenty of time!
What You'll Need
Homemade peaches and cream ice cream is made with just 5 ingredients!
Peaches – Perfectly ripe summer peaches are perfect for this ice cream. You'll need about six peeled, pitted peaches.
Lemon juice
Granulated sugar – Cooked with the peaches to create a sweet syrup.
Heavy cream – Whipped to give the ice cream form.
Sweetened condensed milk – Replaces the custard mixture in traditional ice cream to give no churn ice cream the rich, creamy texture.
---
How to Make Peaches and Cream Ice Cream
This no-churn peaches and cream ice cream is so easy that you'll be making it all summer long.
Make the peach puree. Stir together the peaches, lemon juice, and juice. Allow them to sit until a syrup accumulates. Blend and pulse until almost pureed then transfer to a saucepan. Heat until reduced and thickened, stirring occasionally. Transfer to a bowl and refrigerate until cold.
Whip the heavy cream. Beat the heavy cream until stiff peaks form. Slowly pour in the condensed milk. Beat until thickened.
Add the peaches. Transfer 2 cups of the whipped cream to a separate bowl. Mix in the puree then fold in the remaining whipped cream.
Chill. Transfer to a freezer safe container and chill for 6 hours.
---
Tips for the Best No-Churn Ice Cream
Ice cream with condensed milk is incredibly simple to make but here are a few things to make it even easier.
Chill your ingredients first. If your liquid ingredients are chilled when you begin the recipe, the ice cream will freeze faster.
The type of pan matters. The best pan to use for homemade ice cream is a metal loaf pan. Metal conducts the cold much better than glass. If you want to freeze the ice cream quickly, you can use a large, shallow pan.
Can I use evaporated milk to make ice cream? No, condensed milk is a must as it has all the water removed. Evaporated milk is not the same thing.
Can I make this with other fruit? Absolutely. In fact, I've already done a blackberry version of this ice cream. You can do it with almost any fruit, just keep the other ingredients the same.
Serving Suggestions
Sweet and perfectly creamy with chunks of peaches throughout, this peaches and cream ice cream requires no extras for serving. Simply scoop it into a cone or bowl, whatever your preference may be.
If you prefer a soft-serve texture, let it sit on the counter for just a few minutes before serving.
---
How to Store
No churn ice cream will last for up to 2 weeks in the freezer. Store in a tightly sealed freezer-safe container or, if the container doesn't have a lid, with plastic wrap pressed down to the ice cream and foil over the top as well to prevent freezer burn. Old ice cream tubs are also perfect for storing homemade ice cream.
---
More Ice Cream Recipes:
Did you try this recipe? I would love for you to leave me a 5-star rating or comment. This way, I have a better understanding of which recipes you like and can create more of them.
Please take a moment to follow me on Instagram, Pinterest, Facebook, Youtube or sign up for my free newsletter to never miss the newest recipes and blog updates.
You can also shop my favorite baking tools. Thank you so much for your support!
Adapted from Brown Eyed Baker.