Homemade S'mores Cheesecake
This post may contain affiliate links. Read the full disclosure here.
This homemade S'mores Cheesecake recipe is a surefire show-stopper and a great alternative to traditional campfire s'mores. A rich chocolate filling nestled over a graham cracker crust topped with toasted marshmallows and chocolate ganache. You must try this ooey-gooey cheesecake!
Y'all are well aware of my complete obsession with cheesecakes by now. They even have their own category on my website. I make them so often that sometimes my kitchen feels like a mini Cheesecake Factory! This S'mores Cheesecake is my latest creation and wow is it good.
You all know the origin of the name "S'mores" I assume? The dessert is a popular campfire treat at Girlscout campouts. It is made from roasted marshmallows sandwiched with a piece of chocolate between two graham crackers. The chocolate melts from the heat of the marshmallow and the resulting creation is so good, everyone asks for "some more." Get it? "S'more."
S'mores are such a favorite summertime dessert, and I love basically every flavor of cheesecake, so I decided to give this a try.
For cheesecake newbies, I recommend my best cheesecake recipe as a starter. Those new to both baking AND cheesecake should try this no bake cheesecake. It's foolproof!
Cheesecakes are elegant, impressive and delicious. Cheesecakes can be dessert sized – like this pumpkin cheesecake, snack-sized like these lemon cheesecake bars, or bite-sized like these mini cheesecakes.
The cool and creamy cheesecake base of a plain cheesecake is more than enough on its own. But the flavor variation possibilities are endless! Strawberry cheesecake, Nutella cheesecake, Snickers cheesecake, lemon cheesecake – I have made and love them all.
I have to admit – this homemade Smores cheesecake recipe is an over-the-top flavor sensation, even for me. Stop and think about it for a moment. I've taken the classic girl scout favorite campfire dessert and turned it into a cheesecake. How decadently delicious does that sound?
Trust me – it's even richer and more delicious than you imagine. A buttery graham cracker crust filled with a rich, smooth, and chocolaty cheesecake, and it's all topped with a chocolate glaze and toasted marshmallows. No bonfire is needed!
---
Recipe Snapshot
TASTE: Full of nostalgia – chocolate, graham, and marshmallows
TEXTURE: Crunchy crust, creamy cheesecake and gooey topping
EASE: Cheesecakes are tedious and time-consuming, but not hard.
TIME: 5-6 hours, which includes chilling time.
---
What You'll Need
Ingredients
Graham cracker crumbs – About 16 whole crackers for the graham-flavored crust.
Unsalted butter – Melted to hold the crumbs together in the crust.
Sugar – Both the crust and the filling call for granulated sugar.
Semisweet chocolate – For the filling and the topping. Coarsely chopped from a bar, or from chocolate chips.
Cream cheese: Use a block of full-fat cream cheese, not low-fat, and not whipped
Heavy cream: This should be at room temperature. It's in the base and in the topping.
Cocoa: Dutch-processed unsweetened baking cocoa – NOT hot chocolate mix!
Vanilla extract: I always make my own, but you can use pure vanilla extract.
Eggs: These should be at room temperature and lightly beaten
Light corn syrup: For the ganache-like chocolate topping.
Salt: To balance the flavors.
Marshmallows: Cut regular marshmallows in half or use mini marshmallows.
Recommended Tools
Stand mixer – While a stand mixer with a paddle attachment makes this recipe easier to put together, you can use a handheld electric mixer. Just be sure to whip the cream cheese well!
Springform pan – Springform pans are recommended for cheesecakes but you can also use a tall cake pan with removable bottom.
Easy bath cheesecake wrap – I recently learned of these easy bath cheesecake wraps and they are a game changer! They allow you to bake the cheesecake in a water bath without the worry of water leaking in. I highly recommend them. You need the 10-inch wrap for a 9-inch pan.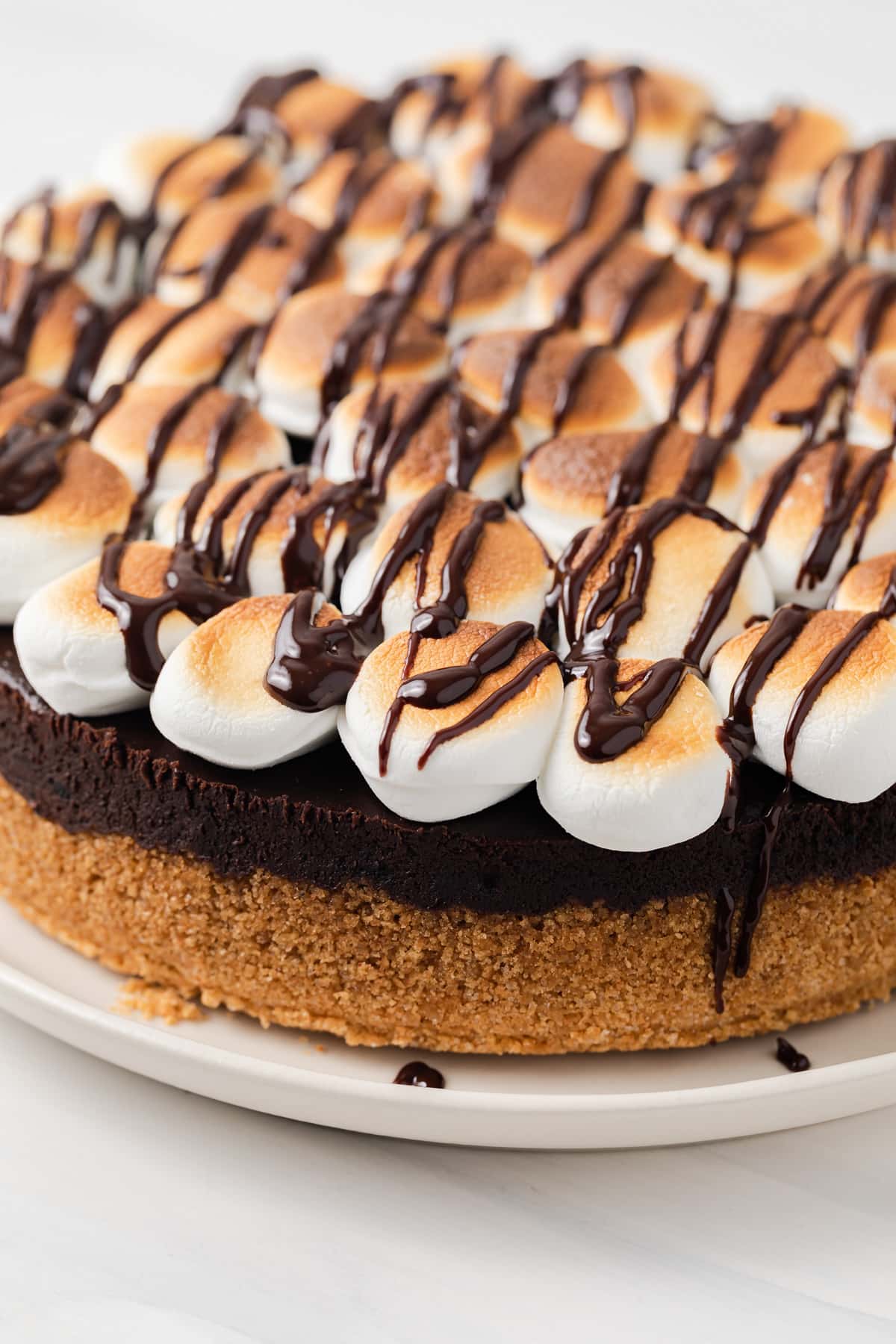 How to Make S'mores Cheesecake
Cheesecake is a time-consuming dessert, involving a few steps, but this smores cheesecake is worth every minute. To prepare, preheat the oven to 350ºF and wrap the outer bottom of a 9-inch springform pan tightly with aluminum foil.
Be sure to check out the full recipe and ingredient list below
Make the Crust
Mix the ingredients. Combine the graham cracker crumbs, sugar, and melted butter, mixing until the crumbs are well moistened with butter.
Bake. Press the crumb mixture into the bottom and about 1-inch up the sides of the pan. Bake for 10 minutes.
Make the Filling
To make the filling, first reduce the oven temperature to 300ºF.
Melt chocolate. Place chocolate in a heatproof bowl and set over a pot of barely simmering water (or use a double boiler). Stir continuously until melted and smooth. Remove from heat and set aside to cool slightly.
Mix the cheese and sugar. In a large mixing bowl beat the cream cheese with an electric mixer until smooth. Add the sugar, cocoa powder, vanilla, and salt then beat until well combined.
Add cream and chocolate. Beat in the heavy cream followed by the melted and cooled chocolate. Scrape down the sides of the bowl as needed. Using a silicone spatula, gently stir in the eggs just until combined.
Pour into crust. Pour the batter over the crust in the prepared pan. Place the cheesecake inside a roasting pan. Fill the roasting pan with enough hot water to reach halfway up the sides of the cheesecake pan.
Bake. Bake for 1 hour, OR until the edges are set and the center is slightly jiggly. The center of the cheesecake will still look wet, this is normal. Turn the oven off, and leave the cheesecake in the water bath in the oven with the door closed for another hour.
Cool. Remove the cheesecake from the water bath and run a small knife around the outer edge of the cheesecake to loosen it from the pan. Allow it to cool completely to room temperature. Refrigerate the cheesecake for at least 4 hours but preferably overnight.
Make the Topping
Make he topping for this s'mores cheesecake should right before serving. The marshmallows lose a little something once refrigerated.
Heat cream and corn syrup. lace the cream and corn syrup in a small saucepan and heat over low heat until cream begins to simmer. Remove from heat.
Add the chocolate. Add the chocolate, and stir until completely melted. Let the ganache cool.
Top the cake with marshmallows. Arrange the marshmallows in an even layer over the top of the cheesecake, cut side down. Place the cake under the broiler for about 30 seconds or until the marshmallows become lightly toasted. Drizzle the ganache over the top of the toasted marshmallows.
Handy tip:
There is nothing worse than going through all the effort it takes to make a cheesecake only to have the top of it crack. Preparing a water bath works wonders, but if you don't do it right, you can end up with a soggy crust. Read my handy tips on preventing a water bath from leaking.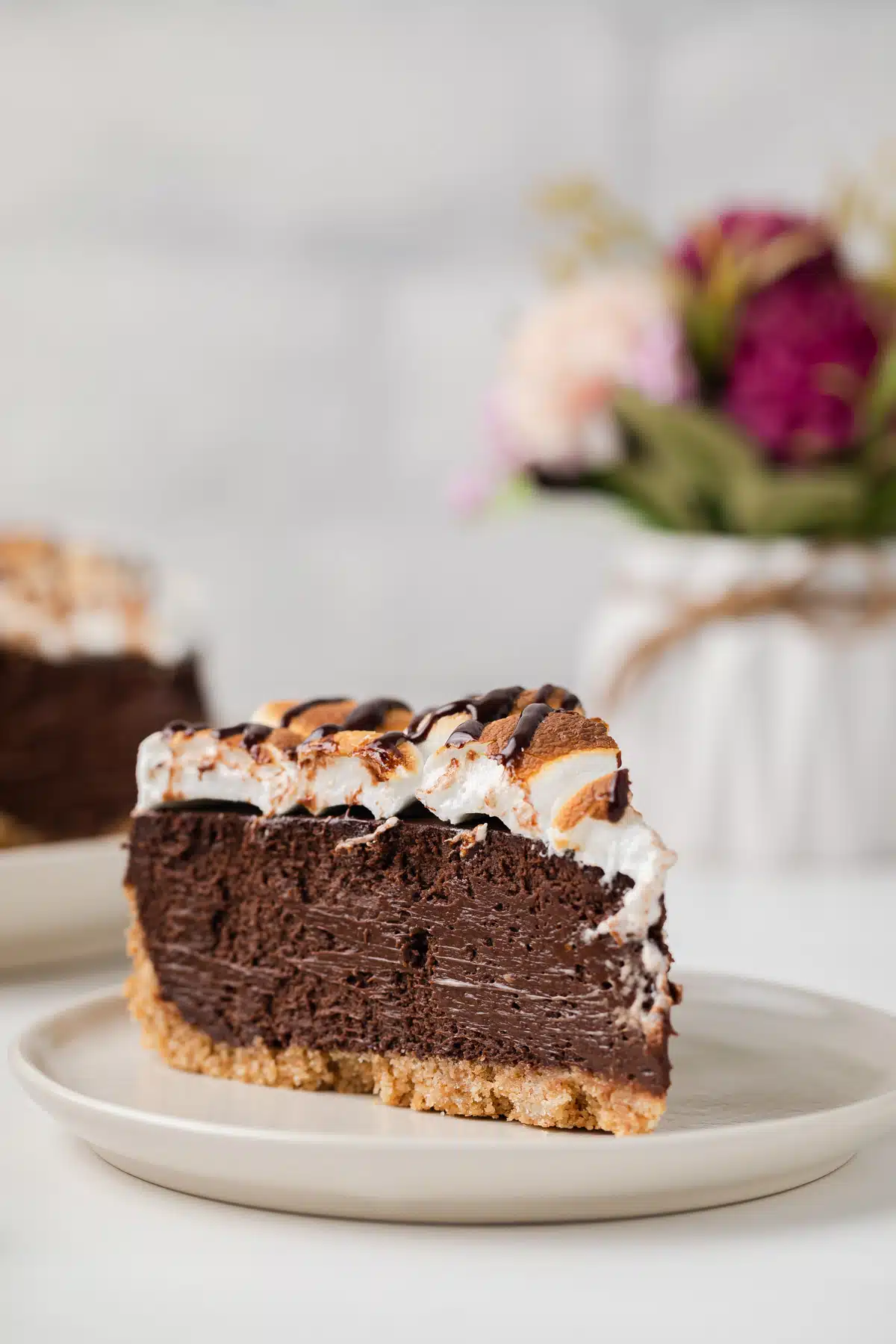 Tips For Success
If you do not have foil wide enough to wrap the pan with a single layer, simply skip this step and place the water bath on the lower rack beneath the cheesecake. It should create enough humidity to bake up a creamy cheesecake.
You can line the inside bottom of the springform pan with parchment paper or aluminum foil if desired. It's not completely necessary but does make it easier to clean the pan.
Do not overbake your cheesecake. Turn the heat off as soon as 1 to 2 inches of the outer edge is set. The center should remain wobbly.
Oven temperatures can vary which means your cheesecake may need more time to bake. You'll know it is done cooking when the outer edges of the cheesecake feel firm to the touch while the center looks wet and jiggles when shaken. If the cheesecake doesn't look this way after an hour of cooking, let it cook until it does. Then you can turn the oven off and let the cheesecake rest for another hour in the oven.
Storage & Freezing
This cheesecake will keep without the topping, wrapped in the fridge for three days. The marshmallows topping taste best day of, but the topped cheesecake can be kept for a day or two in the fridge if absolutely necessary.
Baked, no bake, cakes, minis or bars – I love cheesecakes of all kinds, shapes and flavors. Try some of these recipes and you will too!
Did you try this recipe? I would love for you to leave me a 5-star rating or comment. This way, I have a better understanding of which recipes you like and can create more of them.
Please take a moment to follow me on Instagram, Pinterest, Facebook, Youtube or sign up for my free newsletter to never miss the newest recipes and blog updates.
You can also shop my favorite baking tools. Thank you so much for your support!
Printable Recipe