Homemade Ice Cream Sandwich Cookies
This post may contain affiliate links. Read the full disclosure here.
These homemade ice cream sandwich cookies are a bbq season favorite dessert. Tender vanilla cookies sandwiched around creamy ice cream make for a simple and fun way to enjoy your favorite ice cream.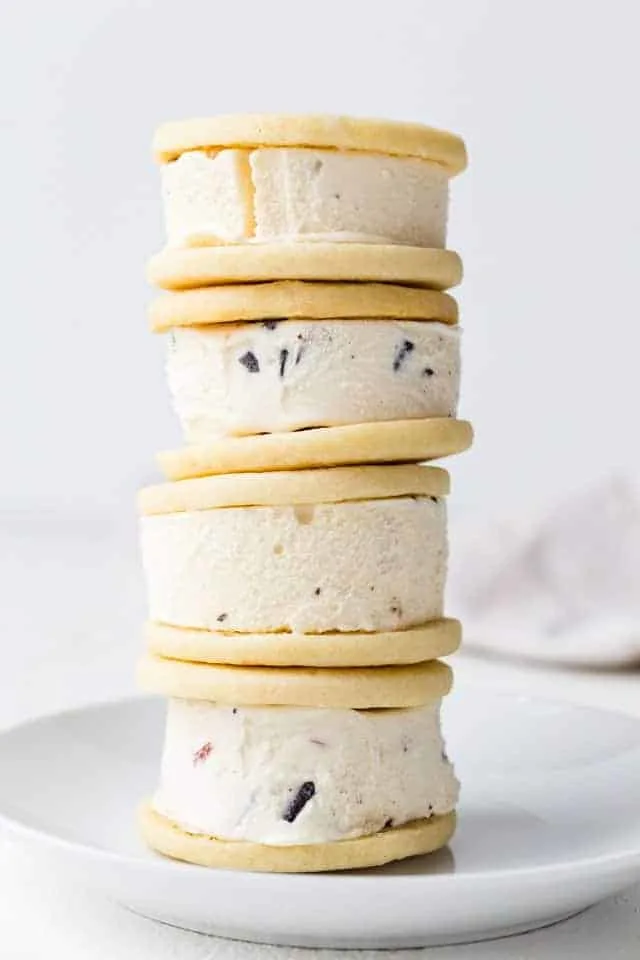 Don't you just love biting into an ice cream sandwich? So soft and melt-in-your-mouth delicious.
I'm wishing summer would hurry along. Longer days, warmer nights, bbq dinners and summery desserts. One of my favorite summer season desserts are ice cream sandwiches.
These homemade ice cream sandwich cookies are similar to a standard shortbread cookie. They are loaded with vanilla flavor, but I tweaked the butter/ flour/ sugar ration so that they are super soft.
Soft cookies are a must for ice cream sandwiches. Biting into a rock hard ice cream sandwich doesn't work. These ice cream sandwich cookies will stay incredibly soft and slightly chewy even after they're frozen.
The most important thing to remember is to slightly underbake the cookies. This is the best way to achieve a soft cookie that just melds around the ice cream.
I kept the cookies simple with just vanilla extract for flavoring. My goal was to highlight the ice cream flavors more than the cookie. If you want to get fancy with your cookie flavor feel free to add different extracts, mini chocolate chips, toffee bits, or sprinkles.
I rolled the dough to ¼-inch thick and used a 2 and ½-inch round cookie cutter. This yielded me about 28 cookies which equal 14 ice cream sandwiches.
Use this recipe as a base for all your ice cream sandwich desires!
---
Recipe Snapshot
TASTE: Vanilla shortbread cookies surrounding your favorite ice cream
TEXTURE: Crunchy cookies and smooth and cool ice cream
EASE: Easy!
TIME: Just under an hour, which includes chilling time
---
What You'll Need
This ice cream sandwich recipe essentially is for vanilla shortbread cookies nestled around slices of your favorite flavor of ice cream.
Ingredients
Butter – As always, unsalted, and softened to room temperature.
Confectioners' sugar – Powdered sugar works well here for the texture. The sugar is sifted.
Vanilla extract – Make your own or use a high-quality natural extract.
Salt – Just a bit, to balance the flavors.
All-purpose flour – Make sure you measure the flour properly. This is sifted to keep a light and airy consistency.
Mix-ins – These are optional – chocolate chips, sprinkles, butterscotch chips, coconut flakes, or toffee chips are all good ideas to give flavor and pizzazz to the cookies.
Ice cream cups – 4-ounce single-serving ice cream cups of your favorite flavor
Recommended Tools
Rolling pin
Baking sheets
Parchment Paper
Electric Mixer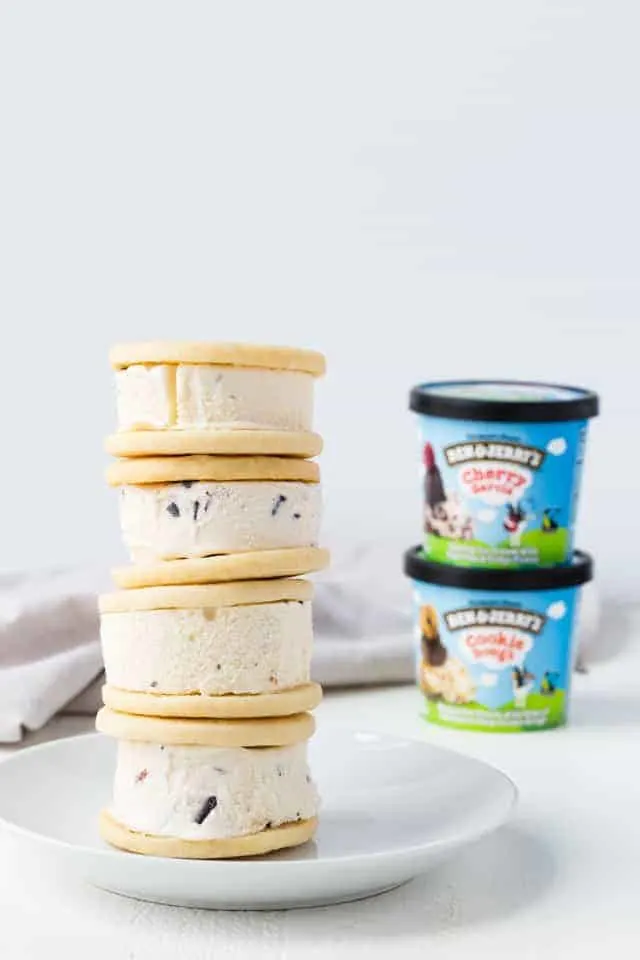 How to Make Ice Cream Sandwich Cookies
The dough for these cookies comes together remarkably quickly. Once it's chilled and you are ready to bake the cookies, preheat the oven to 350 and line two baking sheets with parchment paper.
Be sure to check out the full recipe and ingredient list below
Cream the butter and sugar. In a large bowl using a hand mixer or stand mixer fitted with the paddle attachment, beat the butter and sugar until combined and creamy.
Add in the vanilla and dry ingredients. Beat in the vanilla and salt. Add the flour and beat on low until combined. Beat in the mix-ins if using.
Chill the dough. Divide the dough in half and shape each half into a disk. Wrap tightly in plastic wrap and refrigerate for 30 minutes.
Roll the dough. Roll each disc of dough to ¼-inch thick. Use a 2 and ½ inch round cookie cutter to cut cookies and place them 1-inch apart on the prepared baking sheets.
Bake. Bake for 9-10 minutes. Cookies should be soft and appear under-baked. Leave the cookies on the cookie sheet to cool completely.
Assemble the ice cream sandwiches. Remove the lid and inner seal from ice cream cups. Use scissors to cut the packaging away from the ice cream. Lay the ice cream on its side and slice it into 2 equal sized discs. Place ice cream between two cookie slices and enjoy!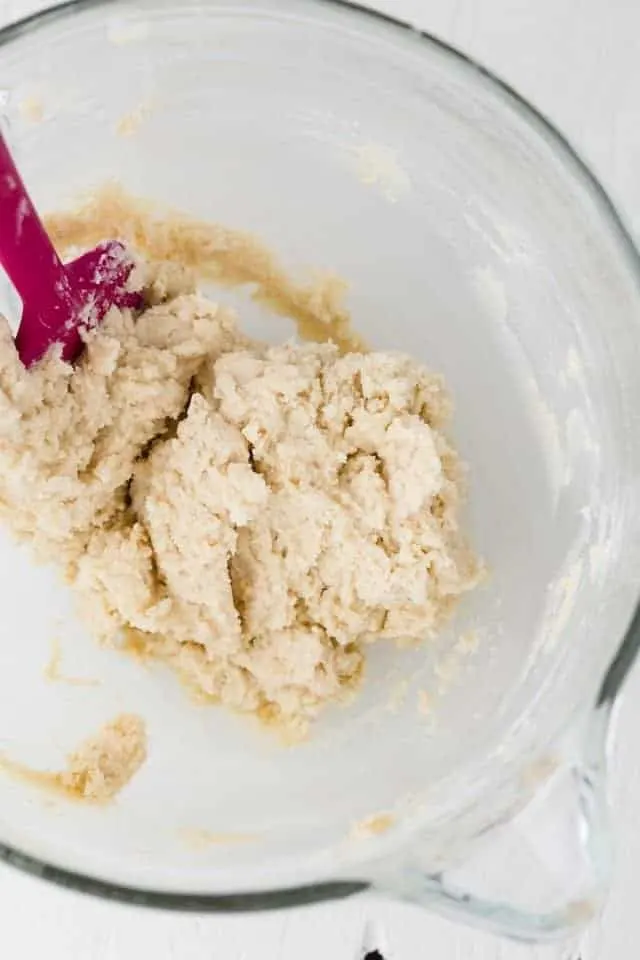 Handy tip:
Using ice cream cups works well here. It saves the mess of scooping and smoothing out softened ice cream between the cookies. The small single cup size containers work well. Peel the container off of the ice cream, slice it in half and, voila! Two equal slices that will fit perfectly between two freshly baked vanilla sandwich cookies.
Tips For Success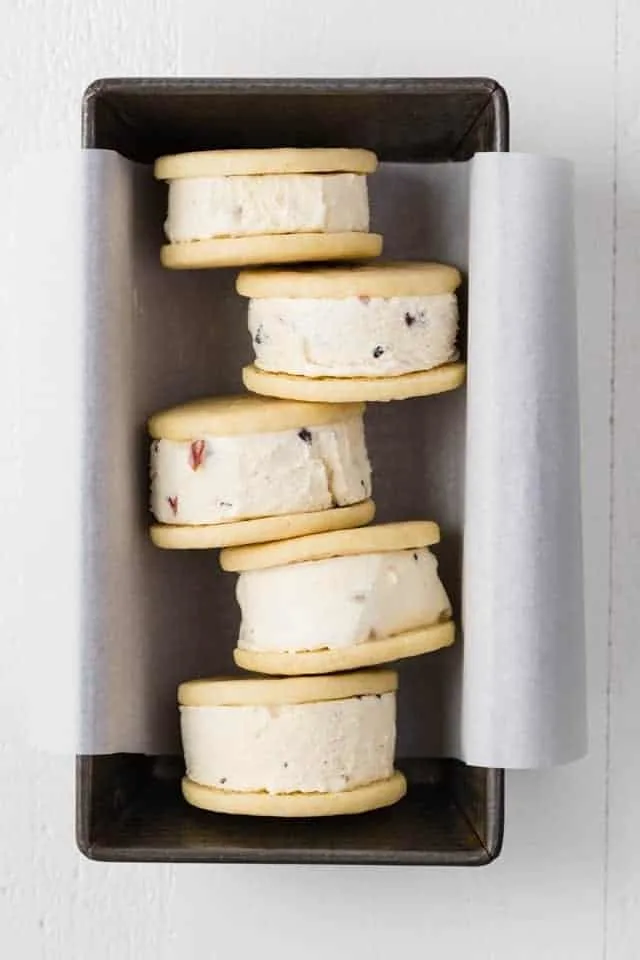 Storage & Freezing
Eat these immediately! You can also wrap them individually in plastic wrap and then place in a freezer bag to store them in the freezer for up to a month.
Let them thaw just a little bit before eating. You want them not so cold that they are too solid to eat, and not so thawed that they are a gloopy mess.
I love these cookies sandwiches with these delicious vanilla shortbread cookies. But you could do this with many of the cookies listed below. How good would chocolate ice cream sandwiches – chocolate peanut butter cookies with chocolate ice cream – be? Yum!
Did you try this recipe? I would love for you to leave me a 5-star rating or comment. This way, I have a better understanding of which recipes you like and can create more of them.
Please take a moment to follow me on Instagram, Pinterest, Facebook, Youtube or sign up for my free newsletter to never miss the newest recipes and blog updates.
You can also shop my favorite baking tools. Thank you so much for your support!
Printable Recipe