Chocolate Peanut Butter Cookies
This post may contain affiliate links. Read the full disclosure here.
These chocolate peanut butter cookies are everything you love about the classic peanut butter flavored cookies with the addition of a chocolate punch. Yum!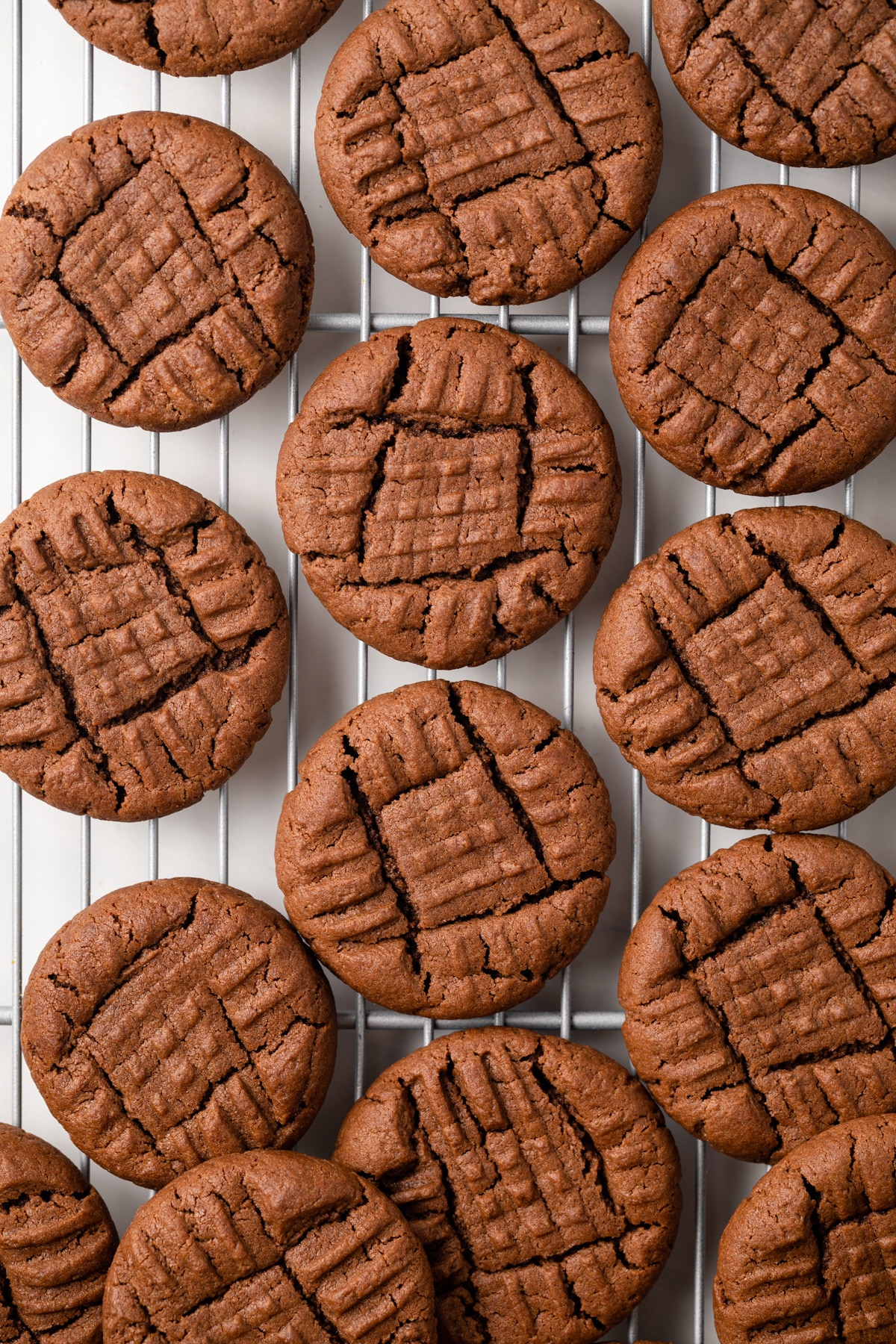 I know I share a lot of desserts with you, and I am a huge fan of just about any baked good out there. But even I have to admit there is just about nothing better than a warm homemade peanut butter cookies fresh from the oven. Well, almost nothing better.
How about adding rich chocolate cocoa powder to those peanut butter cookies? For the forever favorite flavor marriage of chocolate and peanut butter. It's truly divine. Eat them alone, or, dare I suggest, make mini ice cream cookie sandwiches with a bit of vanilla bean ice cream? I mean, heaven. Truly.
You know I'm crazy for chocolate and peanut butter. Just writing those two words makes my mind drift off to images of my peanut butter pie, peanut butter cup cookies, and my no bake peanut butter bars. I have so many other delicious peanut butter chocolate recipes on this site – take a look.
This cookie recipe is for your no frills, basic, standard peanut butter cookie with a dose of chocolate. If you wanted to get all sorts of fancy here, toss in a cup or so of peanut butter chips, white chocolate chips, chocolate chips or even Reeces Pieces candies.
But there is no need to go over the top here. These cookies are pretty darn spectacular just as the recipe is written.
Here is the thing about peanut butter cookies. People have super strong preferences. Some like a soft and chewy cookie, others like a crunchy peanut butter cookie.
I'm of the soft and chewy camp. There is something so comforting, nostalgic and cozy about a warm, soft peanut butter cookie. Brings me back to walking through my front door after school with the smell of warm cookies wafting through the house.
If you're someone who is cautious about the sweets you eat – we can't be friends. No, no, kidding of course. But if you do put cookies and other treats into the "should be worth it" before you eat it category, these, I promise, won't disappoint.
---
Recipe Snapshot
TASTE: Peanut butter and chocolate.
TEXTURE: Soft and chewy with a crisp edge.
EASE: Easy!
TIME: A half an hour
---
What You'll Need
This may look like a long list of ingredients, but it really is a basic peanut butter cookie recipe with the addition of peanut butter and cocoa powder.
Ingredients
Butter – Sweet cream unsalted butter, softened
Creamy peanut butter – Use a commercial brand here, all natural will have too much oil.
Light brown sugar – Adds a slightly richer flavor than white granulated sugar.
Milk – Just a touch.
Vanilla – Use the best quality extract you can find.
Egg – One large egg.
Flour – I use all purpose flour here, and I measure and weigh it to get it just right.
Cocoa powder – Natural or dutch processed cocoa powder for baking, NOT hot cocoa mix.
Salt – Just a bit to enhance the flavors.
Baking soda – For leavening.
Recommended Tools
Parchment Paper
Electric mixer
Baking Sheets
Cookie Scoop
Fork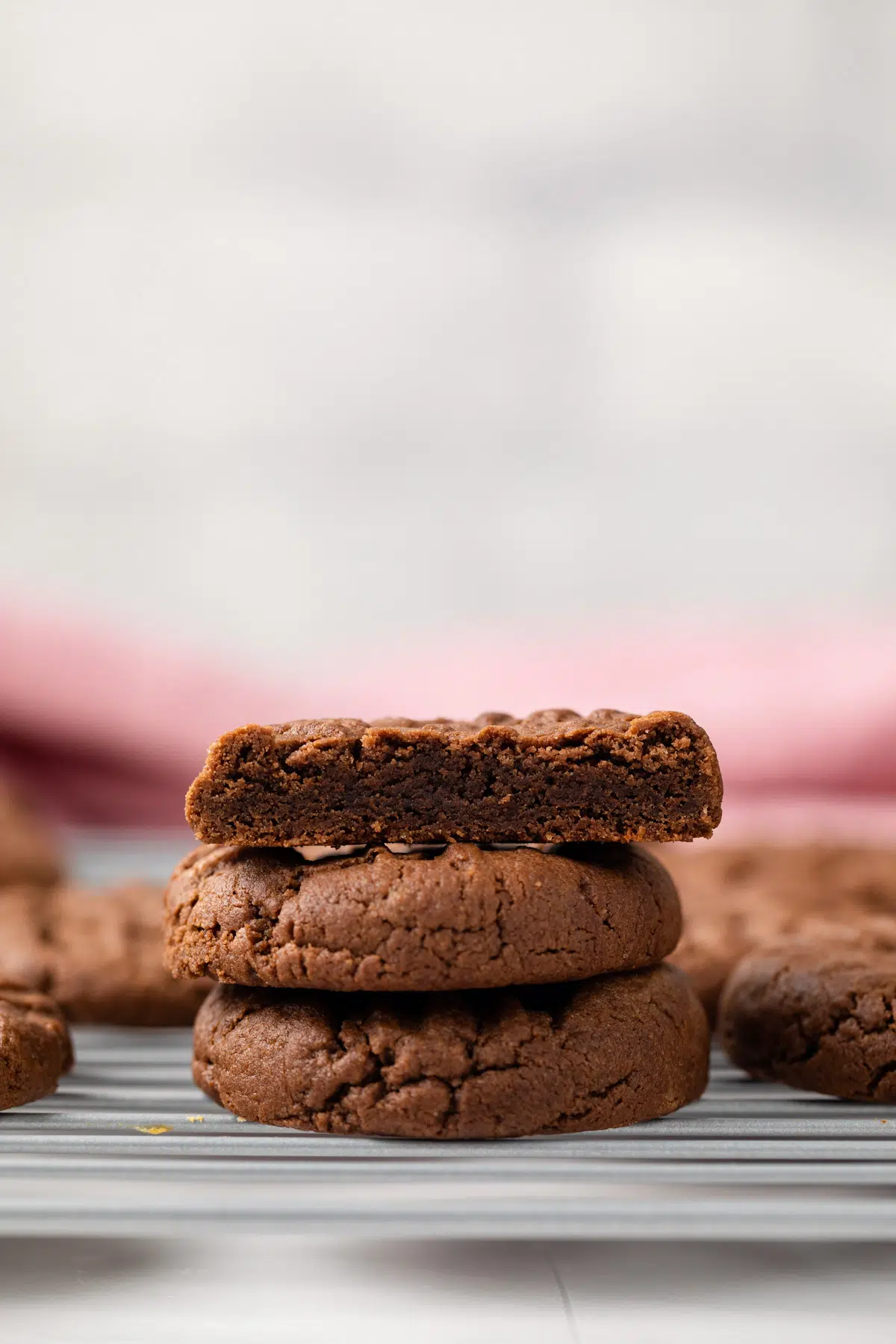 How to Make Chocolate Peanut Butter Cookies
These cookies are easy to make – you only need 30 minutes from mixing bowl to cooling rack! Before you mix the dough, preheat the oven to 375°F. Line two baking sheets with parchment paper and set aside.
Be sure to check out the full recipe and ingredient list below
In a large bowl, beat the butter, peanut butter, brown sugar, milk, and vanilla with an electric mixer or using a stand mixer at medium speed until well blended. Add the egg and beat until combined.
In a separate small bowl, combine the flour, cocoa powder, salt, and baking powder until well blended. Add dry ingredients to the peanut butter mixture and mix at low speed just until combined.
Using a 1.5-tablespoon cookie scoop, portion the dough two inches apart onto the prepared baking sheets. Flatten slightly in a crisscross pattern with the tines of a fork.
Bake for 7-8 minutes or until set. Take care not to over-bake.
Cool on the pan for 5 minutes then transfer to a wire rack to cool completely.
Handy tip:
If you want a soft and chewy cookie, don't overbake these! If you are looking for something crispier, you can bake them a few minutes longer. I personally prefer the soft and chewy version, so when I take these out of the oven they almost look as if they aren't fully cooked yet.
Tips For Success
Peanut butter: Use commercial brand peanut butter such as Jif or Skippy. Natural peanut butters are too oily and may cause the cookies to spread too much.
Flour: For the best results, spoon and level or weigh the flour.
Cocoa powder: Use natural cocoa.
Storage & Freezing
The cookies will stay soft and fresh stored at for up to one week in an airtight container stored at room temperature.
The cookie dough can be made up to 3 days in advance and stored in the refrigerator. Bring the dough to room temperature, then roll the dough and bake.
Alternatively, you can freeze the baked cookies for up to 3 months.
Or you can freeze unbaked balls of cookie dough for up to 3 months, as well. Bake the frozen cookie dough balls, without thawing, for an additional minute or two.
Fill your cookie jar with all these cookie favorites.
Did you try this recipe? I would love for you to leave me a 5-star rating or comment. This way, I have a better understanding of which recipes you like and can create more of them.
Please take a moment to follow me on Instagram, Pinterest, Facebook, Youtube or sign up for my free newsletter to never miss the newest recipes and blog updates.
You can also shop my favorite baking tools. Thank you so much for your support!
Printable Recipe