Homemade Pumpkin Snickerdoodles
This post may contain affiliate links. Read the full disclosure here.
The only way to improve upon the soft, chewy, cinnamon-flavored classic snickerdoodle cookies? Add pumpkin for delicious pumpkin snickerdoodles. The perfect fall treat awaits!
It was only a matter of time, wasn't it? You have witnessed my pumpkin spice obsession this fall. I've even made my own pumpkin pie spice.
I've shared with you my mini pumpkin pie recipe (and I dare you to make these and try to each just one), which will be a much appreciated addition to any fall table. And my pumpkin cheesecake takes the classically decadent cheesecake recipe and adds flavor and richness. You'll love it.
I know there are pumpkin spice haters out there. I've seen them on Instagram. I know they lurk in the shadows ready to ridicule all that is pumpkin. Let me just say here and now, I love pumpkin. I love it, love it, love it. And there is nothing any pumpkin haters can say to change my mind.
I've made pumpkin chocolate chip cookies, and wow – they turned out perfectly. My pumpkin oatmeal cookies are almost like overnight oats in a cookie form. They are so good you can almost justify having a few for breakfast with your coffee.
So it hit me the other day as I was making a batch of snickerdoodles that they would be the perfect cookie to add some pumpkin too and make another yummy pumpkin treat.
If you have ever had a snickerdoodle, you know they have a very distinct taste. The cream of tartar, which believe it or not, is a byproduct of the wine making process, adds a unique and specific flavor to the cookies. That and the cinnamon sugar mixture coating are what these cookies are known for.
They are made with lots of leavening – baking powder and soda and the cream of tartar – so they puff up pretty high when baking, and then when they fall, what is left is a soft, chewy, delicious cookie with a bit of cinnamon sugar on the outside.
It's just screaming for pumpkin, isn't it?
So I added a bit of pumpkin (from a can but PLEASE get just plain pumpkin, not pumpkin pie filling which already has spices and sugar added to it). At first the pumpkin flavor wasn't enough. But if I added more pumpkin, the cookies didn't puff up as much – they were weighed down by the dense pumpkin.
I had an aha moment and decided to try bringing out the pumpkin flavor by adding a bit of pumpkin pie spice. There is no actual pumpkin in the spice, but it tricks your taste buds into thinking there is. I fiddled around with the quantities and then we were off to the races.
These pumpkin snickerdoodles have the chewy soft texture and taste of the classic cookie but with a delightful and distinctive fall spin. Make these soon!
---
Recipe Snapshot
TASTE: Sweet and pumpkin-y
TEXTURE: Soft and chewy
EASE: Easy
TIME: Under a half an hour active time, plus time for chilling the dough
---
What You'll Need
This seems like a long list of ingredients, but don't be intimidated!
Ingredients
Flour – All purpose is what works best here.
Cream of tartar – For the snickerdoodle's signature flavor
Pumpkin pie spice – For fall pumpkin yumminess (my recipe is here)
Salt – Kosher, please.
Leavening – We use both baking powder and baking soda in this recipe.
B

utter

– Unsalted, sweet cream butter, softened

Sugar – White and light brown sugar are used for sweetness.
E

gg yolk

– This should be at room temperature

Vanilla extract – Always use natural extracts, not artificially flavored.
Pumpkin puree – From a can is fine but please make sure it is not pumpkin pie filling.
G

round cinnamon

– for the coating.
Recommended Tools
This snickerdoodle cookie recipe requires basic cookie making tools. Baking sheets, a cookie scoop (small ice cream scoop), parchment paper and a cooling rack. A spatula and whisk help too!
How to Make Pumpkin Snickerdoodles
This is a riff on the classic snickerdoodle cookie, which requires blending, chilling and rolling. You'll add a little pumpkin flavor to give it a distinctive fall spin, but otherwise the process for making these is the same as making snickerdoodles.
Before you get started, line the baking sheets with parchment paper. 30 minutes before you want to bake the cookies preheat the oven to 350°F.
In a medium bowl, whisk the dry ingredients together (flour, cream of tartar, baking soda, baking powder, pumpkin pie spice and salt).
Using an electric mixer, cream together the butter and sugars in a large mixing bowl until well combined.
Add the egg yolk, the vanilla and the pumpkin puree.
Add the dry ingredients and mix until just combined.
Cover the bowl with plastic wrap and refrigerate for 30 minutes. If you are baking right away, turn the oven on to preheat.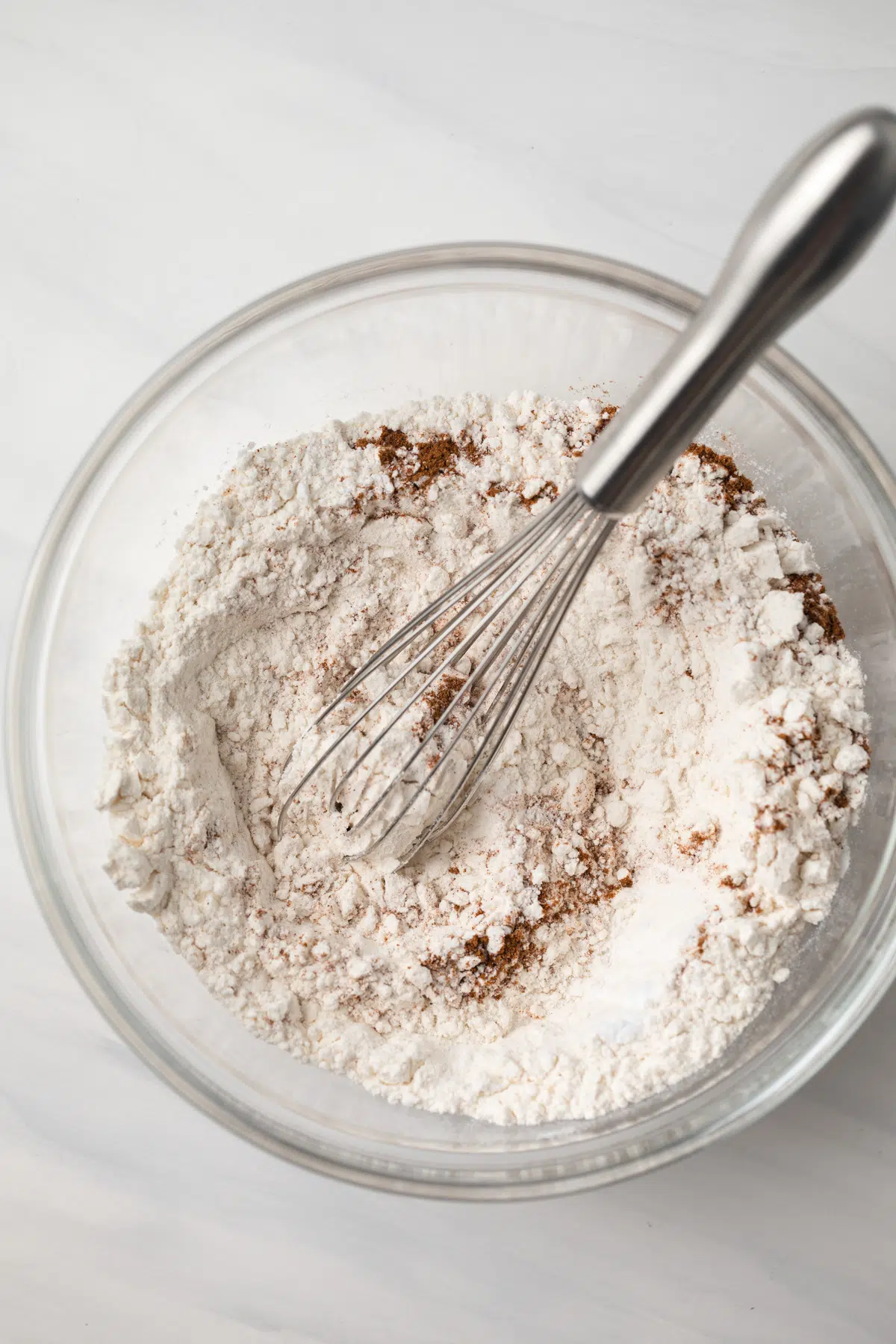 Using a 1.5 tablespoon scoop, scoop the dough and roll it into balls.
Mix the sugar and cinnamon together for the coating. Roll each dough ball generously in the cinnamon sugar coating and place each ball on the prepared baking sheets, about 2 inches apart.
Bake until the edges are set. The centers will still look soft. Remove from the oven and gently press the cookies down with the back of a spoon. If they are puffy, they will have turned out perfect!
Leave on the cookie sheets for 10 minutes. Then transfer to a wire rack to cool completely. Enjoy!
Handy tip:
If you are making a double batch of this, only take out a bit of dough at a time to roll, leaving the rest in the fridge. You don't want this dough to get too soft before you bake the cookies.
Tips For Success
Be sure to use pumpkin puree and not pumpkin pie filling.
Use a spoon and not a fork to push down the cookies after they have baked. They will come out puffy. The goal is to flatten them a bit, NOT to give them the fork lines that are a signature of the peanut butter cookie.
Storage & Freezing
Cookie dough can be rolled and frozen for up to three months. Coat with cinnamon sugar just before baking and add an additional 1-2 minutes to the bake time. Baked cookies will freeze well for up to three months. Thaw to room temperature just before serving
I'm a cookie girl at heart. Add some of these to your cookie jar. Your friends and family will thank you!
Did you try this recipe? I would love for you to leave me a 5-star rating or comment. This way, I have a better understanding of which recipes you like and can create more of them.
Please take a moment to follow me on Instagram, Pinterest, Facebook, Youtube or sign up for my free newsletter to never miss the newest recipes and blog updates.
You can also shop my favorite baking tools. Thank you so much for your support!
Printable Recipe