This post may contain affiliate links. Read the full disclosure here.
A brookie. It's just what it sounds like – a fabulous and decadent combination of two all star favorites – chocolate chip cookies and brownies. Now you never need to decide which one to choose again.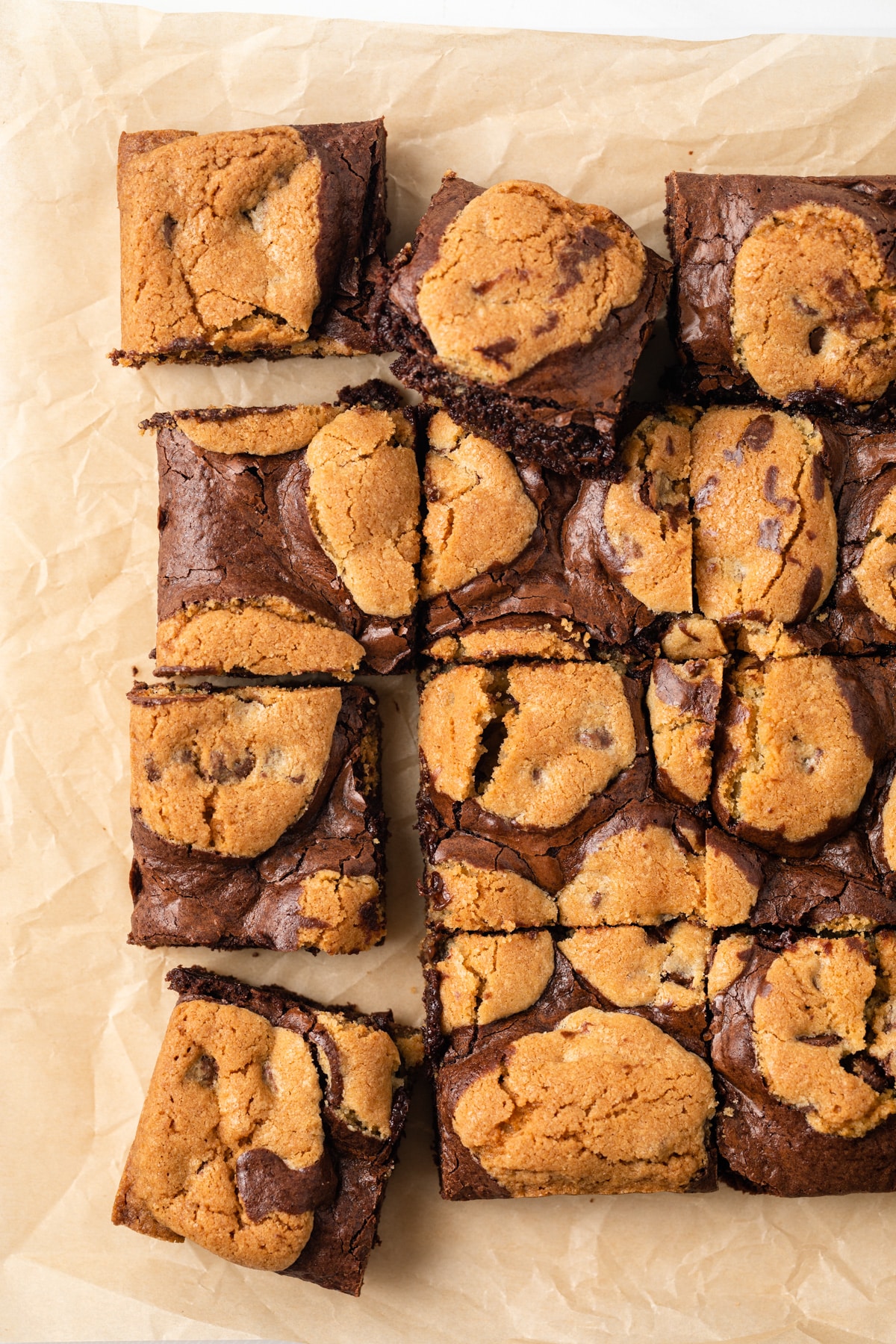 This ultimate Brookie recipe features a fudgy brownie layer with dollops of rich and chewy chocolate chip cookie dough.
I love brownies – so much so they have their own category on this website! And while I love a basic rich chocolatey brownie recipe, once I discovered layered brownies, I've been going crazy experimenting with them.
Layered brownies bring together two delicious flavors in one dessert. They can be expected combination like peanut butter and chocolate in my buckeye brownie recipe. Or they can be slightly unexpected, like my blood orange bars – which bring together tangy orange layer and crunchy shortbread.
I also have a great recipe for pumpkin s'mores bars, which are really just so yummy – you have to try them this fall.
But as much as I love to be creative with brownies and bars, there is a part of me that likes to go back to the origin of brownies. Chocolate, chocolate and more chocolate.
So that got me thinking – I've seen the recipes for chocolate brownie cookie bars on the back of store bought box mixes. Those have a layer of chocolate chip cookies covered with a layer of brownies – two boxed mixes for one dessert.
I know, delicious, right? But I could make it better. And, store bought just won't do around here.
I have recipes for brownies, and recipes for chocolate chip cookies. So all I needed to do was figure out the right ratio. Trust me, testing out this recipe was a delicious process.
Most brookie recipes I see have a layer of chocolate chip cookies at the base, and are topped with chocolate brownies. Those feel like chocolate chip cookie bars with a bit of brownies.
I'm partial to a brownie, so my idea was to switch things up and make this brookie recipe mostly brownies, but with chocolate chip cookie flair.
I was worried the brownies wouldn't hold up as the base under a full layer of cookies wouldn't work on top of the brownies. Instead, I decided to do the cookie dough as a dollop. I dropped the cookie dough in mounds into the pan and fill in around them with brownies. They came out perfectly!
The magic of baking and science take over – the brownies basically become the base of the brookie and the cookie dough floats to the top. Each square of brownie has a bit of cookie dough for double the flavor in each bite – what more could you ask for?
Trust me – these brookies will set the new standard for brownies in your house, and they won't last long on the counter!
---
Recipe Snapshot
TASTE: Filled with chocolate flavor!
TEXTURE: Chewy and delicious.
EASE: Easy, though requires making two doughs
TIME: Just under an hour
---
What You'll Need
Don't be intimidated by this list of ingredients – remember you are. basically making two separate recipes here to create brookies. You need a layer of brownie batter and a layer of chocolate chip cookie dough to make this brookie recipe.
Ingredients
Butter – unsalted sweet cream butter for both batters, at room temperature.
White Sugar – granulated white sugar is in both the brownie and cookie dough.
Brown Sugar – for the cookie dough batter.
Cocoa Powder – regular or dutch process works in the brownie batter here.
All-purpose flour – needed in both recipes.
Eggs – Large brown eggs.
Vanilla extract – Just a little goes a long way.
Salt – kosher salt, just a pinch, in both recipes.
Leavening – the cookie layer uses baking soda and baking powder for leavening
Semi-sweet chocolate chips – key component of chocolate chip cookie dough.
Recommended Tools
Parchment paper
Mixer
Cookie Scoop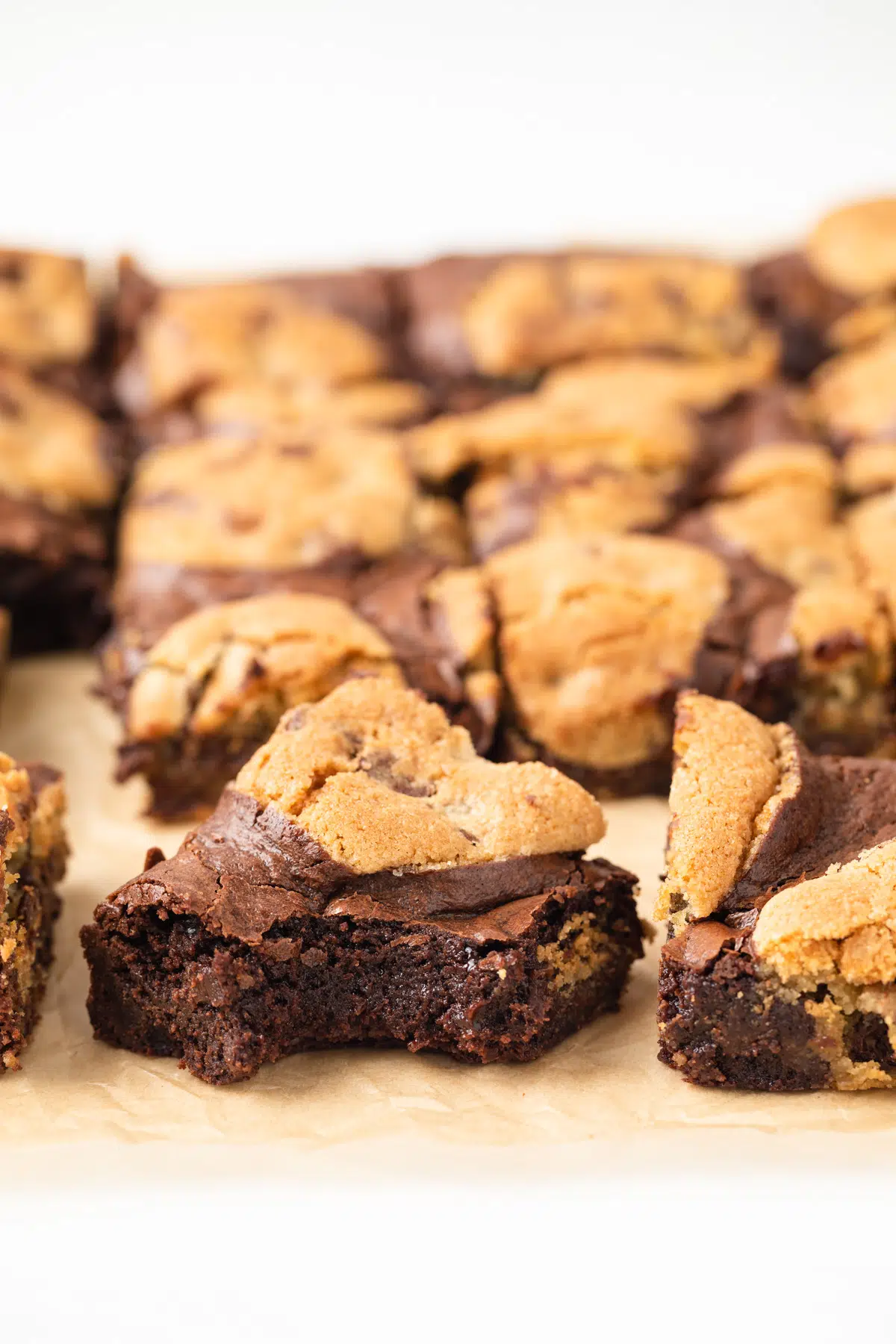 How to Make Brookies
These brookies aren't difficult, but they do require a little extra bit of effort as they require two batters. To start with, preheat your oven to 350°F. Line a 9 -inch square baking pan with aluminum foil or parchment paper then spray with non-stick baking spray.
Make the cookie layer
In a medium bowl using a handheld electric mixer, cream together the butter and both sugars until light and fluffy.
Mix in the egg and vanilla, scrape down the sides of the mixing bowl as needed.
Add the flour, baking soda, baking powder and salt and mix on low speed until combined. Fold in the chocolate chips.
Make the brownie layer
In a medium saucepan, melt the butter over medium-high heat. Add the sugar and cocoa powder and whisk until well combined then remove from the heat. Pour into a mixing bowl.
Whisk in the salt, vanilla, and eggs until the eggs are fully incorporated.
Fold in the flour until no dry streaks are visible.
Using a cookie scoop, drop mounds of cookie dough sporadically into the bottom of the prepared pan. Using a second cookie scoop (or after washing the cookie dough scoop), fill in the gaps with brownie batter. Use a small silicone spatula to press the cookie dough down so that it is level with the brownie batter.
Bake for 25-30 minutes, until the top looks dry and a toothpick inserted into the center comes out clean.
Transfer baking dish to a rack until cooled completely, about 45 minutes. Lift the bars out using the paper and transfer them to a cutting board. Cut into bars to serve.
Handy tip:
Cookie scoops, which are really just small ice cream scoops, are great to use here. They help portion out the cookie dough into the right size mounds and make it easier to fill in the gaps with brownie batter.
Tips For Success
Make sure to measure the flour correctly! Accidentally using too much flour will cause the brownies to be dense and hard.
Use regular or Dutch-processed cocoa here – whichever you have on hand. Just be sure it is baking cocoa and not drinking cocoa – they are not the same thing!
Make these brookies extra decadent and rich by using dark chocolate chips in place of the semi-sweet chocolate chips in the cookie batter.
Serve these brookies on their own or warm with a scoop of vanilla ice cream.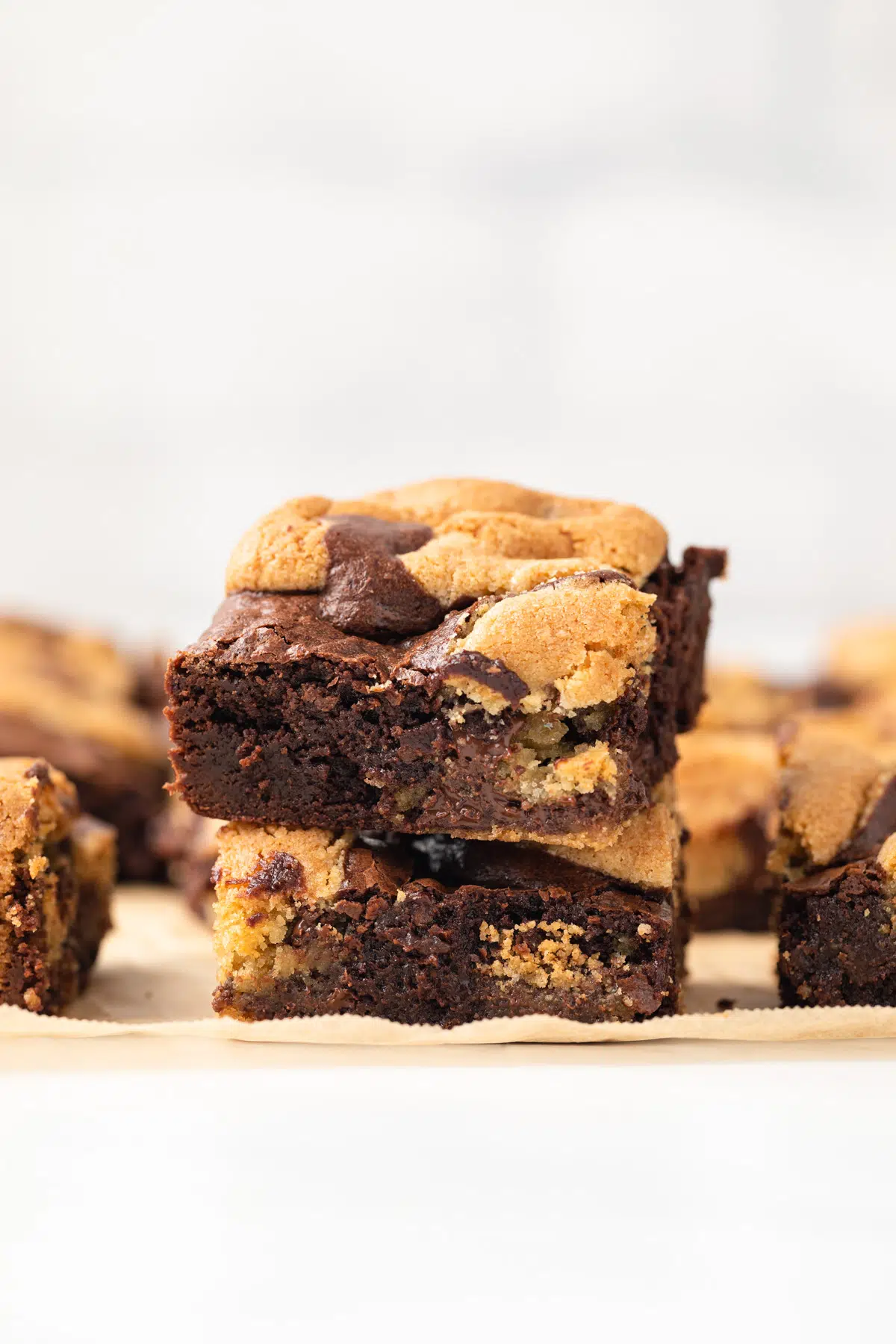 Storage & Freezing
Store Brookies at room temperature in an airtight container for up to 1 week.
Freeze Brookies for up to 3 months. Thaw in the refrigerator overnight and bring to room temperature before serving.
Cookie bars are easy to make, keep well, and are the perfect afternoon snack.
Did you try this recipe? I would love for you to leave me a 5-star rating or comment. This way, I have a better understanding of which recipes you like and can create more of them.
Please take a moment to follow me on Instagram, Pinterest, Facebook, Youtube or sign up for my free newsletter to never miss the newest recipes and blog updates.
You can also shop my favorite baking tools. Thank you so much for your support!
Printable Recipe