This post may contain affiliate links. Read the full disclosure here.
This simple recipe for blueberry scones has the perfect tender texture that goes so well with a cup of morning coffee. Fresh blueberries and buttermilk offer a sweet and tangy flavor that no one can resist.
I just adore summer berries. And since this may be the last recipe I share with summer berries, we're ending the season with a bang! And by that I mean, the best blueberry buttermilk scones you will ever sink your teeth into.
I used the same scone recipe as my lemon cream cheese scones with strawberries. Instead of cream cheese, I use all butter. And of course, I swap the strawberries for blueberries.
These scones are similar to my plain soft scones but I didn't include the egg. Sometimes I'll use an egg and other times I won't. The egg adds richness but isn't always necessary in a scone recipe.
Today's blueberry scones came out so buttery and moist. The pop of blueberries throughout with a slight hint of tanginess from the buttermilk is really something special.
Why this recipe works
I prefer to use fresh blueberries over frozen. Frozen blueberries contain more moisture and will make the scones soggy.
Use just enough of the liquid to make a dough that holds together without being wet and sticky.
Working quickly to prevent the dough from getting too warm is key for superior texture.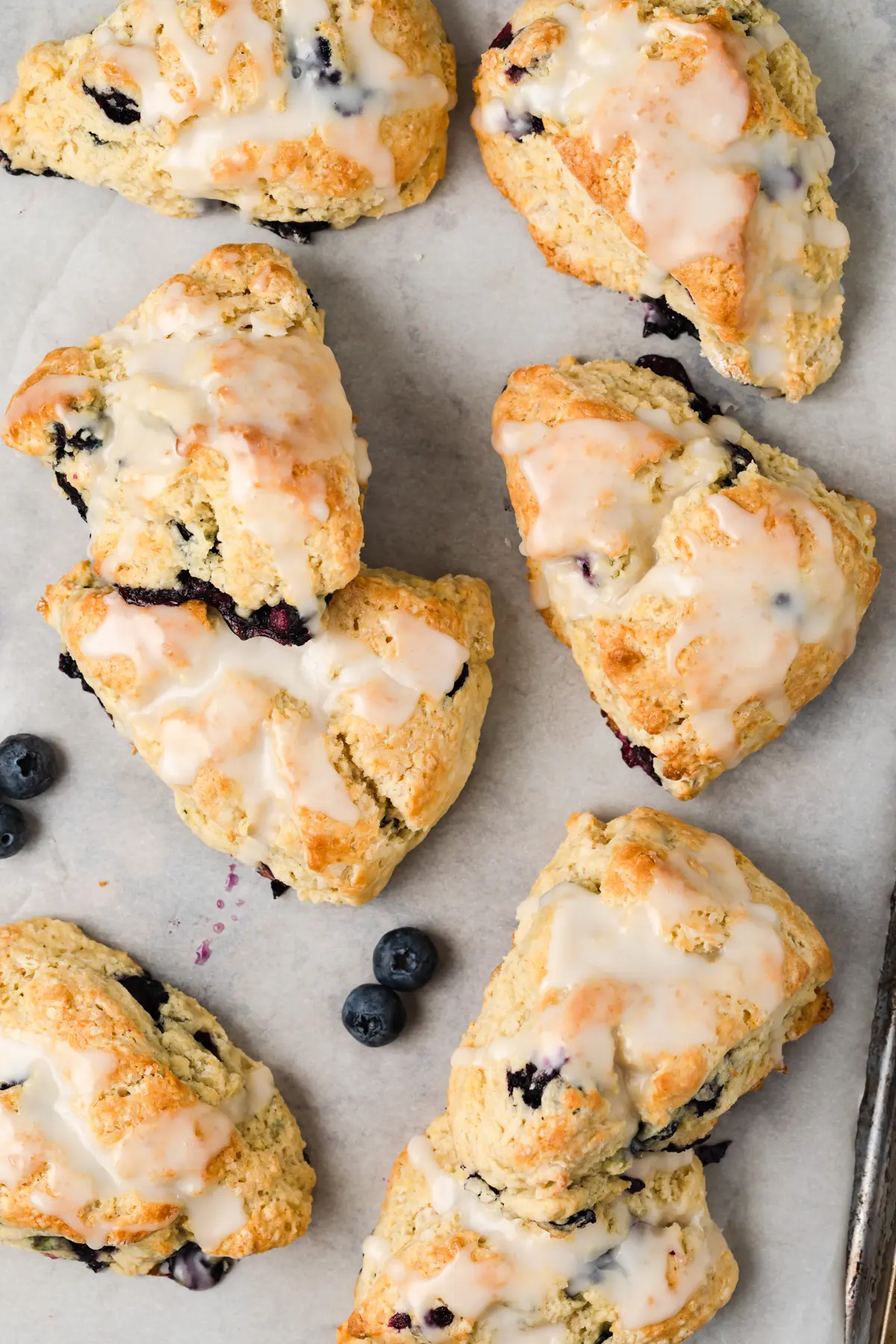 Blueberry scone recipe
I've got one final blueberry recipe for you before the season is over. Summer is all about fresh berries. I just can't get enough of them!
And blueberry buttermilk scones are the perfect way to enjoy them.
I used my favorite trick for getting super thick, buttery soft scones. And that is to freeze the shaped scones for 30 minutes before baking them.
This doesn't negate the quick handling of the scones. You still need to work fast to avoid warming the dough too much or melting the butter.
Freezing just helps the scones keep their shape during baking and it ensures those chunks of unmelted butter are super cold going into the oven. This is how the scones get their soft texture.
---
Ingredients for blueberry scones
You need just a handful of staple ingredients to make today's recipe. The glaze is completely optional but I highly recommend it.
Flour: Regular all-purpose flour is best for scones. I like to sift my flour after measuring it to make sure it is clump-free.
Sugar: Granulated sugar is used in the base of the scone. You could also experiment with brown sugar. Use powdered sugar for the glaze. And sprinkle the top of the scones with coarse sugar just before baking.
Leavening: Both baking powder and baking soda help the scones bake up tall and fluffy.
Salt: We use a little salt to balance the flavors.
Butter: Unsalted butter is best so you can control the amount of salt in the recipe.
Blueberries: Fresh blueberries are best. Frozen blueberries are going to make the scones soggy.
Vanilla: Use pure vanilla extract or my homemade vanilla for the best flavor.
Buttermilk: Buttermilk is what gives these scones their super tender texture.
Heavy cream: Cream is brushed over the tops of the scones just before baking and it's used to make the glaze.
To make these buttermilk scones you'll need:
Large bowl: These bowls are my favorite. I use them regularly.
Pastry Cutter: A pastry blender works best for cutting the butter into the dry ingredients.
Baking sheet: I love to use these aluminum baking sheets when making scones.
---
How to make blueberry scones
This recipe is beyond easy to make! It comes together quickly and bakes up in a few short minutes.
The Dough – The dough uses the biscuit method for mixing. This calls for mixing the dry ingredients together first. Cut the butter into the dry ingredients, then add the wet ingredients.
The Glaze – The glaze is a simple powdered sugar glaze with three ingredients.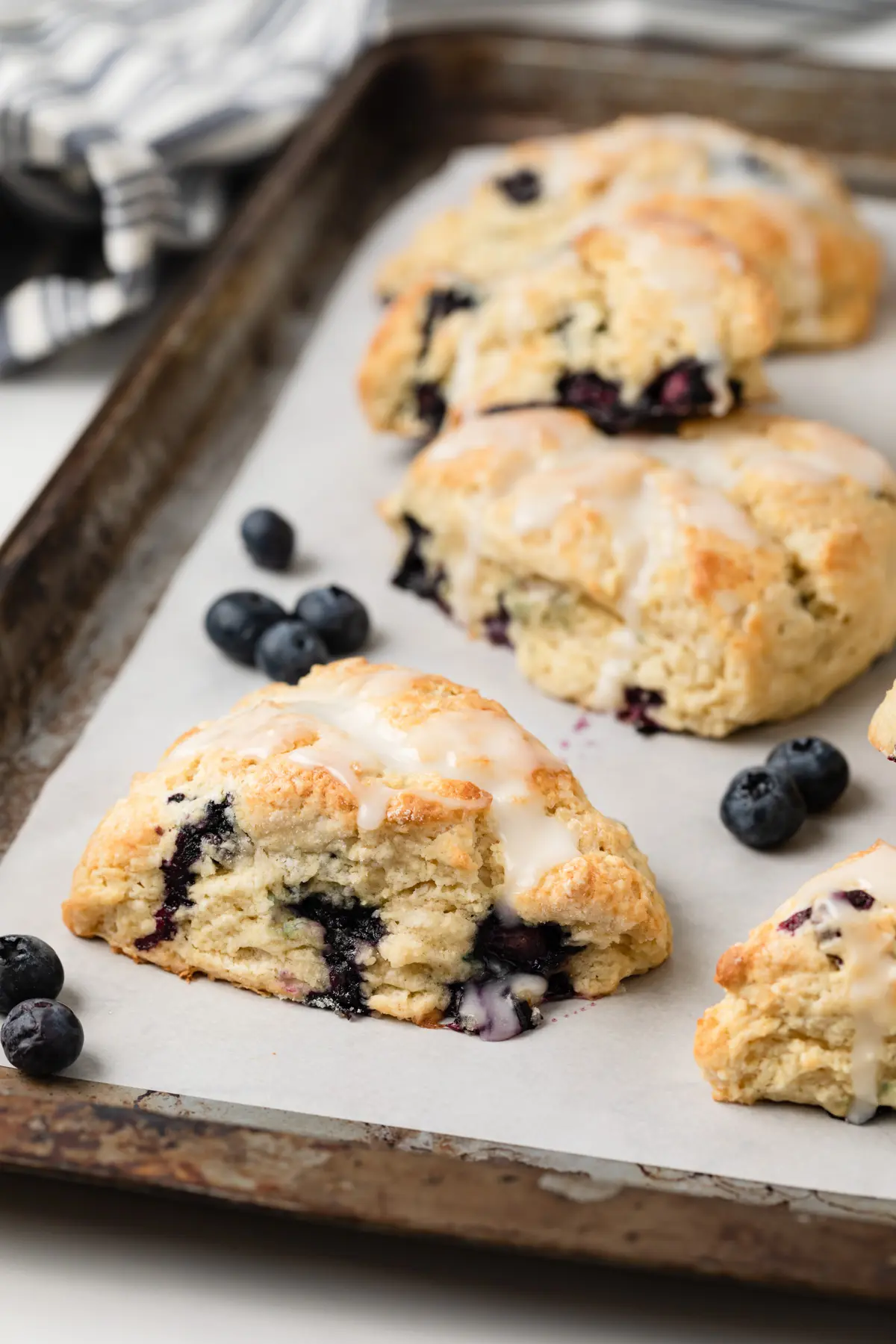 Step 1: Make dough
In a large mixing bowl, whisk the flour, sugar, baking powder, baking soda, and salt together. Add the cold butter and use a pastry blender or your fingertips to press it into the dry ingredients until the mixture resembles coarse crumbs.
You want to see some larger and smaller bits of butter all throughout the dry ingredients. And work quickly so the butter doesn't begin to melt!
Gently stir in the blueberries so they are evenly distributed throughout.
Mix the buttermilk and vanilla together and gradually add it to the flour mixture. You may not need all of the liquid. This is going to depend on how humid it is in your kitchen.
Add a little more than half the liquid and gently stir with a silicone spatula until the mixture begins to hold together without being too wet and sticky. If needed, add a little more liquid.
Step 2: Shape the scones
Once the dough is wet enough to hold together, turn it out onto a lightly floured surface and very gently knead it until it all comes together.
Press the dough into a 7-inch round circle (or smaller for taller scones). Use a bench scraper to cut the dough into 8 equal-sized triangles.
Arrange the blueberry scones onto a baking sheet lined with parchment paper and freeze for 30 minutes.
ⓘ Freezing is important! It helps the scones keep shape during baking. It will also ensure they go into the oven super cold, which results in a softer texture once baked.
Step 3: Bake the scones
Brush the tops of each scone with heavy cream and sprinkle with coarse sugar.
Bake them for 15 to 20 minutes or until golden brown.
Step 4: Make the glaze
Mix powdered sugar, vanilla, and milk together until you have a pourable glaze.
Drizzle glaze over the warm blueberry scones and serve right away.
If you like this buttermilk scone recipe, you'll love these other tasty recipes:
Did you try this recipe? I would love for you to leave me a 5-star rating or comment. This way, I have a better understanding of which recipes you like and can create more of them.
Please take a moment to follow me on Instagram, Pinterest, Facebook, Youtube or sign up for my free newsletter to never miss the newest recipes and blog updates.
You can also shop my favorite baking tools. Thank you so much for your support!
Originally published in August 2016. The post was updated in August 2020 with new photos, a video, and more details written in the copy. No change was made to the recipe.