This post may contain affiliate links. Read the full disclosure here.
Crispy on the edge and soft and fluffy on the inside, these banana nut bread cookies are just like biting into a slice of your favorite banana bread. Simple to make and ready and 30 minutes!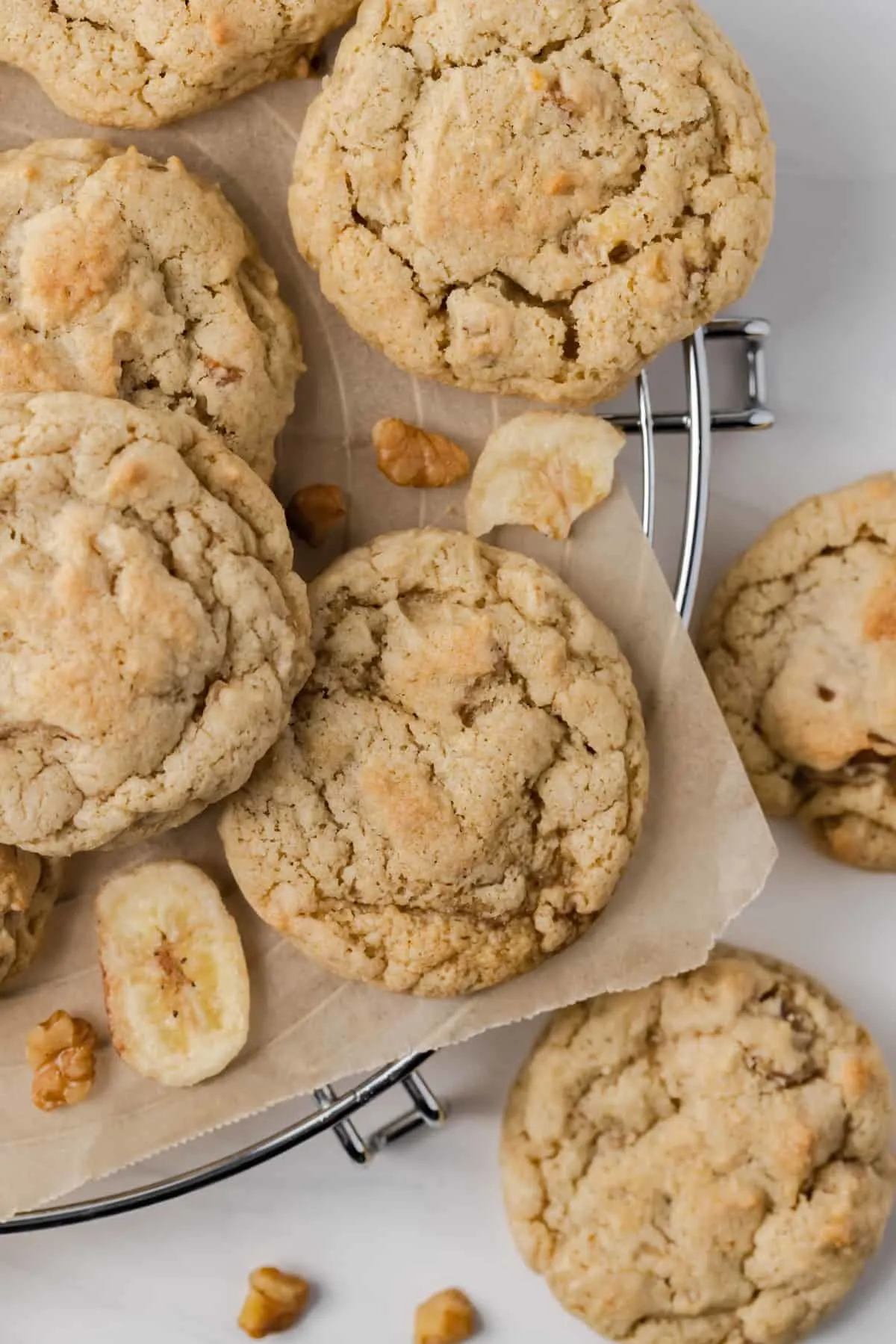 Let me walk you through the steps for the simplest, most delicious cookies you'll ever make!
Why this recipe work
Taste: The star of this recipe is none other than bananas. It doesn't take much to pack these cookies with flavor. Just half a banana is all you need. But the key is to make sure it is extra ripe with a dark spotty skin.
Texture: The cookies are soft in the middle. The mashed banana won't allow them to crispen up all the way through. The outside and edges of the cookie are crisp once removed from the oven but will soften as they sit. Crushed banana chips and walnuts are added for a bit of crunch.
Ease: This recipe couldn't be easier! Mash the banana, mix the ingredients together, scoop, and bake. They truly take no time at all. They're just as simple as my banana cookies and banana oatmeal cookies which are a reader favorite.
See my other delicious cookie recipes!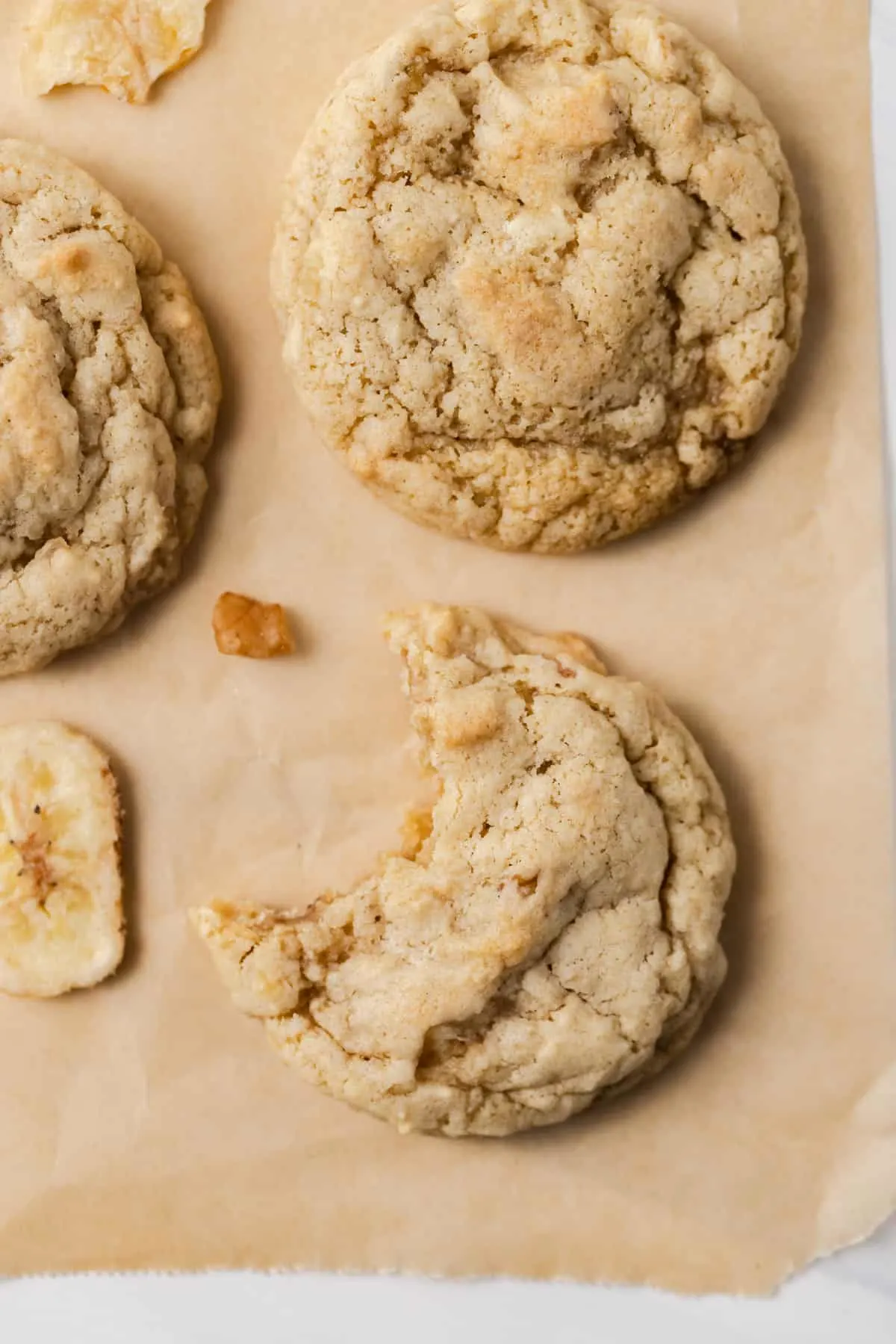 About these easy banana cookies
Inspired by my favorite chocolate chip cookies and my love of homemade banana muffins, these banana nut bread cookies are my new favorite cookies. They taste exactly like banana bread but are even easier to make!
I am a sucker for good banana bread. However, for me, good is simply… "Simple". And by simple I mean, I don't want the banana flavor to be smothered by spices. I like my banana bread to taste like bananas and nothing else.
So I took this concept and packed it into these little bite-sized banana nut bread cookies.
These banana bread cookies are heavily flavored with banana (even though you only need half of a ripe banana!) and they bake up crisp on the outside edges with soft, fluffy interiors. In each bite, you get little crunchy bits of banana chips and walnuts. They are honestly the best cookie I've ever created!
And, my favorite part about these banana cookies is that the dough doesn't require chilling – just whip it up and bake!
---
What you'll need
You likely have everything you need to make these banana bread cookies in your pantry – which makes them the perfect cookie to whip up any time!
Ingredients
The full recipe with ingredient amounts can be found at the end of this post in a printable recipe card!
Flour – I highly recommend measuring your flour by weight as using too much will change the texture of the cookies.
Cornstarch – You can omit this if you don't have it. I like to add it to cookies because it breaks down gluten development resulting in soft cookies with crisp edges.
Baking powder & baking soda – The use of both leavening agents allows these banana cookies to be light and fluffy.
Salt
Light brown sugar – I use all brown sugar instead of a combination of white and brown because it holds more moisture and creates a softer texture.
Unsalted butter – Butter should be softened but not melted.
Banana – The banana should be extra ripe, almost to the point you wouldn't eat it besides in bread.
Vanilla extract
Egg – One egg helps hold everything together.
Banana chips – Crushed banana chips add flavor and crunch. Optional but recommended!
Walnuts – I love the combination of walnuts and banana together!
Recommended tools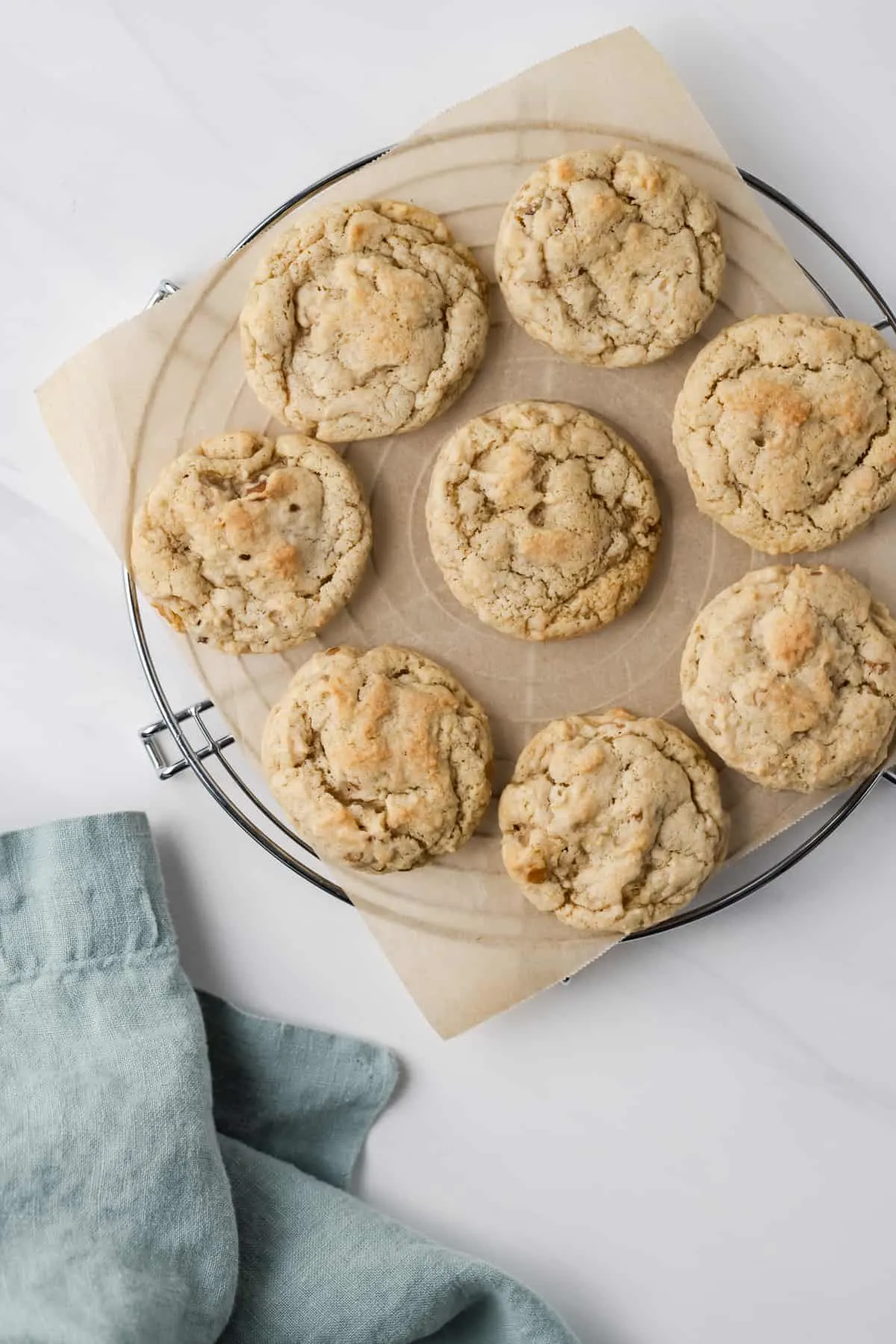 How to make banana nut bread cookies
In addition to being delicious, these banana nut bread cookies are also super easy to make! Just a few steps until you're anxiously waiting for these to be cool enough to enjoy!
Combine the dry ingredients. Combine the flour, cornstarch, baking powder and baking soda, and salt in a bowl.
Beat the wet ingredients. Beat the butter and brown sugar until fluffy, then add in the mashed banana, vanilla extract and egg.
Add the extras. Stir the flour mixture into the banana mixture. Crush the banana chips with a rolling pin and fold them into the mixture, along with the walnuts.
Bake. Drop the cookie dough onto a baking sheet lined with parchment paper or a silicone mat. Bake for 10 minutes, until cookies are lightly browned. Cool for 5 minutes on the pan before transferring to a wire rack.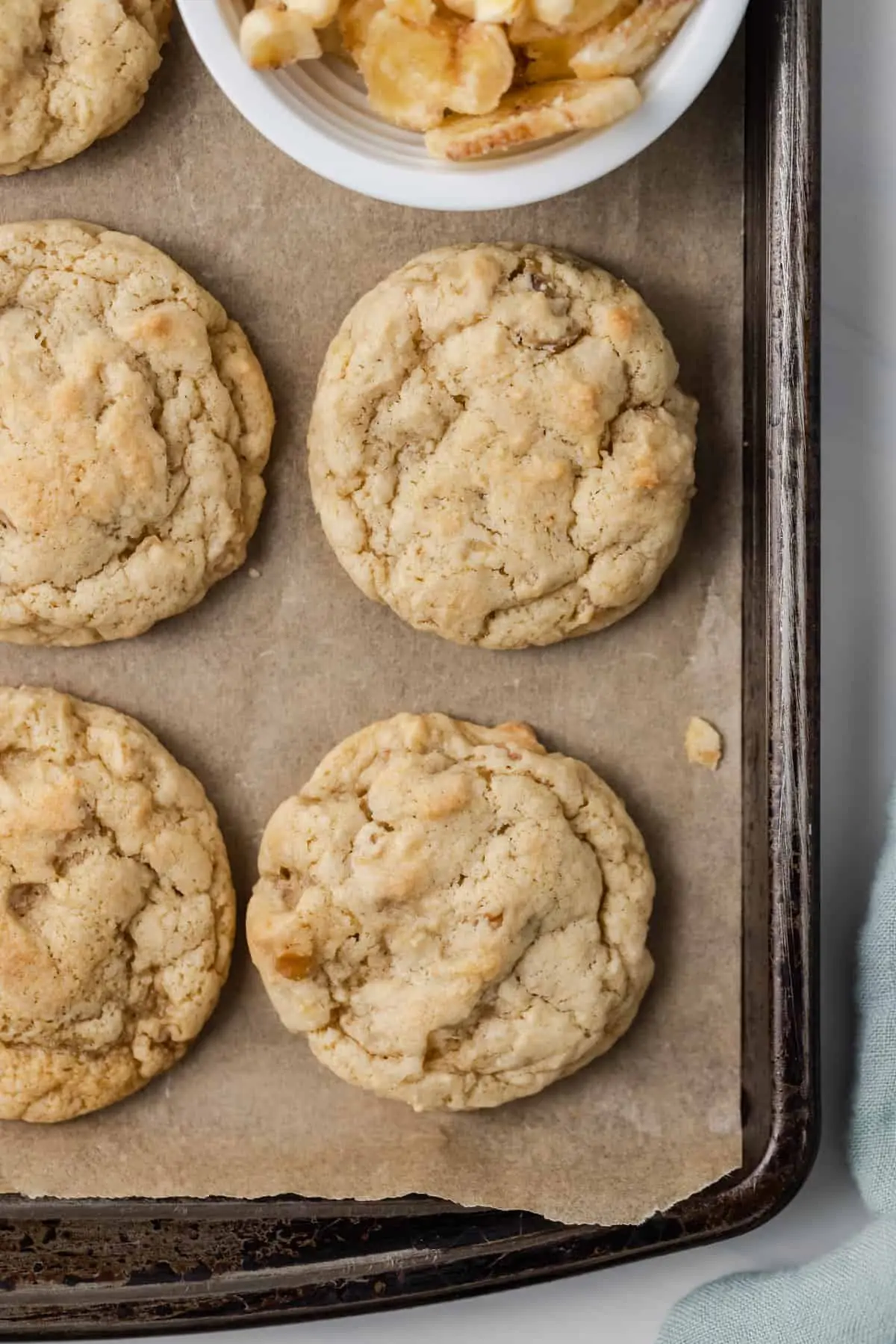 Tips for success
Use a scoop to measure the dough. I like to use a cookie scoop to make sure each cookie is the same size and perfectly round.
Don't overmix. When you combine the wet and dry ingredients, you should stir just until the flour is moistened. The dough should be thick and sticky.
Be sure to sure ripe bananas. Ripe bananas, the ones with lots of brown spots on the peel, are essential to this recipe. You will not get the same banana flavor if you try to use a banana without any brown spots.
Add your favorite add-ins! While I love the crunch and extra banana flavor from the banana chips and the crunch of walnuts, you can easily switch up the add-ins! Chocolate chips or white chocolate chips would definitely work, as well would other types of nuts.
Prepare the dough in advance. Want to serve these cookies fresh from the oven, without preparing the dough at the same time? You can easily prepare the dough and refrigerate it for up to 3 days before baking. Be sure to let the dough soften at room temperature to make it easier to scoop.
Serving suggestions
You have more self-control than me if you can stop yourself from digging into these cookies before they've cooled completely! I highly recommend enjoying at least the first cookie while still warm from the oven!
But, these will stay soft even after they cool so you can enjoy them with a glass of milk anytime!
---
How to store
Store leftover cookies. Banana cookies will last at room temperature for up to a week. Just be sure to keep them in an airtight container or ziploc.
Can I freeze these? You can freeze banana bread cookies for up to 3 months! Allow them to cool completely then transfer to an airtight container or ziploc bag.
More easy cookie recipes: