This post may contain affiliate links. Read the full disclosure here.
This honey nut zucchini bread is made with honey, sugar, and pure vanilla. It's loaded with chopped walnuts and is the best way to use up your summer garden's zucchini.
This is the best zucchini bread recipe I've made to date. It is the perfect way to use up an overabundance of zucchini from the garden.
Zucchini grow so easily and abundantly in gardens – around mid-July every CSA share or backyard garden is bursting with more of the green veggie than anyone knows what to do with!

Me to the rescue! Have you tried my zucchini banana muffins, zucchini drop biscuits, or chocolate zucchini cupcakes? Zucchini doesn't have a ton of flavor on its own, so in baked goods, it adds all the goodness of veggies and some moisture without an overpowering veggie taste.
The bread recipe is loaded with walnuts and sweetened with sugar and honey. It actually reminds me a little of banana bread. Fans of my chocolate chip banana bread muffins, might want to make this recipe a little sweeter by adding chocolate chips to it too.
This honey nut zucchini bread is so moist and tender. As it bakes the shredded zucchini will release loads of moisture into the bread. Mixing the shredded zucchini with the oil and eggs creates a moist and delicious texture. It almost melts in your mouth; it's that moist!
The zucchini doesn't add much to the recipe in regards to flavor – so no worries if you have veggie-averse people in your house. Instead, you taste the vanilla, honey, sugar, and walnuts. Oh, it's splendid!
I know you will be impressed with this bread once you try it. You won't even realize you're eating your vegetables. Serve it as you would banana bread – I like it sliced and toasted with a slab of salted butter, but it's just as good on its own too.
---
Recipe Snapshot
TASTE: Sweet and comforting
TEXTURE: Super moist
EASE: Beginner friendly!
TIME: Just over an hour
---
What You'll Need
Ingredients
Oil – I use canola oil but any neutral flavored oil will work
Eggs – Large brown eggs help make the recipe moist.
Sugar – This recipe calls for granulated sugar
Honey – Adds sweetness and richness to the bread.
Vanilla Extract – I always make my own but use pure extract, not artificial.
Shredded zucchini – Use a cheese grater to shred the zucchini.
All-purpose flour – Measure or weigh this carefully.
Leavening – This recipe calls for baking soda and baking powder for leavening.
Walnuts – Chopped walnuts add to the homey honey nut flavor of this bread, but omit if you need or prefer to.
Salt – Just to balance the flavors.
Recommended Tools
This recipe is made with a couple of bowls, wooden spoons, and a loaf pan. You'll also need a box grater to shred the zucchini.
How to Make Honey Nut Zucchini Bread
This honey nut zucchini bread recipe could not be easier to make. To prepare, place the oven rack in the lower-third position in the oven so the top doesn't overcook. Preheat the oven to 325°F, then grease and set aside a 9×5 loaf pan.
Be sure to check out the full recipe and ingredient list below
Mix the wet ingredients. In a large mixing bowl, whisk the eggs, oil, sugar, honey, and vanilla together until well combined. Whisk in the zucchini.
Mix the dry ingredients. In a separate bowl, add the flour, baking powder, baking soda, and salt. Whisk together until well combined.
Combine the two mixtures. Add the flour mixture to the zucchini mixture. Using a silicone spatula, gently stir just until there are visible streaks of dry flour. Gently fold in the walnuts.
Bake. Transfer the batter to the prepared pan and bake for 50-60 minutes, until golden brown and a toothpick inserted near the center comes out clean.
Cool and enjoy! Cool in the pan for 20 minutes, then transfer to a wire rack to cool completely.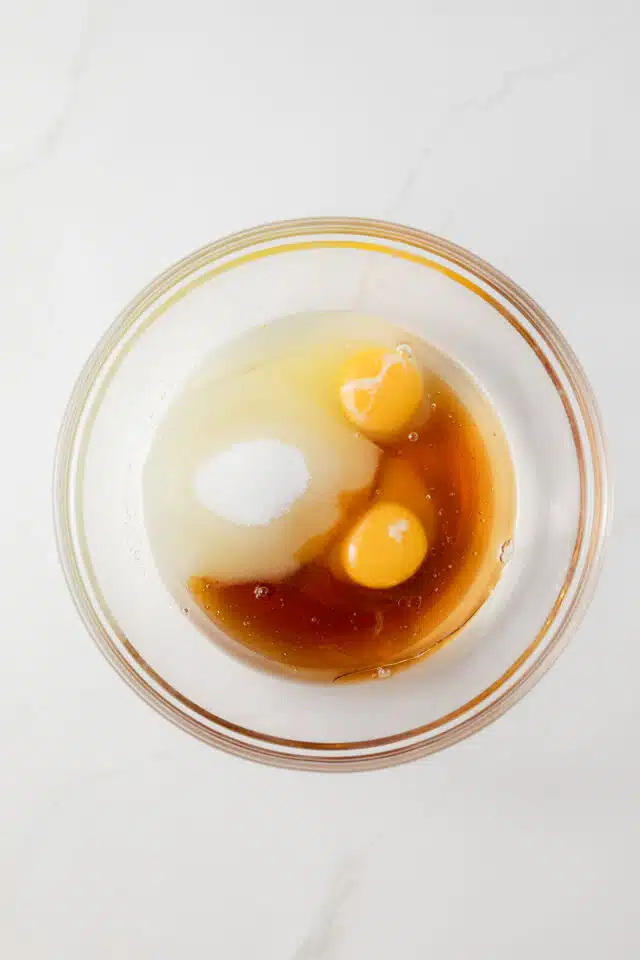 Handy tip:
Shredding zucchini: Shred the zucchini with a box grater. This will yield the best results. Don't shred it too far in advance or the water will start to drain from the grated zucchini. This excessive moisture in the zucchini helps to keep the bread nice and moist, so it's better in the bread than on the plate!
Tips For Success
Make zucchini muffins

Line a 12-cup muffin pan with paper liners and heat the oven to 375°F.
Make the batter as directed and divide it among the prepared muffin pan.
Bake for 20-25 minutes until browned and the centers bounce back when pressed lightly.
Storage & Freezing
Keep the bread covered tightly and store at room temperature for up to 4 days or in the refrigerator for up to 1 week.
The bread can be frozen for up to 3 months. Thaw in the refrigerator overnight and bring to room temperature before serving.
Bread recipes that can be made as loaves or muffins are so versatile – they can be breakfasts, snacks, or desserts.
Did you try this recipe? I would love for you to leave me a 5-star rating or comment. This way, I have a better understanding of which recipes you like and can create more of them.
Please take a moment to follow me on Instagram, Pinterest, Facebook, Youtube or sign up for my free newsletter to never miss the newest recipes and blog updates.
You can also shop my favorite baking tools. Thank you so much for your support!
Printable Recipe