This post may contain affiliate links. Read the full disclosure here.
It doesn't get much better than this easy banana bread recipe! It's made with extra ripe bananas for optimal flavor. You can enjoy it plain or with your favorite mix-ins!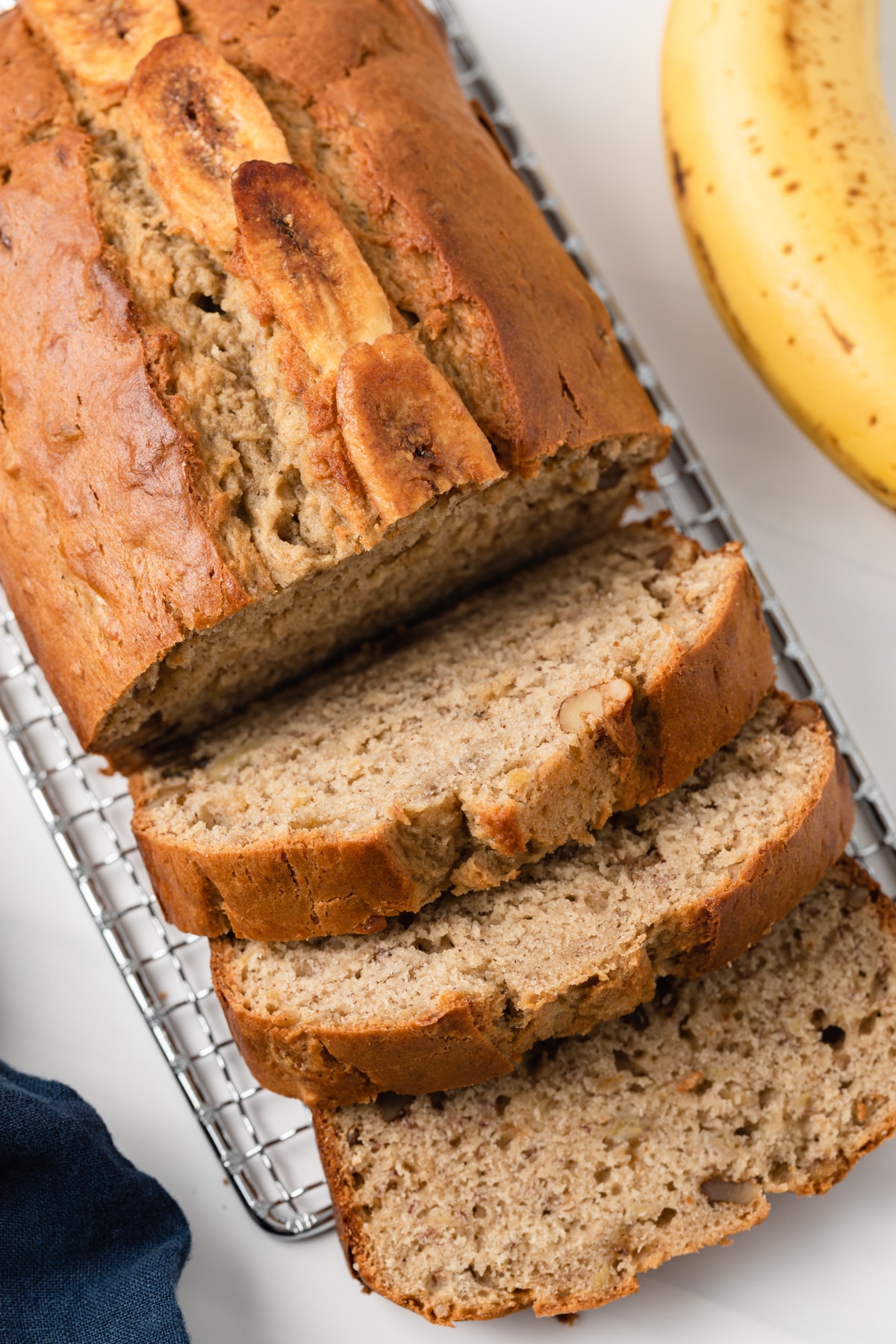 My best ever banana bread is one of my most popular recipes and for good reason – it's delicious! However, the process for that recipe is tedious and time consuming because it uses brown butter and roasted bananas.
I wanted to create a banana bread recipe that is just as delicious but much easier to make, hence the name 'easy' banana bread.
The great thing about this bread is it will stay moist for days! It can be made with bananas you've tucked away in the freezer, refrigerator, or those that are turning super spotty on the counter.
I'll give you all the tips on what to do to get the most out of those bananas! You can even transform it into cinnamon swirl banana bread, gluten-free banana bread or banana muffins.
Why this recipe works
Using super ripe bananas will add more flavor. They'll also be softer which helps to keep the banana bread incredibly moist.
Bananas that you have frozen in the peel will work for this bread as well. They'll be even softer once thawed and can go straight into the batter.
Baking powder, baking soda, and buttermilk used in combination give this bread a very soft texture. The result is a light, fluffy, and incredibly tender bread.
Easy banana bread recipe
This is truly a great recipe. The batter comes together by first mixing the wet ingredients, then mixing the dry ingredients, and finally combining the two.
It's delicate, tender, and not a very dense bread. This bread feels light and fluffy, thanks to the baking powder.
It's important to select the best bananas. Afterall, they are the star of the recipe. You want bananas that are very spotty.
If your bananas are completely black, unfortunately, they have gone bad. You will need to toss them.
If your bananas aren't ripe enough, one way to make them ripen faster is to place them in a brown paper bag. Ethylene gas produced by the bananas will build up in the bag, which will speed up the ripening process.
Remove the bananas from the bag once they reach the desired ripeness. You can then place them in the refrigerator if you don't plan to use them right away or store them in the freezer.
---
Ingredients for easy banana bread
These are staple ingredients that you most likely already have on hand:
Butter: Unsalted butter that is at room temperature is best.
Sugar: Granulated white sugar and light brown sugar add sweetness plus flavor to the bread.
Egg: The recipe only needs 1 egg. Make sure it's at room temperature so it's easy to blend into the batter.
Bananas: This recipe uses about 3 bananas to make 1 ½ cups of puree. The riper the bananas, the better the bread will taste.
Flour: All-purpose flour is the best to use.
Leavening: Both baking powder and baking soda are used to leaven the bread. I think the baking powder helps make the bread softer as well.
Spices: A little salt and cinnamon help for adding flavor.
Buttermilk: The buttermilk reacts with the baking soda to help leaven the cake, and it also adds extra moisture.
Walnuts: This is completely optional! You can add chopped walnuts if you want to make banana nut bread.
To make banana bread you'll need:
---
How to make banana bread
The steps for making this recipe are simple and straight forward.
The Batter – The batter is made by mixing the dry ingredients and wet ingredients in separate bowls. Then, the two are combined and mixed just until incorporated.
Step 1: Mix the wet ingredients
Start by creaming the butter, granulated sugar, and brown sugar together until the mixture is pale in color and fluffy. This can take about 3 minutes. Mix in the egg until well combined.
Mash the bananas and mix them into the batter. I like to mash my bananas in a small bowl. If your bananas are super ripe or have been frozen and thawed, you can just place them into the batter whole. The mixer will mash them up.
Once the bananas are added the mixture may look curdled. This is normal.
Step 2: Mix the dry ingredients
In a separate bowl, mix the flour, baking powder, baking soda, salt, and cinnamon together.
If your flour has clumps you may need to sift it. This will ensure it mixes easily into the batter.
Step 3: Combine the wet and dry ingredients
Add half the flour mixture to the banana mixture and mix until almost fully combined.
Pour in the buttermilk and mix until well combined.
Add the remaining flour mixture and mix just until no streaks of dry flour are visible.
It's important not to overmix. A lumpy batter is perfectly okay.
If you want to add nuts, gently fold them in into the batter.
Step 4: Bake
Pour the batter into a greased loaf pan and bake for 35-45 minutes. The crust should be a rich golden brown, and a toothpick inserted in the center should come out with only a few moist crumbs attached.
Cool the bread in the pan for 10 minutes. Then, transfer it to a wire rack to cool completely before slicing.
My family loved this super moist and tender banana bread. I'm certain yours will too.
Storage tips
Keep banana bread covered tightly and store at room temperature for 2 days, or in the refrigerator for up to 1 week. This bread tastes best on day 2 after the flavors have melded together.
You can also freeze completely cooked banana bread for up to 3 months. Tightly wrap the whole loaf or slices in 2-3 layers of plastic wrap.
Place the wrapped bread in a large ziptop freezer bag. Thaw in the refrigerator overnight or at room temperature.
Tips for making easy banana bread
Use the ripest bananas you can.
This recipe works great with bananas that have been frozen. Just zap them in the microwave for a few seconds to thaw them then drop them straight into the batter. Use the mixer to mix them in.
Experiment with mix-ins. Chopped walnuts, chocolate chips, or anything else you like are great additions.
If you like this easy banana bread recipe, you'll love these other bread recipes:
Did you try this recipe? I would love for you to leave me a 5-star rating or comment. This way, I have a better understanding of which recipes you like and can create more of them.
Please take a moment to follow me on Instagram, Pinterest, Facebook, Youtube or sign up for my free newsletter to never miss the newest recipes and blog updates.
You can also shop my favorite baking tools. Thank you so much for your support!