Whole Wheat Banana Muffins
This post may contain affiliate links. Read the full disclosure here.
This Whole Wheat Banana Muffins recipe is a quick make-ahead breakfast. It will fill you up and hold you over until lunchtime. They are perfect for busy people who need a grab and go meal.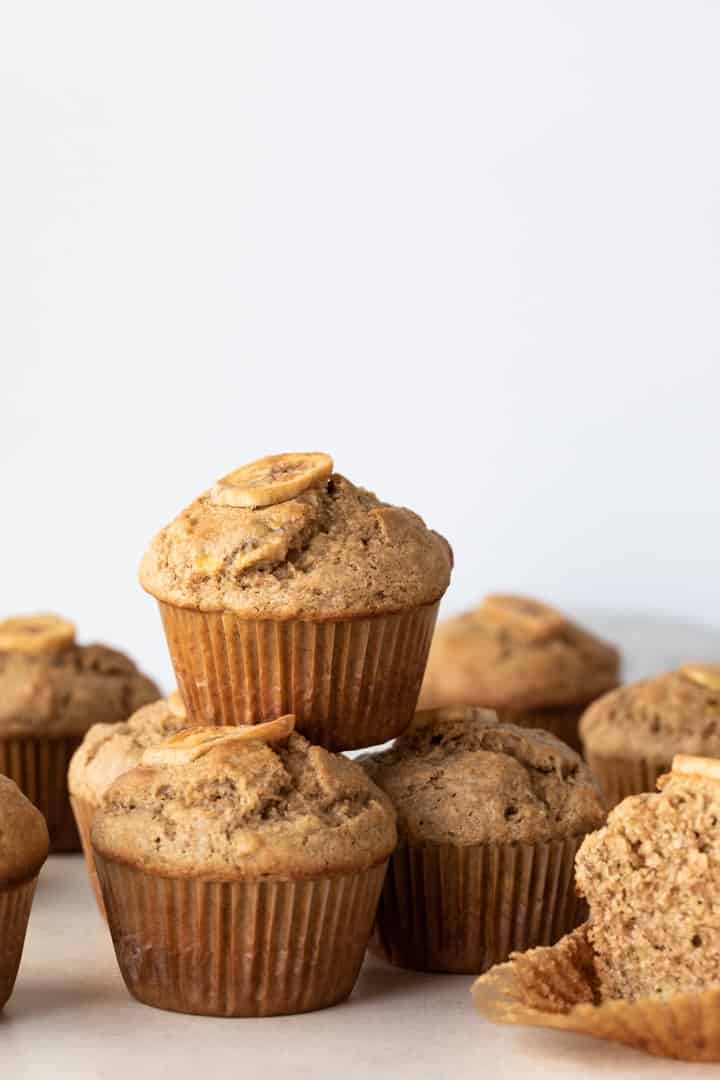 Bananas have to be my favorite fruit of all time. They taste amazing and are incredible in baked goods.
There are so many great recipes that feature bananas here on the site. My best ever banana bread always gets rave reviews! A few other favorites are zucchini banana muffins, banana bran muffins, banana chocolate chip muffins, and this super easy banana bread.
Today's whole wheat version calls for basic ingredients and you can mix them all together in just one bowl.
Why this whole wheat banana muffins recipe works
There's both butter and oil in the muffins so they stay moist.
1 cup of mashed ripe bananas is used! That adds even more moisture and loads of banana flavor. 1 cup is about 3 medium bananas.
They're made with 100% whole wheat flour.
The muffins are baked at 400°F. This temperature is what creates those high domes on the top. There's no need to reduce the temperature after several minutes of baking as some recipes call for.
Whole Wheat Banana Muffins Ingredients
The ingredients for today's muffins are basically just like all my muffin recipes. You most likely already have them on hand. Let's see what they are:
Whole Wheat Flour: Whole wheat is much better for you than white flour. You can feel a little better eating muffins with whole grains.
Leavening: Baking powder and baking soda are used to give the muffins rise.
Salt: Added for flavor.
Sugar: Granulated white sugar is used for added sweetness. Light brown sugar can be used also or you can use a combination of both.
Butter & oil: A combination of butter and oil is used for flavor and moisture.
Bananas: You need about 3 medium bananas. Make sure the skins are super spotty. This means they'll be sweeter and taste amazing in the muffins.
Eggs: Eggs are used for binding everything together.
Milk: Use whole milk for best results but I'm pretty sure dairy-free milk will work also.
Vanilla Extract: Use a high-quality extract for best results.
Dried bananas: I like to garnish the tops of the muffins with a slice of dried banana. This is completely optional.
How to make whole wheat banana muffins
This recipe is super simple to make and can be made in one bowl for convenience. The muffin method is used for mixing. This is where the wet ingredients are mixed together, the dry ingredients are mixed together, then they are both combined.
The Batter – The batter is slightly thick. A thick batter will rise taller to create those domed muffin tops. Take care not to over mix because this will create a dense muffin.
Make sure to start with room temperature ingredients. Set all the cold ingredients out on the counter about 1 hour before you plan to make the muffins.
Also, preheat the oven about 30 minutes prior to mixing the batter. This will give the oven time to come to temperature and stabilize.
Step 1: Make the batter
It is crucial to use room temperature eggs and milk. They will curdle the batter and be difficult to mix if they are cold.
To a large mixing bowl, add the sugar, melted butter, oil, mashed bananas, eggs, milk, and vanilla. Use a large whisk to mix until well combined.
Place a fine-mesh sieve over the bowl and add the whole wheat flour, baking powder, baking soda, and salt. Gently shake the sieve until all the dry ingredients are in the bowl with the wet ingredients.
Use a silicone spatula to fold everything together just until no dry streaks of flour are visible. Take care not to over mix the batter. It's perfectly okay if it's lumpy.
Step 2: Bake the muffins
Divide the batter evenly between the cups of a muffin tin. It's okay to fill them almost completely full. The high temperature of the oven will prevent the batter from spilling over.
I get 12 muffins when doing it this way. You can about 14 muffins if you fill the cups only ¾ of the way full.
Place a dried banana chip on top of the batter in each muffin cup. Gently press the chip down so it adheres to the batter. Don't press it down into the batter though. It should be sitting right on the surface.
Bake the muffins in a 400°F oven for about 14 minutes. You'll know they are done when a toothpick inserted into the center comes out with only a few moist crumbs attached.
Be careful not to overbake them or they'll come out dry. Start checking for doneness at around 12 minutes.
Tips for making the whole wheat banana muffins
Properly measure the flour. Don't scoop the flour directly out of the bag with the measuring cup. Since flour compacts, this method will add too much flour to the recipe. Or weigh it for a more accurate measurement.
Any oil that has a neutral flavor can be used for this recipe. If you want to make them healthier, use melted coconut oil, sunflower oil, avocado oil, or grapeseed oil.
These muffins freeze well! They'll keep for up to 3 months stored in an airtight container. Thaw them in the fridge overnight then warm them in the microwave for 10-20 seconds. Alternatively, you can defrost a single muffin in the microwave for 40-60 seconds.
If you like this whole wheat banana muffin recipe, try these other banana flavored baked goods:
Did you try this recipe? I would love for you to leave me a 5-star rating or comment. This way, I have a better understanding of which recipes you like and can create more of them.
Please take a moment to follow me on Instagram, Pinterest, Facebook, Youtube or sign up for my free newsletter to never miss the newest recipes and blog updates.
You can also shop my favorite baking tools. Thank you so much for your support!