This post may contain affiliate links. Read the full disclosure here.
This edible cookie dough recipe is just what you need when you have a craving for chocolate chip cookie dough! It's egg free and the flour is heat treated so you can indulge without worry.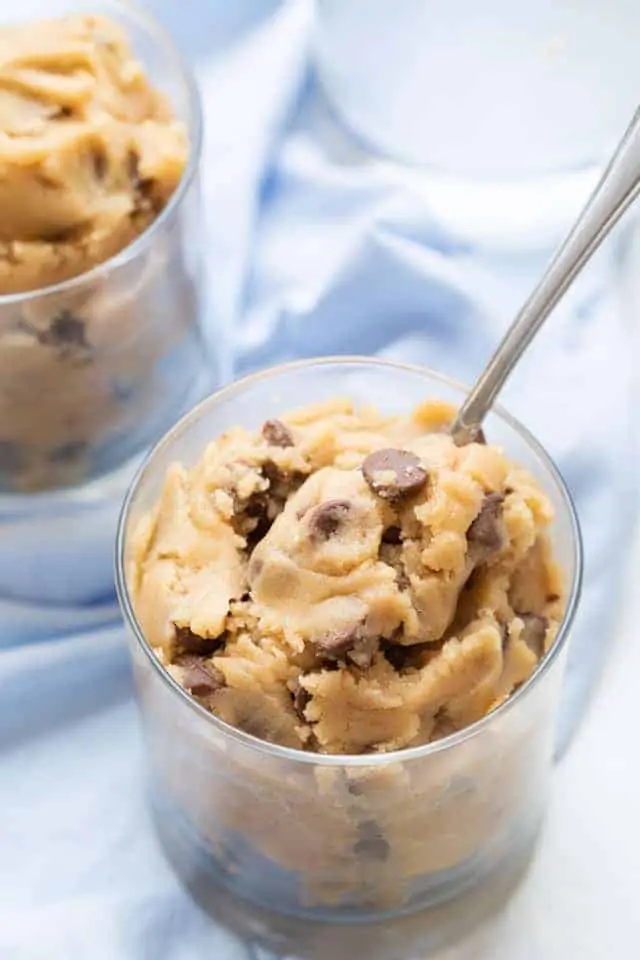 Who doesn't love eating cookie dough? Especially chocolate chip cookie dough. It's just so GOOD!
A few years ago I made cookie dough truffles. I make those often but I get tired of rolling the dough into balls. Today's recipe skips that step so you can whip up a batch and enjoy it right away.
You can double or triple the recipe and keep it stored in the refrigerator for your late-night cravings. It actually tastes better after it's had time to sit.
You may be wondering if it's safe to eat raw cookie dough. This recipe is perfectly safe to consume. There are no eggs in the dough and the flour is heat-treated. You won't have to worry about E. coli or Salmonella.
Try this cookie dough in no-churn ice cream for a phenomenal treat.
Why this edible cookie dough recipe works
There are no raw eggs in this cookie dough so it's completely safe to eat.
The all-purpose flour is heat-treated! This alleviates any concerns with contaminated flour.
You can consume it right away. You don't need to refrigerate the dough before serving. Just whip up a batch and enjoy!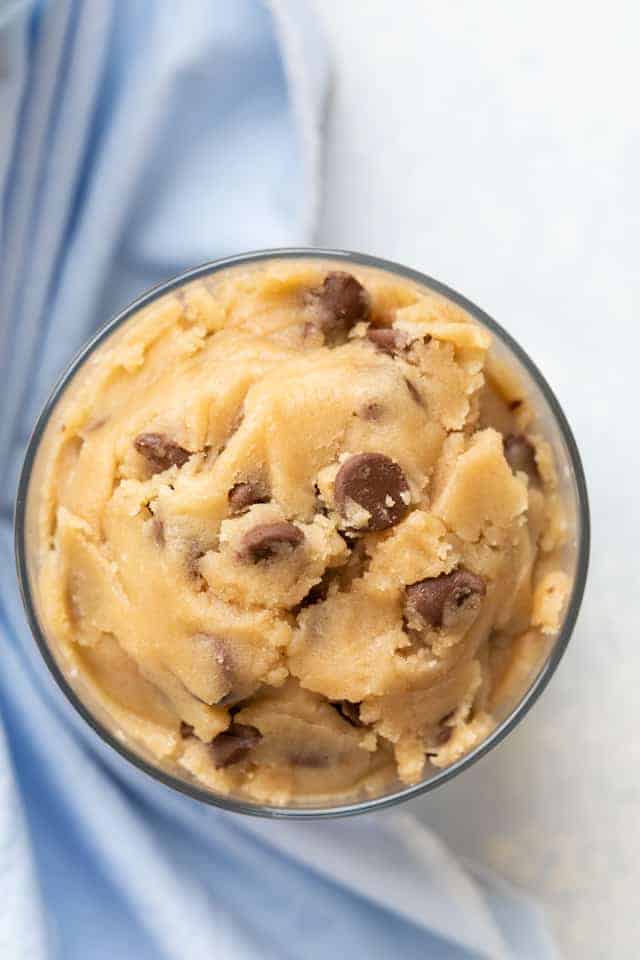 Edible Cookie Dough Ingredients
There are minimal ingredients and just enough to make a single serving. The ingredients can easily be doubled or tripled for a larger batch. Let's see what they are:
Butter: I like to use melted butter for this edible cookie dough because it makes the batter soft. This way you can eat it with a spoon.
Sugar: A combination of white granulated sugar and light brown sugar taste the best.
Vanilla extract: Because you can't have chocolate chip cookies without vanilla.
Flour: Heat treated flour is used so the dough is safer to eat.
Salt: Just a pinch is added to balance the flavors.
Chocolate chips: I switch between milk chocolate chips and semisweet chocolate chips. You can add as many or as little as you like!
---
How to make edible cookie dough
The process for making edible cookie dough is pretty much the same as if you were making regular cookie dough. The only difference is the flour is heat treated and the eggs are omitted.
The Dough – The dough comes together quickly and doesn't need to be chilled before you serve it. Leftovers will need to be kept refrigerated, though.
Heat Treated Flour – There are a couple of ways to cook the flour.
Spread the flour on a baking sheet that's lined with a silicone mat or parchment paper. Toast it for 5 minutes in a 350°F oven.
Place the flour in a bowl and microwave it on high for 1 minute.
Let the flour cool completely then run it through a sifter to remove any clumps that may have formed.
Step 1: Combine the butter and sugar
Use melted butter so the dough comes out soft. Whisk the melted butter with granulated white sugar and light brown sugar.
You can play around here and use any sugar you'd like. You can try all brown sugar, all white sugar. Or you can use coconut sugar or another form of sweetener.
Also if you are dairy-free, you can use coconut oil in place of butter. Just make sure it's melted and not in solid form.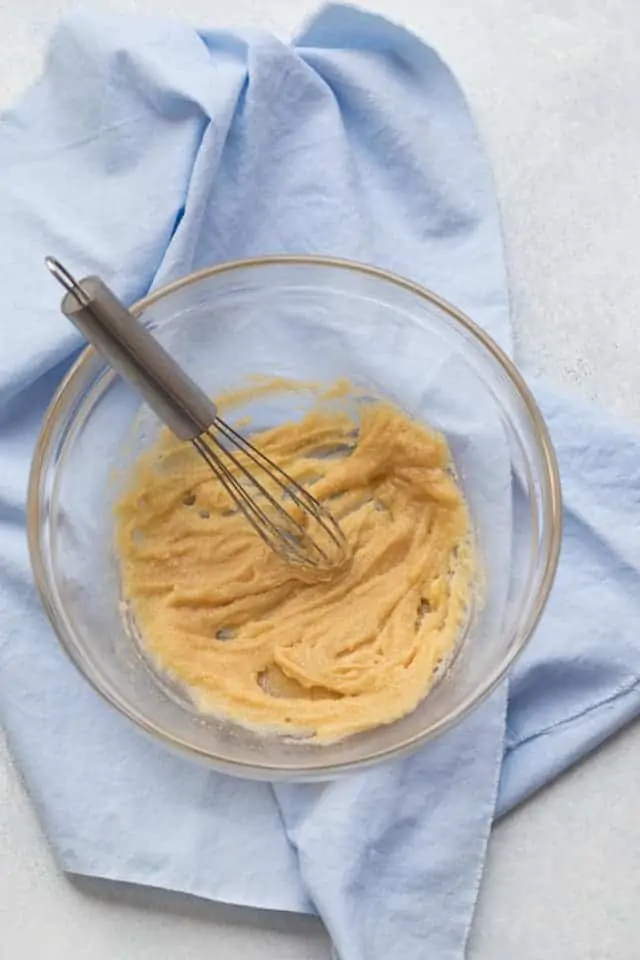 Step 2: Add the flour, salt, and vanilla
To be on the safe side, make sure you've heat treated the flour. The instructions for how to do this are listed and I'll include them in the recipe card down below.
While it is rare for flour to be contaminated, it is possible. This is why we heat it. It's better to err on the side of caution.
Once the heat treated flour has cooled, you can use it in the recipe.
Mix the salt and vanilla into the butter mixture until well combined. Then add the flour and stir it in with a rubber spatula until it's fully incorporated.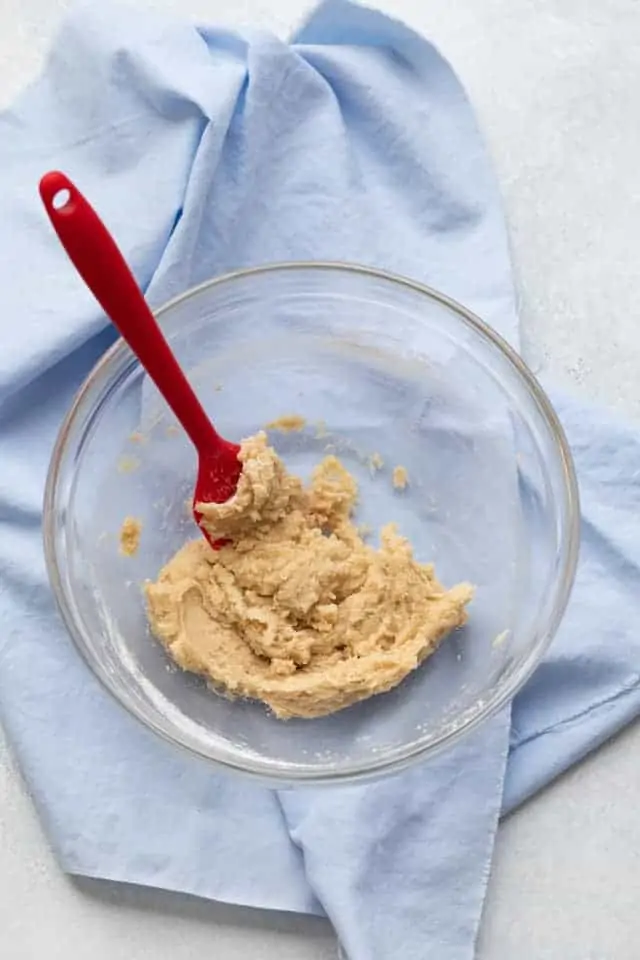 Step 3: Add the chocolate chips
Add any type of chocolate chip your heart desires and fold them in using a rubber spatula.
You can get creative and add other mix-ins as well. Dried fruit, nuts, chopped candy pieces. Use whatever you like!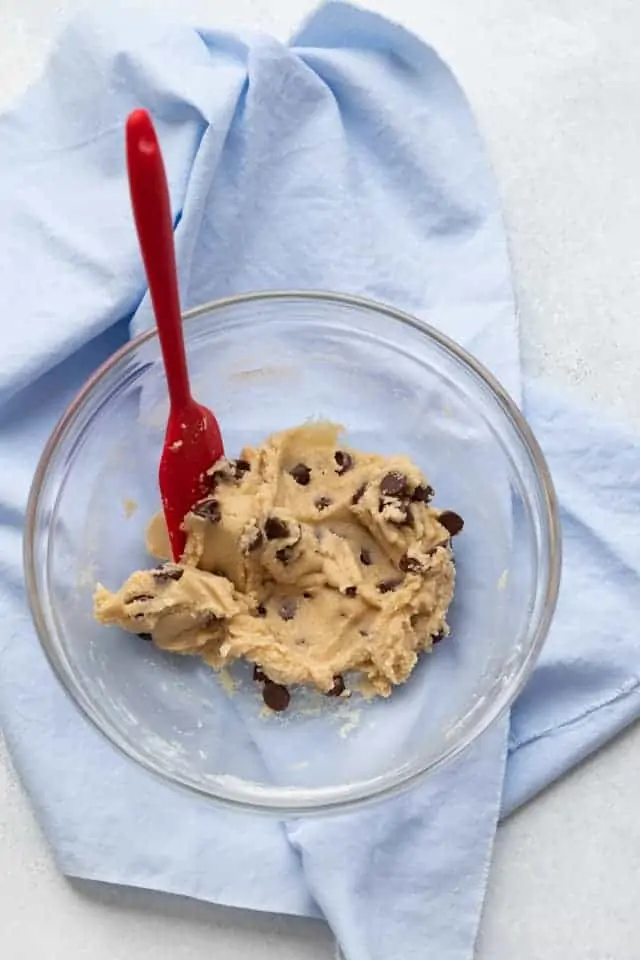 Tips for making edible cookie dough
Properly measure the flour. This is important or the dough won't be as soft. Lightly spoon it into the measuring cup then level it off with the back of a knife. Or use a scale to weigh the flour.
When heat treating the flour, it can clump together. If your flour does this, simply run it through a sifter or fine-mesh sieve.
Dress up your cookie dough any way you'd like. You don't have to use chocolate chips. Use any mix-in you desire!
---
How long is edible cookie dough good for?
This cookie dough recipe will keep for up to 7 days stored in the refrigerator or up to 3 months stored in the freezer. Be sure to place it in an airtight container.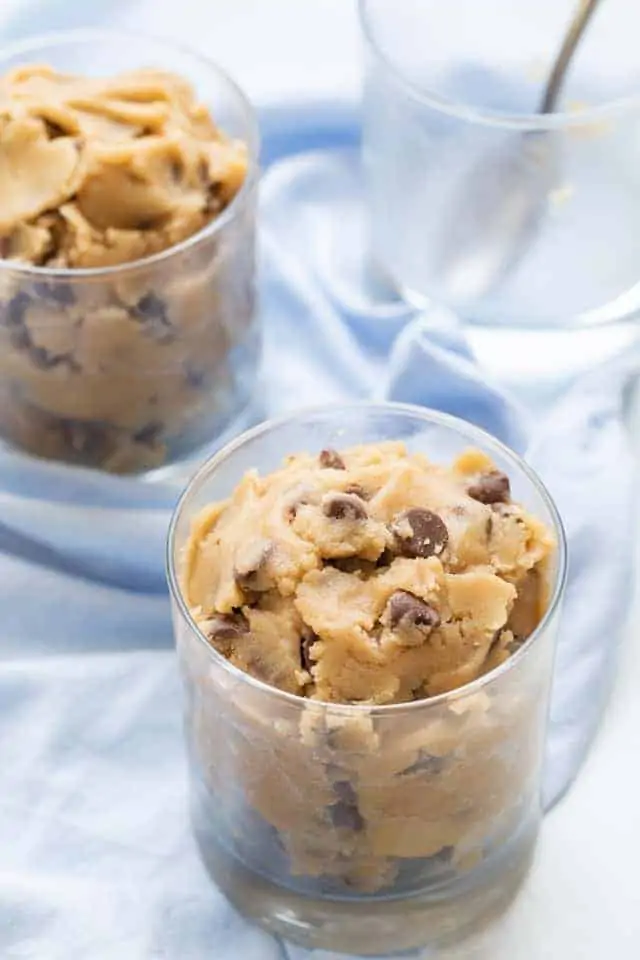 If you like this edible cookie dough recipe, try these baked cookies:
Did you try this recipe? I would love for you to leave me a 5-star rating or comment. This way, I have a better understanding of which recipes you like and can create more of them.
Please take a moment to follow me on Instagram, Pinterest, Facebook, Youtube or sign up for my free newsletter to never miss the newest recipes and blog updates.
You can also shop my favorite baking tools. Thank you so much for your support!