Homemade Pizza Dough
This post may contain affiliate links. For more information, read my disclosure policy.
My tried and true, all-time favorite recipe for homemade pizza dough. I'm fairly certain you and your family will prefer homemade pizza over take-out once you try this recipe.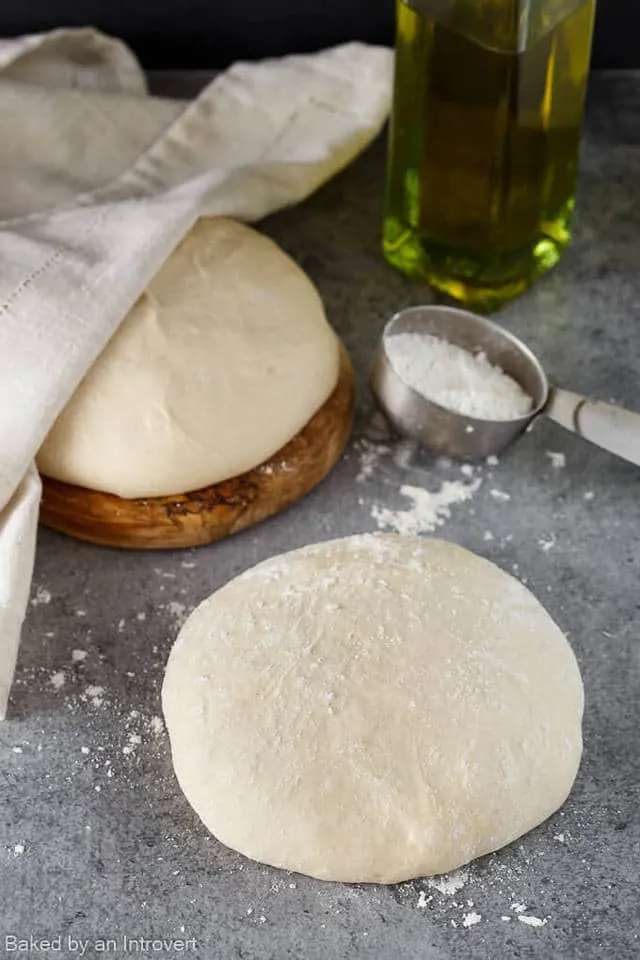 This pizza dough made its first appearance on the blog in June 2014. Since then I've been tweaking and perfecting it, to achieve the best results possible.
It has taken me 1.5 years to perfect the recipe. Testing and tweaking until it finally turned out perfect, making the best homemade pizza.
Homemade pizza dough is easiest when made in a stand mixer. No kneading is required; the mixer will do all the work for you.
Soft, slightly sweet, and incredibly delicious! You can enjoy a spicy sausage pizza at home in just a little over an hour!
One of the greatest things about homemade dough is it can be frozen. You just have to the let thaw the night before and you'll be able to get dinner on the table in a snap.
To freeze the dough, portion the dough out and coat it well with olive oil. Slip it into a zip-top freezer bag and seal it while squeezing all the air out. Try to get as much air out of the bag as you can.
The dough can be frozen for up to 3 months!
When you are ready to use it, thaw in the refrigerator overnight. Then, let it sit on the counter for 30 minutes just before you're ready to make the pizza.
Like I mentioned above, this is a recipe that's lived on the blog for quite some time now. Over the course of a year and a half, I've made minor changes here and there to try to improve the recipe.
You will feel a sense of accomplishment once you've made your first homemade pizza.  You will also never want to have your pizza any other way.
Turn this dough into garlic breadsticks for a delectable appetizer!
For more delicious recipes using homemade pizza dough, be sure to check out this buffalo chicken pizza and this bacon egg breakfast pizza.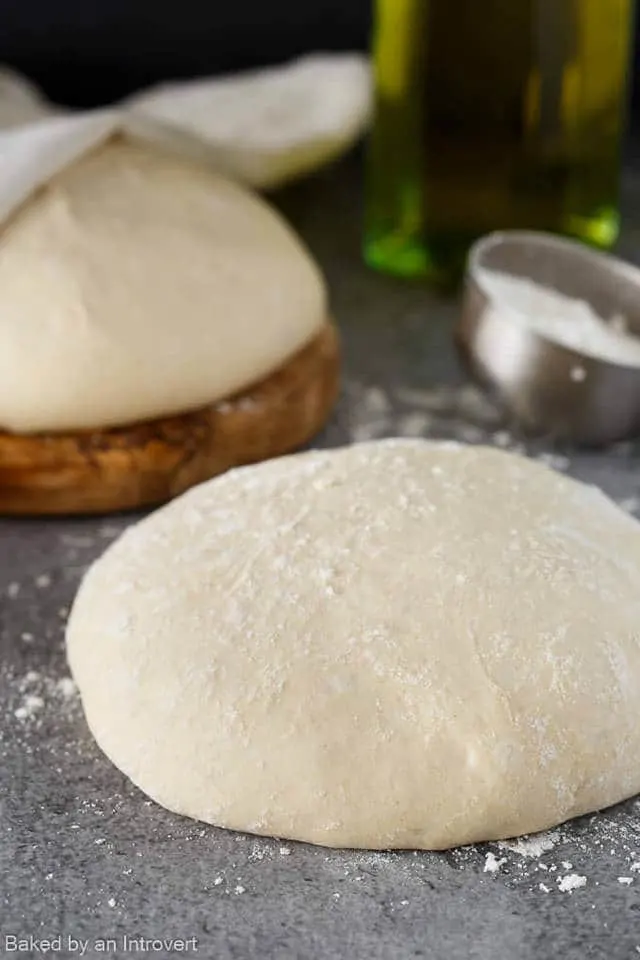 Homemade Pizza Dough
My tried and true, all-time favorite recipe for homemade pizza dough. I'm fairly certain you and your family will prefer homemade pizza over take-out once you try this recipe.

Prep Time
1
hour
20
minutes
Total Time
1
hour
20
minutes
Yields
2
(12-inch) pizzas
Ingredients
2 and 1/4

teaspoons

active dry yeast

(1 packet)

2

teaspoons

granulated sugar

1 and 1/4

cups

warm water

(105-115 degrees F)

3 and 2/3

cups

unbleached all-purpose flour

plus more shaping

1

teaspoon

salt

2

tablespoons

extra-virgin olive oil

plus 1 tablespoon

1

teaspoon

garlic powder

(optional)
Instructions
Combine the yeast, sugar, and warm water in a small bowl. Stir to dissolve the yeast and set aside for 5 minutes. The yeast mixture should look creamy and foamy on the top.

In the bowl of your stand mixer, combine 1 cup of the flour, salt, and olive oil. Stir the yeast once more to make sure it is all dissolved and add it to the flour mixture. Mix together with a hand whisk until lump free. Attach the dough hook to the mixer and add the remaining flour. Turn the mixer on low speed and mix for 15 -20 minutes, until the dough comes together and begins to pull away from the sides of the bowl. It takes time for the dough to come together. Don't rush it and refrain from adding more flour. The dough should be slightly tacky once it's finished kneading.

Lightly coat a bowl with olive oil. With lightly greased hands, scrape the dough out and shape it into a ball. Place the dough into the greased bowl and gently roll it around to coat all sides of the dough ball with oil. Cover with a lint-free towel and place the dough in a warm place to rise until doubled in size, about 45 minutes.

Gently punch the dough down and turn it out onto a lightly floured surface. Divide the dough into 2 equal halves. Shape each half into a ball, cover and let rest for 5 minutes. Roll the dough out into a 12-inch circle. You can also do this directly on your pizza pan. If you are using a pizza stone, do this step directly on your pizza peel. Spray your pizza pan with non-stick spray and dust lightly with flour or cornmeal. Once you've shaped the dough, gently transfer it to your prepared pizza pan.

Using the remaining Tbs of olive oil, brush the top of the pizza with the oil. For a more flavorful option, stir 1 tsp of garlic powder into the oil.

Top and bake according to your favorite recipe.
Recipe Notes
This recipe makes two 12-inch pizzas. However, if you are only wanting to cook one pizza, you can easily freeze the remaining dough. After the dough has risen, brush a light coating of olive oil all over the dough. Wrap the dough in plastic wrap and then place it in a resealable freezer bag. Squeeze all of the air out of the bag and freeze for up to 3 months.
When you are ready to use the dough, remove it from the freezer and place it in the refrigerator overnight to thaw. Set the dough on the counter top about 30 minutes prior to using to allow it to become room temperature.
Nutrition Facts
Homemade Pizza Dough
Amount Per Serving
Calories 131
* Percent Daily Values are based on a 2000 calorie diet.
Nutritional values here on my recipes should be used as a general guide only. Since different brands of ingredients have different nutritional information, the values shown are just an estimate.