This post may contain affiliate links. Read the full disclosure here.
Banana cupcakes with a decadent chocolate hazelnut frosting. Do I need to say anything else? These obviously won't last long in your house.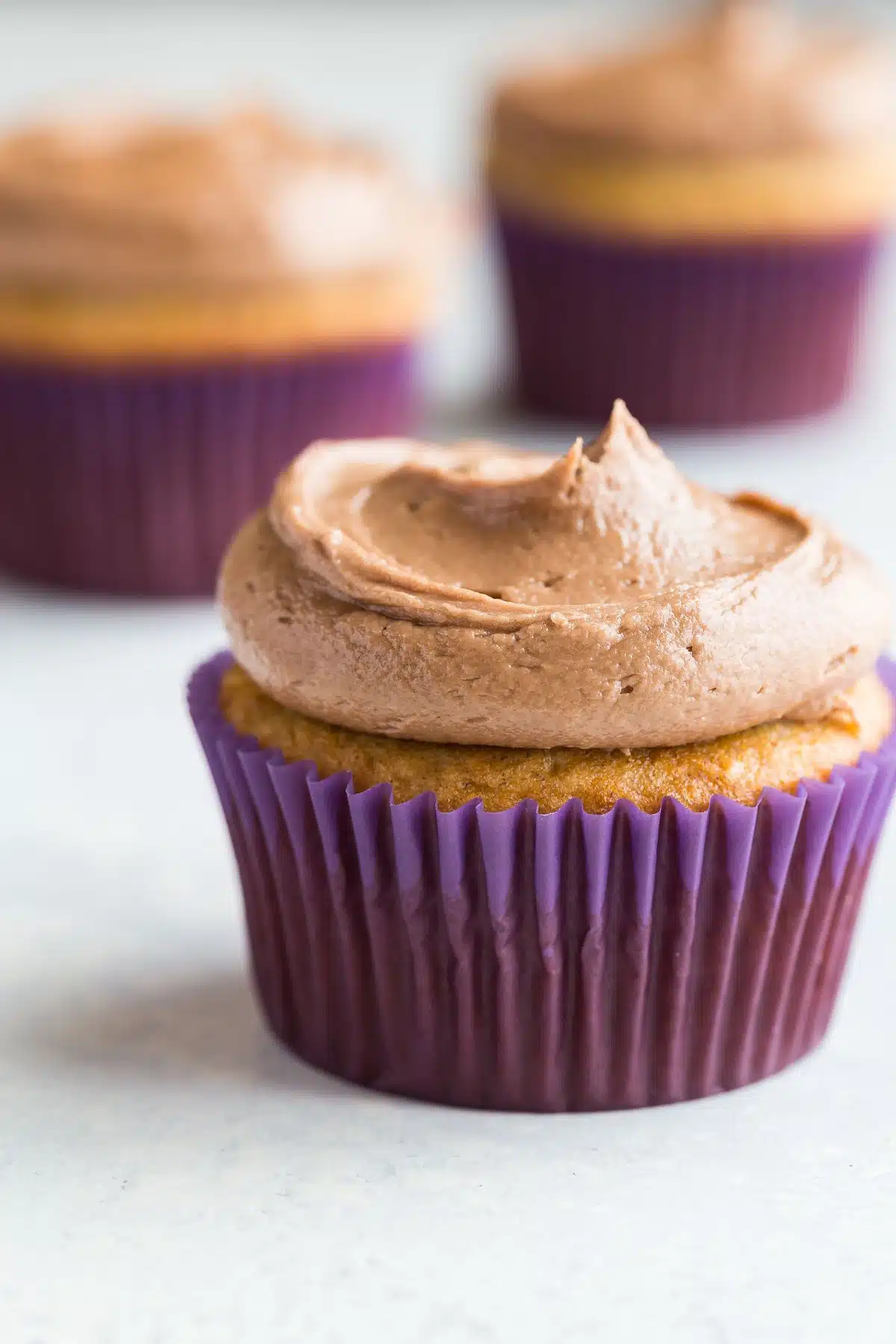 There's something incredibly addicting about banana flavored anything. A slice of warm banana bread slathered with butter is one of my favorite afternoon treats. And I'm not sure I've ever hosted a brunch without serving chocolate chip banana muffins or regular banana muffins. They're everyone's favorite.
I honestly resisted making banana cupcakes for a while because I thought the muffins and breads were sweet and delicious enough that I could devote my cupcake consumption to chocolate or red velvet varieties. Once again.
Cupcakes, and when you throw in deliciously sweet and rich Nutella-like frosting? Yum. Good luck keeping these around the house.
Everyone should try this delicious recipe at least once because it is seriously the best banana cupcake recipe. It's so easy to see why it'll quickly become a favorite in your family. I love my banana pudding cupcakes, but these are equally delicious in their own way.
The butter in this recipe is melted and browned, adding a depth of flavor and richness to these moist and fluffy cupcakes. The brown butter and banana cake contrasts wonderfully against the sweet chocolate hazelnut flavor.
While using fresh, ripe bananas with heavy brown spots is ideal, you can, also, use thawed frozen bananas. This can be a real lifesaver for those in a time crunch or with limited shopping trips!
Stash those bananas away in the freezer at the peak ripeness to be used later. When you want to make these cupcakes without waiting days for fresh bananas to be ready, you'll have them ready to thaw in the freezer.
---
Recipe Snapshot
TASTE: Banana and chocolate.
TEXTURE: Moist and fluffy.
EASE: There is an extra step or two but these are worth it.
TIME: Just about an hour.
---
What You'll Need
Ingredients
Butter – Sweet cream unsalted butter, melted and browned for the cupcakes and softened for the frosting.
Mashed ripe banana – You need about a cup of mashed bananas. Make sure they are super ripe – the spottier and uglier the better. You'll need 2-3 of them.
Sugar – white granulated sugar is fine, no need for brown sugar here.
Eggs – These should be at room temperature.
Vanilla extract – I prefer to make my own but just make sure you use a natural version, not one that is artificaly flavored.
All-purpose flour – I use regular AP, but you can use gluten-free baking flour if you would like to.
Leavening – I use both baking powder and baking soda in this recipe to get the cupcakes nice and fluffy.
Salt – Salt works with the leavening agents to make the batter rise.
Milk – I used whole milk, just for added moisture.
Cinnamon – For a touch of cozy flavor.
Nutella – For the frosting (or other chocolate hazelnut spread).
Confectioners' sugar -Sifted. Powdered sugar is the right consistency to make a smooth and dreamy frosting.
Recommended Tools
Cupcake or muffin tin and paper cupcake liners
Ice cream scoop
Pastry bag and tip
How to Make Banana Cupcakes
Preheat oven to 350ºF. Line a 12-cup muffin pan with paper cups; set aside.
Make the Cupcakes
Cream the sugar. In a large bowl, combine the browned butter, banana, and granulated sugar; beat on medium speed until smooth. Add the eggs one at a time; beat well after each addition. Beat in the vanilla extract.
Mix the dry ingredients. Combine the flour, baking powder, baking soda, salt, and cinnamon in a medium bowl; stir with a fork or whisk. Gradually add the flour mixture to the banana mixture alternating with the milk. Begin and end with the flour mixture.
Bake. Spoon ¼ cup of batter into each cup. Bake for 20 to 24 minutes or until the cupcake springs back when touched. Remove from the pan immediately and allow the cupcakes to cool completely on a wire rack.
Make the Frosting
Cream the Butter. In a stand mixer fitted with a paddle attachment or with an electric hand mixer, beat the butter on medium-high speed until smooth. Add the Nutella and salt. Continue to beat until incorporated, about 2 minutes.
Add the Sugar. Add 1 cup of confectioner's sugar, and beat on medium-low speed until most of the sugar is moistened. Add in the remaining sugar and beat on medium-low speed until the sugar is moistened. Turn the speed up to medium-high and beat until light and fluffy, about 2 minutes. Scrape down the sides of the bowl as needed. Frost the cupcakes as desired.
Handy tip:
Heat butter in a small saucepan over medium heat for 2 to 4 minutes, or until browned. It will foam a bit before browning. Watch closely, as soon as it turns a light golden brown, pull it off the heat, as it will continue to brown off the heat and can burn quickly.
Tips For Success
Look for the extra spotty bananas. Generally, the riper the banana, the better tasting the muffins will be. Additionally, I recommend mashing your bananas with a fork or potato masher for the best results. Frozen bananas are also an option, but they have to be thawed before use in the recipe.
I like to use a piping bag to pipe the frosting on the top of these cupcakes, but you can just spread with a knife if you prefer.
Storage & Freezing
The cupcakes and frosting can each be made 1 day in advance before assembling. Cover and refrigerate each overnight. Frost the cupcakes the next day.
Frosted cupcakes can be stored in an airtight container in the refrigerator for up to 3 days.
Both frosted and unfrosted cupcakes can be stored in an airtight container and frozen for up to 3 months. Thaw in the refrigerator overnight.
Cupcakes aren't just for celebrations anymore. Here are some of my favorite cupcake recipes that you can make any day of the week.
Did you try this recipe? I would love for you to leave me a 5-star rating or comment. This way, I have a better understanding of which recipes you like and can create more of them.
Please take a moment to follow me on Instagram, Pinterest, Facebook, Youtube or sign up for my free newsletter to never miss the newest recipes and blog updates.
You can also shop my favorite baking tools. Thank you so much for your support!
Printable Recipe