This post may contain affiliate links. Read the full disclosure here.
Banana Pudding Cupcakes are the love child of two of my favorite desserts – banana pudding and cupcakes. Fluffy cupcakes flavored with real bananas and filled with creamy pudding. This banana pudding cupcake recipe is topped with delicious marshmallowy 7-minute frosting and you may never make another dessert again.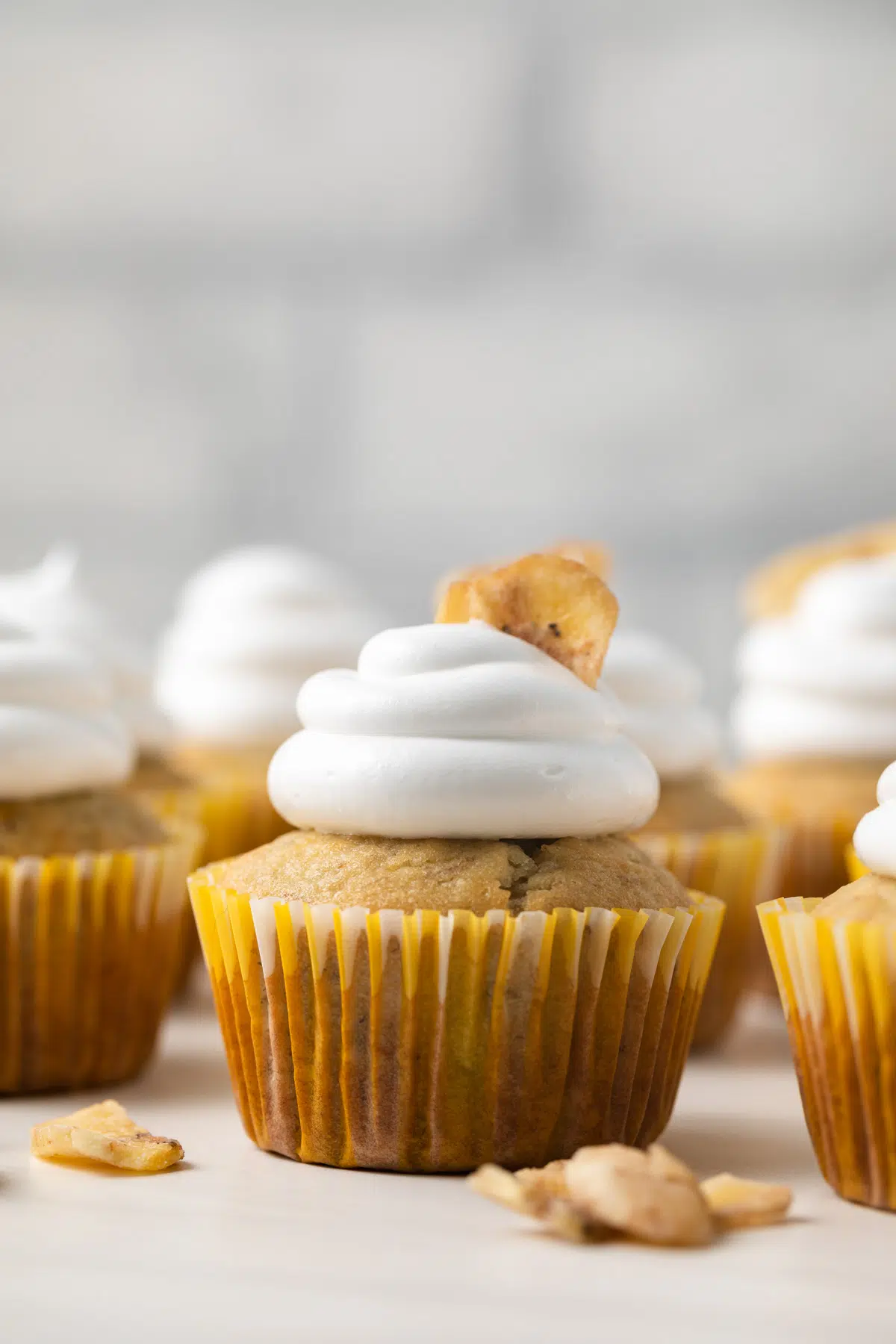 In an ode to banana pudding, a southern classic, these Banana Pudding Cupcakes feature a banana-flavored cupcake with a vanilla wafer on the bottom, filled with homemade vanilla pudding, and topped with marshmallowy 7-minute frosting. These cupcakes taste just like an old-fashioned banana pudding dessert made from scratch.
My absolute favorite dessert in the entire world is a classic Banana Pudding! Not that artificial banana flavored pudding in a box with sliced up bananas and cool whip or whipped topping smeared over the top. That is NOT how we do things around here.
I'm talking about the real deal. The stuff grandma used to make. The double boiler homemade vanilla pudding, the warm chunks of banana and soggy vanilla wafers, the sky-high meringue, the labor of love!
Today's homemade Banana Pudding Cupcakes recipe was inspired by this ever so dreamy classic southern dessert. We're not using vanilla cake mix or pudding mix. We're doing this from scratch and are going to end up with light and fluffy cupcakes filled with creamy delicious banana pudding.
I even decided to put a vanilla wafter into the bottom of each cupcake. You can't have banana pudding without vanilla wafers!
I grew up eating Keebler cookies. My mom kept them stocked in our pantry and I was allowed to have two or three as an after-school snack. So, it's only fitting that I use a classic cookie in a recipe that mocks a classic southern dessert.
Inside the cupcake is a hidden gem of homemade vanilla pudding. I made it simple for you, though. You don't need a double boiler for this one. It's all done in a pot over medium heat. If you accidentally scramble the eggs, don't stress. Run the pudding through a fine-mesh sieve once it has finished cooking to remove any chunks.
Let's talk about the frosting. Traditional banana pudding is topped with a delicate meringue that browns nicely under the heat of the oven. Since you can't exactly put a filled cupcake back into the oven to cook meringue on top, marshmallow frosting seemed like a suitable alternative. And boy was it ever! This is the 7-minute frosting recipe that I used, and it's perfect for this dessert.
I like to pipe the frosting onto the cupcakes, but you can certainly spread it on if you wish. If you want to be extra extra – you can top each cupcake with a dried banana slice. Either way, these cupcakes will still taste fabulous!
You might also want to try my banana cupcakes and banana cake!
Recipe Details
Taste – Decadent and delicious
Texture – Fluffy cupcakes with cool, creamy pudding filling.
Ease – These take a few separate steps, but are so worth it
Time – The pudding needs at least 2 hours to chill, but actual active time is about an hour.
What You'll Need
Homemade Banana Pudding Cupcakes require making two separate recipes essentially – banana pudding and cupcakes.
Ingredients
For the filling
Sugar – White granulated sugar is what I used.
Cornstarch – This helps thicken the pudding and gives it a thick consistency.
Salt – I always use kosher salt when baking.
Milk – I use whole milk but because of the cornstarch, you can use 1 or 2% if you would like.
Egg yolks – From large eggs, lightly beaten. Save the whites for the frosting recipe.
Butter – Unsalted sweet cream butter.
Vanilla extract – I always have my own recipe of Vanilla Extract on hand, but use whatever pure extract you have available.
For the cupcakes
Unsalted butter – Sweet cream unsalted butter, melted
Mashed ripe banana – You need about a cup of mashed bananas. Make sure they are super ripe. You'll need 2-3 of them.
Sugar – white sugar is fine, no need for brown sugar here.
Eggs – These should be at room temperature.
Vanilla extract – see above.
All-purpose flour – I use regular AP, but you can use gluten-free baking flour if you would like to.
Leavening – I use both baking powder and baking soda in this recipe to get the cupcakes nice and fluffy.
Salt – Salt works with the leavening agents to make the batter rise.
Milk – for the liquid.
Vanilla Wafer cookies – Keebler or Nabisco. You want the plain, round wafer cookies. Not the rectangular ones layered with cream. Those are confusingly also called wafter cookies but they aren't what we want.
How to Make Recipe Name
Like I said above, you're basically making two separate recipes here. The pudding and the super moist cupcakes. Three if you count the frosting! So set aside some time to make all at once, or… make the pudding the day before and have it in the fridge ready to go when the cupcakes are cooled.
Make the filling
In a small saucepan combine the sugar, cornstarch, salt, and milk. Stir with a whisk until well combined and bring to a light simmer over medium heat.
Slowly add half of the warm milk mixture to the egg yolks while whisking continuously. Return the mixture to the saucepan. Cook over medium-low heat, stirring continuously until it thickens. The pudding mixture should coat the back of a wooden spoon.
Remove from heat. Stir in the butter and vanilla. Transfer the pudding to a small bowl, cover, and refrigerate for at least 2 hours.
Make the cupcakes
Preheat the oven to 350ºF.
In a large bowl, combine the butter, mashed banana, and granulated sugar; beat with an electric mixer on medium speed until smooth. Add the eggs one at a time; beat well after each addition. Beat in the vanilla extract.
In a separate medium bowl, whisk together the flour, baking powder, baking soda, and salt. Gradually add the flour mixture to the banana mixture alternating with the milk and mix well to combine. Begin and end with the flour mixture.
Line 15 muffin cups with paper cups. Place 1 vanilla wafer into the bottom of each cup. Fill cups ⅔ full. Bake for 15-20 minutes or until the cupcake springs back when touched. Remove from the pan immediately and allow the cupcakes to cool completely on a wire rack.
Cut the centers out of each cupcake. Fill the cupcakes with the vanilla pudding.
Hint: They actually sell cupcake corers on Amazon, you can get one to easily remove the cupcake centers. But if you don't have one, I've used a melon baller, a butter knife or an apple corer to evenly remove the cupcake centers before filling.
Tips For Success
Make sure the pudding is completely set and the cupcakes are completely cooled before filling them.
I like to use a piping bag to pipe the frosting on the top of these cupcakes, but you can just spread with a knife if you prefer.

---
Storage & Freezing
Cupcakes will keep in the refrigerator for up to 5 days.
Cupcakes can be made ahead 1 day in advance, covered, and stored at room temperature. The filling can also be made 1 day in advance, covered, and stored in the refrigerator until ready to use.
Did you try this recipe? I would love for you to leave me a 5-star rating or comment. This way, I have a better understanding of which recipes you like and can create more of them.
Please take a moment to follow me on Instagram, Pinterest, Facebook, Youtube or sign up for my free newsletter to never miss the newest recipes and blog updates.
You can also shop my favorite baking tools. Thank you so much for your support!