There's nothing sweeter than an old-fashioned recipe for 7 Minute Frosting. It's made completely from scratch and so simple you will want to whip it up every time you get a craving for something sweet.
7 Minute Frosting Recipe
Delicious, light, and perfect for all sorts of cakes!
I've started quite the collection of frostings on this site. And with each one I add, the recipes just get better and better. Take this 7 minute frosting for example.
It has to be my most favorite. It's basically marshmallows in frosting form. I used it to top banana pudding cupcakes because it resembles the meringue topping on the classic banana pudding dessert.
It's made with egg whites, granulated sugar, corn syrup, and vanilla. There's no butter or loads of powdered sugar in this recipe. While I love buttercream frosting, sometimes it can be too rich and too sweet.
Today's marshmallow frosting solves all those problems!
You need a stainless steel or any heatproof bowl. Put all the ingredients in, except for the vanilla, and whisk it continuously as it heats over a saucepan of simmering water.
I find an electric hand mixer to work best for this.
Once the frosting thickens, remove it from the heat. It takes about 5 minutes for it to thicken. Add the vanilla and continue to beat it until it's thick but spreadable.
This usually takes around 2 minutes. A total time of 7 minutes!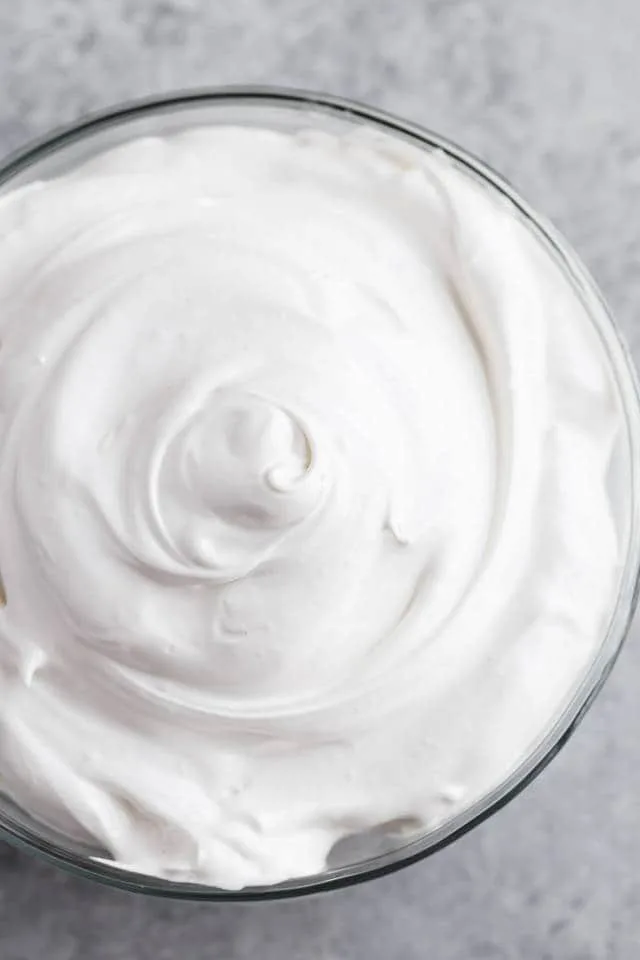 This recipe shiny and feels silky on the tongue. It's not overly sweet and has hints of vanilla. This makes it perfect for filling and icing ultra sweet, flavorful cakes.
It isn't good for piping because it's soft. So you'll need to use an offset spatula to spread it onto the cake instead of piping it.
However, it does hold well when using a large round top to pipe dollops of frosting on cupcakes. But it won't hold intricate designs.
I bet this frosting would amazing on this s'mores cake!
Tips for frosting success:
Make sure the egg whites are at room temperature.
Use an electric hand mixer so your arm doesn't tire out from whisking.
Once it has cooled to room temperature, use it immediately.
More frosting recipes you'll love
NEED MORE BAKING IDEAS? Subscribe to our newsletter and Youtube channel. Also, follow along on Facebook, Instagram, and Pinterest for all the latest updates!