This post may contain affiliate links. Read the full disclosure here.
This homemade Pineapple Curd is sweet, creamy, and so easy to make. It takes just a few minutes to whip up this bright, tangy filling.
This bright and buttery pineapple curd is a delicious filling for cakes, cupcakes, sweet rolls, and tarts. You'll be happy you made this once you give it a try!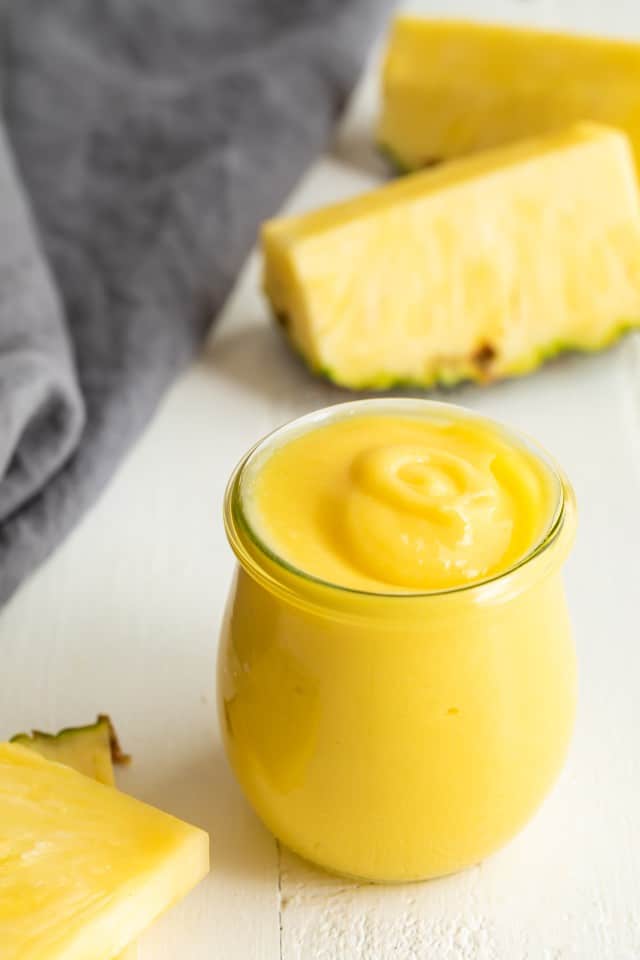 I have so many spring favorites. One of them being pineapple. I could eat it every day as long as it's sweet and juicy! It really doesn't get much better than fresh ripe fruit.
Except for turning the juice of said fruit into a rich, decadent curd! Oh yeah, I went there and I have no regrets. Try it in my pineapple coconut cake or use it in pineapple sweet rolls.
I honestly have never even had pineapple curd before now. I came up with the idea after testing recipes that required pineapple filling and decided to go ahead and make my own version of this sweet, tropical curd.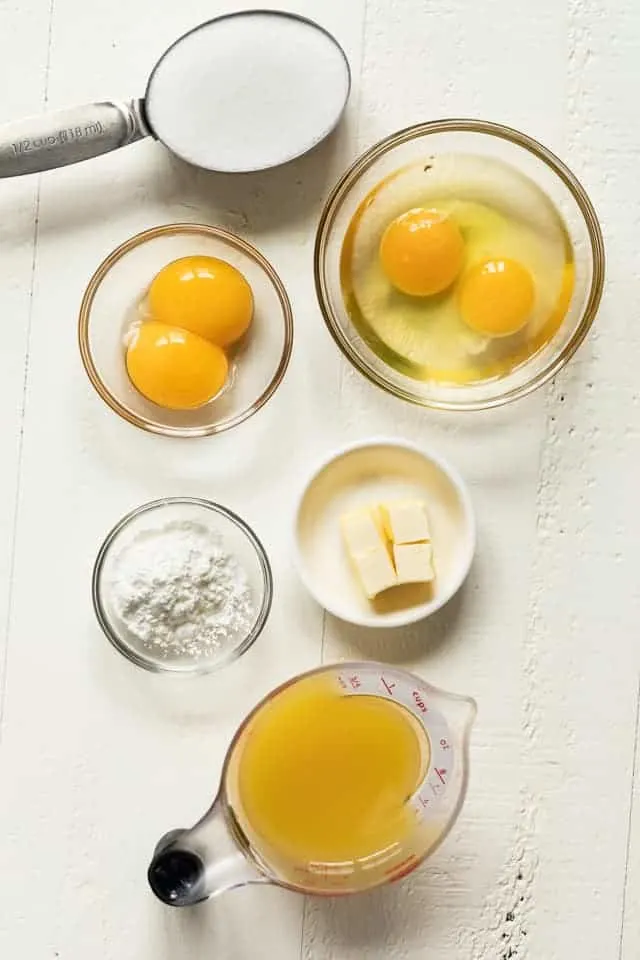 The process for the curd couldn't be simpler. It's exactly the same as making lemon curd. All you do is combine all the ingredients in a medium saucepan with a heavy bottom and cook it until it becomes thick.
It's too easy. You have no excuse to not make it!
You may be tempted to just devour it with a spoon but try to resist. Save it to spread between cake layers, fill cupcakes, or use it as a filling for sweet rolls.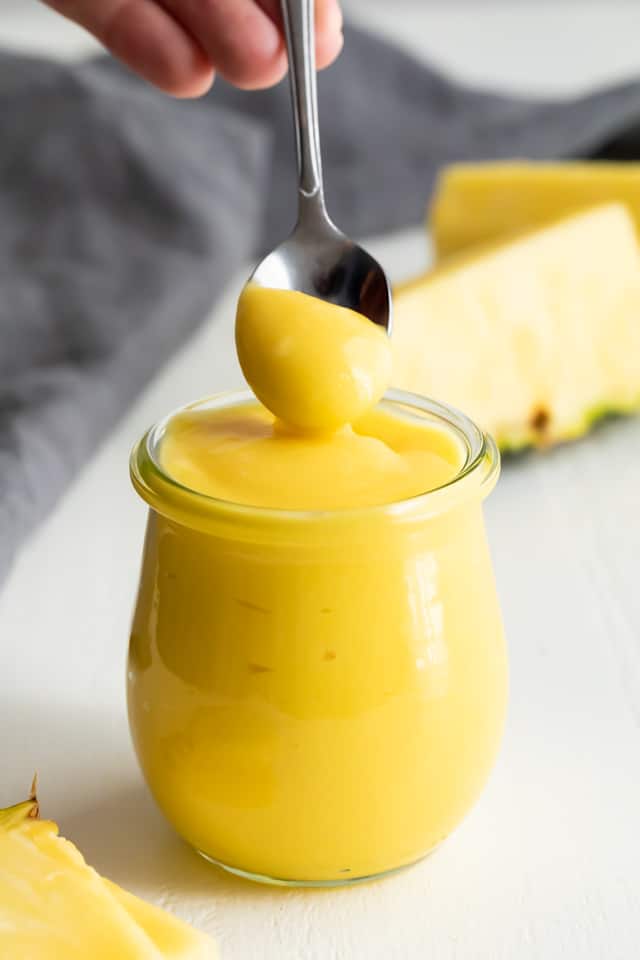 Ingredients for homemade pineapple curd?
You only need a handful of ingredients to make this tropical curd. And you probably already have most of them on hand.
Eggs
Egg yolks
Pineapple juice
Sugar
Cornstarch
Butter
The eggs and pineapple juice make up the base of the curd while the sugar sweetens it, and the cornstarch will help thicken it.
It is said that there are enzymes in pineapple that prevent it from thickening but I've had great results with using cornstarch. I will say that the curd will not be quite as thick as lemon curd. It's more like a soft pudding.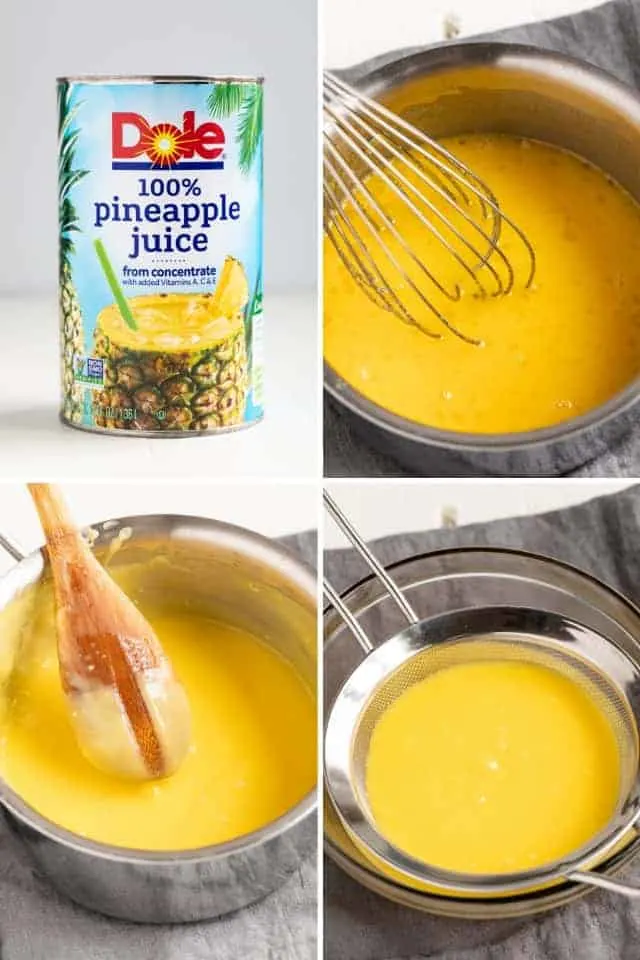 How to make pineapple curd?
Combine all the ingredients into a saucepan and whisk it together.
Cook over medium-low heat while whisking continuously until the curd is as thick as warm pudding. It should coat the back of a spoon and won't run if you swipe your finger down the middle.
Press the curd through a fine-mesh sieve to remove any bits of scrambled eggs.
Cover the curd with plastic wrap and refrigerate for at least 2 hours.
The curd will keep for up to 10 days if you keep it stored in the refrigerator.
---
More ways to use pineapple curd
Pineapple carrot cake – Slather curd in the middle of the cake layers. But first, pipe a dam of frosting around the edge to prevent the curd from oozing out.
Pineapple cupcakes – Cut the middle out of the cupcakes and fill it with pineapple curd. This would enhance the pineapple flavor of the cupcakes!
Did you try this recipe? I would love for you to leave me a 5-star rating or comment. This way, I have a better understanding of which recipes you like and can create more of them.
Please take a moment to follow me on Instagram, Pinterest, Facebook, Youtube or sign up for my free newsletter to never miss the newest recipes and blog updates.
You can also shop my favorite baking tools. Thank you so much for your support!