This post may contain affiliate links. Read the full disclosure here.
These pineapple cupcakes are moist, buttery, and loaded with the flavor of fresh pineapple. They are paired perfectly with pineapple buttercream frosting as a tropical treat.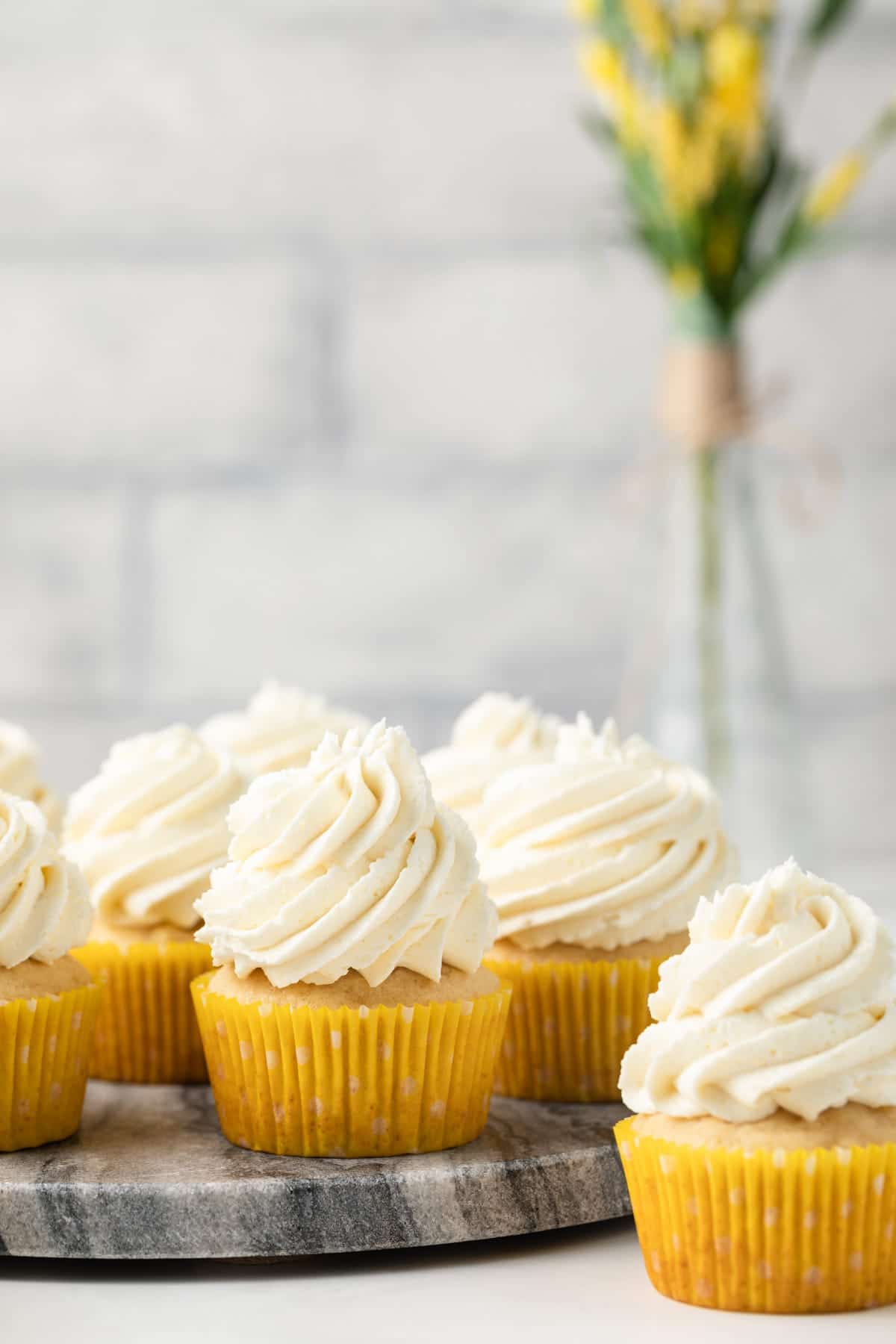 I am a huge fan of fruity desserts – if you have been reading along with this blog for any length of time, this is hardly a newsflash. I want fruit in all my desserts. It's an obsession that I can't control.
While I love all fruits, there is something particularly addictive about pineapple. It is juicy, refreshing, bursting with flavor, and tastes like vacation.
When I first came up with my pineapple cupcakes recipe, I made batch after batch to develop the best recipe possible. I had seen the recipes for cupcakes that call for store-bought box cake mix and a can of crushed pineapple. It's probably delicious, but you know how we do it here. We bake from scratch.
After many attempts, I finally landed on these moist, buttery cupcakes that were bursting with pineapple flavor. Trust me, they are fabulous! They're even better with pineapple frosting swirled on top!! Or, if you are going for a pina colada vibe, and why wouldn't you – use my whipped coconut frosting.
This recipe base isn't limited to making cupcakes. I've used the base for my pina colada cupcakes and it turned out amazing. And I did something similar with my pineapple upside-down cake.
Stop what you are doing right now and go bake these cupcakes. It will be the best 30 minutes you've ever spent. They are amazing!
Recipe Snapshot
TASTE: Vanilla and pineapple flavored cupcakes.
TEXTURE: Moist, buttery, and fluffy.
EASE: Remarkably easy for how delicious they are.
TIME: Just about a half hour.
What You'll Need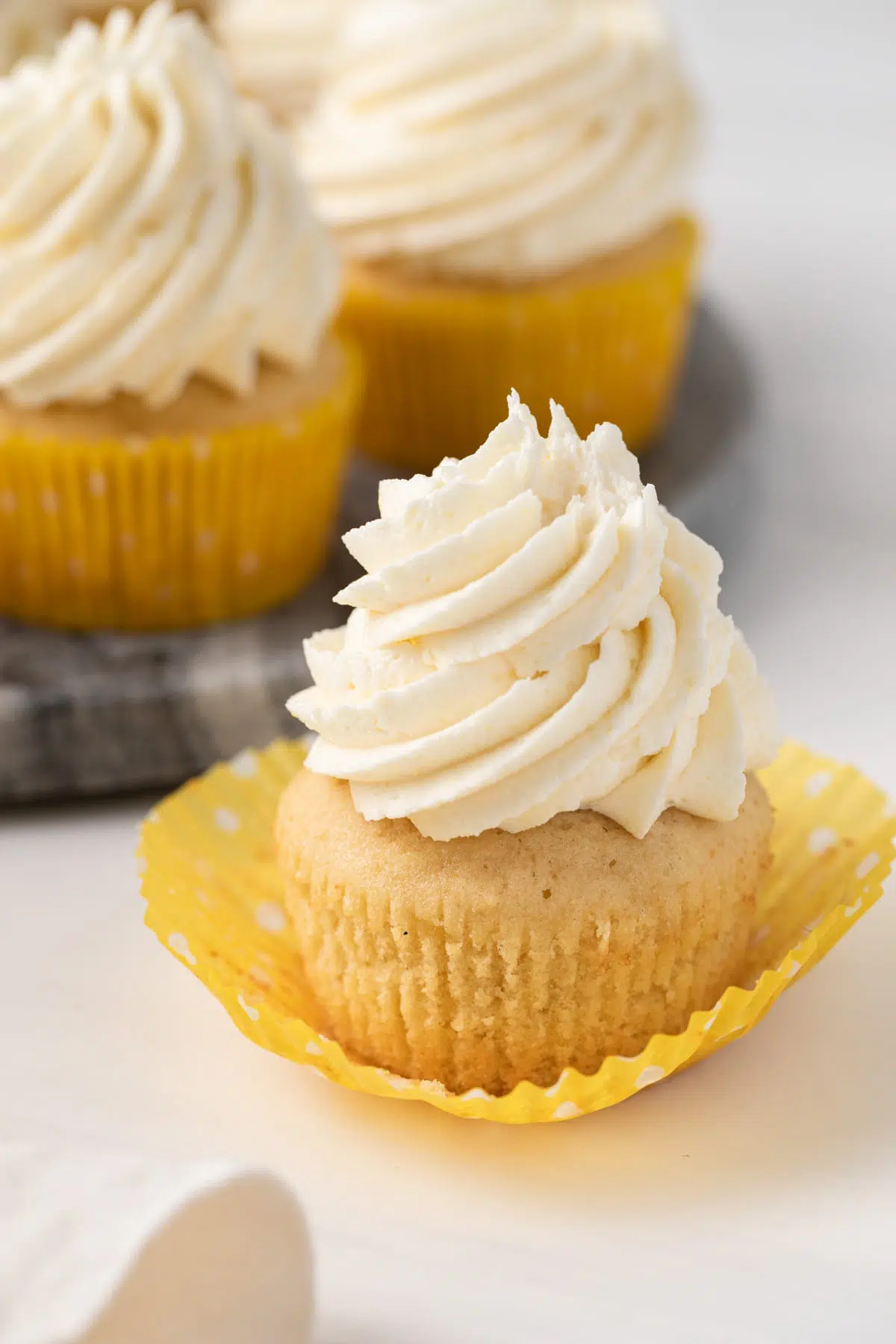 How to Make Recipe Name
It is easy to make these vacation flavored cupcakes at home, from scratch. They are so much better than any cupcakes you would pick up at the market.
Prepare to bake. Preheat the oven to 350ºF. Line a 12 cup muffin pan with cupcake liners.
Mix the dry ingredients. In a medium mixing bowl, combine the flour, baking powder, and salt. Stir with a whisk to combine. Set aside.
Mix the wet ingredients. In a separate mixing bowl, cream the butter and sugar on medium speed until creamy. Turn the mixer to low, beat in the vanilla, and then beat in the eggs, one at a time, mixing well after each addition. Add in the crushed pineapple and its juice. Add the flour mixture, mixing just until combined.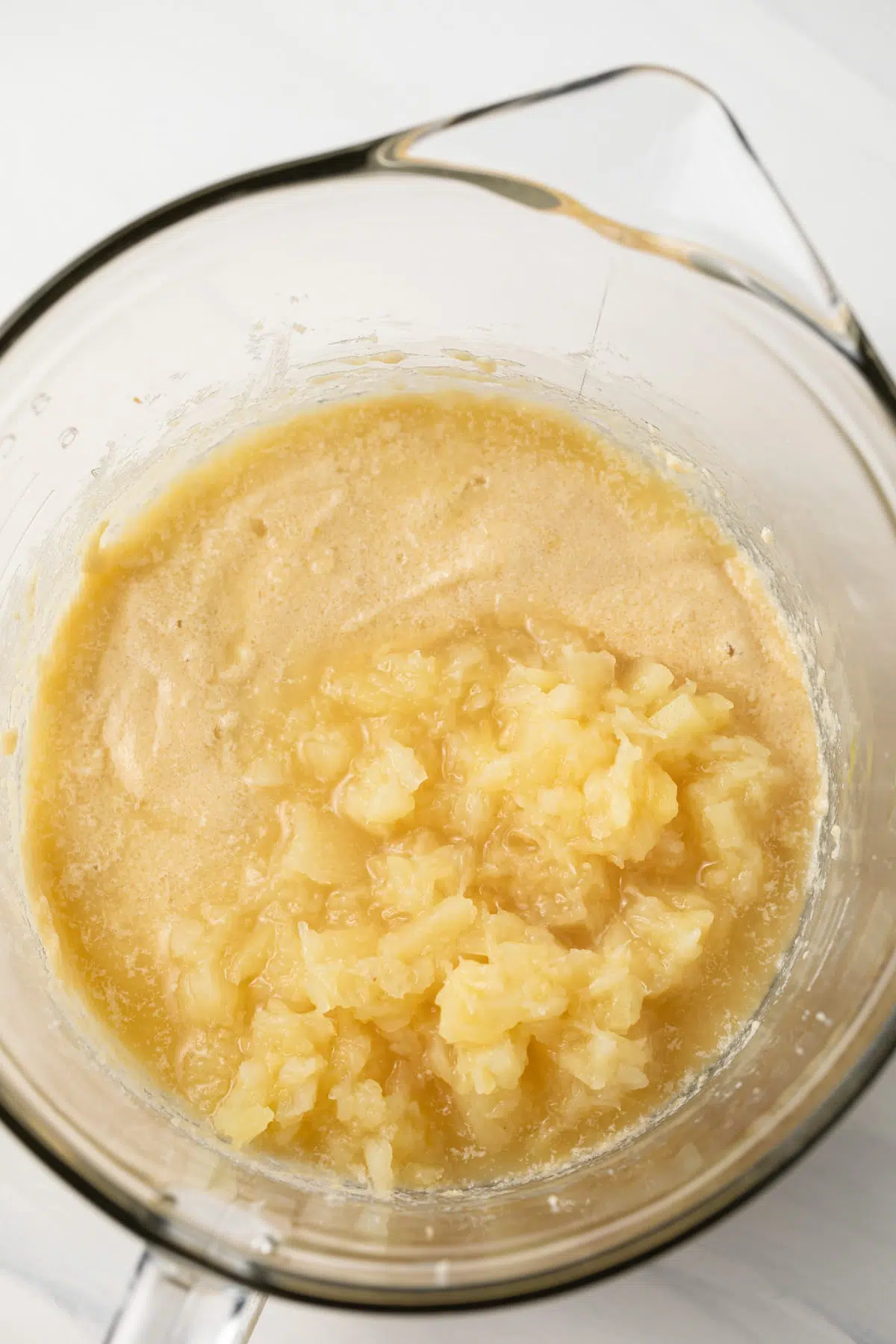 Bake. Divide the batter evenly among the prepared muffin cups. Bake for 15 to 20 minutes or until a wooden toothpick inserted into the centers comes out clean.
Cool the cupcakes in the pan for 5 minutes before transferring them to a wire rack to cool completely. Top with buttercream frosting of your choice.
Handy tip:
Test your baking powder! If the baking powder is no longer effective, the cupcakes will not rise. Add ½ teaspoon of baking powder to ¼ cup of warm water. The baking powder should fizz moderately if it is fresh. You'll need to replace the baking powder if there's no reaction.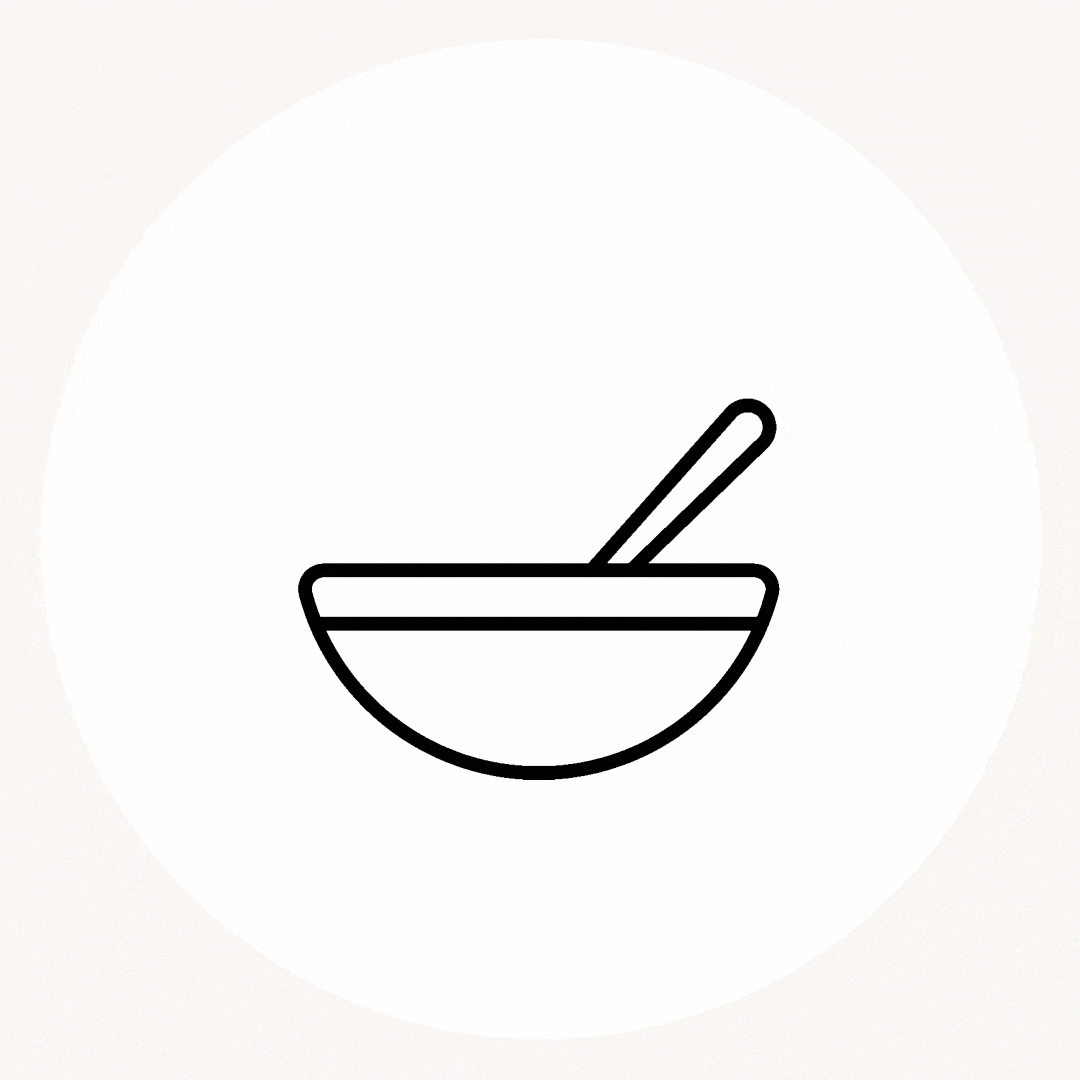 Tips For Success
Measure the flour correctly! Lightly spoon the flour into the measuring cup and level with the back of a knife. For more accurate measurements, it's best to weigh the ingredients.
The recipe calls for one 8-ounce can of crushed pineapple. Crushed pineapple will be broken down much more than pineapple chunks. Make sure you are in fact using crushed pineapple.
Use the entire contents of the can of crushed pineapple. The juice and all the pineapple bits!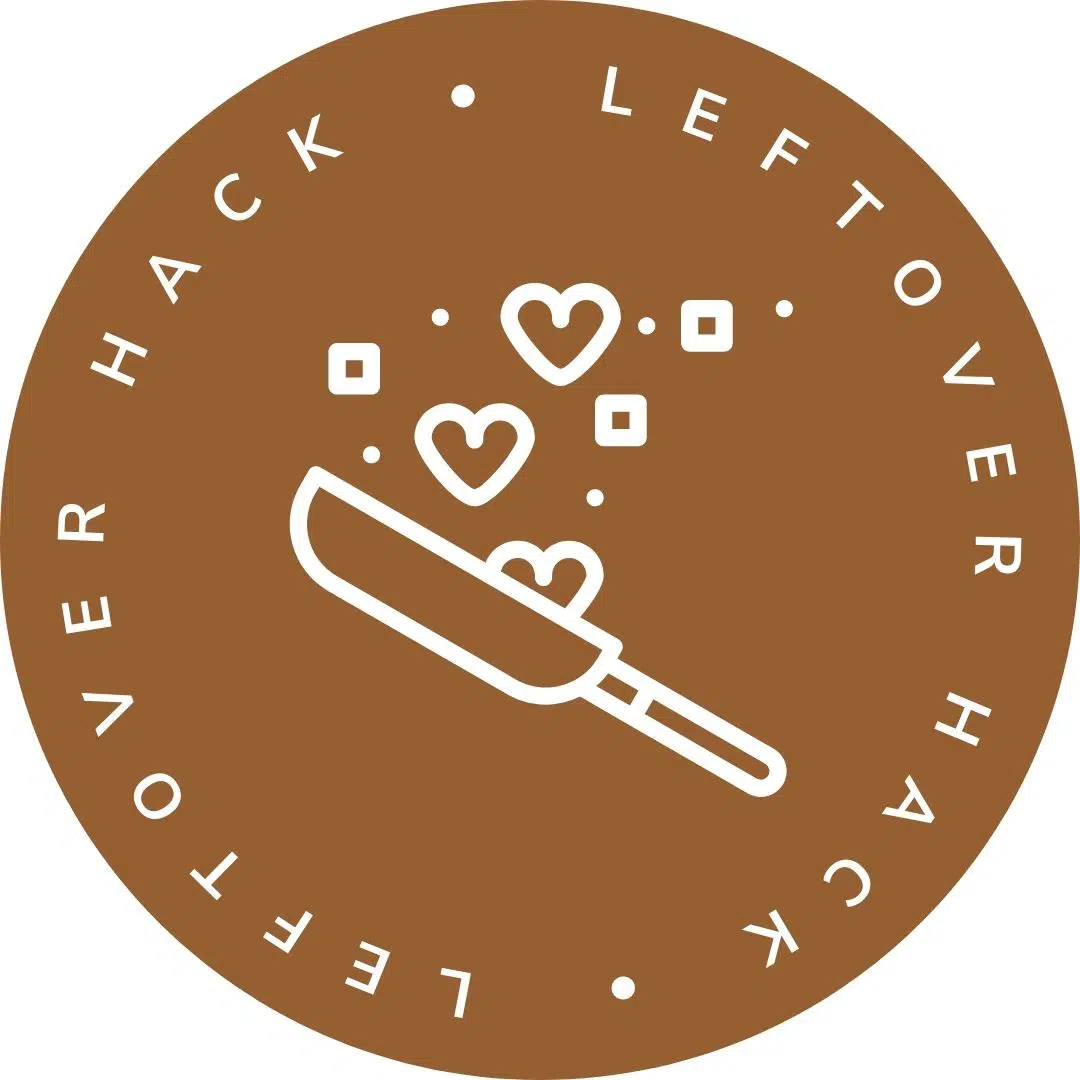 Storage & Freezing
Cupcakes can be stored in an airtight container at room temperature for up to 3 days or in the refrigerator for up to 4 days.
Did you try this recipe? I would love for you to leave me a 5-star rating or comment. This way, I have a better understanding of which recipes you like and can create more of them.
Please take a moment to follow me on Instagram, Pinterest, Facebook, Youtube or sign up for my free newsletter to never miss the newest recipes and blog updates.
You can also shop my favorite baking tools. Thank you so much for your support!