Triple Chocolate Mousse Cake is the perfect light dessert recipe. It's made with a chocolate cake base, cool creamy mousse filling and topped with rich dark chocolate ganache.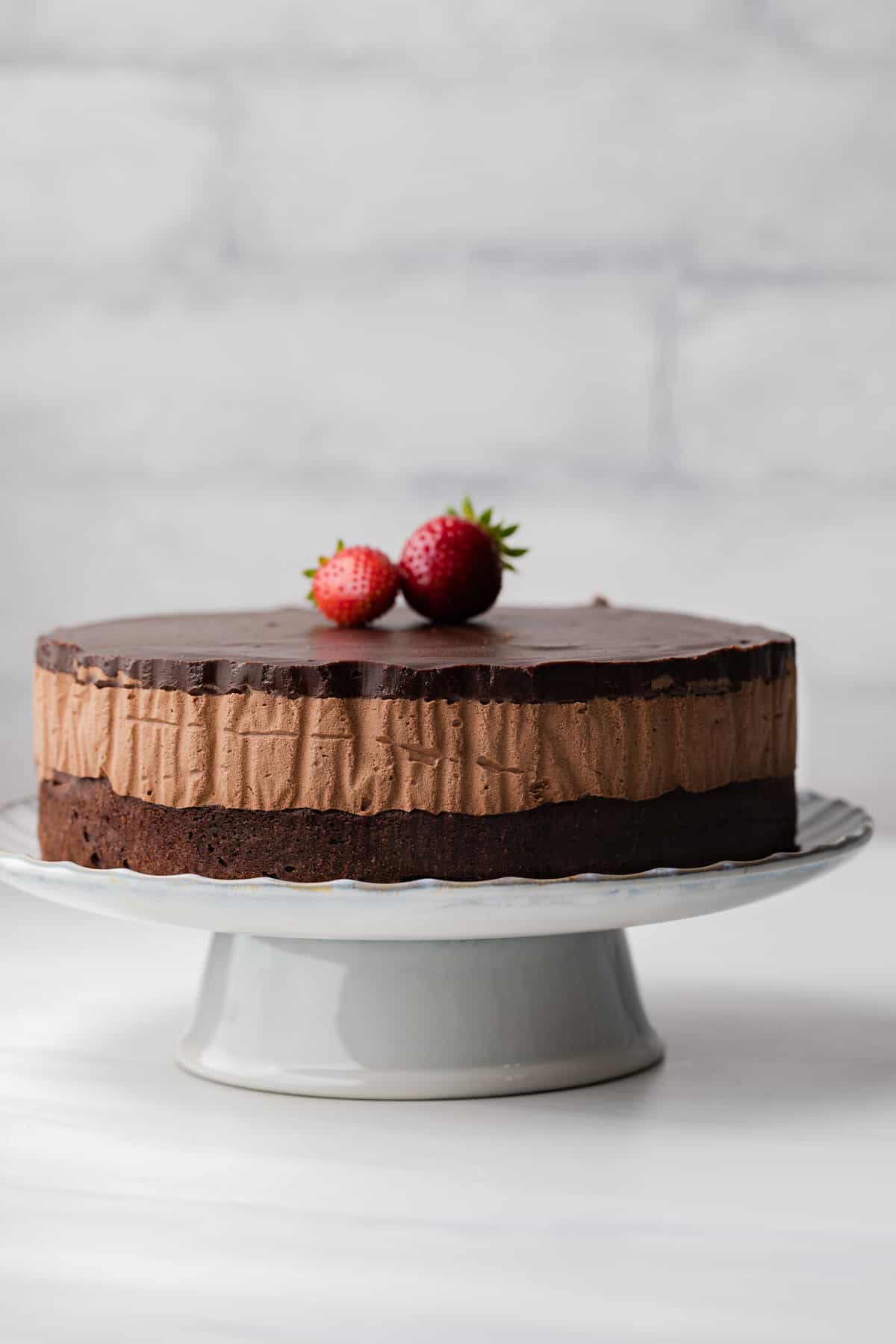 Triple Chocolate Mousse Cake
This mousse cake recipe is inspired by Marcel Desaulniers from The Food Network. It's almost as good as my classic chocolate mousse, strawberry mousse cake, triple Nutella mousse cake, and Nutella cheesecake.
The chocolate mousse filling adds a cool creamy texture that compliments the dense chocolate cake layer. It's smooth, velvety, and extraordinarily decadent.
This cake has loads of chocolate from top to bottom. The cool, rich texture makes it great for any special occasion or holiday.
I recently came across a chocolate mousse layer cake with ganache on The Food Network and decided to make my own version with one single chocolate cake layer, chocolate filling, and dark chocolate ganache.
I changed the above-mentioned recipe drastically and really only used it for inspiration. I found I needed to add a little gelatin to the mousse layer in order to keep it sturdy. I didn't want it to spread and drip over the edges.
I left the ganache semisweet which balances well with the sweet cake and mousse layers.
I served this layered chocolate mousse cake with fresh strawberries but I image it would be good with whipped cream, ice cream, or other fresh berries.
It truly is a decadent mousse cake and will be a huge hit for any occasion. It came out light, rich, and perfect for Mother's Day. It's also great for Valentine's Day if you have someone special to make it for. Or you could make it for yourself.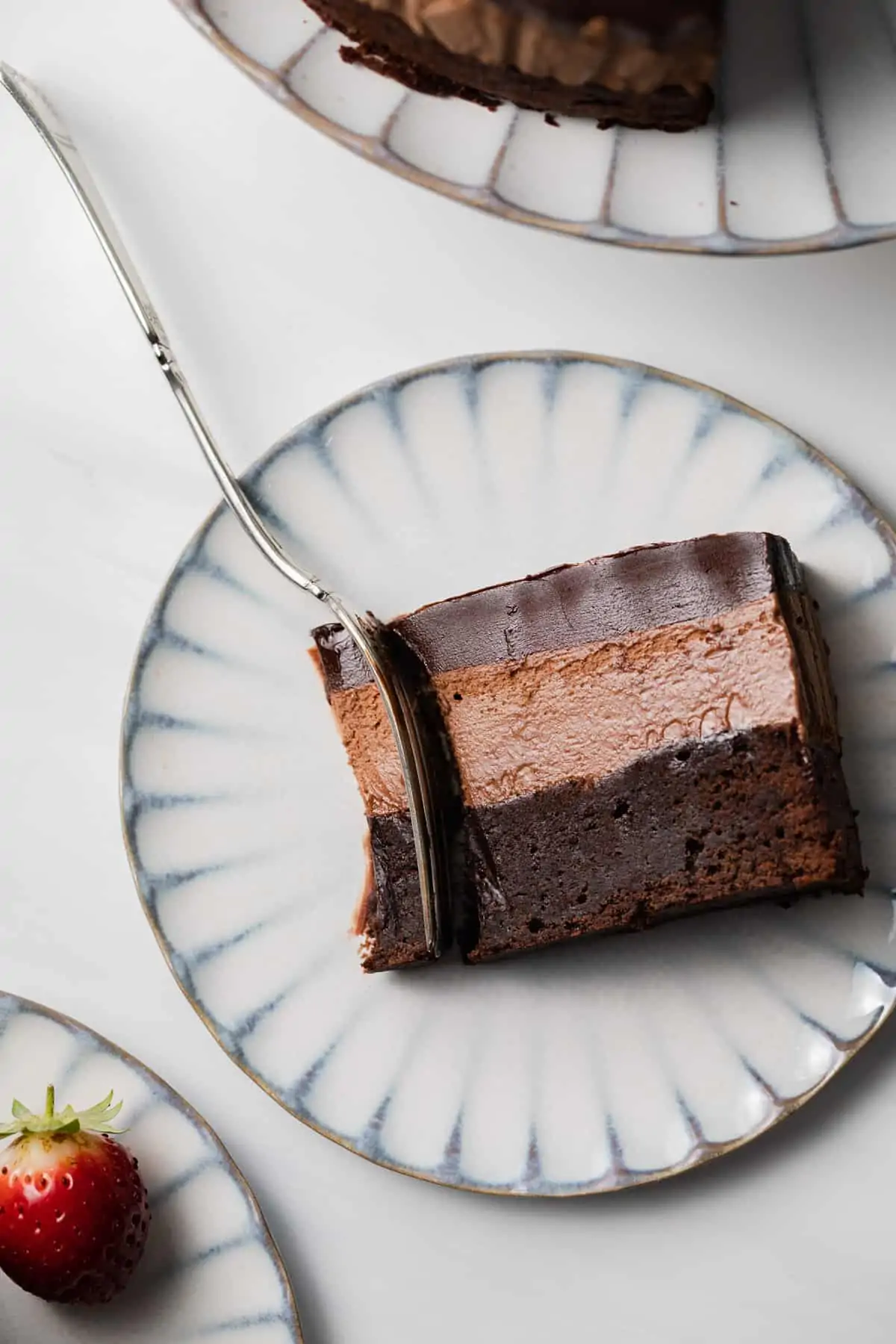 How to make triple chocolate mousse cake?
Step 1: Melt the chocolate
This method is slightly different for melting chocolate. Pour hot water over finely chopped chocolate and stir until it's completely melted.
Stir in the cocoa powder and coffee granules. The chocolate will begin to look more like a paste.
Next, add the sugar and keep stirring until the chocolate turns smooth and shiny. Set it aside to cool while you prepare the cake batter.
Step 2: Make the cake
Start by beating the butter and sugar together until pale in color. Beat in the eggs and vanilla followed by the melted chocolate. Mix in the flour and buttermilk.
Bake the cake until a toothpick inserted into the center comes out clean.
Step 3: Make the mousse layer
Bloom gelatin in water then add it to steaming cream and sugar. Pour the hot gelatin mixture over chopped chocolate and stir until chocolate is melted and smooth.
Whip heavy cream to soft peaks then fold it into the chocolate. Spread the chocolate mousse evenly over the cooled cake.
Step 3: Make the topping
Pour warm cream over chopped chocolate and stir until melted and smooth. Spread the ganache over the top of the mousse layer.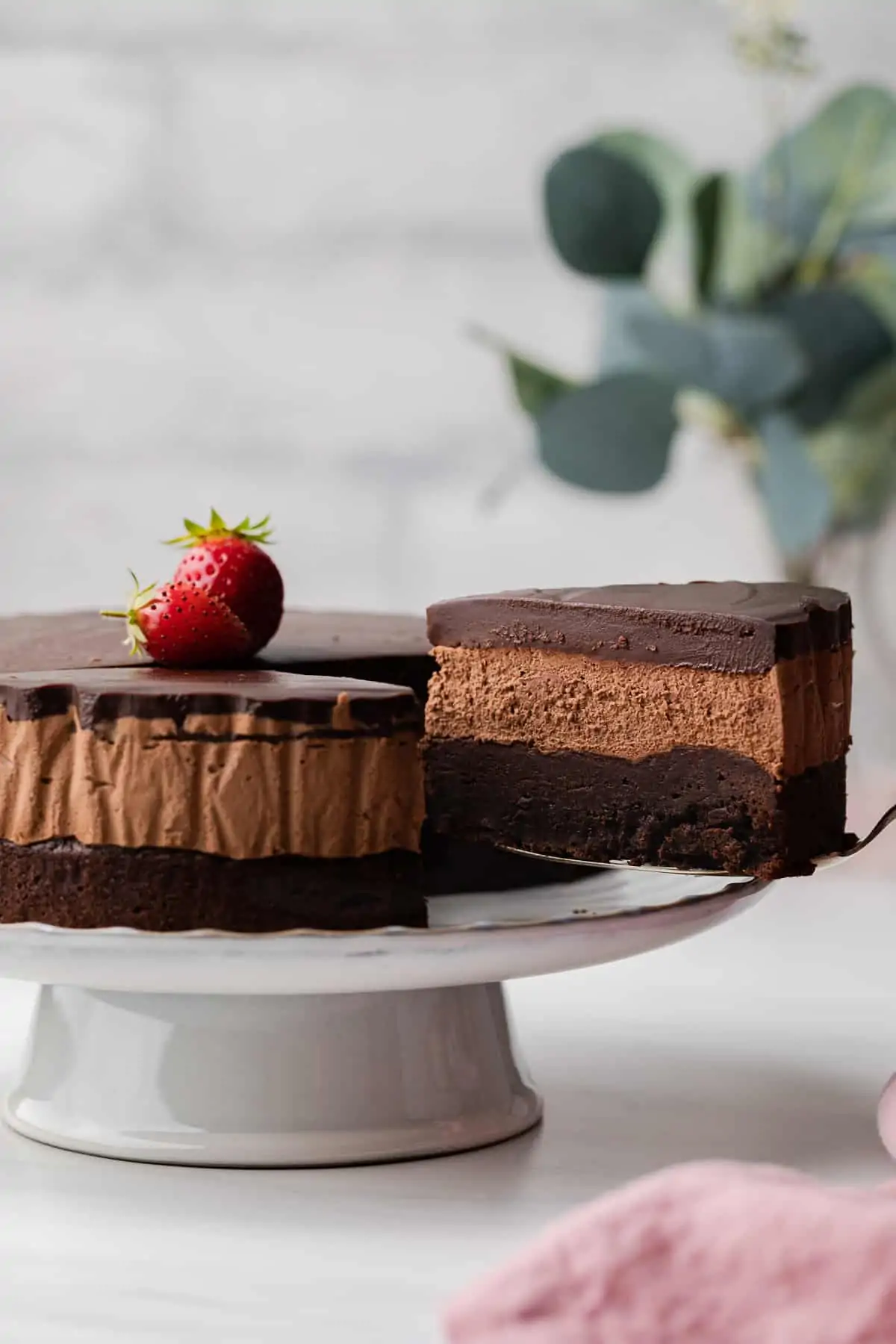 Common questions about Triple Chocolate Mousse Cake
I thought water will cause chocolate to seize?
It is fine to mix chocolate with a larger amount of boiling water. Chocolate will seize if it is already melted and you add a tiny bit of water. Here's a great article to take a look at: Chocolate + Water = Mousse.
Can I make the cake the day before my event and let it sit in the fridge until I serve it?
Yes. The mousse needs time to set so that is perfect.
Can this cake be frozen for a few days?
Yes, it can! Thaw it in the refrigerator a day before serving. Also, let it sit at room temperature for 30 minutes to 1 hour before you plan to serve it.
I don't have a springform pan. Can I make this cake in a regular cake tin?
A springform pan will certainly make things easier but if you really need to use a regular pan, I suggest freezing the cake before you try to turn it out.
More chocolate cake recipes you'll love