This post may contain affiliate links. Read the full disclosure here.
This classic Chocolate Mousse is made with egg yolks, sugar, and heavy cream. It's a classic recipe that will be adored time and time again.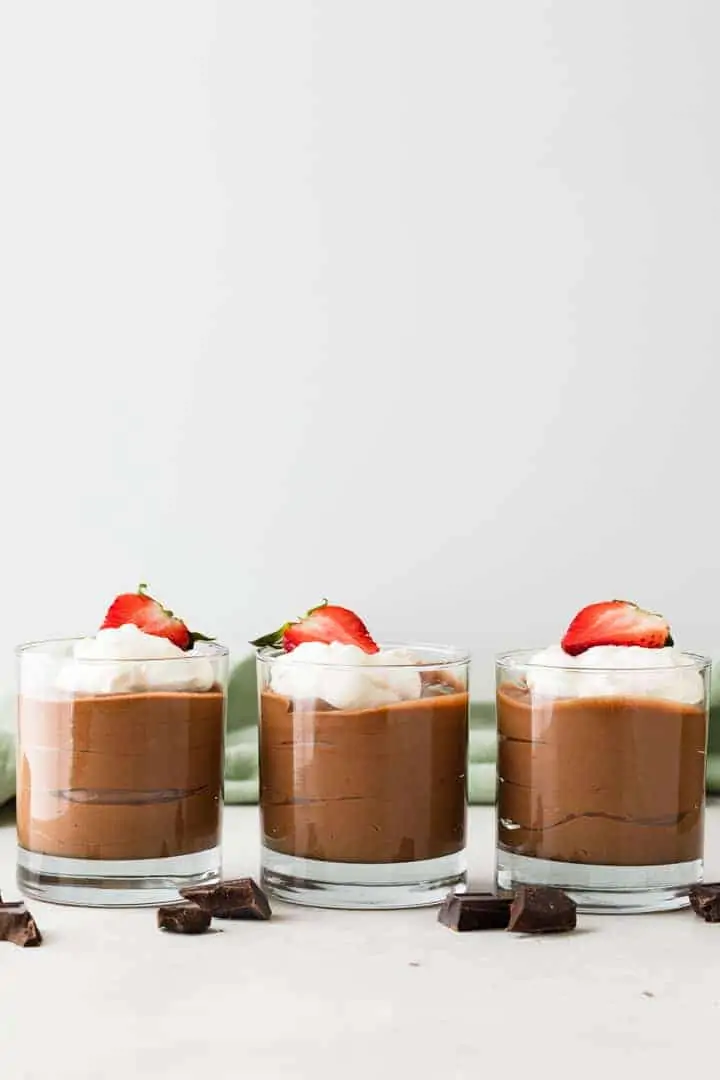 Who doesn't love a good chocolate mousse recipe? I've used mousse in a few of my recipes like this triple chocolate mousse cake and my favorite triple Nutella mousse cake. I've even made a strawberry mousse cake.
Those recipes use gelatin to stabilize the mousse but today's recipe is made the classic way.
Egg yolks are combined with sugar and cooked over a pan of barely simmering water before adding the rest of the ingredients. The sugar helps prevent the yolks from curdling.
Once the yolks are heated to 150°F, melted chocolate is mixed in. Then, the mixture is lightened with whipped cream and refrigerate until ready to be served.
Why this chocolate mousse recipe works
Egg yolks are used to give the mouse a creamy texture and help the mousse hold its shape.
Vanilla is added to enhance the flavor but coffee or liqueur can be used instead.
Whipped cream is folded in to lighten the mousse and give it a silky feel across the tongue.
French chocolate mousse Ingredients
While there are much easier methods to make chocolate mousse, this is the traditional French way. It calls for six simple ingredients…
Chocolate: I used semisweet chocolate but bittersweet is a great option also. Be sure to use baking chocolate and not chocolate chips.
Butter: Unsalted butter is best for this recipe.
Egg yolks: The egg yolks are heated to remove any bacteria so they are completely safe to eat.
Sugar: Only a little granulated sugar is used to help stabilize the egg yolks.
Vanilla extract: I used 2 teaspoons of vanilla but you can also use coffee or liqueur to flavor the mousse.
Heavy whipping cream: Make sure to use heavy whipping cream here. It doesn't whip quite as stiff as heavy cream and will give the mousse a melt-in-your-mouth consistency.
---
How to make classic chocolate mousse
Classic French chocolate mousse is traditionally made foamy by beaten eggs, egg whites, and whipped cream. These are used either alone or combined.
Today I'm using egg yolks with melted chocolate and whipped cream. This will give you the same results but this method is much safer to eat since the yolks are heated to kill off any bacteria.
The Mousse – The mousse takes time to make. Once the heated eggs and melted chocolate are combined, the mixture needs to be cooled to room temperature. This can take up to 45 minutes.
Once cooled, whipped cream is folded in. Then, the mousse needs to refrigerate for at least 1 hour before serving.
Allow adequate time for preparation or make the mousse a day in advance.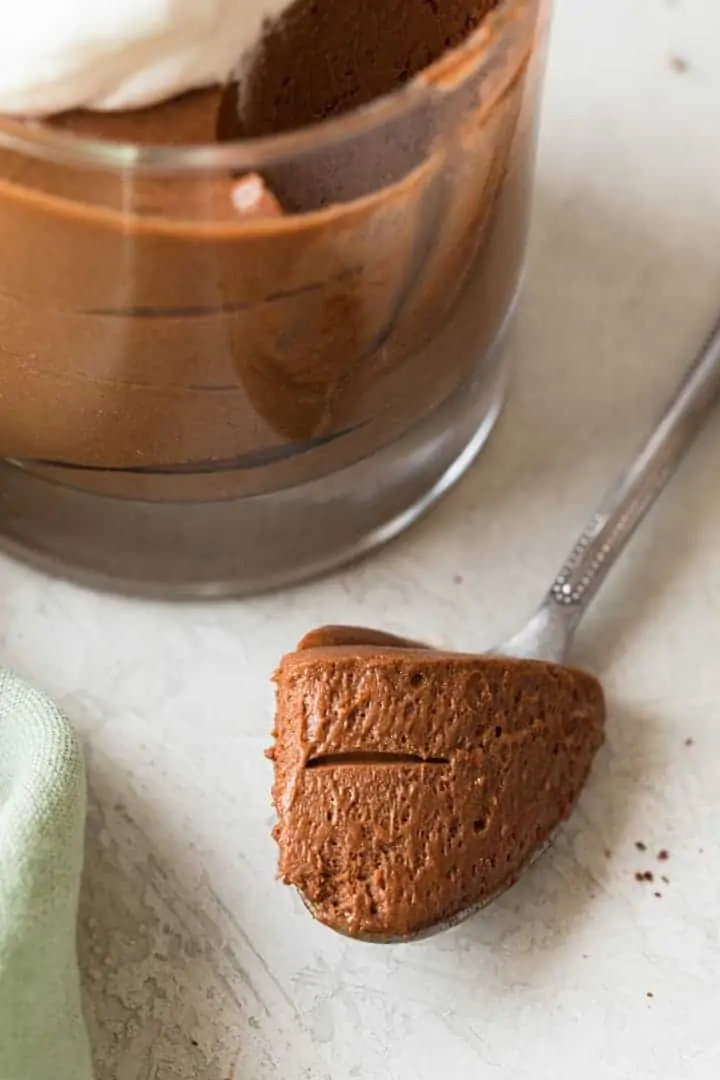 Step 1: Melt the chocolate
Use a bain-marie or a saucepan filled with 1-inch of water and heatproof bowl set over the top. Heat the water until it's barely simmering.
Make sure the chocolate is chopped fine. This promotes quick, even melting.
Add the chocolate and butter to the bowl on top of the barely simmering water. Stir constantly until the chocolate is melted and smooth. This may take some time but don't rush it.
Remove the bowl of melted chocolate from the pot but leave the pot simmering on the burner.
Step 2: Heat the egg yolks
Combine the egg yolks and butter in another heatproof bowl. Give the yolks a good whisk to get them combined with the sugar.
Set the bowl over the pot of barely simmering water and whisk continuously for about 5 minutes. The mixture should turn pale in color and thicken.
If you wish to take extra precautions, use an instant-read thermometer and check for a temperature of 150°F. This is warm enough to have killed any potential bacteria in the egg yolks.
Remove the mixture from the heat once it has come to temperature.
Step 3: Combine the yolks and chocolate
If you are using vanilla or any other add-in, whisk it in now. Then, add the melted chocolate and fold everything together until well combined.
If you decided to use coffee or liqueur, use ¼ as much liquid as chocolate. If you use less than, the chocolate may seize. If you more than that, the mousse may become too loose and runny.
I recommend using weight measurements for this. Since we used 6 ounces of chocolate, you'll need 1.5 ounces of liquid – i.e., coffee or liqueur.
Once the chocolate and yolks are combined, let the mixture cool to room temperature. This may take up to 45 minutes. Stir frequently to speed up the cooling process.
Step 4: Add the heavy cream
Using a stand mixer fitted with the whisk attachment or a hand-held electric mixer, beat the cream on medium-high speed until it reaches stiff peaks.
Make sure the cream is cold before whipping. Cold cream will whip fuller in volume.
Add ¼ of the whipped cream to the cooled chocolate mixture. Use a whisk or spatula to stir it in. This will loosen the chocolate and make it easier to fold in the remaining whipped cream without losing too much air.
Add the remaining whipped cream and gently fold it in with a silicone spatula. Keep folding until the whipped cream is fully incorporated and no visible streaks of white are seen.
Step 5: Chill the mousse
This mousse can be used for a variety of things. You can fill cakes, pies, or serve as is.
If you plan to use this for a filling, use it right away. Spoon it into pie crust or over a cake in a springform pan. Chill the pie or cake until the mousse has set, about 1 hour.
If you want to serve the mousse as is, divide it into individual serving glasses or ramekins and refrigerate for 1 hour.
Cover the mousse with plastic wrap touching the surface before refrigeration. This will prevent it from drying out and developing a dark skin on the top.
Can I make this mousse without egg yolks?
For this recipe, I don't recommend skipping the egg yolks. They give the mousse a creamy texture and nothing else will work as a substitute.
Can I make this mousse in advance?
Yes! The mousse can be made a day in advance. Cover the servings with plastic wrap touching the surface and keep refrigerated.
Let the mousse to sit out for 20-30 minutes before serving. This will allow it to soften some and become a silky, creamy texture again.
If you like this chocolate mousse recipe, try these other chocolate favorites:
Did you try this recipe? I would love for you to leave me a 5-star rating or comment. This way, I have a better understanding of which recipes you like and can create more of them.
Please take a moment to follow me on Instagram, Pinterest, Facebook, Youtube or sign up for my free newsletter to never miss the newest recipes and blog updates.
You can also shop my favorite baking tools. Thank you so much for your support!