This post may contain affiliate links. Read the full disclosure here.
This Angel Food Cake recipe is not only super easy to make, but it's also incredibly delicious. Made with mostly egg whites, this cake is perfect for summer.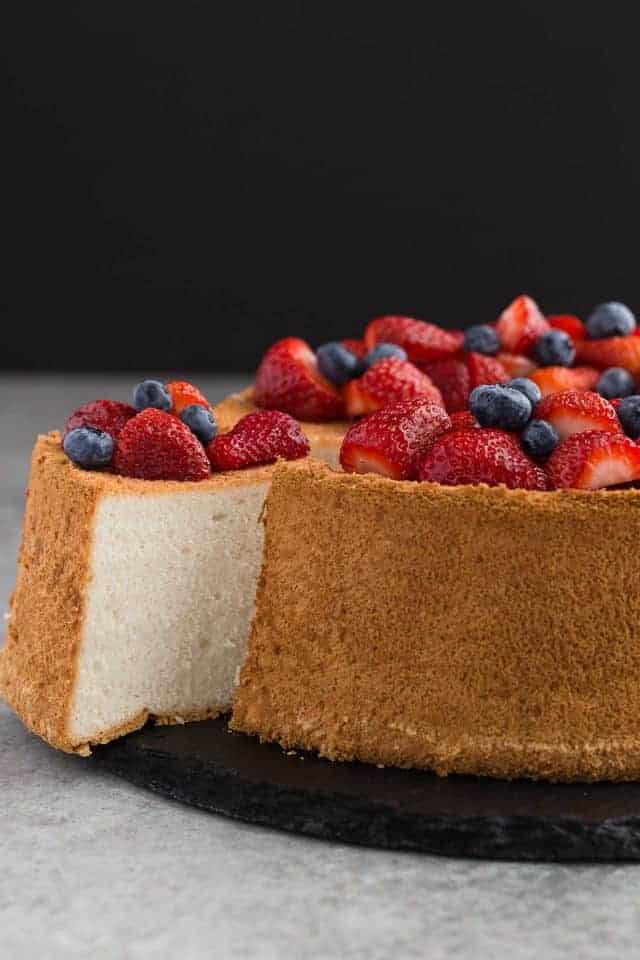 Angel Food Cake
This angel food cake recipe is my favorite summer cake. Soft, spongy cake made with whipped egg whites? Count me in!
All of the cake recipes on my site are full of whole eggs, butter, and milk. Sometimes I just want to have a slice of cake that isn't too heavy.
This angel food cake recipe is just the thing to satisfy those sweet cravings without being too much. You can enjoy a good-sized serving with fresh berries and a dollop of whipped cream without fear of getting a toothache.
The recipe has been perfected to give you the fluffiest, spongiest texture. It's rather simple to make and is sure to become your favorite cake from now on.
Why this recipe works
I used the standard angel food cake ratio of 3 parts egg white, 3 parts sugar, 1 part flour.
The egg whites are only whipped to soft peaks. Stiff peaks will prevent the cake from rising properly.
After baking the cake is cooled upside down for a minimum of 2 hours to allow the sugars to set before unmolding.
Angel Food Cake Recipe
I am obsessed with angel food cake! It's like the best snack cake ever. You can eat it plain or with your choice of toppings. I often reach for summer ripe berries but a drizzle of hot fudge would be SO GOOD.
When you taste this amazing angel cake you will be blown away by how incredible it is. You don't need to be afraid of making it either. I'm going to walk you through each step and explain exactly why you are to do certain things.
After you master this egg white-based cake, give my orange chiffon cake a try! It's made in a similar way but contains oil and orange juice.
---
Angel Food Cake Ingredients
As I explained above, I used the proper ratio for making angel cake. (3 parts egg white : 3 parts sugar : 1 part flour). You can adjust all the other ingredients to your liking except for the ratio of these 3 important ones. Let's discuss…
Egg whites – They need to be room temperature in order for them to whip up to full volume.
Sugar – Regular granulated sugar works perfectly with this recipe.
Cake flour – It's very important that you use cake flour. It has the lowest gluten content and will give you the best-textured cake.
Salt – I used a little to help enhance the flavor.
Cream of tartar – Will help stabilize the egg whites.
Lemon juice – Also for stabilization of the egg whites. The flavor will dissipate during baking.
Vanilla extract – Used for flavor. Vanilla bean paste would also be lovely if you want a more intense vanilla flavor.
---
How to make angel food cake
It's so easy to make this angel food cake. Don't be afraid. This recipe has worked for me time and time again.
Just pay attention and don't over whip the egg whites. That's about the only place you can really go wrong.
Step 1: Whip the egg whites
Make sure you start with room temperature eggs. This is very important since cold eggs have a difficult time whipping to volume.
In the bowl of a stand mixer, add the egg whites, sugar, salt, and cream of tartar. Attach the whisk attachment and beat on low speed for 1 minute to moisten the sugar.
Increase the speed to medium-low and beat for 3 minutes. The egg whites should look foamy at this stage.
Add the lemon juice, and vanilla. Increase the speed to medium and beat for another 3 minutes.
Be careful here. You don't want to over whip the whites. If they go stiff, you won't be able to use them for the cake. Stay close by while it's mixing and be prepared to stop the mixer at just the right time.
You're looking for a thick, shiny meringue the has distinct a vortex pattern from the whisk. It will slide off the whisk when lifted out but will have enough body to hold itself in a mound.
Step 2: Add the flour
Add the cake flour to a fine-mesh sieve set over the bowl of meringue and gently shake it in. This will aerate the flour and remove any clumps that may have formed.
Use a flexible spatula to gently stir the flour into the meringue using a folding motion. Work from the bottom up and cut through the middle. Mix just until no visible pockets of flour remain.
Step 3: Bake
Pour the batter into an angel food cake pan. This is basically a tube pan that has feet on it. The pan should be aluminum and not nonstick for the best results. The batter doesn't cling to nonstick pans and the cake will fail to rise properly.
Use the spatula to gently spread the batter evenly in the pan. If you see any unmixed flour, incorporate it with a gentle wiggle of the spatula. The pan should be about ⅔ full with batter.
Bake it in a 350°F preheated oven for 30-50 minutes. The large range in temperature as a lot to do with the humidity where you are and how your oven bakes. Mine baked in about 40 minutes.
Use a wooden toothpick to see if the cake is done. The toothpick should come out clean. The cake should also feel firm with pressed with your fingertip and the crust should be golden brown.
Step 4: Cool the cake
When the cake comes out of the oven, you want to set it upside-down so it's resting on the feet. This will prevent the cake from collapsing as it cools.
Once the cake has cooled for a minimum of 2 hours, run a butter knife along the edges to loosen it from the pan. Lift the tube to remove the sides of the pan. Run the knife along the bottom to loosen the cake from the base and around the middle. Gently lift the cake off the base of the tube pan.
What is the difference between angel food cake and sponge cake?
The main difference between angel food cake and sponge cake is the leavening process. Angel food cakes rely on whipped egg whites to give the cake rise while sponge cakes use whole eggs. Sponge cakes also use butter while angel food cakes do not.
Can you bake angel food cake in a regular cake pan?
If you have a cake pan with a removable bottom and it's 4-inches deep, you can use that for angel food cake. A 9-inch springform pan that is 4 inches deep will also work.
How do I store angel food cake?
Store homemade angel food cake in an airtight container at room temperature for 3 days or in the refrigerator for up to 1 week.
You can also freeze the cake for up to 3 months. Thaw it in the refrigerator overnight.
Why did my angel food cake not rise?
Angel food cakes get their rise from whipped egg whites. You must mix them to just the right volume and no more. If you over whip the whites to stiff peaks, the cake will sink and become dense and chewy.
You also have to be careful when mixing in the flour. You want to use gently folding motions with the spatula. Stirring or being too rough with mixing will knock all the air out of the egg whites and your cake will fail to rise properly.
I think everyone needs angel food cake in their lives. You will be so happy you gave this recipe try!
If you like angel food cake, you'll love these other cake recipes:
Did you try this recipe? I would love for you to leave me a 5-star rating or comment. This way, I have a better understanding of which recipes you like and can create more of them.
Please take a moment to follow me on Instagram, Pinterest, Facebook, Youtube or sign up for my free newsletter to never miss the newest recipes and blog updates.
You can also shop my favorite baking tools. Thank you so much for your support!
Adapted from BraveTart.