This post may contain affiliate links. Read the full disclosure here.
This orange pound cake recipe is everything you love about citrus desserts. It has a perfectly light orange flavor, it's wonderfully moist, and is topped with a heavenly orange glaze.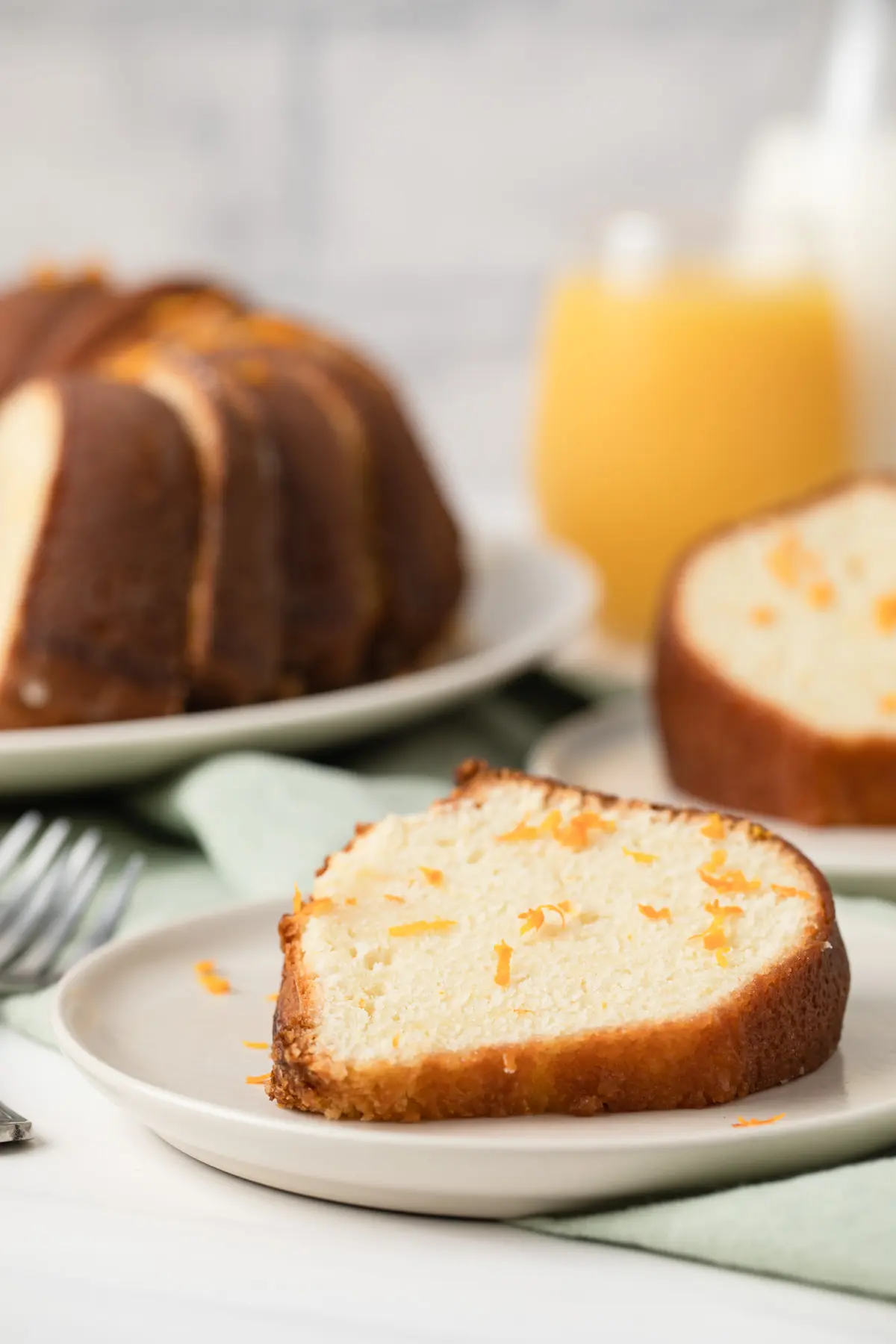 The best orange pound cake
I love baking with citrus flavors! There's just something so light and refreshing about desserts made with citrus.
Lemon thumbprint cookies, lemon bars, and lemon cupcakes are my all-time favorites.
But lemon isn't the only citrus I have a crush on. I adore bread pudding with orange custard sauce or candied orange slices which I think would be a fun decoration for today's cake.
This cake is GOOD!
The smell that fills your home while the cake bakes is amazing. It's like a fresh breath of warm air.
Why this recipe works
Unlike my lemon pound cake, traditional pound cakes don't use chemical leavening agents. Instead, they are leavened with the air that's incorporated by beating the sugar and cream together.
I decided to add just a tiny bit of baking powder to this recipe though. It softens the crumb slightly making the cake perfect for summer.
There's a good amount of orange flavor from the orange zest and orange juice used in the cake. Then a generous drizzle of orange glaze adds even more flavor.
Ingredients
The ingredients needed to make an orange-flavored pound cake are pretty basic.
Butter: Unsalted sweet cream butter will give the cake a sweet buttery flavor. It needs to be softened, not melted, in order to cream properly with the sugar.
Sugar: Use regular granulated sugar.
Eggs: You need 5 large eggs. Make sure they are at room temperature.
Orange zest: I found 2 tablespoons of zest, which is about 2 oranges, give the best flavor.
Orange juice: The same goes for orange juice. 2 tablespoons was flavorful without being too strong.
Flour: I usually use cake flour for pound cakes but chose all-purpose this time around. The results were just as good!
Salt: Just a pinch is needed to balance all the flavors.
Baking powder: I chose to use only ½ teaspoon to make the texture lighter while keeping true to the denseness pound cakes are known for.
Milk: Whole milk will give you the best results.
What can I use in place of milk?
If you don't have milk, you can use non-dairy milk, sour cream, or plain yogurt instead. If using sour cream or yogurt, your pound cake will have a tighter crumb and taste denser.
---
Equipment need
When it comes to making pound cakes, I prefer to use a stand mixer. It seems to work best when mixing large quantities of batter.
You'll also need a 10-inch bundt pan. But you can also bake it in two 9×5 loaf pans.
Step-by-step intructions
This recipe is a lot like my sour cream pound cake, but I used milk instead of sour cream, added orange juice, and used all-purpose flour instead of cake flour. Here's an overview of how to make it:
Combine the dry ingredients. Whisk the flour, baking soda, and salt together until well combined.
Combine the wet ingredients. Beat the butter and sugar together until light and fluffy. Add the eggs followed by the vanilla, orange zest, and orange juice.
Combine the wet and dry ingredients. Add half the flour mixture to the butter mixture and mix until almost fully combined. Add the milk followed by the remaining flour mixture then mix until no dry streaks of dry flour remain.
Bake. Spread the batter into a greased and floured bundt pan. Bake for 60-70 minutes, until a toothpick inserted into the center comes out clean.
Glaze and serve. Mix the ingredients for the glaze and drizzle over the cooled cake.
Don't have a bundt pan?
The recipe as written is made for a bundt pan. It yields too much batter for any other pan. However, you can bake it two 9×5 loaf pans.
---
Recipe Variations
Try this recipe with lemon zest and lemon juice instead of orange for a bright lemon pound cake.
Storage tips
You can make this cake ahead of time if needed.
Cover it and store it for up to 3 days at room temperature or up to 1 week in the refrigerator.
Or freeze it for up to 3 months. Thaw overnight in the refrigerator then bring it to room temperature before serving.
Did you try this recipe? I would love for you to leave me a 5-star rating or comment. This way, I have a better understanding of which recipes you like and can create more of them.
Please take a moment to follow me on Instagram, Pinterest, Facebook, Youtube or sign up for my free newsletter to never miss the newest recipes and blog updates.
You can also shop my favorite baking tools. Thank you so much for your support!
Adapted from Taste of Home
Originally published May 2015. Post updated June 2020 with a new topping, new photos, and a video.