This post may contain affiliate links. Read the full disclosure here.
This bread pudding is undeniably the best! It's loaded with warm cinnamon, nutmeg, vanilla and topped with an orange custard sauce.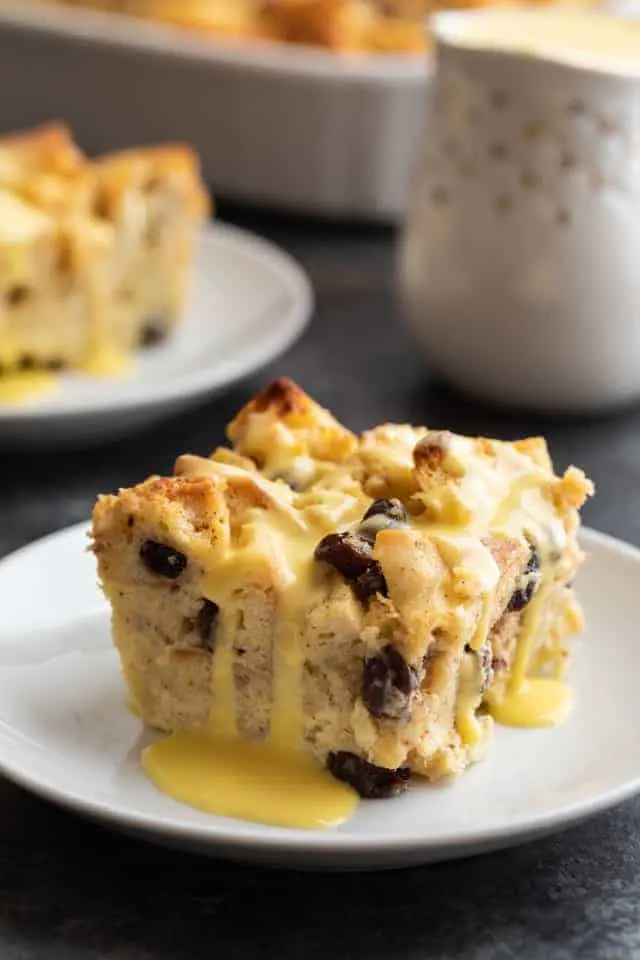 Bread pudding is a popular dessert made with stale bread. The bread is soaked in a custard mixture of cream and/or milk, eggs, and butter.
There are sweet and savory versions of bread pudding and today I'm sharing with you my favorite sweet version. I came across this recipe on an episode of Hot Ones featuring Terry Crews.
It's sweetened with sugar and has hints of cinnamon and nutmeg. Raisins are sprinkled throughout and the whole thing is baked in a casserole dish.
For best results, bread pudding should be refrigerated for 6-8 hours after it as had baked and cooled to room temperature.
When the bread pudding is ready to be served, whip up the orange custard sauce and drizzle it over each slice.
This is honestly the best bread pudding I've ever had and I think you will feel the same once you try it.
Ingredients for this bread pudding recipe
This dessert is very simple and doesn't require a lot of ingredients. You need just a hand full of items that you may already have on hand.
Stale French bread – Look for a 16-ounce loaf of french bread. Slice the bread into cubes and place them in a bowl. Leave the bowl out on the counter uncovered for 1-2 days.
Butter – I like to use unsalted butter since bread usually already contains plenty of salt. Melt the butter and then let it cool before adding it to the eggs or you risk scrambling them.
Eggs – The original recipe calls for 6 so I decided to stick with that.
Sugar – I found that ¾ cup of sugar was plenty since the pudding will be topped with a sweet glaze as well.
Spices – Cinnamon and nutmeg seem to work best with desserts like this.
Cream and Milk – The original recipe used only milk but I decided to use half milk and half heavy cream. I love the richness that heavy cream offers!
Vanilla – Use a high-quality pure vanilla extract for the best results.
Raisins – These are optional. Leave them out if you don't like them or substitute with another dried fruit. It's best to soak the dried fruit in boiling water before adding them to the pudding so they don't try out and become hard or chewy during baking.
How to make bread pudding
Making bread pudding is extremely easy to do and requires very little effort. It does require some time though, so plan accordingly.
The bread needs to sit out to become stale for at least a day. And the final dish needs to refrigerate for 6-8 hours after baking.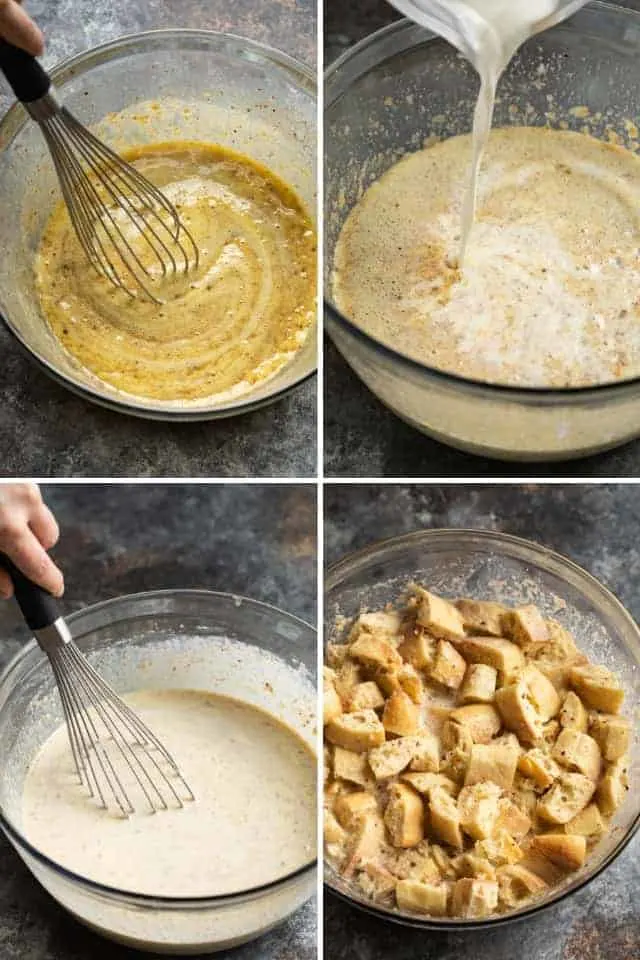 Start by whisking the butter, eggs, sugar, cinnamon, and nutmeg together in a large bowl until well combined and the eggs are fully broken up.
Whisk in the heavy cream, milk, and vanilla.
Add the cubed French bread to the custard and press down so all the bread is submerged. Cover and let sit for 30-35 minutes.
After the bread has finished soaking, drain the raisins and stir them in.
Transfer the mixture buttered casserole dish and press it down into the pan.
Bake in a 325°F for 40-45 minutes, until the top is golden and the center is just barely set.
Cool to room temperature then refrigerate for 6-8 hours, preferably overnight, before serving.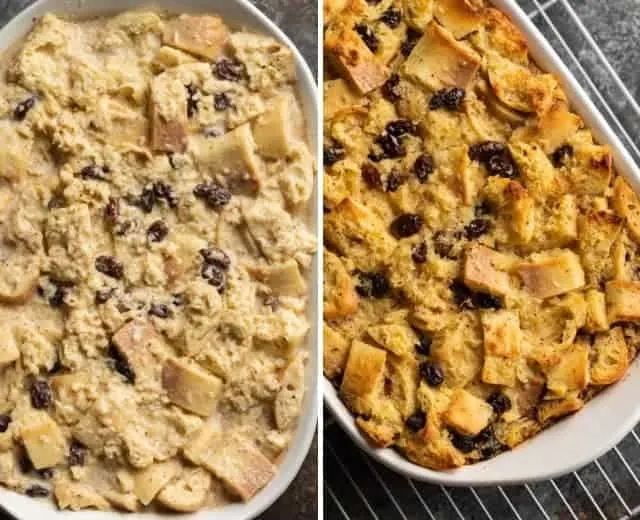 Bread pudding sauce
When you are ready to serve the pudding, drizzle it with orange custard sauce. The sauce is made with egg, heavy cream, orange juice, sugar, and vanilla.
Cook all the ingredients in a small saucepan, whisking constantly until it's thickened to the consistency of warm pudding.
Helpful tools
More raisin and orange recipes you may like
Did you try this recipe? I would love for you to leave me a 5-star rating or comment. This way, I have a better understanding of which recipes you like and can create more of them.
Please take a moment to follow me on Instagram, Pinterest, Facebook, Youtube or sign up for my free newsletter to never miss the newest recipes and blog updates.
You can also shop my favorite baking tools. Thank you so much for your support!