The Best Vanilla Buttercream Frosting
This post may contain affiliate links. Read the full disclosure here.
This is the best Vanilla Buttercream Frosting recipe. It's so versatile, you can use it for just about anything. Made with just a handful of ingredients, this frosting comes together in a snap.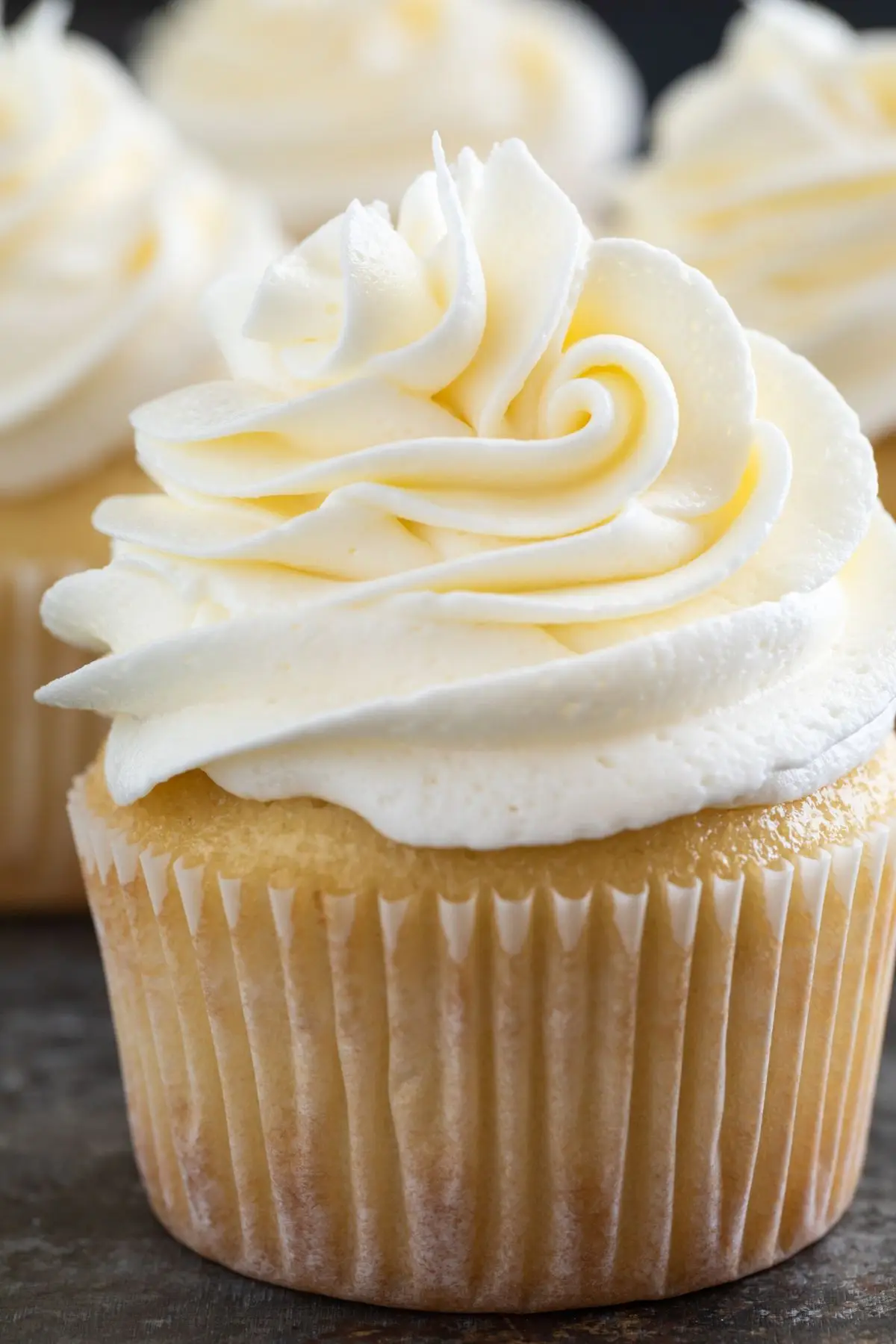 You won't be disappointed in the light, creamy texture. Use this homemade vanilla frosting to top cakes and cupcakes or sandwich it between your favorite cookie.
Vanilla Buttercream Frosting Recipe
It's always a good idea to have a basic buttercream recipe in your archives and this is one you'll want to keep!
My ermine frosting, swiss meringue buttercream, coconut buttercream, cream cheese frosting, and chocolate buttercream are always a huge hit around here but sometimes you just need something basic. This frosting is just that!
It's light, fluffy, smooth, and creamy. It's the perfect frosting for a basic vanilla cake or vanilla cupcakes.
Not only is this a great vanilla frosting, but it's also the perfect base for other flavor additives. Mix in any other flavored extract to create your own unique frosting.
Try adding in peanut butter or almond extract or any other extracts that you love. Or turn it into pineapple frosting!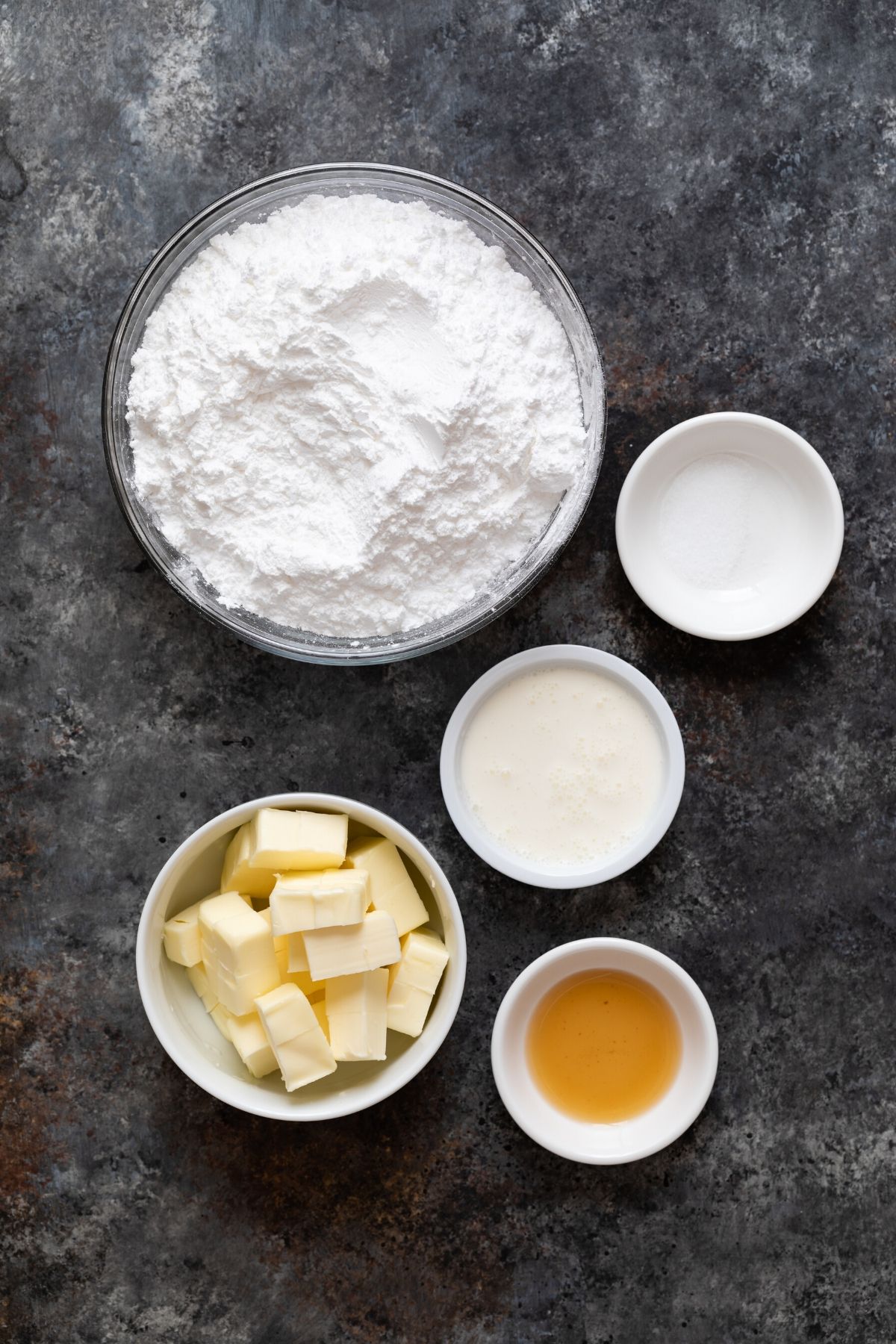 How to make vanilla buttercream
Make sure the butter and heavy cream are at room temperature. The butter should be soft enough to bend without breaking but not so soft that it's melty. If the butter has an oily sheen to it, it's too soft.
Whip the softened butter with an electric mixer until it's creamy and noticeably lighter in color. It should be very pale yellow.
I don't recommend using salted butter. The frosting can taste too salty.
When adding the confectioners' sugar, make sure it is sifted and free of lumps. Add half the sugar then mix it for 3-5 minutes. Add the remaining sugar and mix it for another 3-5 minutes.
Mix on low speed when you first start the mixer or the sugar will fly everywhere. Let it mix in some before you turn the speed up.
You want to mix the sugar in very well before adding the cream. At this point, the frosting will be quite thick but the cream will loosen it and make the frosting silky and light.
Add the vanilla, salt, and half the heavy cream. Beat the frosting for 3 minutes then give it a stir and test the consistency. Add more cream, if needed, and beat for another 3-5 minutes.
The frosting should be soft and spreadable but not so loose that it doesn't hold its shape.
How to get vanilla frosting to be white?
There are a few things I do that make my vanilla buttercream turn out almost pure white. The first thing I do is beat the butter by itself until it turns pale in color. This process is adding air which lightens the color and the texture.
The second thing I do is beat the frosting for 3-5 minutes on high speed after each addition of confectioners' sugar. This ensures the sugar is fully mixed in while adding more air.
The final thing I do is whip the heck out of the frosting after adding the vanilla and heavy cream. Once the cream is added you can turn the mixer on high and whip it until it's light and fluffy. This can take up to 5 minutes.
You can also use clear vanilla extract to avoid tinting the frosting.
How to prevent American buttercream from tasting so sweet?
The biggest complaint about American buttercream is that it is cloyingly sweet. This comes from the amount of confectioners' sugar needed to thicken the frosting. But, there is a way to counteract the sweetness.
Whip the frosting! Don't be afraid to beat the frosting on medium-high to high speed for 5 minutes after adding each and every ingredient.
The longer you let the frosting whip, the less sweet it will taste.
Tips for making the best vanilla buttercream frosting
Don't work with butter that is too soft. If it's oily, it's too soft and will curdle your buttercream. Pop it in the refrigerator for a few minutes to allow it to firm up slightly.
Use confectioners' sugar that contains cornstarch! Tricalcium phosphate is another anticaking agent found in confectioners' sugar but it doesn't work as well as cornstarch.
Add a pinch of salt to help balance the sweetness.
Don't be afraid to let the frosting whip! The more air you add the lighter the frosting will be which in turn makes it taste less sweet. So turn your mixer up and let it whip on medium-high for 5 minutes.
Did you try this recipe? I would love for you to leave me a 5-star rating or comment. This way, I have a better understanding of which recipes you like and can create more of them.
Please take a moment to follow me on Instagram, Pinterest, Facebook, Youtube or sign up for my free newsletter to never miss the newest recipes and blog updates.
You can also shop my favorite baking tools. Thank you so much for your support!