This post may contain affiliate links. Read the full disclosure here.
The most flavorful peanut butter frosting recipe you will ever try! The secret ingredient truly enhances the flavor. Plus, it's creamy yet sturdy enough to be piped.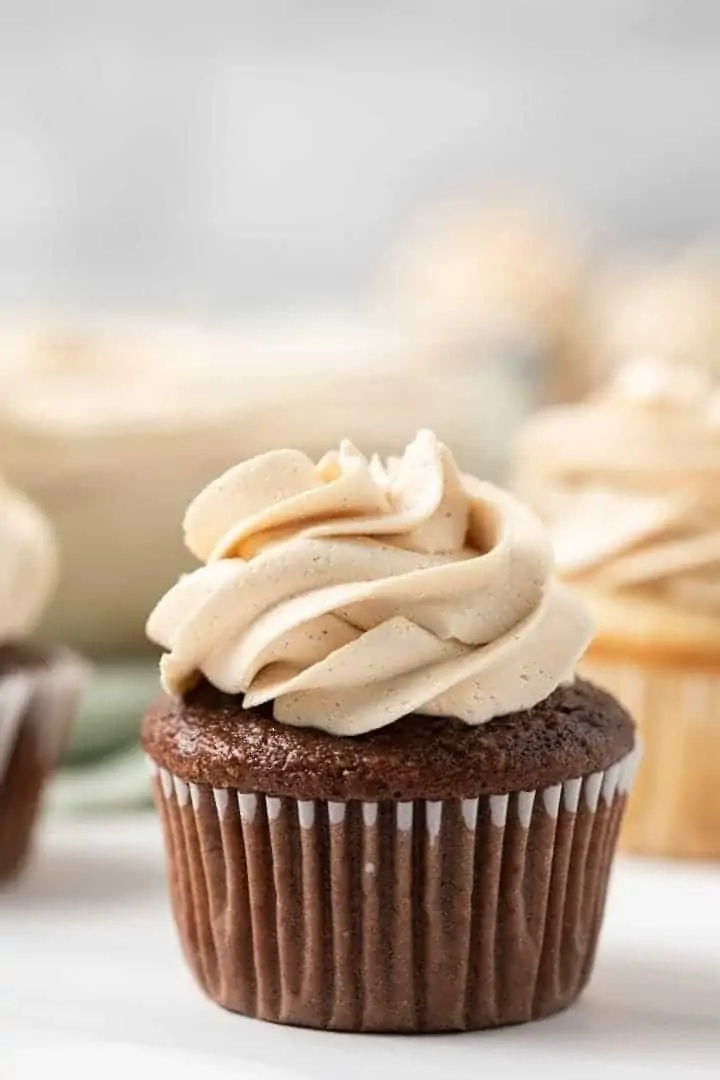 The best peanut butter frosting
This creamy peanut butter flavored buttercream is hands-down one of the best frostings I've ever tried. It contains so much peanut butter flavor, it's unreal.
The recipe starts as a basic buttercream then creamy peanut butter and peanut butter powder are added. The powder kicks up the flavor without making the frosting feel greasy.
This is especially important if you want to use the buttercream for piping work. It'll be smooth and creamy without becoming loose and soupy. And it'll actually hold its shape!
I experimented with using just the powder but then the frosting wasn't quite as silky as I wanted. This could have been counteracted with more butter but felt the results were best with both creamy peanut butter and powder.
I think you will pleasantly surprised by the creamy texture and rich flavor. It's perfect for any layer cake, sheet cake, cupcake… basically any dessert.
Why this frosting recipe works:
Creaming very soft butter with peanut butter creates a light and fluffy base for the rest of the ingredients. Don't be afraid to it whip!
Adding the powdered sugar in stages allows it fully dissolve in the creamed base. This eliminates any gritty feeling.
Only a couple of tablespoons of peanut butter powder are added. It's concentrated with flavor and acts as a thickener to ensure the frosting remains sturdy.
The ingredients you need
Homemade buttercream requires only four ingredients. Then you need to add peanut butter and powder to create the most amazing peanut butter frosting ever!
Butter: Unsalted butter works best! I like unsalted sweet cream butter. And it must be softened to room temperature.
Peanut butter: Use a commercial brand like Jif or Skippy. Avoid natural peanut butter because the consistency isn't the same and could make the frosting too oily.

Switch the recipe up by using chocolate peanut butter instead!

Powdered sugar: Always look for cornstarch as an ingredient on the label. Some confectioners' sugar brands use different anticaking agents but the ones with cornstarch will work best in buttercream.
Peanut butter powder: I haven't found that it makes a difference in which brand you use. I've tried PB Fit® and PB2®. They both work great.
Salt: I always add a pinch to any frosting recipe. It balances the sweetness and ties the flavors together.
Heavy cream: Heavy cream will make the frosting light and creamy. You can use milk also but you won't need as much of it.
I didn't add vanilla extract to this recipe. I honestly didn't think it needed it. But you can add a teaspoon or two if you wish.
How to make peanut butter frosting
The process of making this peanut butter buttercream recipe is exactly the same as if you were making a basic frosting.
Step 1: Cream the butter and peanut butter
It's important to use butter that is at room temperature. So let it sit out for about 30-45 minutes before you begin making the recipe.
Place the butter and peanut butter in the bowl of a stand mixer fitted with the paddle attachment. Mix on medium-high speed for 1-2 minutes.
The mixture should be smooth and creamy.
Step 2: Add the sugar
Sift the powdered sugar before you add it to the butter mixture. This removes any clumps, allowing the sugar to incorporate more easily.
Add half the sugar then mix on medium-high speed for 1-2 minutes, until the sugar is fully mixed in.
Add the remaining sugar and mix one more on medium-high for 1-2 minutes.
Stop to scrape the sides and bottom of the bowl as needed.
Step 3: Add the peanut butter powder
Add the peanut butter powder and salt. Mix on medium-high speed for 1-2 minutes. Make sure the powder is fully mixed in before moving on to the next step.
Step 4: Add the cream
Turn the mixer to low speed and add the cream, one tablespoon at a time. You may not need all the cream. Add just enough to adjust the consistency of the frosting to your liking.
Once all the cream is added, turn the speed up to medium-high and mix for 1-2 minutes. The frosting should be light, fluffy, and creamy.
Important tip: Be sure to add the cream slowly. If you want a softer frosting, add all four tablespoons. If you need a stiffer frosting for piping, add only one to two tablespoons.
Equipment needed
There are a few kitchen tools needed to make this incredible peanut butter frosting. Let's see what they are.
Stand mixer: A stand mixer with the paddle attachment is what I prefer to use. You can use an electric hand mixer but I feel that it adds more air bubbles to the frosting.
Silicone spatula: A large silicone spatula is also great for scraping down the sides of the bowl.
Piping tip: I used a Wilton 1M piping tip to pipe the frosting over cupcakes.
Helpful Tips
Plan ahead. The butter must be softened slightly. This means it will need to sit at room temperature for 30-45 minutes to become soft enough to use.
Use commercial peanut butter. Natural peanut butter is too oily and will not work with this recipe, even if it is stirred well.
Use creamy peanut butter. I understand the desire to have a crunchy texture but please avoid using crunchy peanut butter. The crunchy bits make it difficult to get the ingredients well combined. You can always sprinkle chopped peanuts over the frosting once you've decorated your cake/cupcakes.
Adjust the cream as needed. Using all 4 tablespoons of heavy cream will give you a light, fluffy frosting that is soft and silky. This may not be ideal if you plan to do intricate piping work. Use less cream for a sturdier frosting.
Ways to use peanut butter frosting
It goes great with vanilla cake, chocolate cake, banana cake, vanilla cupcakes, or my favorite chocolate cupcake recipe.
Spread it over brownies.
Sandwich it between soft peanut butter cookies or macarons.
Did you try this recipe? I would love for you to leave me a 5-star rating or comment. This way, I have a better understanding of which recipes you like and can create more of them.
Please take a moment to follow me on Instagram, Pinterest, Facebook, Youtube or sign up for my free newsletter to never miss the newest recipes and blog updates.
You can also shop my favorite baking tools. Thank you so much for your support!