Chocolate Swiss Meringue Buttercream
This post may contain affiliate links. Read the full disclosure here.
Perfect Chocolate Swiss meringue buttercream. This creamy frosting is silky smooth, rich in chocolate flavor, and not cloyingly sweet like chocolate American buttercream.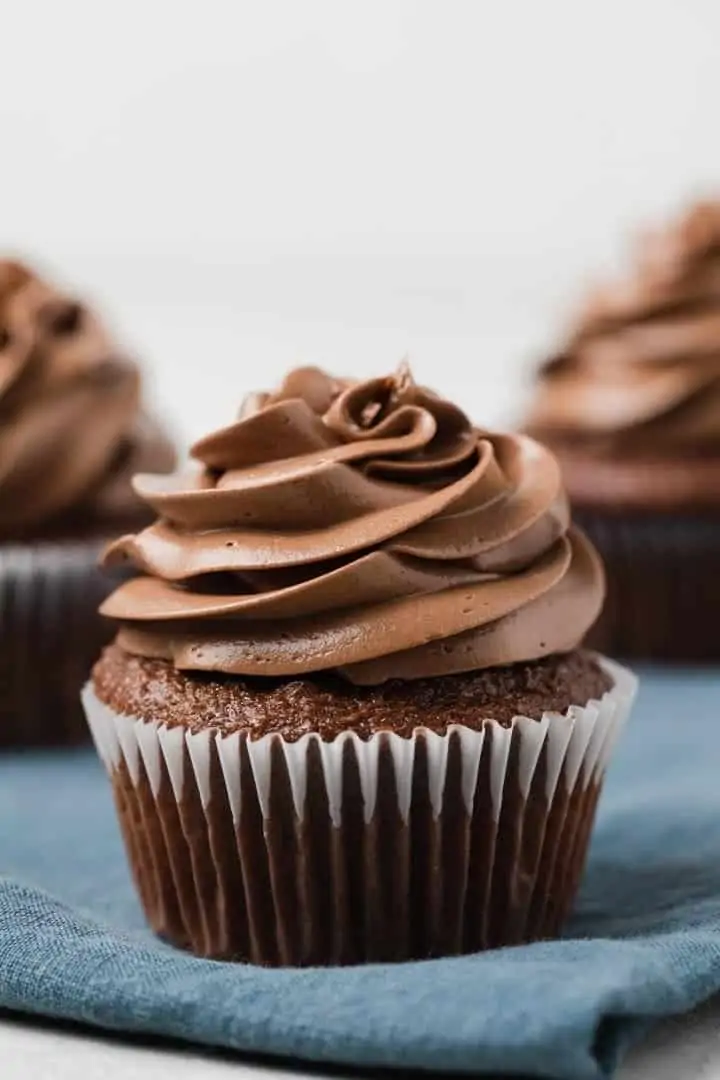 The best chocolate Swiss meringue buttercream
Chocolate Swiss meringue buttercream is a stable frosting that isn't overly sweet. And it's an easy chocolate meringue frosting to make.
Cooked egg whites and sugar make up the base of chocolate Swiss meringue frosting. Then butter, salt, vanilla, and chocolate are added for flavor.
The cooked egg whites and sugar are whipped into stiff glossy peaks, then the butter is slowly added. Once the butter is fully incorporated, vanilla and melted chocolate are mixed in. The result is a lusciously creamy frosting that is extra smooth, creamy, and not overly sweet.
It takes time to whip this frosting and errors can occur. But, I've outlined exactly how to achieve success and what to do if something goes wrong.
Why this Swiss buttercream recipe works:
The perfect ratio of egg whites and sugar creates a not-so-sweet meringue base.
A good amount of butter is slowly added to give the frosting it's silky texture.
Melted and cooled chocolate is added at the very end and the result is the silkiest frosting ever with tons of chocolate flavor.
While the recipe calls for semisweet chocolate, you can use milk chocolate, dark chocolate, or bittersweet chocolate. White chocolate also works well!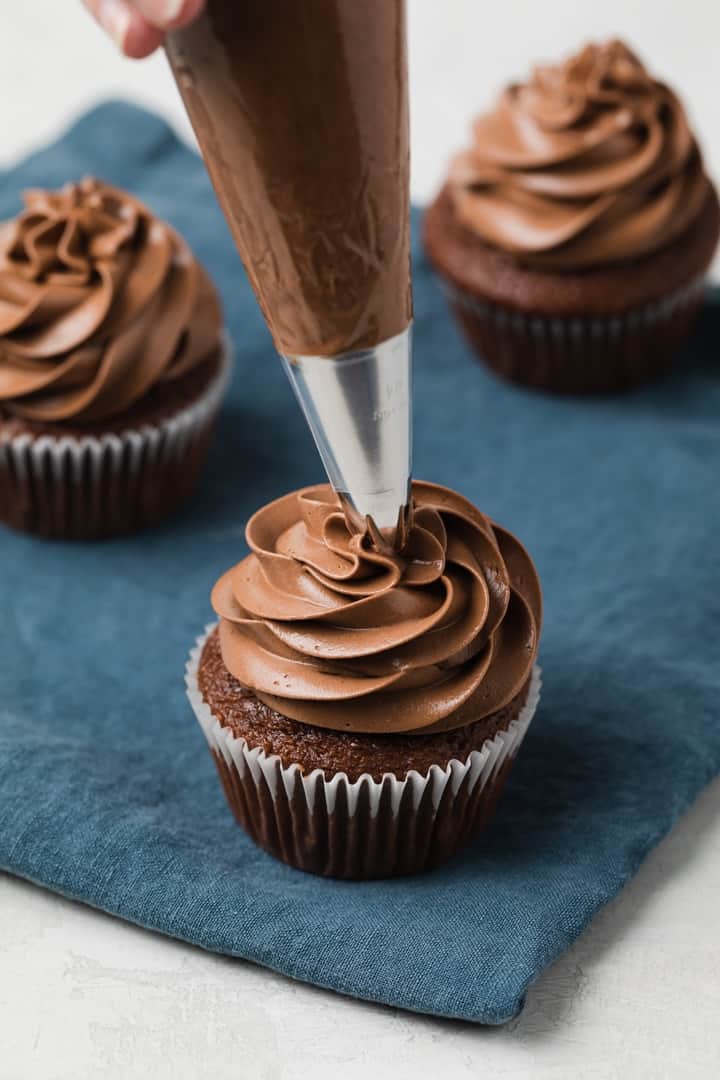 Chocolate Swiss meringue buttercream ingredients
Swiss meringue buttercream requires a handful of ingredients to make the base of the frosting. Once the base is made, you can add melted and cooled chocolate to create the silkiest chocolate buttercream of your life.
Egg whites: Egg whites are combined with sugar to make the meringue. Avoid using carton egg whites as they are difficult to whip up. And it's easier to separate the whites from the yolks while the eggs are still cold.
Sugar: Use regular granulated sugar. Confectioners' sugar will not work with this recipe.
Butter: I prefer unsalted sweet cream butter but regular butter works also. The butter must be cut into 1 tablespoon-sized pieces and it should be at room temperature.
Vanilla extract: I like to add a splash of good quality vanilla even though this is a chocolate frosting. You can skip it if you wish.
Salt: Salt is a personal preference when it comes to SMBC. I always add a pinch to any frosting recipe. It deepens the flavor and ties everything together.
Chocolate: Use high-quality baking chocolate. Avoid using chocolate chips, compound chocolate, or melting wafers. They won't give you the best results in the frosting. Melt and cool your chocolate before you start making the buttercream.
---
How to make chocolate Swiss meringue buttercream
The process of making chocolate SMBC is exactly the same as if you were making basic Swiss frosting.
Step 1: Thoroughly clean all tools
This means you must wash and dry the mixing bowl and beaters. Also, wipe them down with vinegar to cut any residual grease. Even the smallest amount of greasy residue will prevent the egg whites from whipping up.
Step 2: Heat the egg whites and sugar
Heat the egg whites, sugar, and salt in the bowl of a stand mixer set over a pot of barely simmering water. You only need about 1 inch of water in the pot and make sure the bottom of the bowl isn't touching the water.
Whisk gently but continuously as you heat the mixture to 150°F on an instant-read thermometer.
Step 3: Whip the meringue
Transfer the bowl to the stand mixer and whip on medium speed until the mixture has cooled and is the consistency of shaving cream. It will be thick, glossy, and retain stiff peaks.
You'll know the meringue is cool enough when the outside bottom of the bowl isn't warm to the touch.
Step 4: Add the butter
Once the meringue is cool, start adding the butter. Add 1 tablespoon at a time with the mixer on medium speed.
And don't add the next piece of butter until the previous one is fully mixed in.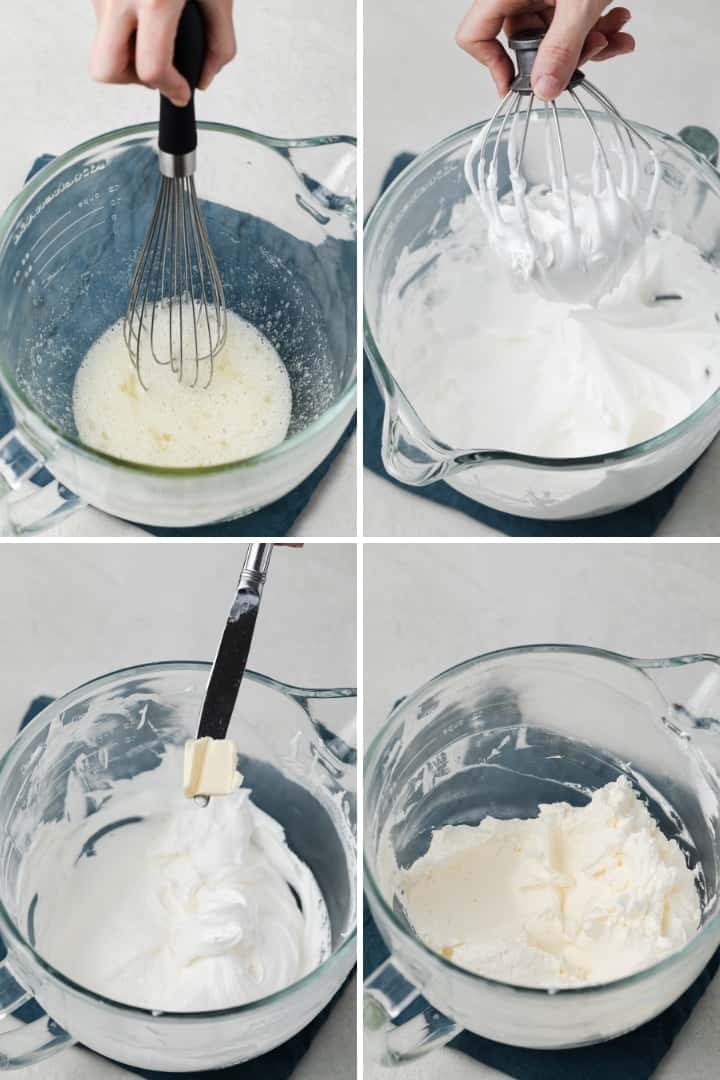 Step 5: Add the chocolate
Add the melted and cooled chocolate plus the vanilla. Mix on medium speed until fully combined.
Turn the speed up to medium-high and whip until light and fluffy. This should only take about 30 seconds.
Important tip: Don't be alarmed if the buttercream starts to look curdled once you add the butter. This is normal.
Continue to let the frosting mix until it comes back together. And don't add the chocolate until the buttercream base is smooth and creamy.
---
Equipment needed
There are a few kitchen tools needed to make chocolate SMBC. While some of these items are completely optional, others are an absolute must!
Stand mixer: A stand mixer is best for making meringue buttercream. I've read that you can use a handheld electric mixer but keep in mind that it will take a significant amount of time to whip the meringue into stiff peaks. I've had no success using a handheld mixer.
Whisk attachment: You'll need the whisk attachment for the stand mixer in order to whip the egg whites properly.
Whisk: A large balloon whisk is great when heating the egg whites and sugar over a double boiler.
Silicone spatula: A large silicone spatula is also great for scraping down the sides of the bowl.
Instant read thermometer: If you have never made Swiss meringue before, an instant-read candy thermometer will be most helpful. Use it to test the temperature of the butter and the cooked egg whites.
Pot or saucepan: You'll need a medium-sized pot to set the mixing bowl over in order to cook the egg whites. You'll use the mixing bowl from your stand mixer so make sure the pot is wide enough for the bowl to sit over the top without going too far into the pot.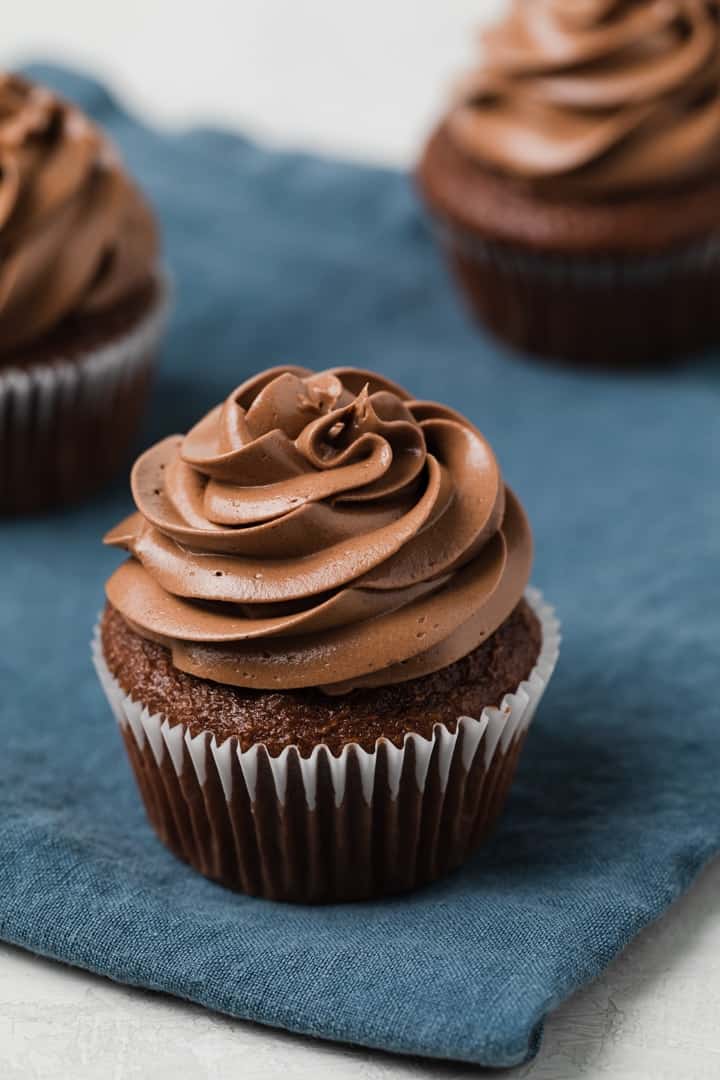 Helpful Tips
Plan ahead. The butter must be softened slightly. This means it will need to sit at room temperature for 30-40 minutes to become soft enough to use.
Prep your work station. It's good practice to measure all the ingredients and have them set out before you begin. Also, set out all the tools you will need.
Use high-quality ingredients. The quality of the ingredients you use will make all the difference. Choose real baking chocolate, not chocolate chips or compound chocolate.

Also, use quality unsalted butter. I prefer sweet cream butter but regular butter will work just as well.

Cool the melted chocolate. Do not add the melted chocolate to your buttercream until has cooled to the touch. If the chocolate is warm, it will melt the frosting causing it to curdle or turn to soup.
Switch up the chocolate. The recipe calls for semisweet chocolate but you can use milk chocolate, bittersweet chocolate, dark chocolate, or white chocolate as long as it's real chocolate in bar form.
---
Troubleshooting Swiss meringue buttercream
A lot can go wrong when making Swiss meringue buttercream or at least you might think it went wrong. But for most issues you may run in to, there are simple tricks to help get your buttercream back on track.
Meringue won't whip to stiff peaks: If your meringue (the cooked eggwhite mixture) isn't reaching stiff peaks after mixing on medium speed for 2 minutes, it's quite possible the egg whites were contaminated with traces of egg yolk or grease/oil.
You can try letting it whip for a few more minutes but if it's still not reaching stiff peaks, you'll need to start over with clean tools. It's helpful to wipe the mixing bowl, beater, whisk, and/or spatula with vinegar after they've been thoroughly washed and dried.
Curdled buttercream: It's quite normal for Swiss meringue to curdle or separate as the butter is being added. This is perfectly normal. If you added all the butter and the frosting still looks curdled, it's a good idea to walk away for 5 minutes and let it keep mixing. The majority of the time, it will come together.
If the frosting is still curdled after walking away for 5 minutes, you can still salvage it.
Use a hairdryer. While the mixer is running on medium speed, heat the outside bottom of the bowl with a hairdryer. Once the frosting starts to come together, turn the hairdryer off and continue mixing on medium-high speed until it's light and fluffy.
Use the microwave. Place about ⅓ cup of curdled frosting into a microwave-safe bowl and microwave it for about 15-30 seconds. Whisk it and add it back to the frosting in the mixing bowl. Beat on medium speed until the frosting comes together. Turn the speed up to medium-high and mix until it has thickened.
Thin, soupy buttercream: Thin or soupy frosting is the result of the meringue being too warm or the butter being too warm. This is easily fixable by placing the entire bowl with the whisk attachment in the refrigerator for 20 minutes. Rewhip the mixture on medium-high speed until it has thickened.
---
Ways to use chocolate Swiss meringue buttercream
Slather it over layer cakes:
Pipe it onto cupcakes:
Sandwich it between cookies:
You've got this!
You're now well-equipped with everything you need to make chocolate Swiss meringue buttercream. You know exactly what ingredients to use and steps to take to achieve success.
Happy Baking! Or I should say, happy whipping.
Did you try this recipe? I would love for you to leave me a 5-star rating or comment. This way, I have a better understanding of which recipes you like and can create more of them.
Please take a moment to follow me on Instagram, Pinterest, Facebook, Youtube or sign up for my free newsletter to never miss the newest recipes and blog updates.
You can also shop my favorite baking tools. Thank you so much for your support!
Slightly adapted by The Cake Bible, page 236.