This post may contain affiliate links. Read the full disclosure here.
This homemade Birthday Cake recipe features a soft, delicate vanilla cake with homemade chocolate frosting. It's just like the one from childhood birthday parties!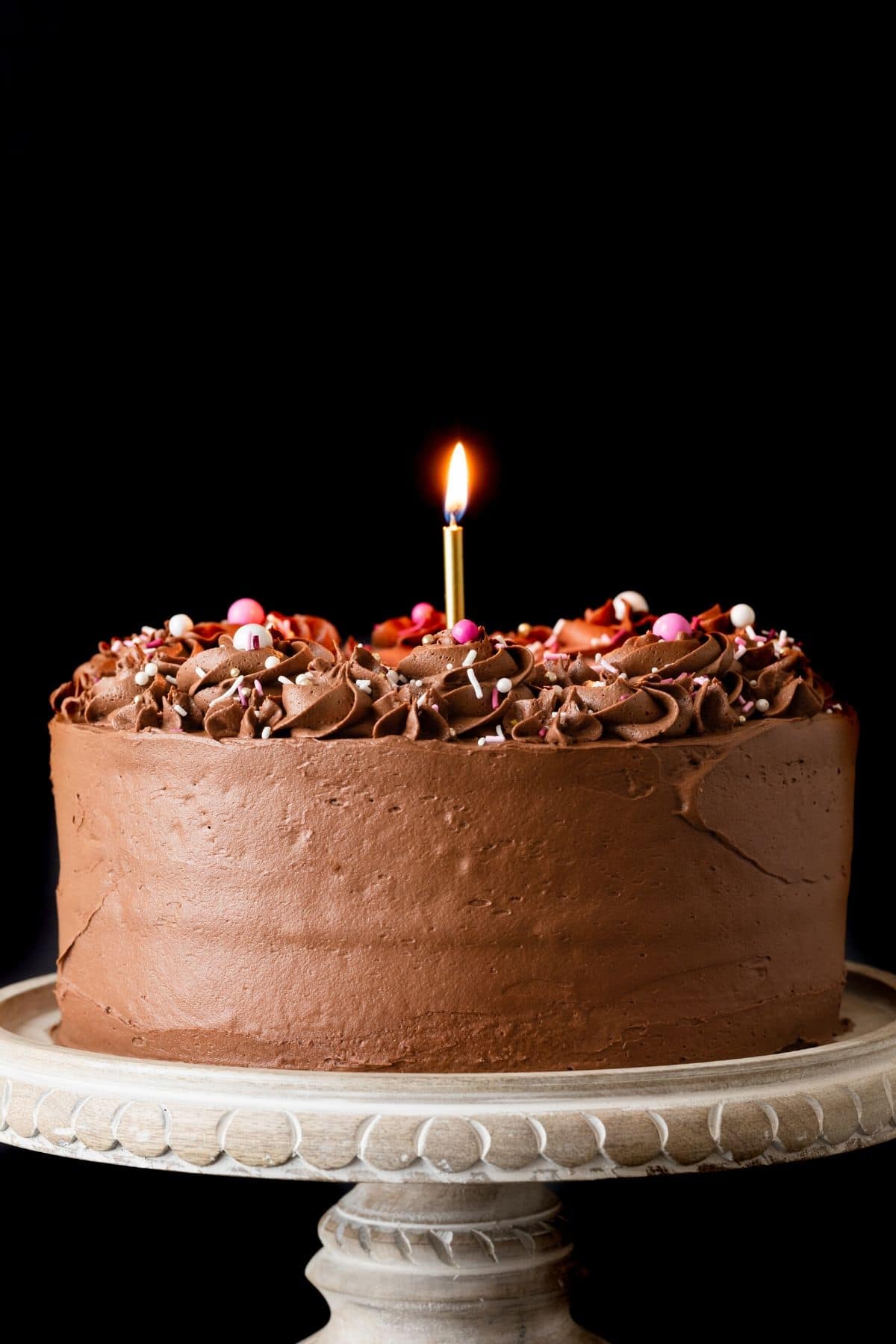 This simple birthday cake tastes like it was made in a bakery. The crumb is incredibly soft and moist. It's loaded with vanilla flavor. And the rich chocolate buttercream frosting is absolute perfection.
The idea of a layered cake with chocolate frosting was inspired by Smitten Kitchen. With swirls of chocolate frosting piped on top and a few fancy sprinkles, my recipe turns a classic cake to a festive party dessert.
The yellow cake portion is adapted from my basic vanilla cake and chocolate cake recipes. I wanted the texture to be softer and the crumb to not be as tight so I used all-purpose flour instead of cake flour.
I also wanted the vanilla flavor to really shine through so I added an extra tablespoon of vanilla extract.
Make sure to choose a quality brand since this is the main flavoring for the cake. Nielsen-Massey is what I always reach for when I don't have homemade vanilla on hand.
I used my favorite chocolate buttercream to cover the cake. It's creamy, silky, and far from lacking in chocolate flavor. It's hard to resist eating just the frosting…
If you make this cake and enjoy it, you may also really like my funfetti cake. It's super fun and festive for a birthday!
---
Why this recipe works
Oil and butter are used for the cake so it has buttery flavor while remaining moist.
All-purpose flour provides a looser crumb.
Buttermilk adds a slight tang to the cake wish is reminiscent of a classic yellow cake.
The chocolate frosting is slightly adapted from my tried and true recipe. So many of you love that frosting!
---
Watch how to make it
Who invented yellow cake with chocolate frosting as a birthday cake?
I honestly can't answer that. This cake combination has been around for as long as I can remember. You can walk into any bakery and see premade cakes for birthdays on display. Probably half of those cakes will be vanilla cake covered in chocolate frosting.
One of my closest friends said her mom had made this cake combination for her brother as far back as the 1990s. I'm sure you, yourself, went to a birthday party where vanilla cake with chocolate frosting was served.
What makes the cake moist?
The combination of ingredients and how you combine them will ultimately affect how moist the cake turns out. Follow the recipe and use the exact ingredients called for.
It's important to cream the butter and sugar together for at least 5 minutes. Go for 8 to make sure it's creamed really well.
Don't overbake the cake. I can't stress this enough as it's the main reason why cakes come out dry.
No matter what recipe you are using, always start checking the doneness 10 minutes sooner than the recipe calls for. No oven is calibrated exactly the same and most ovens have hot spots.
Main ingredients for the best birthday cake
The great thing about this classic birthday cake is the ingredients are simple and you most likely have them on hand already. Here are a few of the main ones needed…
All-purpose flour – will yield a looser crumb than cake flour.
Butter – adds buttery richness to the cake.
Oil – helps to keep the cake moist.
Eggs – adds structure and moisture.
Vanilla – choose a high-quality brand so your cake layers taste amazing!
Buttermilk – use only full-fat buttermilk for this recipe. It adds richness and moisture.
How to make birthday cake?
Today's birthday cake is made very similar to the marble cake I shared recently. The process of making the yellow cake batter is exactly the same.
Step 1: Make the cake layers
Cream the butter, oil, and sugar together in a large bowl. Then beat in the eggs and vanilla. Combine the dry ingredients and add them to the butter mixture followed by the buttermilk. Mix everything together just until combined.
Divide the batter between two 9-inch cake pans and bake for 20-25 minutes in a 350°F oven.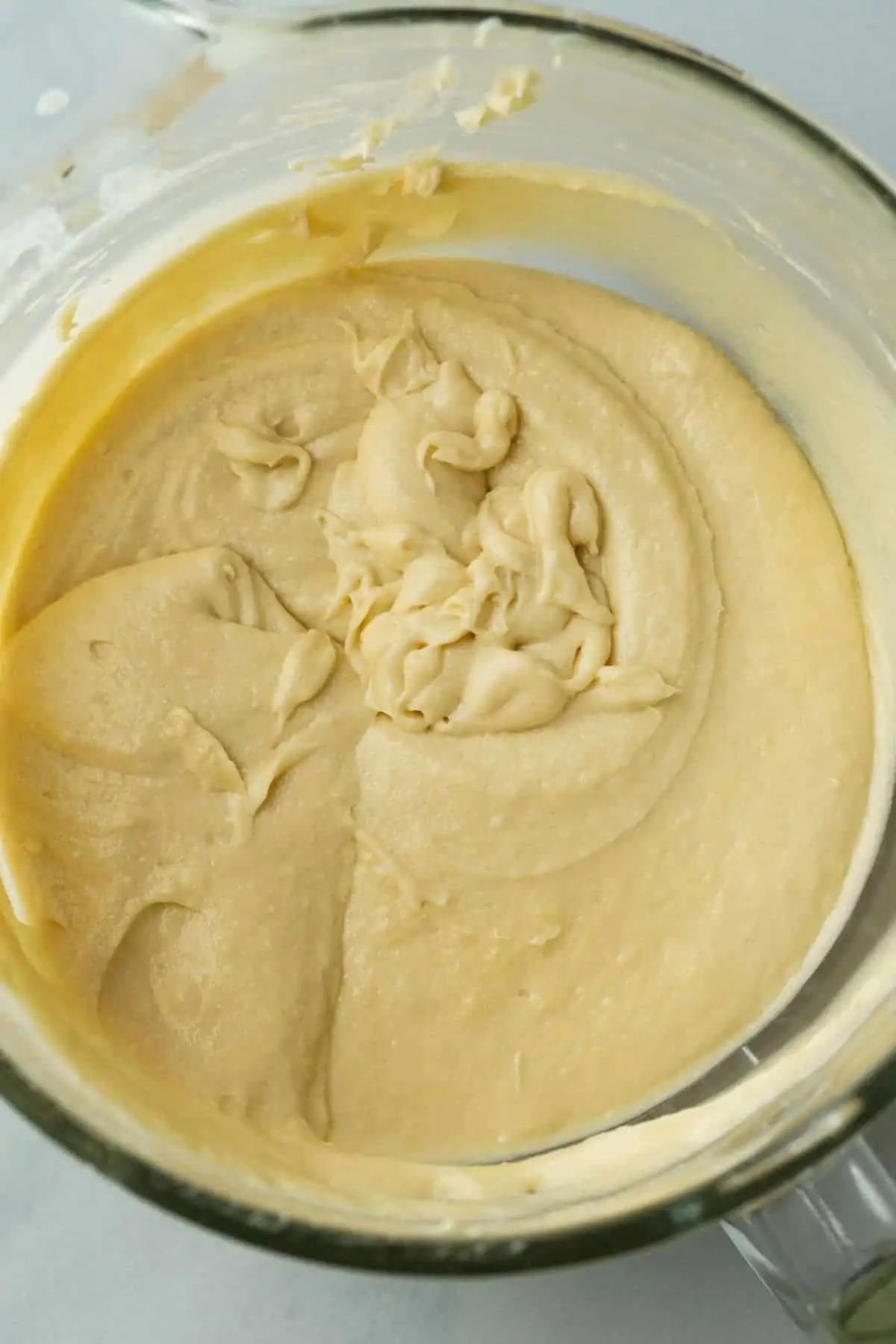 Step 2: Make the frosting
Cream the butter then add cocoa powder and confectioners' sugar. Mix well then add salt, vanilla extract, and heavy cream. Beat until the frosting is light and fluffy.
Step 3: Assemble the cake
Spread frosting over the top of the first layer then add the second layer. Cover the top and sides of the cake with more frosting. You can decorate with sprinkles or piping if desired.
Tips for the best birthday cake recipe
Follow the recipe exactly and use the ingredients that are called for.
Start checking the doneness of the cake about 5 minutes sooner than called for in the recipe. Overbaking will result in a dry cake.
Use bake-even strips so the cake layers bake level. You won't have to cut so much off the top to level the cakes.
Try this cake with a different frosting:
Did you try this recipe? I would love for you to leave me a 5-star rating or comment. This way, I have a better understanding of which recipes you like and can create more of them.
Please take a moment to follow me on Instagram, Pinterest, Facebook, Youtube or sign up for my free newsletter to never miss the newest recipes and blog updates.
You can also shop my favorite baking tools. Thank you so much for your support!
Concept inspired by Smitten Kitchen.