This post may contain affiliate links. Read the full disclosure here.
A showstopping funfetti cake with pillowy soft layers of white cake speckled with colorful sprinkles. Whipped vanilla buttercream frosting encases the cake and more sprinkles are added for decoration.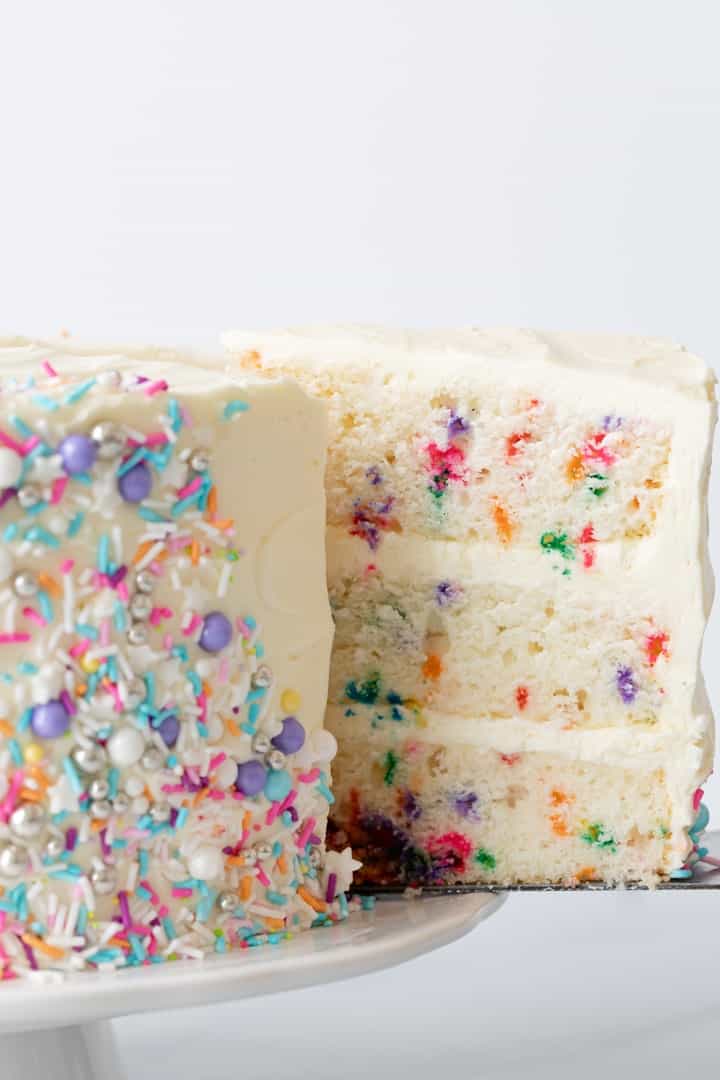 This funfetti cake recipe is probably the most fun birthday cake to celebrate with. It's cake number 6 in this year's cake month.
That's right. We're celebrating the entire month of July in honor of my birthday. I've made all sorts of cakes so far.
Strawberry shortcake cake, vanilla cupcakes, marble cake, strawberry shortcake, and strawberry mousse cake have been huge hits with you and I'm sure you are also going to love today's homemade funfetti cake.
This is the best funfetti cake recipe I've tried. The cake is soft, fluffy, and full of vanilla flavor. The vanilla frosting is whipped so it's supremely soft. It's the perfect addition to such a lovely cake.
Why this recipe works
Using all egg whites in the cake makes it lighter and spongier. Unlike my white cake, though, this recipe doesn't call for whipping the egg whites to soft peaks first. That's one less step you have to worry with.
Rainbow sprinkles similar to these are what I used to for the cake batter. I actually used the Walmart brand for mine because I found they taste the best.
The frosting is whipped with a little extra cream so it's light and soft. It reminds me of whipped cream only sturdier. It will firm up slightly as it sits but the way it melts across the tongue is purely divine.
Funfetti Cake Recipe
I couldn't be more pleased with how this light and fluffy funfetti cake recipe from scratch turned out. It's fluffy, moist, and tastes amazing. White cake is probably one of my favorites anyway. But when you add rainbow sprinkles, it just seems to taste better.
Then a lush vanilla frosting is added and you end up with the best cake you've ever had! I promise you will never reach for store-bought funfetti cake mix again.
---
Funfetti Cake Ingredients
Most funfetti cake recipes call for similar ingredients. You need staple ingredients to make the white cake layers plus sprinkles that actually taste good, and the right ingredients for a delectable frosting.
Butter: I always use unsalted sweet cream butter in my baked goods. I prefer unsalted so I can control the amount of salt that goes into the recipe. And sweet cream butter tastes the best in cakes.
Sugar: Regular granulated white sugar is needed for the cake. And confectioners' sugar is needed for the frosting.
Egg whites: Typically, I'd preach how important it is to make sure there is absolutely no trace of yolk in the whites. That's important when whipping the whites but we skip this step in today's recipe. If you get a little yolk in the whites while separating them, that's perfectly okay. If you get a lot of yolk in the whites, try to spoon most of it out. But you don't need to through all the whites away and start again.
Vanilla extract: Use a high-quality pure vanilla extract or make your own vanilla. This will give you the best flavor. Or you can use clear vanilla if you want the cake to be stark white.
Flour: Cake flour will give you the very best texture. It produces a tight crumb that is fine and soft.
Leavening: I chose to use only baking powder in this recipe. Sometimes I'll add a little baking soda when using buttermilk but I find that it produces more air bubbles and leaves the cake with large holes. This happens even with tapping the pans to burst the bubbles before baking.
Salt: A little is used to balance the sweetness.
Buttermilk: Make sure to use full-fat buttermilk and not low-fat. It won't produce the same results. Also, avoid substituting with regular milk. The buttermilk will give you a softer texture with a very slight tang.
Sprinkles: Rainbow sprinkles work best but be careful with the brand you choose. I had some that tasted awful and they completely ruined the cake. I prefer these from Walmart. They don't really taste like much and blend seamlessly with the flavor of the cake.
Heavy Cream: A good amount of heavy cream goes into the frosting to make it lighter.
To bake this cake you'll need:
8-inch pans: I baked the cake layers in three 8-inch round pans. I prefer the aluminum pans over any other type of cake pans.
Stand Mixer: I can't live without my KitchenAid Stand Mixer. It makes mixing cake batter and frosting so easy.
Silicone Spatula: My favorite spatulas are these OXO ones. I love that they are one whole piece so no grossness gets trapped where the handle meets the silicone head.
---
How to make Funfetti Cake (Confetti Cake)
It's super easy to make a homemade funfetti cake. The recipe comes together quickly and the cake layers only take about 25 minutes to bake. Maybe less depending on your oven.
It's important to have the oven preheated for at least 30 minutes before making the cake. And all the ingredients should be at room temperature. Set the egg whites, butter, and buttermilk out on the counter for 1 hour before you begin baking.
The Batter – The vanilla cake batter comes together in just a few minutes and requires two bowls, a mixer, and a spatula.
The Frosting – Make the frosting while the cake is cooling and you'll be able to frost it right away.
Step 1: Make the cake
Start by beating the room temperature butter and sugar together for about 5 minutes on medium speed. The mixture should appear lighter in color and doubled in volume.
Beat in the egg whites, one at a time. Mix on low speed for about 20 seconds after each addition. Then beat in the vanilla extract.
Combine the cake flour, baking powder, and salt in a separate bowl. Use a whisk to stir everything together until well combined. You want to make sure the baking powder is evenly distributed throughout the flour.
Add half the flour mixture into the butter mixture and mix beat on low speed until almost fully combined. Add the buttermilk then add in the remaining flour mixture. Beat on low speed until just combined.
Take care not to over mix the batter. As soon as no streaks of dry flour are visible, stop mixing!
Use a silicone spatula and carefully fold in the sprinkles until they are evenly distributed throughout the batter.
Step 2: Bake the cake
Lightly grease and flour your pans then line the bottoms with a piece of parchment paper cut to fit. Lightly grease and flour the parchment paper as well. This ensures the cake does not stick to the pan.
Divide the batter evenly between the pans and use an offset spatula to level the top.
Bake the cakes for 20-25 minutes. This may vary depending on your oven. The cakes are done baking once a toothpick inserted into centers comes out with only a few moist crumbs attached.
Take care to not over bake the cakes. If the toothpick comes out completely clean, the cake may be over baked and dry.
Let the cakes cool in the pans for 10 minutes. Then, turn them out onto a wire rack and allow them to cool completely.
Step 3: Make the frosting and frost the cake
Since the frosting is slightly adapted from my vanilla buttercream, I'm not going to go into details on how to make it. I've modified the ingredient ratio slightly but the process is exactly the same.
Set one cake layer on a serving platter and top with frosting. Place the second cake layer over the top and cover that one with frosting as well. Position the third cake layer on top and cover the entire cake with the remaining frosting.
Decorate the cake with more sprinkles if desired. I chose to use different sprinkles for decorating the outside of the cake. I prefer the look of the fancier sprinkles.
How to store funfetti cake?
Keep the cake covered in an airtight container or cake keeper. The cake will stay fresh for up to 3 days at room temperature or up to 5 days in the refrigerator. Bring to room temperature before serving.
The cake can also be frozen for up to 3 months. Thaw in the refrigerator overnight and bring to room temperature before serving.
---
How to I get neat slices out of my cake?
My trick for cutting such clean slices is to refrigerate the cake for at least 1 hour after frosting and decorating it. Cold cakes slice neater because the frosting and cake are firmer.
Once you make the cuts in the cake, let it return to room temperature before serving.
Tips for making homemade funfetti cake
Properly measure the flour. Don't scoop the flour directly out of the bag with the measuring cup. Since flour compacts, this method will add too much flour to the recipe. It's best to weigh the flour for the most precise measurements.
Choose the rainbow sprinkles carefully. Some brands taste awful and will ruin the cake.
Use bake even strips to bake perfectly level cake layers.
If you like this funfetti cake, you'll love these other cake recipes:
Did you try this recipe? I would love for you to leave me a 5-star rating or comment. This way, I have a better understanding of which recipes you like and can create more of them.
Please take a moment to follow me on Instagram, Pinterest, Facebook, Youtube or sign up for my free newsletter to never miss the newest recipes and blog updates.
You can also shop my favorite baking tools. Thank you so much for your support!