This post may contain affiliate links. Read the full disclosure here.
This White Cake with Buttercream Frosting is not only moist but light and tender. This is one "made from scratch" cake that must be added to your recipe collection!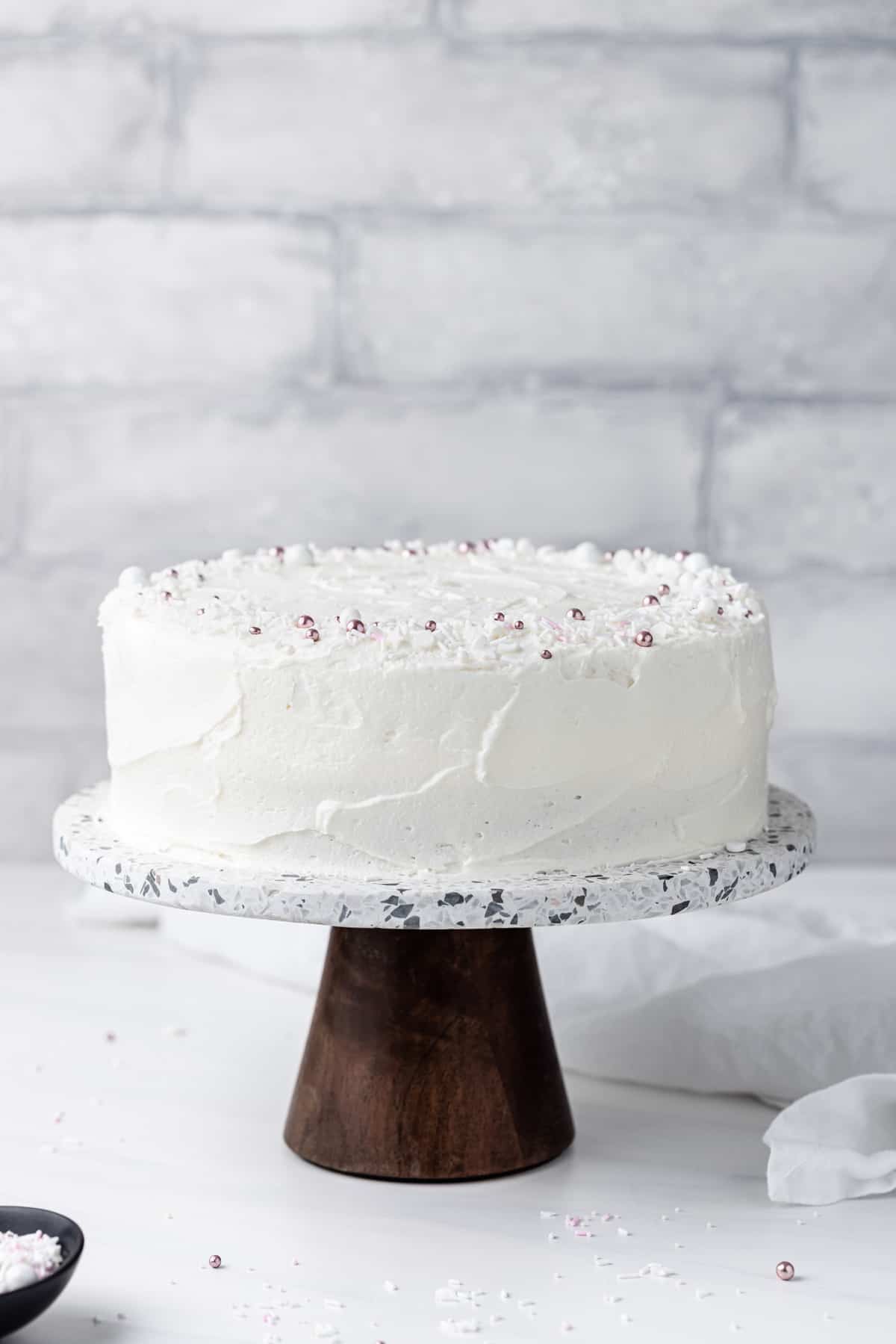 The Best White Cake Recipe
Baking a white cake that's full of moisture and has a soft and tender crumb isn't all that difficult. It's really not much different than making my basic vanilla cake, which I must say, is my most popular recipe.
It's tried and true! Just take a look at all the photos from everyone who's tried it on Pinterest.
I took all the concepts I learned through making the perfect vanilla cake and used them to create the Best White Cake Recipe. I know so many of you hate the word moist, but how else am I supposed to describe a cake that is so far from dry, it sticks to your fork.
There is no other way!
Whipping egg whites to soft peaks and folding them into the batter is what gives the cake its phenomenal texture. The batter is then flavored with hints of almond and vanilla extracts. Vanilla buttercream with the addition of almond extract is the perfect way to frost the cake.
I hate to brag but, I must say, this truly is the best white cake recipe you'll ever try! (And trust me, I've tried many!)
What You'll Need
Both the moist white cake and buttercream frosting are made with simple pantry staples!
Egg – Only egg whites are used in this recipe. Yolks will weigh down the cake and give it a yellow color.
Granulated sugar – Sugar should be divided.
Butter – Unsalted butter is best.
Extracts – Both vanilla and almond extract give a light flavor to this white cake.
Cake flour – I do not recommend substituting any other type of flour!
Baking powder – Helps create the light, fluffy texture.
Salt
Buttermilk – Buttermilk also helps create a soft cake crumb.
Confectioners' sugar – Sift first, to prevent any clumps.
Heavy cream – Use just enough to create the perfect frosting consistency.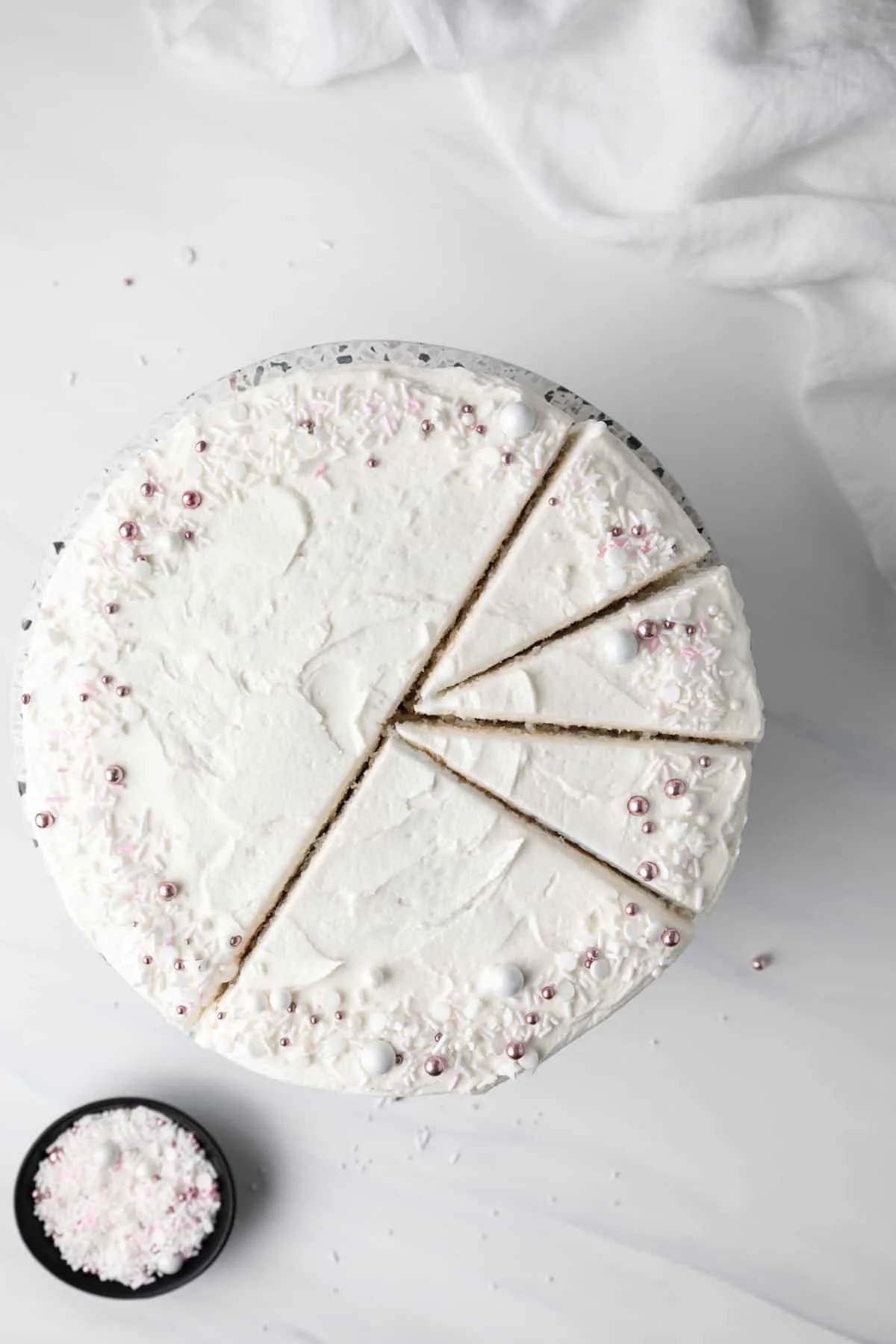 How to Make White Cake with Buttercream Frosting
This decadent cake is simple to make! Just be sure to fully complete each step and not skimp on the time needed to whip or cream ingredients!
Whip the egg whites into soft peaks. Beat egg whites until foamy, then add in ½ cup sugar while the mixer is running. Turn the mixer to high until the egg whites are whipped into soft peaks.
Combine other ingredients. Beat the butter and sugar until light and fluffy, then add in the vanilla and almond extracts. In a separate bowl, combine the dry ingredients. Alternate adding the dry ingredients and the buttermilk to the butter mixture. Whisk in ½ of the egg whites, then gently fold the rest in with a spatula.
Bake. Divide the batter into two greased and lightly floured pans. Bake for 20-30 minutes, until a toothpick comes out with a few moist crumbs.
Cool. Cool for 10 minutes in the pans then transfer to a wire rack.
Important Note: Because this recipe uses whipped egg whites, the baked cake will deflate slightly once removed from the oven. This is normal! You will have 2 layers that are about 1.5 inches tall.
Make the buttercream frosting. Beat the butter until pale and creamy. Add half of the confectioner's sugar at a time, beating on low until moistened then increasing the speed. Add the extracts and salt. Slowly add 3 tablespoons of the heavy cream, beating 3-5 minutes until well-incorporated. Add cream ½ tablespoon at a time until desired consistency is reached.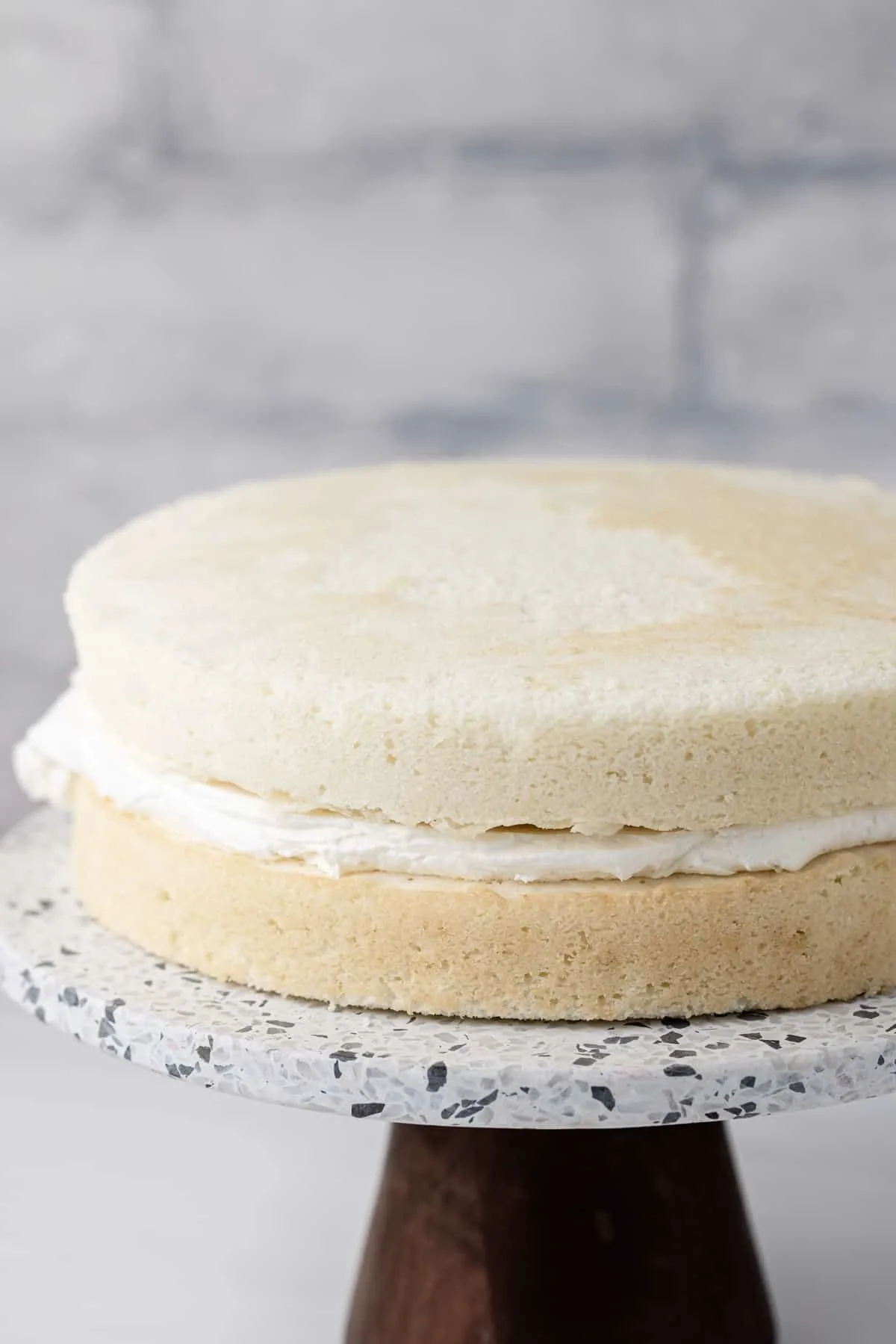 Assemble the cake. Place one cake on a serving platter and spread ½ cup frosting on top. Add the second cake and spread the remaining frosting over the top and sides.
---
How to Keep Homemade White Cake Moist
Don't overbake the cake! Leaving the cake in the oven any longer than needed will dry it out.
Use a toothpick or wooden skewer to test the doneness of the cake. If the toothpick comes out with wet batter on it, it needs more baking time.
If the toothpick comes out with a few moist crumbs on it, it's perfectly baked and needs to be removed from the oven.
Unfortunately, if the toothpick comes out completely clean, I'm sorry to say, you've overbaked the cake and it will be dry.
It's always best to start checking the cake 5-7 minutes sooner than the bake time listed in the recipe.
Tips for Success
Though this white cake recipe is simple, you do want to take your time and not rush the process or skimp on ingredients. Here are a few things to keep in mind while making this moist cake!
When mixing the ingredients together, don't over mix. Mix just until the ingredients are incorporated. Any longer than that and you'll start the process of gluten development which will yield a denser, tougher cake texture.
Cake flour is necessary for this recipe. Do not use anything other than that! The low protein content in cake flour means less gluten development which is only going to enhance the soft texture of the cake. Cake flour can be found in the baking aisle with all the other flours. If for some reason you can't find it, here's how to make homemade cake flour.
Use room temperature ingredients. Set the eggs, butter, and buttermilk out on the counter for at least an hour before you begin to make the cake.
Switch up the almond extract. There are no substitutions with the base of this white cake recipe. However, you can omit the almond extract or replace it with any other flavor extract or essence.
Use clear vanilla extract. Make sure to use clear vanilla extract if you want the cake to be as white as possible. You can find it at your grocery store in the baking/spice aisle.
Make sure to whip the egg whites to soft peaks. When you turn the beaters over, the tip of the egg whites will curl over a bit. Under whipping will prevent the cake layers from rising to their full potential. Over whipping will compromise the cake's final texture.
Serving Suggestions
Topped with that decadent buttercream frosting, this homemade white cake is completely dreamy on its own! For an extra special touch, add some sprinkles to the edge. Enjoy at room temperature for a dessert you won't forget anytime soon.
---
How to Store
If you want to bake the cake in advance, you can store cooled cake layers in the fridge for up to 2 days. Just wrap tightly in plastic wrap and assemble within 2 days.
Otherwise, leftovers of the fully assembled cake can be kept in the fridge for up to 3 days. Just be sure to keep it covered to avoid the cake or frosting drying it. Bring to room temperature before serving.
---
Can I Freeze This?
Yes, you can store the completely frosted cake for up to 2 months! Just thaw overnight in the fridge and bring to room temperature before serving. This is a great cake to have on hand for last-minute desserts, when you want something nice and a little fancy but have no time!
Did you try this recipe? I would love for you to leave me a 5-star rating or comment. This way, I have a better understanding of which recipes you like and can create more of them.
Please take a moment to follow me on Instagram, Pinterest, Facebook, Youtube or sign up for my free newsletter to never miss the newest recipes and blog updates.
You can also shop my favorite baking tools. Thank you so much for your support!
More Cake Recipes: