Strawberry Shortcake Cake
This post may contain affiliate links. Read the full disclosure here.
This single-layer strawberry shortcake cake recipe features a moist vanilla cake topped with strawberries and whipped cream. It's one summer dessert you don't want to miss!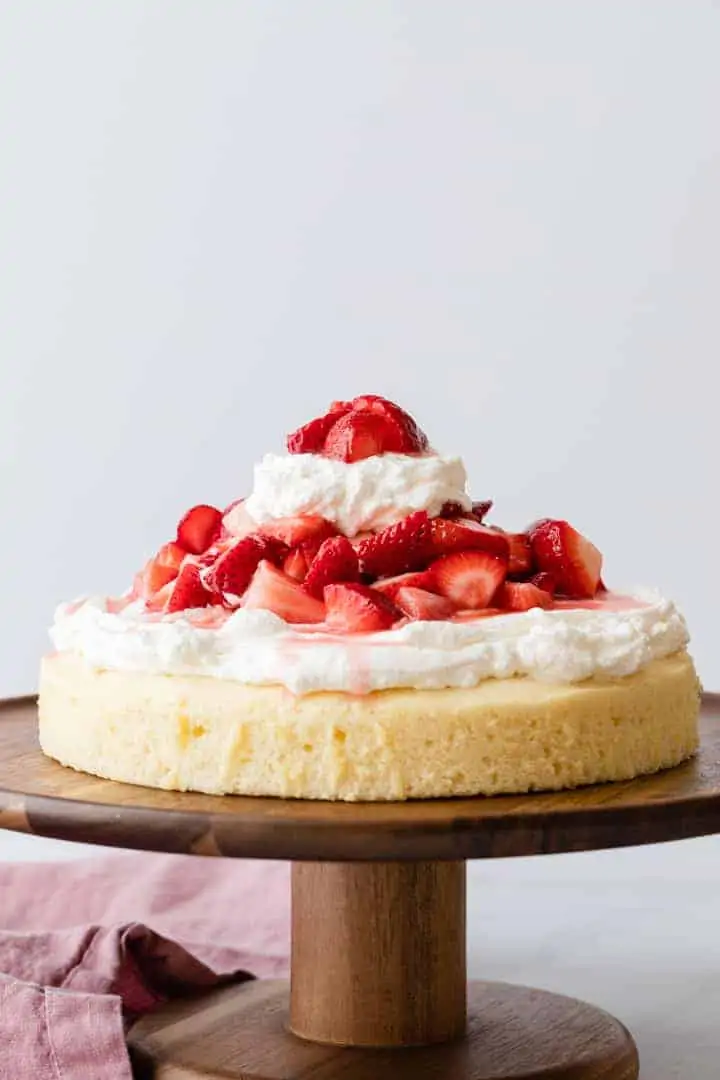 This one-layer strawberry shortcake cake is a fun twist on the classic strawberry shortcake dessert.
Instead of individual servings, I made one single-layer cake, like my fresh strawberry cake, that can be sliced and served. This makes transporting the cake much easier and it looks splendid.
This strawberry shortcake cake recipe celebrates summer ripened strawberries by layering them over a tender vanilla cake topped with homemade whipped cream.
It's pretty simple to make and tastes exactly like the ones I grew up with.
If you are looking for more fresh fruit cakes, try my chantilly cake!
---
Why this recipe works
The cake is incredibly soft and spongy due to the buttermilk and baking soda.
Fresh strawberries coated in sugar will release their juices creating a sweet strawberry syrup that can be drizzled over the finished cake.
Homemade whipped cream with a touch of sweetness balances the cake and leaves you wanting more.
This truly is an incredible strawberry shortcake cake recipe that is so easy and perfect for summer.
---
Watch how to make it
What you need
The cake is made completely from scratch with simple ingredients. You will be able to enjoy this berry-filled cake at home in just a short time.
Ingredients
I adapted my basic vanilla cake to create a moist, fluffier version. It's so soft and almost spongy. The strawberry syrup soaks right into the cake making it even more desirable. Let's discuss the ingredients…
Butter: Unsalted butter is what I always recommend.
Sugar: Regular granulated sugar will give you the best results.
Eggs: Make sure the eggs are at room temperature.
Buttermilk: Will give you the softest texture!
Vanilla: Use a high-quality pure vanilla extract.
Cake flour: Cake flour has a much lower gluten content than all-purpose flour and will yield a delicate cake.
Leavening: I used baking powder and baking soda to give the cake rise and make it ultra-tender.
Salt: To balance the sweetness.
Equipment
These tools are recommended to make the cake.
---
Can I use a box cake mix?
Yes, you can make the cake layer with a boxed cake mix if you wish. Keep in mind that you only need 1 layer, so with a box mix, you'll have an extra cake layer.
You could bake the entire box in a 9×13-inch pan according to the package directions. Top the cooled cake with the strawberries and whipped cream.
How to make Strawberry Shortcake Cake
It's super easy to make this single-layer strawberry shortcake. It takes just a few minutes to whip up the cake batter then the cake bakes for about 20 minutes. Once it has cooled, top it with homemade whipped cream and sweetened strawberries.
Step 1: Make the cake
Start by making sure all the cold ingredients are brought to room temperature. Do this by setting them out for 1 hour before you begin making the cake.
Cream the butter and sugar together on medium speed for 5 minutes until it's light and fluffy.
Add the eggs one at a time and mix for 2 seconds after each addition. Add the vanilla and milk then mix on low speed until combined.
The mixture may look curdled at this point. This is perfectly okay. It will smooth at once you add the flour.
In a separate bowl, whisk the flour, baking powder, baking soda, and salt together. Add it to the butter mixture and beat on low speed just until no visible streaks of dry flour remain.
Spread the batter evenly into a greased 9-inch cake pan and bake at 350°F for 20-25 minutes. A toothpick inserted into the center should come out with only a few moist crumbs attached.
Step 2: Make the strawberry topping
The strawberries are the star of the show here so make sure you have fresh, summer ripened berries.
Remove the green parts from the tops of the strawberries. Chop the berries into quarters and place them in a bowl.
Sprinkle sugar over them gently stir until the berries are evenly coated.
Let the strawberries sit for about 20 minutes at room temperature until they begin to release their juices.
Step 3: Make the whipped cream
I like to use stabilized whipped cream for this cake so it doesn't break down so quickly. This is best when you need to transport the cake or it has to sit out for a few minutes before serving.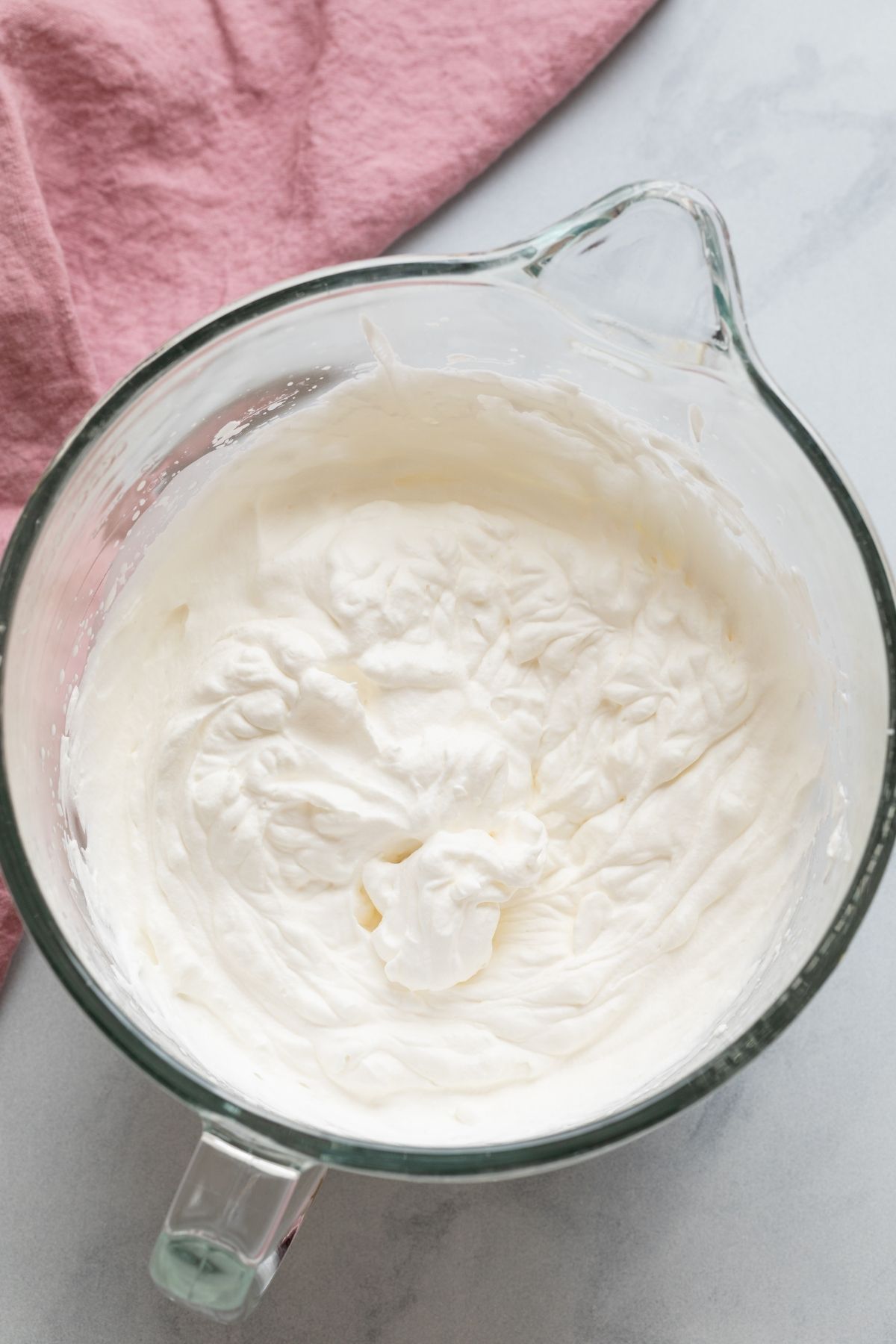 Whip heavy cream, confectioners' sugar, clear piping gel, and vanilla together in a large bowl until stiff peaks are about to form.
I like the cream to be a little firmer than soft peaks but not quite a firm as stiff peaks. This way it will hold its shape longer and stay put on the cake.
Step 4: Assemble the cake
The order that you add the strawberries and cream is completely up to you. The juices from the strawberries will seep into the cake and can make it soggy if you let it sit too long.
My recommendation is if you plan to serve it right away, layer the strawberries first then top with whipped cream.
If you're not planning to serve the cake immediately after assembling it, layer the whipped cream first, then top with the strawberries.
Jen's best tips
Properly measure the flour. Don't scoop the flour directly out of the bag with the measuring cup. Since flour compacts, this method will add too much flour to the recipe.
Use cake flour. Don't try to make the recipe with all-purpose flour. Cake flour will give you the best results.
Don't overbake the cake. This could cause the cake to become dry.
I'm certain if you have a July birthday, you will love to celebrate with this strawberry shortcake cake. It's so light, flavorful, and doesn't feel overly heavy.
Storage & Freezing
To store: Keep the fully assembled cake covered in an airtight container. It will keep for up to 3 days in the refrigerator.
Or wrap the baked and cooled cake layer in plastic wrap and store it at room temperature for up to 2 days. You can also place it in the refrigerator for up to 5 days.
The strawberries can be made 1 day in advance. Keep them covered tightly and store them in the refrigerator.
To freeze: The cake layer can be baked, cooled, and frozen for up to 2 months. Wrap it tightly in a few layers of plastic wrap followed by a few layers of aluminum foil.
Thaw the frozen cake in the refrigerator overnight.
---
More delicious strawberry cakes
If you enjoyed this strawberry shortcake cake you may also like these other delightful desserts.
Did you try this recipe? I would love for you to leave me a 5-star rating or comment. This way, I have a better understanding of which recipes you like and can create more of them.
Please take a moment to follow me on Instagram, Pinterest, Facebook, Youtube or sign up for my free newsletter to never miss the newest recipes and blog updates.
You can also shop my favorite baking tools. Thank you so much for your support!