This post may contain affiliate links. Read the full disclosure here.
This is the perfect, easy stabilized whipped cream to make for all your cakes, cupcakes, and pies. It holds up longer and makes a great alternative to frosting.
While using unflavored gelatin is a popular option, it can leave clumps throughout the whipped cream. You'll find that using piping gel is smooth.
This version is basically foolproof for any baker. You'll find that the piping gel mixes in so easily.
I have found that this recipe can hold its shape for up to a week in the fridge! I wouldn't recommend keeping it that long, but the staying power is real.
You'll be so impressed you'll want to tell all your friends how to make stabilized whipped cream with my recipe!
---
Why this recipe works
Piping gel preserves homemade whipped cream for future use.
The texture of the piping gel mixes in smoothly without leaving clumps.
My recipe is so easy and foolproof. It'll become your go-to frosting alternative.
What you need
The piping gel is the star of the show creating a smooth and easy finished product. Let's discuss just a few of the key ingredients:
Ingredients
This is a short overview of the ingredients I used and why I chose them. The full recipe can be found at the bottom of the post!
Heavy whipping cream: This ingredient is the main character of this recipe. Make sure to use it cold.
Powdered sugar: This adds sweetness to the recipe.
Vanilla extract: You'll notice that this adds a sweet, woody flavor and aroma to the whipped cream.
Piping gel: This is the key to preserving the whipped cream and creating a clump-free texture.
Equipment
This is a list of tools I used to make the recipe. Some of the links are affiliate links.
---
How to make stabilized whipped cream
1. Whip Until Frothy
Combine the main ingredients and whip until just foamy.
Whip together cream, confectioners' sugar, piping gel and vanilla with an electric mixer in a mixing bowl.
Then, continue on medium-low speed until just foamy.
2. Whip To Stiff Peaks
You'll continue mixing the ingredients until stiff peaks form in it.
Turn up your electric mixer to medium-high speed.
Then, continue to whip until cream forms medium to stiff peaks.
When it starts to thicken, avoid overmixing. It can make the cream become lumpy and butter-like.
Use immediately on your favorite dessert or frost a cake. Make sure to put your dessert in the fridge until ready to serve.
Jen's Best tips
Chill a stainless steel bowl in the freezer for 30 minutes before whipping the cream in it. This results in full, fluffy whipped cream.
Don't overbeat the whipping cream. It may develop a lumpy, butter-like texture.
I would recommend storing it in the fridge. However, it can hold up at room temperature for a couple of hours.
Tint the whipped cream by mixing food coloring into the gel before adding it to the cream.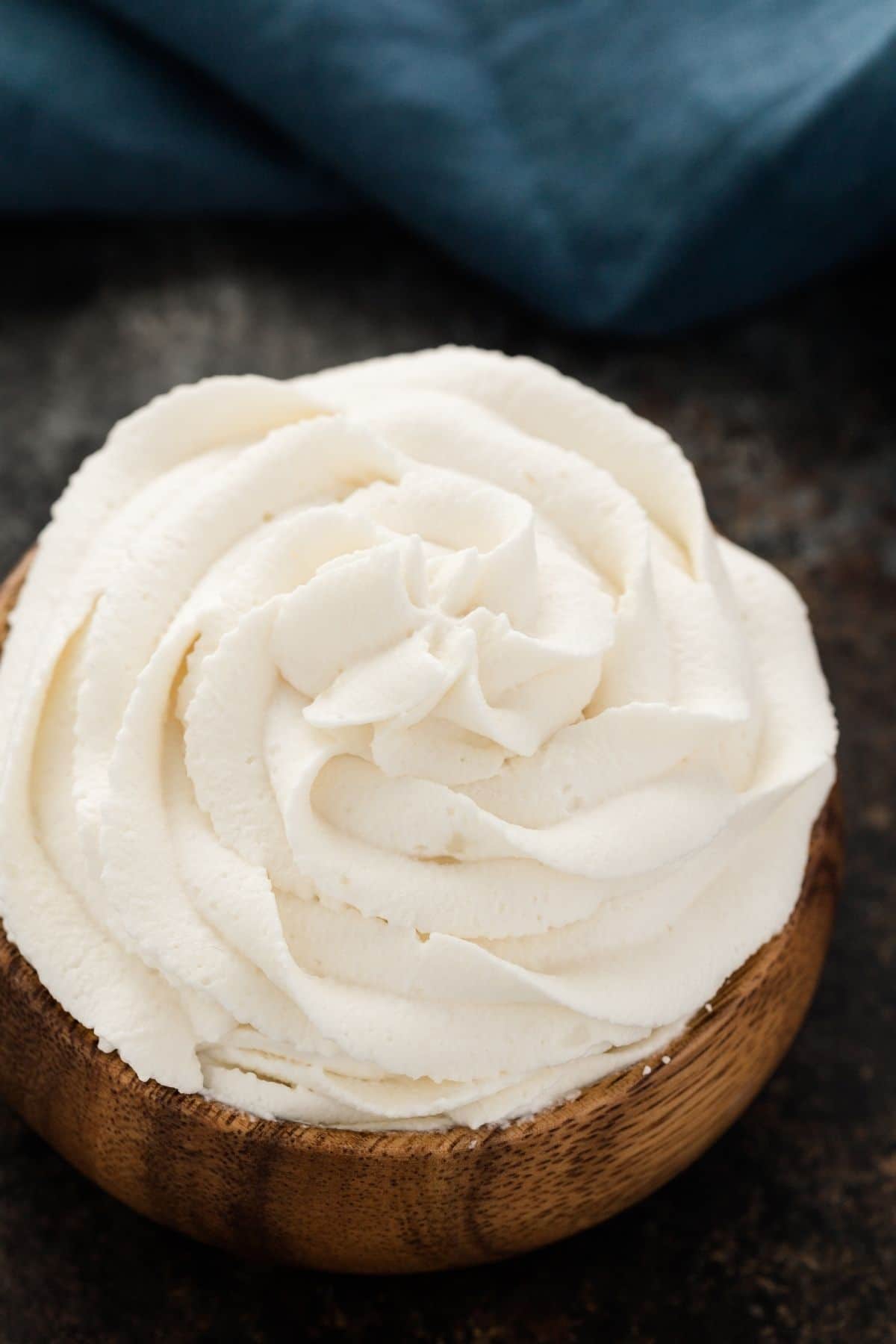 Different ways to use this recipe
I absolutely adore this recipe as a replacement for frosting. These are some of my favorite recipes to use it on.
---
Watch how to make it
Did you try this recipe? I would love for you to leave me a 5-star rating or comment. This way, I have a better understanding of which recipes you like and can create more of them.
Please take a moment to follow me on Instagram, Pinterest, Facebook, Youtube or sign up for my free newsletter to never miss the newest recipes and blog updates.
You can also shop my favorite baking tools. Thank you so much for your support!