Swiss Meringue Buttercream
This post may contain affiliate links. Read the full disclosure here.
Learn how to make the silkiest Swiss meringue buttercream with this step-by-step tutorial and video. You'll never want any other type of frosting after you try this one!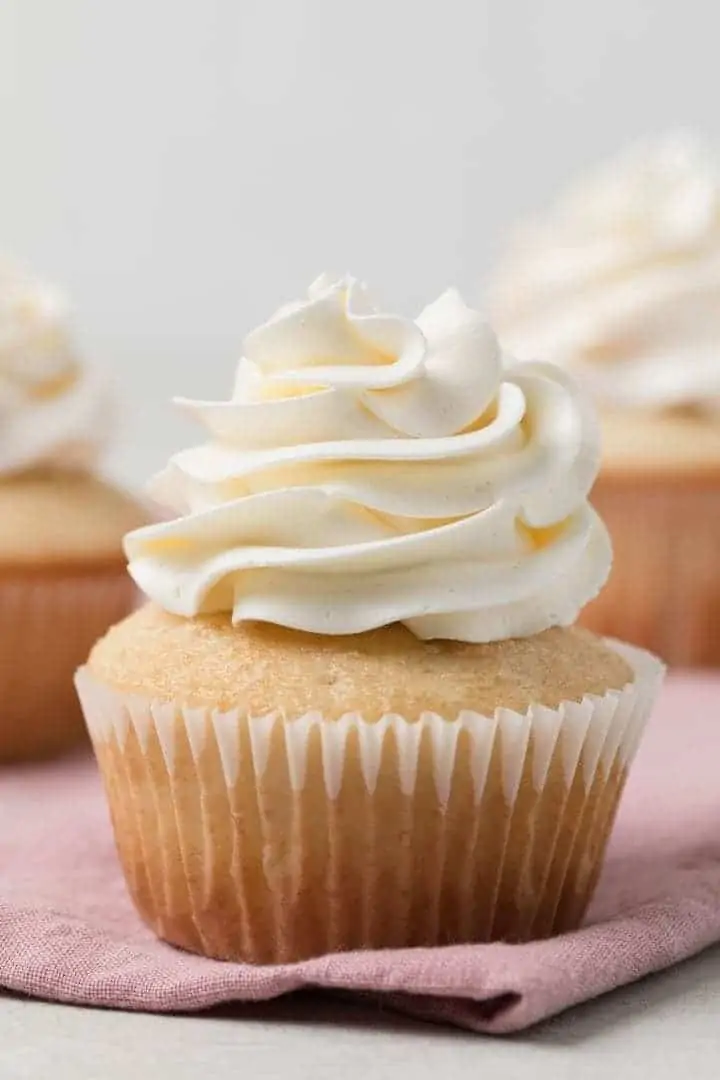 Homemade swiss meringue buttercream
Swiss buttercream is a lightly sweetened frosting made by incorporating butter into a meringue base. It's less sweet than my American vanilla buttercream but has the same light and fluffy texture as my ermine frosting.
Meringue buttercreams can be finicky, though. You must use proper technique to ensure the frosting comes together as it should. But overall it is quite simple to make.
I prefer Swiss meringue frostings over Italian or French because I find it to be much easier to work with.
Italian and French meringue requires you to pour hot sugar syrup into the egg whites. While Swiss meringue is made by heating the egg whites and sugar over a double boiler.
If you haven't made meringue buttercream before, I highly suggest you start with this Swiss version. I'll walk you through exactly how to get perfect frosting every time.
Once you've mastered this basic version, try adding chocolate for a luscious chocolate Swiss frosting or strawberry powder for a smooth strawberry frosting.
Why this recipe works:
The egg whites are heated so the frosting is 100% safe to eat.
The perfect ration of butter to meringue is used to achieve a fluffy, silky frosting.
This is a base recipe that can be flavored any way you like!
How to make swiss meringue buttercream
Swiss meringue frosting is so much easier than you may think! It's made by cooking egg whites and sugar over a double boiler, whipping them into a meringue, then adding butter. You can flavor and color the frosting any way you like.
---
Ingredients
Swiss meringue buttercream frosting only requires three ingredients. These ingredients make up the base of the frosting. Then you can choose your flavoring. Let's go over everything in detail.
Egg whites: When separating the egg whites, make sure they are completely free of any yolk. Just a small trace of yolk can prevent the whites from whipping up.
Sugar: Regular granulated sugar is all you need.
Butter: Unsalted sweet cream butter will work best. Choose a quality brand because you will taste the butter in the frosting.
Salt: I like to add just a pinch of salt to my frostings.
Vanilla extract: This is a vanilla-flavored buttercream so I chose to use pure vanilla extract*. A vanilla paste will also work if you prefer a deeper flavor.
---
Equipment
To bake this frosting you'll need:
Instructions
The process of making Swiss buttercream is simple and straight forward. But, you will want to make sure you are following the steps precisely or you risk running into issues with the frosting.
Step 1: Gather the ingredients
Start by measure out all the ingredients. The process for making the frosting moves quickly and you don't want to be fiddling with measuring things as you go. Prep them before you begin and have them set out at your work station.
The egg whites don't have to be at room temperature since they will be heated. Plus, cold eggs are easier to separate.
Take extra care when separating the yolks from the whites. If a small trace of yolk gets into the whites, they won't whip up properly and you'll need to start over.
The butter must be at room temperature. Not melty but soft enough for you to press a finger into. If the butter has a greasy appearance, it's too soft and will cause the frosting to curdle.
Slice the butter into 1 tablespoon-size pieces and allow it to soften slightly.
Step 2: Heat the egg whites and sugar
I highly recommend using a stand mixer with the metal bowl for this recipe.
Glass bowls retain heat longer. This will increase the amount of time needed to let the meringue cool down.
Also, the amount of mixing required is easier with a stand mixer. If you must use a hand-held electric mixer, make sure it is high powered enough to whip the egg whites into a meringue.
It's also good practice to thoroughly wash and dry the bowl and beaters to ensure they are clean and free of any grease. The smallest trace of oil will prevent the egg whites from whipping up.
Place the egg whites, sugar, and salt in the bowl of a stand mixer and set it over a pot of barely simmering water. The pot should only have about 1-inch of water in it.
Whisk gently but continuously as you heat the mixture. The mixture should reach a temperature of 150°F on an instant-read thermometer.
Carefully dip the tip of a clean finger into the mixture and rub it between your fingers. It shouldn't feel gritty. If it does feel gritty, keep cooking until the sugar is fully dissolved.
Step 3: Whip the meringue
Transfer the mixing bowl to the stand mixer and fit the mixer with the whisk attachment.
Turn the mixer to medium speed and beat the mixture until it is the consistency of shaving cream and has cooled slightly. The outside of the bowl should no longer feel warm. If it's too warm, the butter will meld and curdle the frosting.
This is why it is recommended to use a metal bowl. It won't retain heat quite as long as a glass bowl will. I use glass bowls and they take forever to cool down!
Step 4: Add the butter
One the meringue has cooled some, it's time to add the butter.
Leave the mixer running on medium speed and add the butter, one tablespoon at a time. Don't add the next tablespoon until the previous one is fully mixed in.
As you add more and more butter, the frosting will begin to change in appearance. It can even look curdled. Just keep adding the butter and let it mix. It will come together in the end.
Once all the butter is added, stop and scrape down the sides of the bowl. Turn the speed up to medium-high and whip until the frosting is light and fluffy. This should only take about 30 seconds.
Some recipes call for switching to a paddle attachment when you add the butter. I've found that it's not completely necessary and only dirties up another utensil.
As long as you are not running the mixer on high speed, the whisk attachment is fine to use throughout the entire process.
Step 5: Add the flavoring
Add the vanilla or any other flavoring you desire and mix on medium-high speed until it's fully incorporated.
You may also wish to color the frosting at the point. Use oil candy coloring and add only a small amount at a time.
Why won't my meringue whip up?
If your meringue won't whip to stiff peaks, it's possible the egg whites were contaminated with yolk or the bowl and beaters had trace amounts of oil present. Unfortunately, you'll need to scrape this batch and start again.
Why does my swiss meringue buttercream look curdled?
It's common for SMBC to curdle during the process of adding the butter but it usually comes together with a little extra mixing.
Make sure you add the butter 1 tablespoon at a time and only add the butter as fast as it can be absorbed. Once all the butter is added, let the frosting mix and it will come together.
Sill curdled?
If you followed the steps above and the frosting is still curdled, it's possible the butter was too cold.
Leave the mixer running on medium-high speed and use a hairdryer to heat the outside of the bowl. This will warm the butter just enough to allow it to mix in.
Once it starts coming together, turn the hairdryer off and continue beating until the frosting is light and fluffy.
Why is my swiss meringue buttercream soupy?
Runny SMBC is a result of the ingredients being too warm. Either the meringue was too warm when you added the butter or the butter was too soft.
Remember to let the meringue cool before adding the butter. The outside bottom of the mixing bowl shouldn't feel warm when you touch it.
And the butter shouldn't be so softened that it looks greasy. It should be around 68°F. It will be soft enough to press a finger into but not melty.
If you find yourself with soupy swiss buttercream, don't fret. It's completely salvageable. Just pop the bowl of frosting into the refrigerator for 15-20 minutes. Then continue whipping.
How do I make my swiss meringue buttercream white?
Swiss buttercream will have an off white appearance due to the amount of butter. You can neutralize the yellowish tint by adding the smallest amount of violet food coloring*.
Dip a toothpick into the coloring then dab only a pinpoint amount into the buttercream. Whip the frosting and the yellow tint will fade away.
You may need to add a little more but do this sparingly. You can always add a little more but you can't take it out once it's in.
How do you dye swiss meringue buttercream?
I've found that oil candy color* works best for tinting meringue buttercream. Work with 2-3 drops at a time and mix it in once all the butter has been added.
If you only have access to gel food coloring*, you'll want to tint the meringue before you add the butter. Otherwise, you risk having specks of color throughout the frosting.
How do I make my swiss meringue buttercream a different flavor?
Once you've added all the butter and whipped the frosting until it is light and fluffy, you can add any flavoring or extracts you like. Here are a few of my favorite.
Mix in melted and cooled chocolate.
Use a food processor to grind freeze-dried fruit into a fine powder. Mix the powder into the buttercream.
Stir in citrus zest.
Mix in espresso or cappuccino powder.
Mix in spices like ground cinnamon, nutmeg, or ginger.
Use any extract flavor.
---
How to store swiss meringue buttercream
You can store the frosting in an airtight container for up to 1 day before you plan to use it. Allow it to come to room temperature then re-whip before using.
The frosting can also be frozen for up to 2 months. Thaw it in the refrigerator overnight then let it come to room temperature and re-whip before using.
Cakes or cupcakes frosted with SMBC can be left out at room temperature in an airtight container for 2-3 days. Or store them in the refrigerator for up to 1 week.
Great ways to use swiss meringue buttercream
Did you try this recipe? I would love for you to leave me a 5-star rating or comment. This way, I have a better understanding of which recipes you like and can create more of them.
Please take a moment to follow me on Instagram, Pinterest, Facebook, Youtube or sign up for my free newsletter to never miss the newest recipes and blog updates.
You can also shop my favorite baking tools. Thank you so much for your support!
Slightly adapted by The Cake Bible, page 236.