This post may contain affiliate links. Read the full disclosure here.
This no-bake raspberry pie recipe is made with frozen raspberries so you can enjoy it any time of year!
I have an incredible raspberry pie recipe for you to make for Valentine's Day!
It's completely no-bake, so easy to whip up, and packed full of tart raspberry flavor.
Instead of using fresh raspberries, I opted for a bag of frozen raspberries. Once thawed they become incredibly juicy. This means there will be an abundant amount of puree to flavor the creamy no-bake filling.
Heavy cream is whipped with powdered sugar to create a light and airy base for the raspberry mousse filling. It is pure decadence and so fitting for a Valentine's Day dessert.
There is a small amount of gelatin in the filling to prevent it from breaking down. Otherwise, the water from the raspberries will cause filling to separate. The gelatin just ensures this doesn't happen and the pie will hold up for several days stored in the refrigerator.
I opted to use a no-bake graham cracker pie crust but I imagine an Oreo crust would also be delicious. You could also sub in gluten-free cookies to make this recipe gluten-free if needed.
The result is a cool, creamy raspberry mousse nestled inside a buttery graham cracker crust. Serve it with whipped cream and prepare to swoon.
How to make raspberry pie
This raspberry mousse pie is made with frozen raspberries. This is helpful when raspberries are out of season. I haven't made the pie with fresh raspberries so I'm unsure how much you'd need in order to get the recipe right.
The filling: The filling is so simple to make. Pureed raspberries are combined with a small amount of gelatin. This gets mixed into whipped cream with powdered sugar to create a silky mousse filling.
The crust: The crust is nothing more than graham cracker crumbs combined with melted butter. It gets pressed into a 9-inch pie dish and frozen until it's set.
---
Ingredients
The ingredient list for no-bake raspberry pie is quite short. You only need a handful of items to make the recipe.
Graham cracker pie crust: Graham cracker crumbs and butter are used for the crust. You can opt for Oreos or gluten-free cookie instead of graham crackers.
Gelatin: Unflavored gelatin powder is used to keep the filling stable.
Heavy cream: Use heavy cream or heavy whipping cream. They are essentially the same thing.
Powdered sugar: Don't try to substitute with granulated sugar. It won't work. Powdered sugar is a must!
Frozen raspberries: An entire 12-ounce bag of frozen and thawed raspberries is needed.
Whipped cream: I prefer to serve the pie with whipped cream but a chocolate drizzle would be excellent also.
Instructions
Make the crust: Combine graham cracker crumbs with melted butter and press the mixture firmly into a 9-inch pie pan. Set in the freezer while making the filling.
Hydrate gelatin: Sprinkle gelating over water and set aside.
Whip heavy cream: Combine heavy cream and powdered sugar in a large bowl. Beat on medium-low speed until whipped and fluffy.
Puree raspberries: Puree thawed raspberries in a food processor until. Press the puree through a fine-mesh sieve and discard the seeds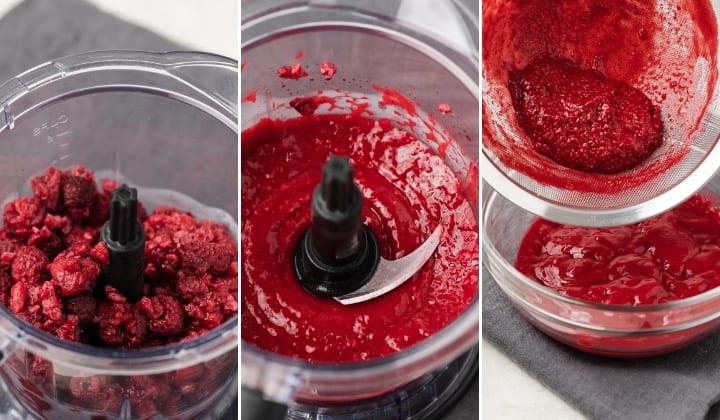 Warm bloomed gelatin: Pour a little raspberry puree over the softened gelatin and microwave for 30 seconds. Stir well and pour back into the bowl with the remaining puree. Whisk to combine.
Stir raspberry puree into whipped cream: Add the raspberry puree to the whipped cream. Use a silicone spatula to fold everything together until well combined.
Spread filling into crust: Add the mousse filling to the crust and use an offset spatula to smooth over the top.
Refrigerate: Cover the pie with plastic wrap and refrigerate for at least 6 hours.
Serve: Serve the pie with whipped cream and fresh raspberries.
Make ahead tips
To store: Keep the pie covered with plastic wrap and store in the refrigerator for up to 5 days.
To freeze: Wrap the pie tightly in a layer of plastic wrap. The wrap tightly with two layers of aluminum foil. Freeze for up to 2 months. Thaw overnight in the refrigerator.
---
Equipment
To make this pie you'll need:
Recipe tips and tricks
This raspberry pie is completely no-bake. A no-bake graham cracker crust can be crumbly, making it difficult to get neat pie slices.
You may wish to bake the crust instead. If so, stir 2 tablespoons of sugar into the graham cracker mixer. Press it into the pie dish and bake for 10 minutes at 350°F. Cool to room temperature then refrigerate while you make the filling.
More pie recipes
If you like this raspberry pie, you'll love these other pie recipes:
Did you try this recipe? I would love for you to leave me a 5-star rating or comment. This way, I have a better understanding of which recipes you like and can create more of them.
Please take a moment to follow me on Instagram, Pinterest, Facebook, Youtube or sign up for my free newsletter to never miss the newest recipes and blog updates.
You can also shop my favorite baking tools. Thank you so much for your support!